Share Your Battle - You Definitely Need This Dragon Summoner!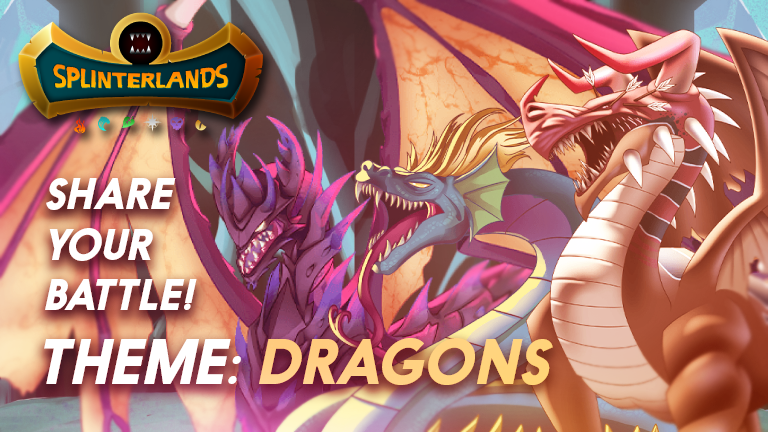 The theme for the current "Share Your Battle" challenge is Dragons, and the first card that I always think of is Brighton Bloom! Earthquake fights are not common, but when you encounter one of them, whoever doesn't have him is at a massive disadvantage. Because of that, he is a must-have in any beginner's card collection.
As usual, here's a portion of the lore for Brighton Bloom:
Brighton was an eccentric young man of Shimmer City, the capital of Khymeria. He was always seen as a strange character among the Khymian summoners. In the best times, his peers thought he was simply a distraction from their important studies. In the worst times, his fellow summoners doubted and belittled Brighton's abilities. They were also put off by the way birds always landed on his hands and shoulders. After just two years studying at the Shimmer summoning school, Brighton decided to leave Khymeria. His loyalty was available to the highest bidder, and that is where the Dragons came in.
The Gloridax cared not for Brighton's strange idiosyncrasies; what mattered to them was his skills as a summoner. Furthermore, in Gloridax eyes oneness with birds has long been considered a sign of divinity. Brighton's attraction to birds was quickly noticed by Suam Khepri, Empress of the United Gloridax, who assigned a team of aerial sorcerers to properly train the young man. When Brighton emerged from that training, he could grant the power of flight to any monster under his summoning control.
---
Battle Type & Team Lineup


| Position | Card | Notes |
| --- | --- | --- |
| Summoner | Brighton Bloom | For Earthquake battles, Brighton Bloom is definitely the top choice summoner. With Flying boost, this means you can continue to pick your best lineup without worrying losing 2 HP per turn. If your opponent doesn't have Brighton Bloom, your chance of winning is probably 80-90%. |
| 1 | Djinn Chwala | One of the best Dragon tanks at lower leagues. With 5 armor and 9 HP, it will survive well and cause a lot of problems with its Thorns ability. |
| 2 | Djinn Oshannus | Like I mentioned earlier, having Brighton Bloom means you can pick your best lineup and Djinn Oshannus is definitely one of the strongest cards to play in my collection, so he's included. |
| 3 | Nerissa Tridawn | At 9 mana, she is not cheap and I find her just above average. Her strength is with her high HP as most magic cards are relatively squishy. |
| 4 | Sand Worm | When mana is not a constraint, I would throw Sand Worm in as Sneak provides a good variety to my lineup and can sometimes be a gamechanger when it takes out a healer. |
| 5 | Axemaster | Axemaster has a high damage output and is more tanky than Pelacor Arbalest. With time and enough protection, he can clear the entire lineup. |
| 6 | Water Elemental | Water Elemental is the perfect partner with Axemaster and having a self heal ability is very handy to counter Sneak attacks and protects Axemaster. |
---
Pre Battle: With a generic summoner, having a varied attack setup (2 melee, 2 ranged, 2 magic) manages the risks of opposing summoners very well. Regardless what abilities they have, the team will still be able to perform. In this case, my opponent's summoner did a -1 to magic and only 2 of my cards were affected. Looking at the lineup, like I have said, it's highly likely I would win because their team will be taken out by Earthquake.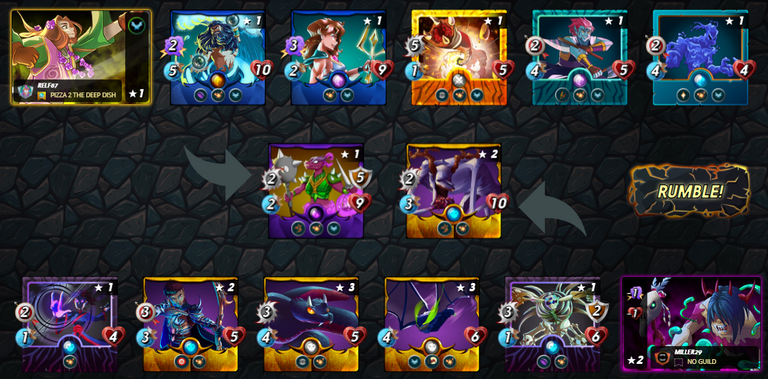 Round 1: The hits flew by fast because there was Blast in the battle as well. Water Elemental was taken out by Sneak while Djinn Chwala comfortably outlived Cursed Windeku in the battle of Thorns.


Round 2: First, Earthquake came. Thereafter, the hits from me. And then followed by Blast. The entire lineup was taken out by my team of Level 1 cards. Can you believe it?

If you are interested to watch the battle, you can find it here.
---
Post Battle
Did my strategy work? I think most of the credit should go to Brighton Bloom. Having him enabled me to go for optimal lineups instead of worrying about Earthquake (at the back of my mind) and prioritising cards with Flying even if they don't fit well to the overall strategy.
Do I like Dragons? Yes because they have interesting summoners that have precious abilities for specific situations. Apart from Brighton Bloom, there's also interesting summoners such as Quix the Devious and Delwyn Dragonscale who can perform with the right rulesets.
Final thoughts? If you haven't bought/rented Brighton Bloom, you definitely should get him. You will be surprised how many players still do not use him for Earthquake battles, so it's almost a free win!
---
So that's all I have! What are your takeaways from this battle? Feel free to comment below, as I am always keen to learn and improve!
As always, thanks for reading and have a pleasant day ahead!
---
If you are interested to sign up to play Splinterlands, my referral link is here.
---
---