Ant Miners: Share Your Battle
Do I see right, Splinterlands wants us to showcase the awesome card known as Ant-Miners and give us upvotes to do so. Well, I been looking for a reason to unleash my army of Ants so count me in.
Introduction
The Splinterlands team has started an initiative and its called Share Your Battle Contest. Every week the team picks a theme and asks us Monster Manaics to showcase some battles that are in line with that theme. This weeks theme is ....
Ant Miners
Common
Fire Monster
Rare
Rewards Edition
Ant Miners Lore
Kobolds have long been considered the most skilled miners in the land. Their small stature and inherent bravery allows them to squeeze into small and risky spaces, and they are very good with tools. Recently however, the Kobolds have apparently dug too deep into the crust beneath the Molten Mountains. This has allowed an undiscovered race of Fire Ants to breach the surface. These Ants are each about the size of a man's fist, not large enough individually to pose a threat to anyone, but they are very good at teamwork and they operate through a shared hive mind. The Ant Miners carry tiny tools, which they use to enhance their already-formidable digging skills. They always travel in packs and lines; if you see a line of Ant Miners approaching your home, do not attempt to fight. It's best to just give up your home. _Lore taken from official Splinterlands Site.
Ant Miners ABILITIES
(Level One) Scavenger: Gains One max health each time any monster dies

(Level Six) Shield: Reduced damage from Melee and Ranged attacks


My Line Up Of Monsters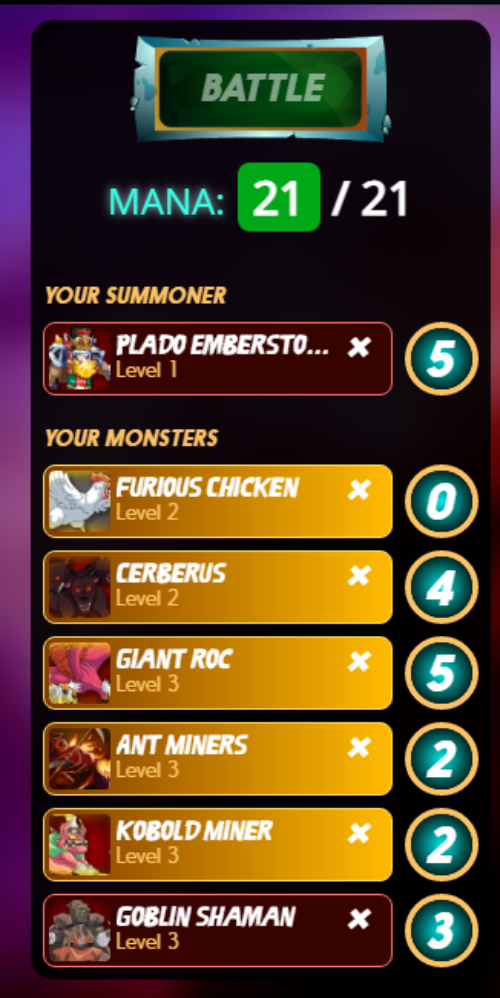 The Battle: Click Link To View Replay
https://steemmonsters.com?p=battle&id=f9525f6dc69433c5f35470817a4c862530cb3300&ref=rentmoney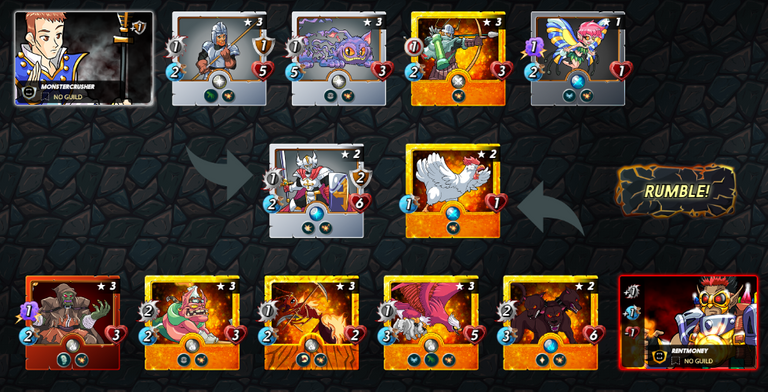 Victory was mine! With the Splinterland game growing in popularity and players skill sets getting better by the day getting a win in battle isn't as easy as it once was. The above showcased battle had a mana cap of 21 and rule set "Blast" which means damage will be done to any monster that is adjacent to monsters that have been hit.
I decided to use the Legendary Summoner PLADO EMBERSTORM for this battle. Its abilities give +1 Mele attack and +1 Speed to friendly monsters. It also hinders the enemies health by -1. My opponent decided to use the life splinter and a rare summoner known as TYRUS PALADIUM.
The battle itself was an interesting one. It wasn't a clean sweep, a few friendly monsters had to sacrifice themselves for the greater good of the team. The Scavenger ability was on full display during this battle. The game winning kill allowed the Ant Miners health to reach a massive +11.
As seen below currently the Gold Foil version of Ant Miners will cost just $10/$11 USD. The regular foil has seen a small drop in price recently and currently cost just $0.40 USD.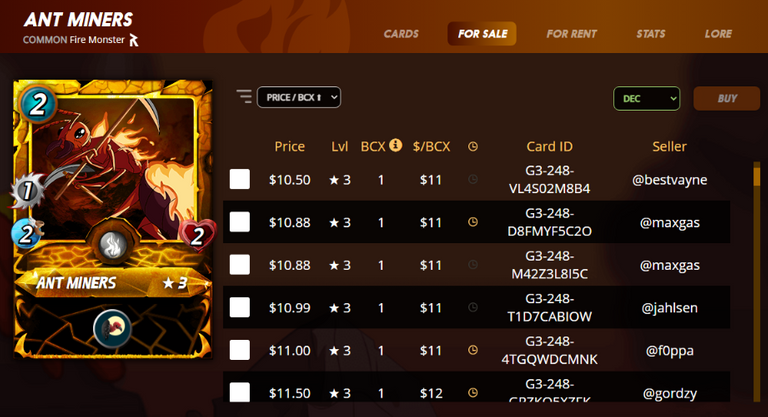 Official CHALLENGE RULES
Create a post sharing a video (link) of one of your battles with the NAGA FIRE WIZARD.
Remember to link to your battle even if you also upload it to a video hosting platform (like youtube).
Make it look good. Need help formatting? Check out this ULTIMATE MARKDOWN TUTORIAL
NOTE: Your posts will NOT be re-Tweeted from the Official Splinterlands Twitter unless you take time to create an actual THUMBNAIL. Sticking the image of the character at the top of your post looks horrible when shared on social media. You are welcome to use the same THUMBNAIL/COVER that is in this post or check out THIS POST for how to create your own.
Card Images by Level HERE.
Tag splinterlands.
---
---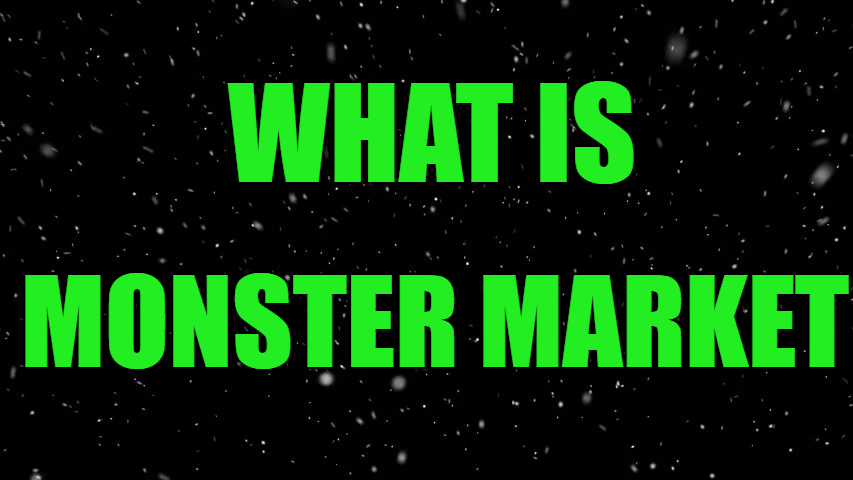 ---
Splinterlands Total Market Cap $195,920,073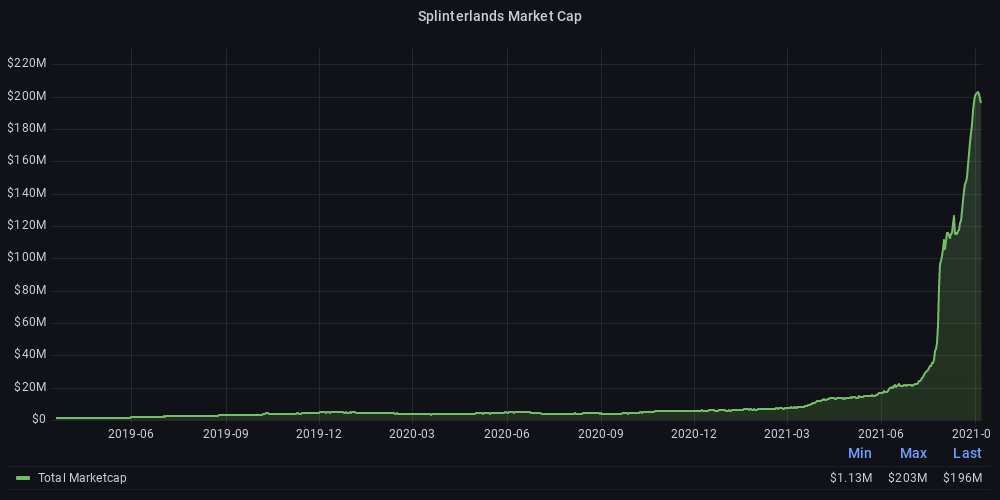 ---
Splinterlands is an online blockchain game built on the Hive Network. It utilizes NFT's for game play. These NFT's and other in game assets are tradable and have real monetary value. Click here to play or to invest in Splinterlands today.
Posted Using LeoFinance Beta
---
---