Chaos Legion Packs (Opportunity Is Knocking)

Just north of 150,000 Chaos Legion Booster Packs remain for sale on the official Splinterlands site. I can already feel the excitement of seeing that "Sold Out" image that at one point in time was oh so familiar. How much longer do we have to purchase packs from Splinterlands? The short answer: Not Long. The Long answer; NOT LONG AT ALL. With a daily burn of 25,000 packs and an ongoing End Of Sale Leaderboard promotion actively running; it could be just days before no more Chaos Legion Packs are available through Splinterlands. The daily burn alone puts us at having just six days left. However I'm sure there are tons of post being created notifying everyone of this easy to find information so this post isn't about that. Instead I want to look at potential Short Term profits that are currently slapping each and every Splinterlander, HIVEN and onlooking investor directly in the face. Those potential profits are the short term purchase, hold and selling of Chaos Legion Booster Packs.
---
It has been historically proven that Splinterland booster packs go up in value after being sold out from the official Splinterlands site. Don't believe me go look at past editions. Alpha, Beta, Untamed, Orbs, ect., are all selling for well above their original price points. I see no reason as to why the same won't happen for Chaos Legion. However (and this is a big however), we do need to adjust our expectations. Will we see Chaos Legion booster packs 10 X directly after Splinterlands sells out of their supply (Very likely Not). If we take a look at the current price of Chaos Legion Boosters on the secondary markets such as LeoDex, Hive-Engine and Tribaldex (to name a few) we can see that currently those boosters are selling for roughly $2.30 USD. This is $1.70 below their face value. Keep in mind there are plenty of ways to reduce the cost of a boosters face value when purchased from the Splinterlands company. Purchasing packs using DEC (Dark Energy Crystals) when DEC is under peg value is one way. Taking advantage of the bulk purchase offers located on the official Splinterlands site is another. Personally, it would be no surprise to me to see Chaos Legion Packs pump to their face value of $4.00 USD on secondary markets shortly after being out of print. The HIVE Token is currently dipping and its helping our profits.
---
Hive Is Dipping
Hive is currently dipping in USD value. For those who already made the move and recently (over the past two months) purchased Chaos Legion Packs from the secondary markets, congrats you are already up in HIVE Dollars. You are also very likely up or break-even in USD. Considering packs are still available for sale on the Splinterlands Market-Place this is a great sign that Chaos Legion Packs USD value is going to pump directly after Splinterlands no-longer has them for sale. The biggest unknown factor for me is what will the USD value of HIVE look like upon time of the resale of said packs. An ideal situation or a perfect storm (which looks to be happening currently) would be to have HIVE dip in USD value while Chaos Legion Booster Packs increase in USD value. This means you get larger returns in HIVE than if HIVE maintained or increased in value along side of Chaos Legion Boosters doing the same. Let me use my recent Chaos Legion Booster Pack purchase as an example. Just days ago.....
---
740 Booster Pack Purchase
Time of Purchase HIVE Token Cost: 3,529
Time of Purchase USD Cost: $1,630 USD
Current HIVE Token Value: 4,418
Current USD Value: $1,695 USD
---
As you can see using the numbers displayed above I'm slightly in the green USD wise. The HIVE Token value of my purchase has increased by 889 HIVE Tokens. Since I'm in the HIVE accumulation business that is what I consider a great return in a very short period of time. Since my purchase (just seven days ago) the USD price of packs on the secondary markets have stayed somewhat steady. This means the USD pump for Chaos Legion Booster Packs hasn't happened yet. If I had additional liquid HIVE Tokens I know where I would be spending them for what I forecast to be some easy short term profits (you guessed it; Chaos Legion Packs purchased from secondary markets). Long term I suspect Chaos Legion Packs to become much more valuable than their $4.00 face value so holding long term has its potential benefits as well. Of course the long term profits of holding Chaos Legion packs is determined on the continued success of Splinterlands. In short: quick profits are likely to be had by purchasing Chaos Legion Packs on secondary markets but as always it doesn't come without risks. *Disclaimer: Nothing shared here is financial advice. I routinely make bad financial decisions so make sure you do your own research before investing any of your hard earned currencies in any project or token.
---
Purchase Packs At
---
Recent CHAOS Trade History
(Source: LeoDex)
https://leodex.io/market/CHAOS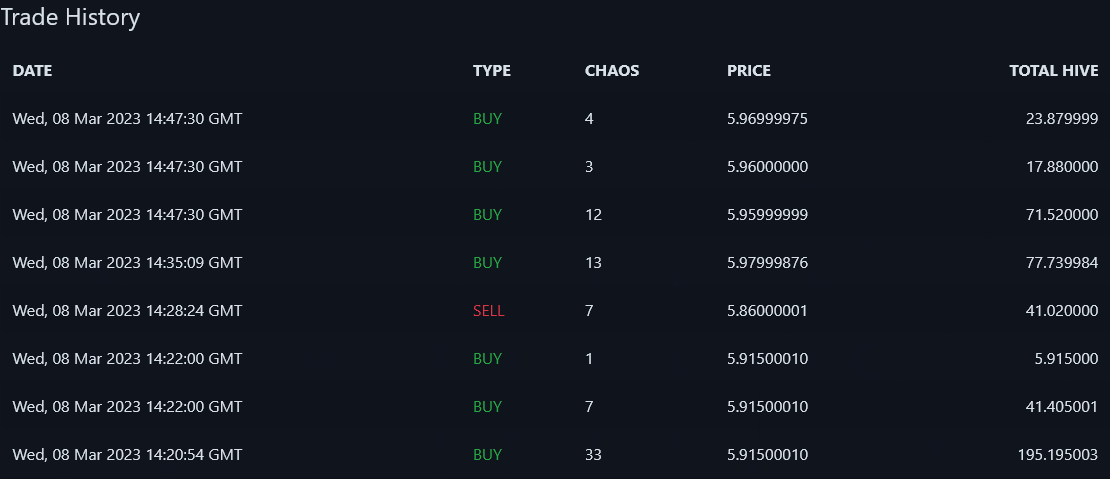 ---
What Is Splinterlands?
Splinterlands is a blockchain game built on the Hive Network. The game itself utilizes NFT's for game play. These NFT's can be won in battle and/or purchased from the official Splinterlands marketplace or many other secondary markets. Game play rewards players with cryptocurrency and in game assets. Click here to get started with Splinterlands.
---
What Is Chaos Legion?
Chaos Legion is a set of NFT's (cards) that are playable in the Hive Blockchain game known as Splinterlands. They can be traded on the in game marketplace and many secondary markets. Chaos Legion cards can be found in boosters packs in which contain 5 Chaos Legion NFT's (cards) each. Four common cards and one rare card are guaranteed to be found in each booster pack.
---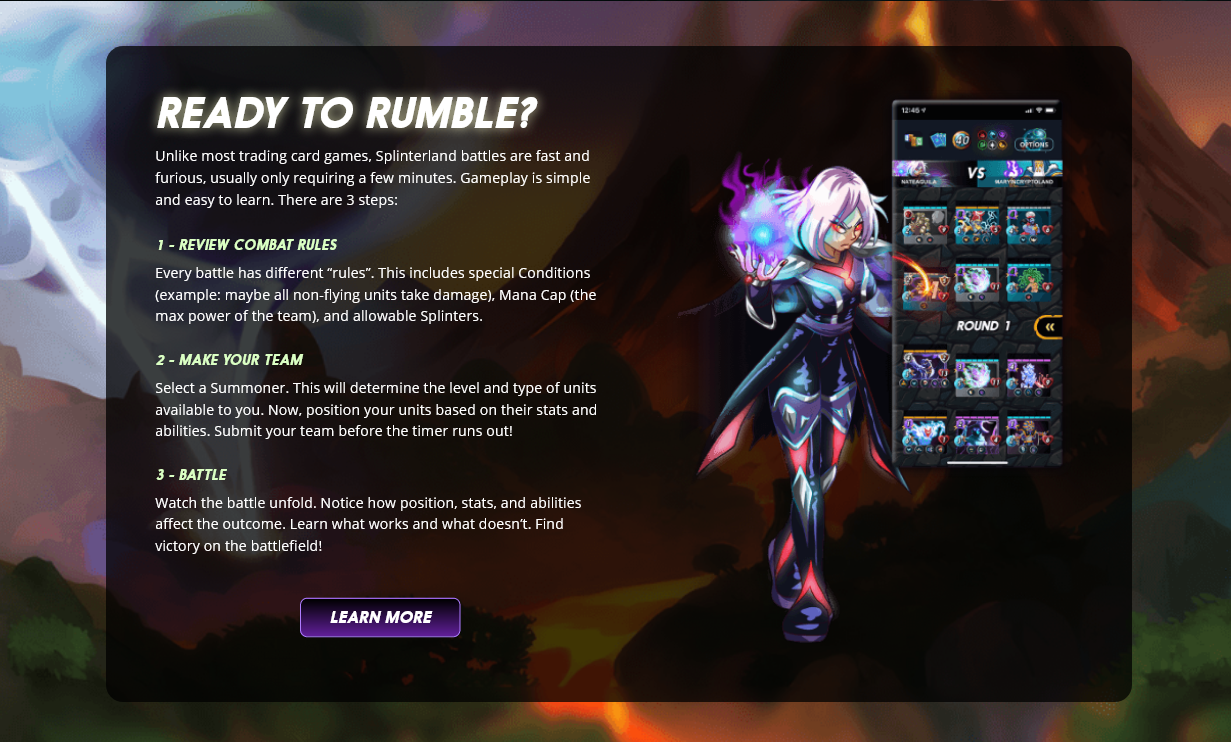 Posted Using LeoFinance Beta
---
---