The Bounty Brawler (Splinterlands)

The second ever Bounty Brawler has been created and is currently being displayed in the Splinterlands tournament lobby. I tried to make the payout structure as flat as possible so as many entries can earn ROI as possible. This isn't just your everyday regular Splinterland tornament (No Sir Bob). This tournament is a Bounty Tournament that will award additional SPS on top of the SPS that can be won in the payspots. You will have to keep reading on if you want the details on how that works.
Don't miss out: Join the second ever Splinterlands Bounty Tournament. Only 39 DEC to do so!
Tournament Details
| Date | 11/28/2021 |
| --- | --- |
| League | Bronze |
| Staked SPS Requirements | 100+ |
| Power Requirements | 1000+ |
| Tournament Type | Anytime/Group Size 12 |
| Round Advancement | Top 50% Advance |
| Team Select Time | 1:20 Seconds |
| Playable Cards | Alpha+Beta+Rewards |
| Entry Fee | 39 DEC |
| Paid Places | 64 |
| Min Payout | One SPS (32-64th Place) |
| Top Payout | 20 SPS (First Place) |
| Other | No Legendary Cards |
Tournament Description
The second ever Bounty Brawler will be underway on 11/28/2021. A small entry fee of 39 DEC and low stake requirements was placed as an entry barier to help deter an army of bots from joining. We want these rewards to go to human players. Hopefully the entry barier is low enough that everyone can participate that wants to. We are open to suggested improvements in which we could implement for the next Bounty Brawler that we create.
Bounty Bonus
Beat @rentmoney in a battle and you will be placed in a draw to win 10 SPS. Come brag about your win in one of @rentmoney's blog topics for an extra raffle ticket in the 10 SPS bounty draw. The winner of the Bounty draw will be announced on @rentmoney's blog roughly 24 hours after The Bounty Brawler tournament ends. Only battles won vs. RentMoney in The Bounty Brawler count towards this Bounty Bonus. Good luck with collecting the bounty (Evil Grin).
Splinterlands is an online blockchain game built on the Hive Network. It utilizes NFT's for game play. These NFT's and other in game assets are tradable and have real monetary value. Click here to play or to invest in Splinterlands. Play for free or pay $10 USD and start earning today!
Tournament Register Link
https://steemmonsters.com/?p=tournament&id=cf488e39e858dc5821eba43cececf7444eaef25f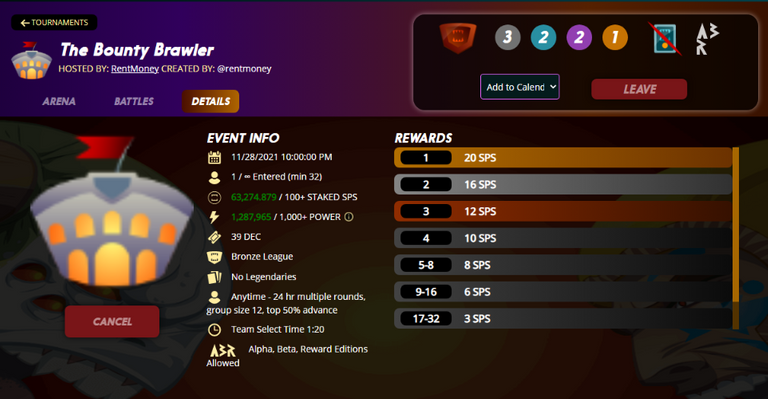 ---
---