The Mini Bounty Brawler (Splinterlands)
I'm hosting my first Splinterlands tournament and the juicy details about it can be read below. I tried to make the payout structure as flat as possible so as many entries can earn ROI as possible. This isn't just your everyday regular Splinterland tornament (No Sir Bob). This tournament is a Bounty Tournament that will award additional SPS on top of the SPS that can be won in the payspots. You will have to keep reading on if you want the details on how that works.
Don't miss out: Join the first ever Splinterlands Bounty Tournament. Its only 25 DEC to do so!
Tournament Details
| Date | 10/31/2021 |
| --- | --- |
| League | Bronze |
| Staked SPS Requirements | 100+ |
| Power Requirements | 1000+ |
| Tournament Type | Anytime/Group Size 15 |
| Round Advancement | Top 50% Advance |
| Team Select Time | 1:20 Seconds |
| Playable Cards | Alpha+Beta+Rewards |
| Entry Fee | 25 DEC |
| Paid Places | 64 |
| Min Payout | One SPS (32-64th Place) |
| Top Payout | 25 SPS (First Place) |
| Other | No Legendary Cards |
Tournament Description
A previous Splinterlands tournament that had over $59,000 USD worth of SPS in it got canceled. The canceled tournament was reported to have issues during Check In. However it was decided that only those who checked in or reported issues would be splitting the $59,000 USD worth of SPS.
I didn''t check in but got a payment of 664 SPS. I will now use those 664 SPS to put on TWO tournaments that will be played in the Bronze League for all to enjoy. I would have liked to make this a freeroll with no requirements but if I did that an army of bots would join so instead I put some easy to reach entry requirements on the tournament to hopefully deter armies of bots.
Bounty Bonus
Beat me in a Splinterlands battle and come brag about it in one of my Hive blog topics and you will be transferred 5 SPS. Bounty Bonus is taken from the 664 total SPS I recieved from the previously mentioned canceled Splinterlands tournament. Any left over SPS from the 664 total will be used to set up a second tournament. Only battles in the Mini Bounty Brawler count towards the Bounty Bonus. A max of one bounty can be claimed per player.
Splinterlands is an online blockchain game built on the Hive Network. It utilizes NFT's for game play. These NFT's and other in game assets are tradable and have real monetary value. Click here to play or to invest in Splinterlands. Play for free or pay $10 usd and start earning today!
Tournament Register Link
https://steemmonsters.com/?p=tournament&id=8e599efc275435127f169d83c79b42696ec9d9c4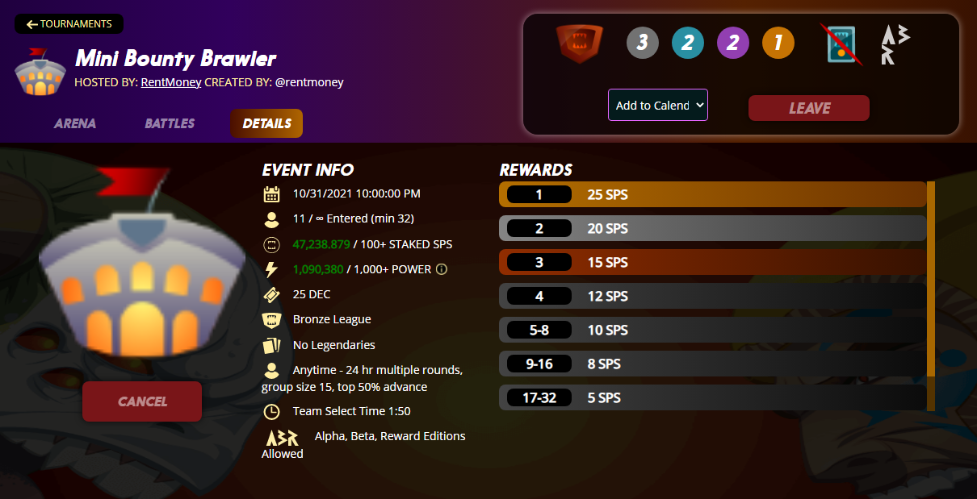 Posted Using LeoFinance Beta
---
---