Goblin Mech crushes wherever it goes [ENG/PT]
Hello community, today my post is about the Goblin Mech card from the Splinterlands game, participating in the challenge of the week launched by the Splinterlands team.
Olá comunidade, hoje o meu post é sobre a carta Goblin Mech do jogo Splinterlands, participando no desafio da semana lançado pela equipa Splinterlands.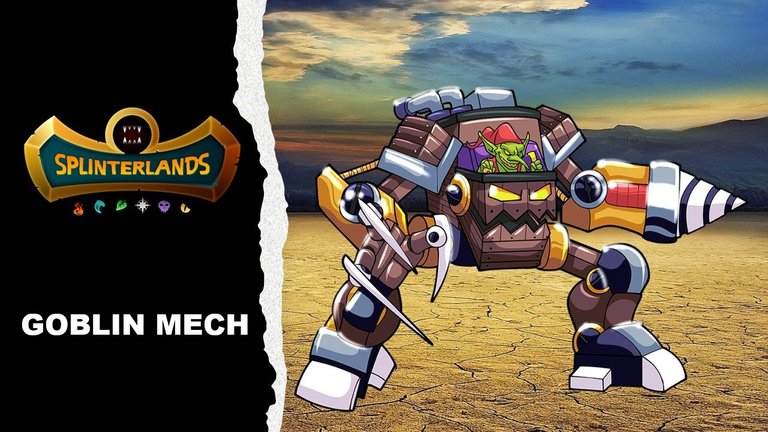 Goblin Mech is a Reward Edition card that is not part of the initial cards, and when I started playing Splinterlands, I found this card very interesting for being Splinter Neutral and can be combined with any type of Splinter, but above all for its Piercing ability in which the excess damage it causes in the armor takes away from the health points, and therefore is a card that in rule sets with low mana capacity, alone can destroy entire formations.
For these reasons Goblin Mech was one of the first cards I decided to buy on the in-game market and I don't regret it, because it is a card that lives up to expectations.
Goblin Mech é uma carta da Edição Reward em que não faz parte das cartas iniciais, e aquando eu comecei a jogar Splinterlands, achei esta carta bastante interessante por ser do Splinter Neutral podendo ser combinada com qualquer tipo de Splinter, mas acima de tudo pela sua habilidade Piercing em que o dano excedente que causa na armadura retira dos pontos de saude, e por isso é uma carta que em conjuntos de regras de baixa capacidade de mana, sozinha consegue destruir formações inteiras.
Por essas razões Goblin Mech foi uma das primeiras cartas que eu resolvi comprar no mercado do jogo e não me arrependo, pois é uma carta que corresponde às expetativas.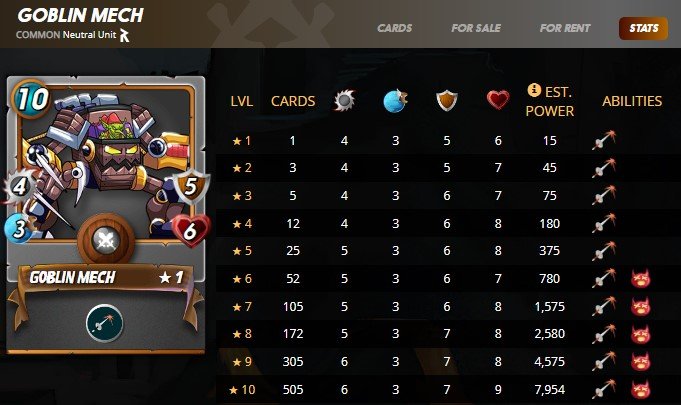 Goblin Mech spends a lot of mana points, 10, but the Piercing skill justifies its mana points, having in its initial level a strength of 4 Melee attack that can be increased by summoner buffs or even from cards with the Inspire skill, it can eliminate cards with low mana points even if they have armor with just one attack.
It is a very complete card, its weakness is Magic attacks, being a little weak in its health points for the Mana it spends, something that increases in its evolution, as the other attributes.
However, with Weak Magic rules it becomes a strong card against Magic attacks, because Magic attacks hit armor first, and so Goblin Mech has greater protection against Magic attacks.
Goblin Mech gasta muitos pontos de Mana, 10, mas a habilidade Piercing justifica os seus pontos de mana, tendo no seu nivel inicial força de 4 ataque Melee podendo ser aumentado por buff de invocadores ou mesmo de cartas com habilidade Inspire, consegue eliminar cartas de baixos pontos de Mana mesmo que tenham armadura apenas com um ataque.
É uma carta bastante completa, a sua fraqueza passa por ataques Magic, sendo um pouco débil nos seus pontos de saude para a Mana que gasta, algo que aumenta na sua evolução, tal como os restantes atributos.
Contudo, em conjunto de regras Weak Magic já se torna uma carta forte contra ataques Magic, porque os ataques Magic atingem primeiro armadura, e assim Goblin Mech tem maior protecção contra os ataques Magic.


Given this set of rules, there is a favoring for Melee attack cards, because they could attack from any position, gaining Sneak ability due to the Super Sneak rule.
We could only use cards with even Mana, having several options to choose the formation for the battle due to the amount of Mana available.
Since I was doing the daily missions with Splinter Water, I decided to choose the same Splinter for this battle, using the summoner Kelya Frendul with buff (+1 speed and armor)
Perante este conjunto de regras, há um favorecimento para as cartas de ataque Melee, porque podiam atacar de qualquer posição, ganhando habilidade Sneak devido à regra Super Sneak.
Apenas podiamos usar cartas com Mana par, tendo várias opções de escolher a formação para a batalha devido à quantidade de Mana disponivel.
Como eu estava a fazer as missões diárias com o Splinter Water, resolvi escolher o mesmo Splinter para esta batalha, usando o invocador Kelya Frendul com buff(+1 speed and armor)

Since in this battle the Melee cards had Sneak ability, the opponent could switch turns and choose Ranged or Magic attack cards and I would be vulnerable at the front line of battle.
To prevent this I chose Djinn Oshannus to lead my formation, having Magic attack and Void ability, gave some security on the front line.
For the second position I chose Elven Defender being a good card with health points and armor in case it was necessary to replace Djinn Oshannus on the front line.
Como nesta batalha as cartas Melee tinham habilidade Sneak, o adversário podia trocar as voltas e escolher cartas de ataque Ranged ou Magic e eu ficar vulneravel na linha da frente da batalha.
Para prevenir isso escolhi Djinn Oshannus para liderar a minha formação, tendo ataque Magic e habilidade Void, dava alguma segurança na linha da frente.
Já para a segunda posição escolhi Elven Defender sendo uma boa carta com pontos de saude e armadura caso fosse necessário substituir Djinn Oshannus na linha da frente.

For the third position Deeplurker, having good attack points and with his speed increased by the summoner's buff, could do a lot of damage to the opponent's team.
As the Melee attack cards gain Sneak ability, nothing better than combining Demented Shark in the formation, besides being able to attack, it still has Inspire ability that increases the Melee attack of all my cards, being therefore of great importance in this type of battles.
Para a terceira posição Deeplurker, tendo bons pontos de ataque e com a velocidade aumentada pelo buff do invocador, conseguia causar bastante dano na equipa do adversário.
Como as cartas de ataque Melee ganham habilidade Sneak, nada melhor que combinar Demented Shark na formação, além de poder atacar, ainda tem habilidade Inspire que aumenta o ataque Melee de todas as minhas cartas, sendo por isso de bastante importância neste tipo de batalhas.

In the fifth position comes the card Goblin Mech, having Piercing ability and also Inspire buff gaining Sneak ability, it was an important card in the choice of my formation to cause enough damage on the opponent's monsters, and have some protection for the last position of the battle.
Finally, it was important to have a strong card in the last position, to protect from all the Sneak attacks that the opponent could cause. The best would be a card with Shield or Heal ability, to reduce the opponent's attack damage, or to have the ability to heal itself. Since I had no card with Shield ability to be able to combine in this battle, I chose Diemonshark because of its armor points, which gave some protection to the attacks, which could be insufficient depending on the type of cards the opponent chose.
Na quinta posição entra a carta Goblin Mech, tendo habilidade Piercing e ainda buff Inspire ganhando habilidade Sneak, era uma carta importante na escolha da minha formação para causar bastante dano nos monstros do adversário, e ter alguma protecção para a ultima posição da batalha.
Por fim era importante uma carta forte na ultima posição, para proteger de todos os ataques Sneak que o adversário pudesse causar. O indicado seria uma carta com habilidade Shield ou de Heal, para reduzir o dano de ataque do adversário, ou para ter habilidade de se curar. Como não tinha carta com habilidade Shield para poder combinar nesta batalha, escolhi Diemonshark devido aos seus pontos de armadura, que davam alguma protecção aos ataques, podendo ser insuficiente dependendo do tipo de cartas que o adversário escolhesse.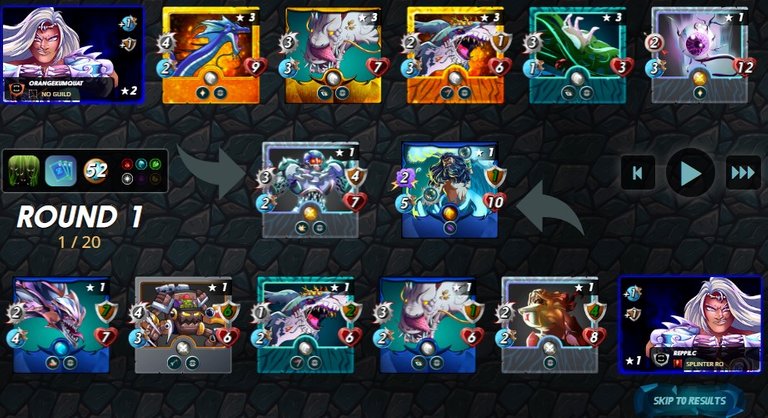 Battle
Well, you can expect a very difficult battle to win because the opponent has chosen a strategy identical to the one I present, but much more complete, with more evolved cards and with Shield and Heal abilities that can make a difference in the battle's outcome.
Bem espera-se uma batalha bastante dificil para conseguir vencer porque o adversário escolheu uma estrategia identica à que eu apresento, mas bem mais completa, com cartas mais evoluidas e com habilidade Shield e Heal que podem fazer a diferença no desenrolar da batalha.
Starting the battle, the predominance are Melee attack cards with Sneak ability, concentrating the attacks on the card in the last position.
The opponent presents better cards, only my Demented Shark card fails the attack but I manage to eliminate the opponent's last card, Cornealus, taking one of the opponent's strong cards out of the arena.
While the opponent eliminates my last card, Diemonshark, being at this point a very difficult battle to predict who will win.
Iniciando a batalha, a predominância são cartas de ataque Melee com habilidade Sneak, concentrando-se os ataques na carta na ultima posição.
O adversário apresenta melhores cartas, apenas a minha carta Demented Shark falha o ataque mas consigo eliminar a ultima carta do adversário, Cornealus tirando de arena uma das cartas fortes do adversário.
Enquanto que o adversário elimina a minha ultima carta, Diemonshark, sendo neste momento uma batalha bastante dificil de prever quem sairá vencedor.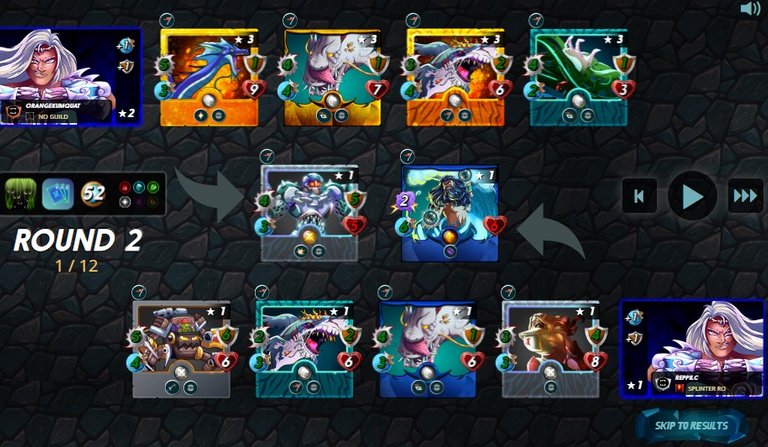 Starting the second round, Goblin Mech manages to eliminate Feasting Seaweed with only one attack due to his Piercing skill, being a very important move in the battle. In this round Chain Golen misses his attack on Djinn Oshannus which also becomes important due to the strength of his attack, it would leave my tank with only 2 health if his attack had taken effect.
I also manage to eliminate Demented Shark in this round, thus removing the buff given to the Melee attack cards from the Inspire ability, and this round becomes important for the rest of the battle because I have eliminated two of the opponent's cards and have some hope of being able to win the battle.
Iniciando a segunda ronda, Goblin Mech consegue eliminar Feasting Seaweed apenas com um ataque devido à sua habilidade Piercing, sendo uma jogada muito importante na batalha. Nesta ronda Chain Golen falha o seu ataque a Djinn Oshannus que também se torna importante devido à força do seu ataque, deixaria o meu tanque apenas com 2 de saude se o seu ataque tivesse tido efeito.
Consigo ainda eliminar Demented Shark nesta ronda, retirando assim o buff dado às cartas de ataque Melee da habilidade Inspire, e esta ronda torna-se importante para o resto da batalha por ter eliminado duas cartas do adversário e ter alguma esperança de poder vencer a batalha.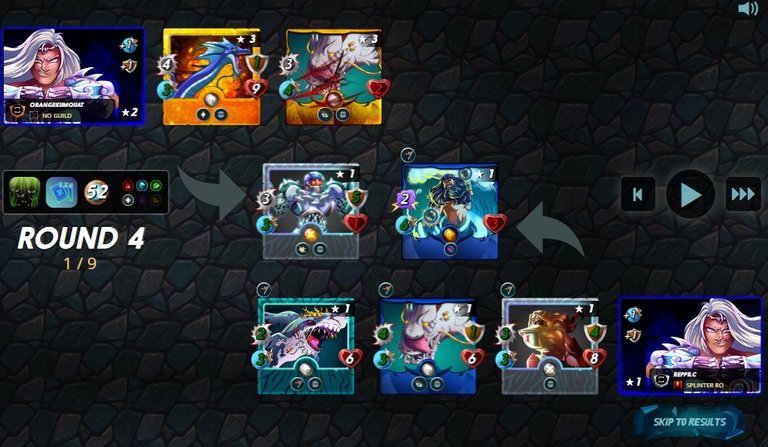 In the third round I lose an important card in my formation, Goblin Mech, but I am not disappointed because it played a key role in the initial rounds of the battle.
In the fourth round I manage to eliminate the opponent's tank, and the opponent ends up eliminating my tank as well. I also eliminate Deeplurker, leaving the opponent with only one card in the battle, Sea Monster. While I still have three cards in battle, having a great opportunity to win the battle.
Na terceira ronda perco uma carta importante na minha formação, Goblin Mech, mas não fico desapontado porque teve um papel fundamental nas rondas iniciais da batalha.
Já na quarta ronda, consigo eliminar o tanque do adversário, e o adversário acaba também por eliminar o meu tanque. Além disso elimino Deeplurker deixando o adversário apenas com uma carta na batalha, Sea Monster. Enquanto que eu ainda possuo três cartas em batalha, tendo uma grande oportunidade de vencer a batalha.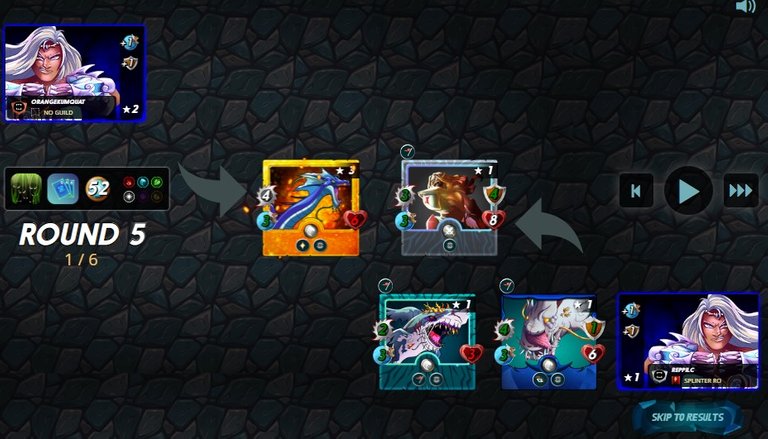 Although the opponent's card has Heal ability it becomes insufficient for the damage done by my cards and so I manage to win this rather complicated battle.
Apesar de a carta do adversário ter habilidade Heal torna-se insuficiente para o dano causado pelas minhas cartas e assim consigo vencer esta batalha bastante complicada.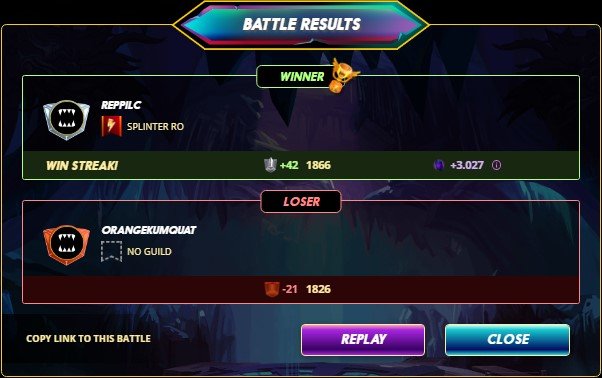 With this battle I was able to maintain my winning streak in which I increased my rank by 42 points and earned 3,027 Dec.
Very difficult battle but in the end I was able to be victorious even without using Shield or Heal ability cards.
My strategy for this battle worked, the combination of my Djinn Oshannus tank allowed me to damage the opponent's tank and hold the front line for several rounds.
Combining the Inspire skill in this battle was of enormous value because it allowed me to increase the damage of my cards with Melee attack, and Goblin Mech was important because of its strength and Piercing skill that helped eliminate the card in the opponent's last position, Cornealus, and alone eliminated Feasting Seaweed which allowed my cards to proceed with attacks on other cards.
I especially like difficult battles that challenge us against strong cards, victory is just victory, but it feels better to win this way.
Com esta batalha consegui manter a minha série de vitórias em que aumentei o meu rank em 42 pontos e ganhei 3.027 dec.
Batalha bastante dificil mas no fim consegui sair vitorioso mesmo sem usar cartas com habilidade Shield ou Heal.
A minha estrategia para esta batalha funcionou, a combinação do meu tanque Djinn Oshannus permitiu causar dano ao tanque do adversário e segurar a linha da frente por várias rondas.
Combinar habilidade Inspire nesta batalha foi de enorme valor porque permitiu aumentar o dano das minhas cartas com ataque Melee, e Goblin Mech teve a sua importância pela sua força e habilidade Piercing que ajudou a eliminar a carta na ultima posição do adversário, Cornealus, e sozinho eliminou Feasting Seaweed que permitiu que as minhas cartas procedecem os ataques a outras cartas.
Especialmente gosto de batalhas dificeis que nos desafiem contra cartas fortes, a vitória é apenas uma vitória, mas sabe melhor vencer assim.

---
Thanks for reading until the end, i hope you liked my post.
If you are interested in playing Splinterlands, follow my affiliate link:
https://splinterlands.com?ref=reppilc
For comments on post content, use comments. Advice on how to improve, or make the posts more enjoyable, is welcome.
Until next time!
---

---
---