New Bounty on Reverio - Join The Splinterlands Ecosystem Bounty On Reverio And Win Your Share Of 25,000 DEC: Submit Your Most Original And Informative Questions Today!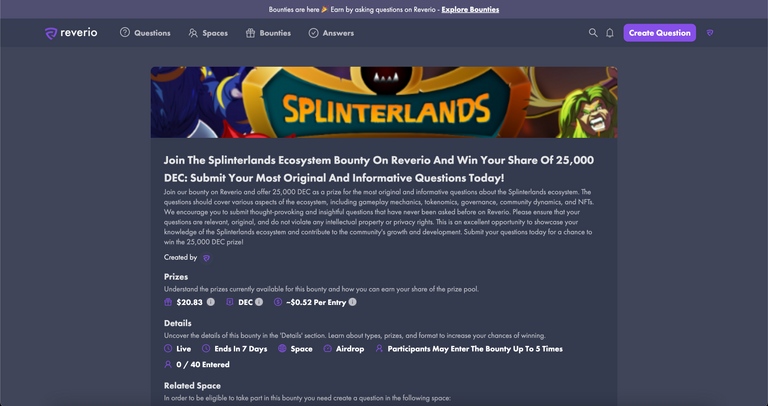 We are excited to announce a new bounty on Reverio, which gives participants the chance to submit their best questions surrounding Genesis League Sports.
Bounty Description
Join our bounty on Reverio and offer 25,000 DEC as a prize for the most original and informative questions about the Splinterlands ecosystem. The questions should cover various aspects of the ecosystem, including gameplay mechanics, tokenomics, governance, community dynamics, and NFTs.
We encourage you to submit thought-provoking and insightful questions that have never been asked before on Reverio. Please ensure that your questions are relevant, original, and do not violate any intellectual property or privacy rights.
This is an excellent opportunity to showcase your knowledge of the Splinterlands ecosystem and contribute to the community's growth and development. Submit your questions today for a chance to win a share of 25,000 DEC prize!
Bounty Link
https://www.reverio.io/bounty/64183b9faa9b2e46b0895a0b
Bounty Rules
To participate in this bounty, you must follow the following rules:
Read the description carefully: Make sure you understand the requirements and expectations of the bounty before you participate.
Create questions in the Splinterlands space: To earn rewards, you will need to create relevant, informative, and well-written questions in the Spinterlands space on Reverio.
Earn rewards: Each question you create will be rewarded with a share of the prize pool following the payout period. The prize pool will be distributed among all participants who have successfully completed the requirements of the bounty. Following your submission, your bounty prizes will be paid out 7 days after the end of the bounty period.
Avoid plagiarism and low-value content: Keep in mind that questions that are found to be plagiarized, low-value content to the platform, in violation of any other rules may be disqualified and not be eligible for rewards.
Please make sure to read and understand the rules carefully before submitting your questions.
Prize
The total prize pool for this bounty is 25,000 DEC, which will be split between up to 40 qualifying entries. This is a great opportunity to show off your creativity and win a share of the prize pool!
Contact Us
We're excited to see the creative and thought-provoking questions you come up with for the Splinterlandsch Q&A Bounty on Reverio. If you have any questions or concerns, please feel free to contact us on Discord at https://discord.gg/QrZymMexSQr.
---
---