SPS Governance Proposal - Voting Power for Asset Holder
I try with this post to make a proposal as a user and investor, this proposal is clearly unofficial and serves to express my idea and that of other users that I have seen agree in the various discord channels, the ultimate purpose of this post is to bring this idea to the attention of the team
---
The problem
The problem I see and which I consider important to bring to the attention of the team is the following:
Game Asset Holders should have a Voting Power that can represent their voice during voting.
Right now only SPS has real power in decision-making and only SPS holders can actively express their thoughts while other game asset holders have a much more passive role, even though they are part of the same ecosystem.
The concept of the SPS airdrop was wonderful because every game asset holder was entitled to receive SPS so that they could express themselves during voting and @cryptomancer expressed this clearly.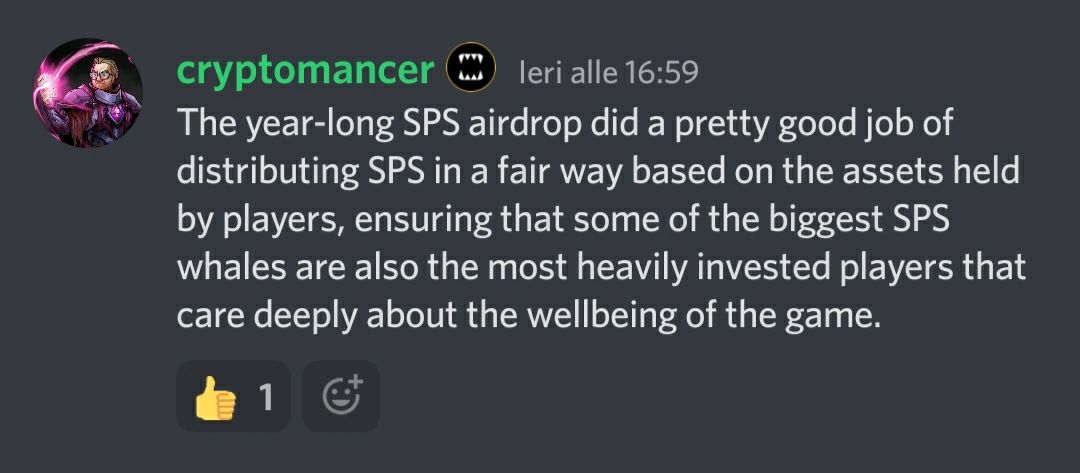 However, I partially agree because there are two categories that are excluded from this concept, namely:
Those who decided to invest in Splinterlands only after the conclusion of the airdrop, in practice the new players

Those who hold positions in assets that exited after the conclusion of the airdrop, i.e. old and new Players who decided to be Holders of the new assets.
These are the categories that are disadvantaged at the moment, especially when the proposals involve these new assets.
My Proposal
My proposal is to grant voting power to all asset holders in the Splinterlands ecosystem.
For example, the value could be related to the value of the asset on the market converted into ghost SPS, so that when a proposal passes and a vote is taken, everyone in the ecosystem can have a say.
---
I hope I don't sound rude in making this proposal in this manner, I just wanted to try and gather ideas and solutions to something that from my perspective needs to be addressed
Posted using Splintertalk
---
---