SHARE YOUR WEEKLY BATTLE: THE SUPPLY RUNNER (TOO STRONG TO BE ORDINARY)
Its battle day again, Splinterlands Community !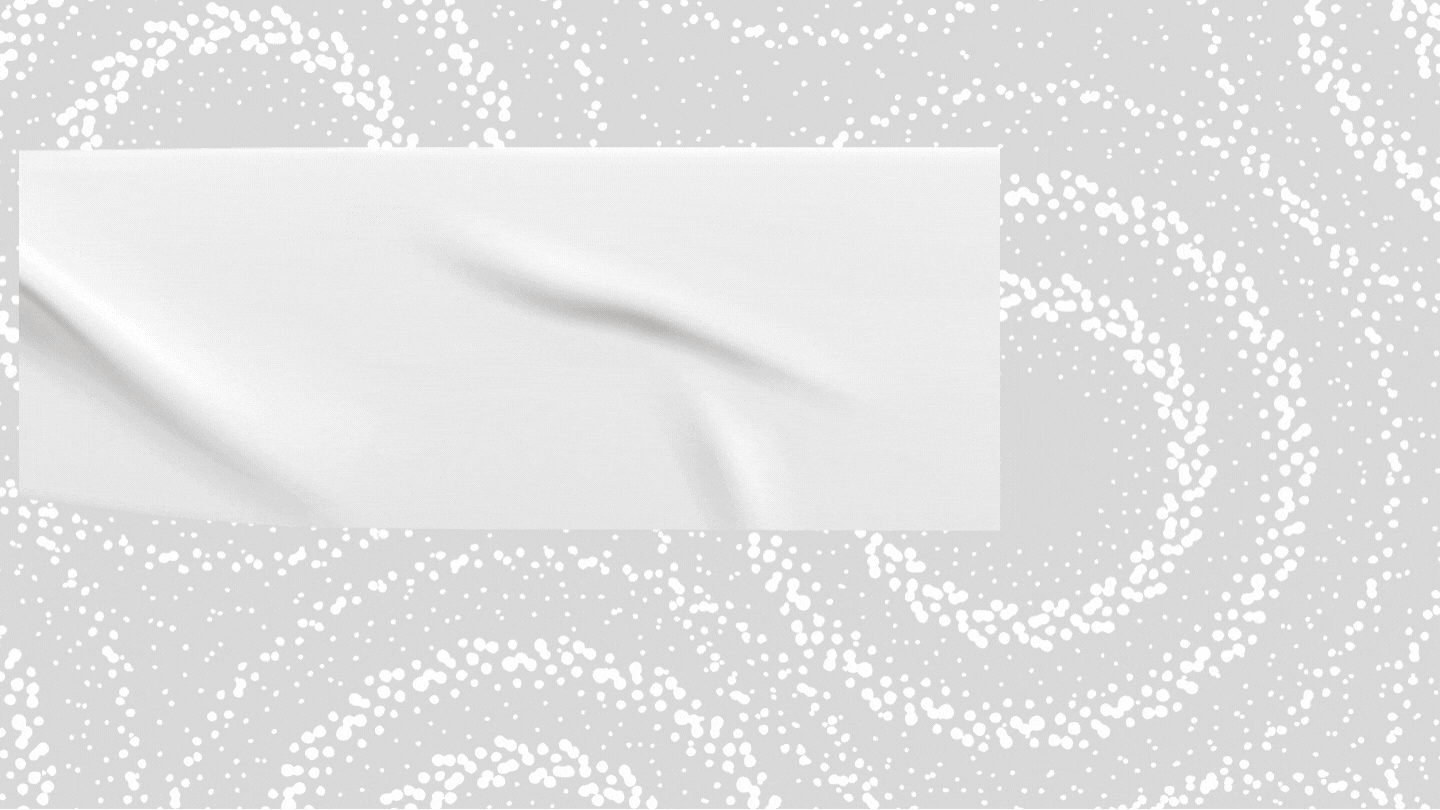 The Neutral Unit has become underrated for the past years. Most of the time, they are just being ignore in card picking without knowing how powerful they can be. Some of the most powerful monster in the Neutral Uni is the Disintegrator and it is classified on that level because of its ability to reduce the melee attacks of the monster. That kind of ability is very useful for the user and very deadly for the opponent.
For this week, our feature card in the battle is Supply Runner. SUPPLY RUNNER has no ability at its lowest level but it gains strength as it combined with other cards. But before we continue, I just want to remind everyone that this is part of the Weekly Battle Challenge. Actually, it is my entry for last week but due to busy schedule, I did not submitted it last week.
So with that, without further ado, lets go to battle!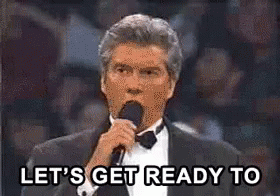 THE LORE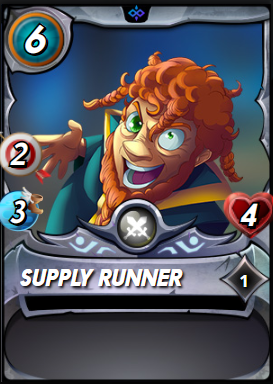 "Every army should have them, every artisan should hire them, and every noble should own one. If you need absolutely anything, then a supply runner will get it for you. For their size they can carry vast amounts, they're incredibly fast and they'll even defend your deliveries with exuberant relish. Not only that but their expertise with the catapult they carry is renowned across the land. Countless confrontations have been recorded in the history books of these hired hands coming to the aid of convoys beset by bandits or roaming patrols attacked by the enemy. They have swarmed the foe, firing their shot down upon them and running havoc amongst their ranks with their incredible speed. Most of these forays have ended with the enemy fleeing, but those that did remain and fight didn't last for long.
Gnomes have lived throughout Praetoria ever since the land was inhabited and are stalwart characters indeed. It is unsure as to whether they are native to this continent or not, but what is clear is that they didn't originate or come from any of the other known Splinters. Talon and Gorst are the agency that hire them out and this organisation has always been crystal clear in the first and most important clause of their contracts, 'These creatures are not to leave the shores of Praetoria, ever!' Whether they are simply unwilling to share these efficient people with the rest of the world or there is some darker more sinister note that prevents them travelling is unknown, but the Praetorians don't really care seeing as they have the exclusivity rights.
Usually, Gnomes have a natural resistance to magic, but the creeping plague seems to have afflicted some of them in a most curious way. You may get lucky and find one that has picked up the odd abilities that are incredibly useful when working with others, but on the other hand, some side effects have led to manic behaviour, an affinity to ale, mischievous use of their catapults, and downright murderous conduct. Needless to say, reliability can now be a bit hit and miss. You are strongly advised to read your contract of employment carefully, or you may find yourself in an unpleasant situation."

THE SUPPLY RUNNER
| NAME | LEVEL | ABILITY | STATS |
| --- | --- | --- | --- |
| SUPPLY RUNNER | 1 | NO ABILITY | 2 RANGE ATTACKS, 3 SPEED, AND 4 LIVES |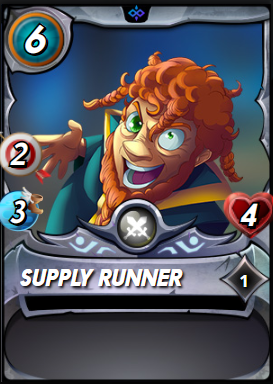 ADVANTAGES/STRENGTHS:
-Can make an attack against monsters with THORNS ability without being damaged.
-Has higher chance of evasion due to its speed (even though it is on level 1).
-Powerful and very useful at the middle up to the back position.
DISADVANTAGES/WEAKNESSES:
-Weak tank in the field.
-Cannot make attacks on the first position.
-Low damage at level 1
-No ability
SUGGESTIONS:
-Increase its range attack and speed to combat its inability to be in the first position.
-Use alongside with tank that has SHIELD ability.
As this monster continue to level up, its power is also increasing, making it more of a threat in the game.
| LEVEL | ABILITY | STATS |
| --- | --- | --- |
| 1 | NO ABILITY | 2 RANGE ATTACKS, 3 SPEED, AND 4 LIVES |
| 5 | SWIFTNESS | 2 RANGE ATTACKS, 4 SPEED, AND 5 LIVES |
| 10 | SWIFTNESS and STRENGTHEN | 3 RANGE ATTACKS, 5 SPEED, AND 6 LIVES |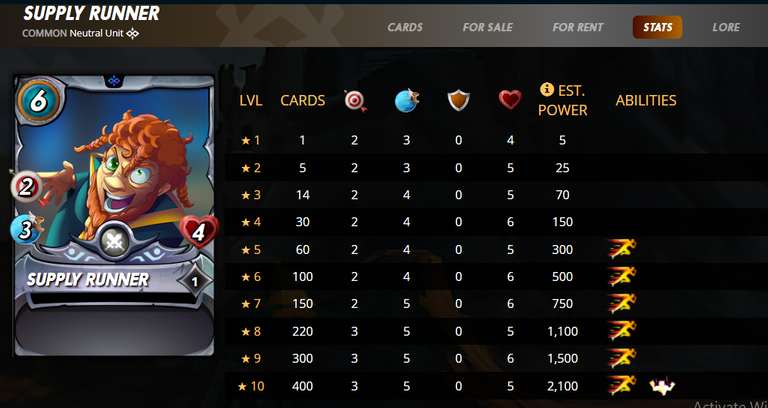 At level 5, this monster gains new ability called SWIFTNESS. Monster with this kind of ability increases the speed of all friendly monster in the field. This is such a great advantage because it increases our evading chance and lessen the probability of missing an attack. On this level, this monsters gains an increase on its health.

At level 10, this monster gains new ability called STRENGTHEN. Monsters with this kind of ability has the ability to increase the health of all friendly monsters in the field. This is great because it only gives all monsters an opportunity to stay longer in the field. At this level, all of its stats increases, making it more powerful.

THE LINE UP AND STRATEGY
STRATEGY: Create damage on offensive mode and defensive mode. Reduce the health of all opponent's monster on the field.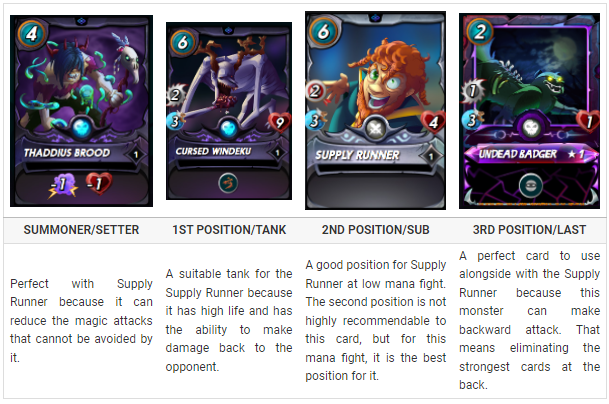 THE BATTLE
| | NO STANDARD. Meaning, any monster can be used. |
| --- | --- |
| | 18 MANA FIGHT. Any monster can be use as long as its total mana satisfies the required mana fight. |
Before the battle starts, I first look at the previous battle of my opponent. Base on its previous battle, it uses Earth Monster and as we all know, most of the Earth Monsters has magic attacks. So to negate that, I decided to use Death Monsters since there is a summoner there that can reduce the magic damage of the enemy's monsters.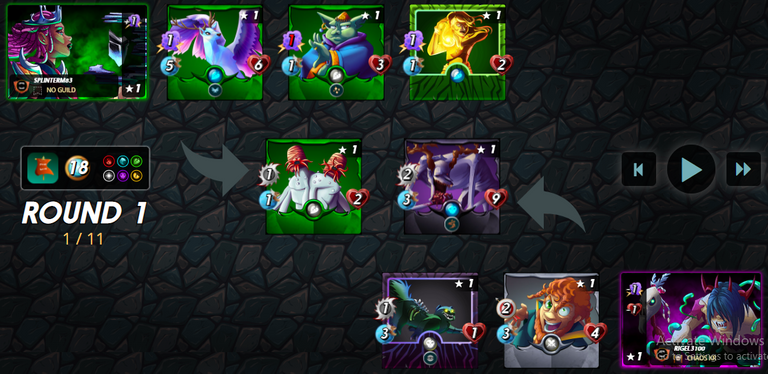 At the start of the battle, the two summoners contest their abilities. Obsidian increases the magic attacks of all Earth Monsters, but Thaddius Blood cannot just let it happen. It negate that increase, making it useless in the game.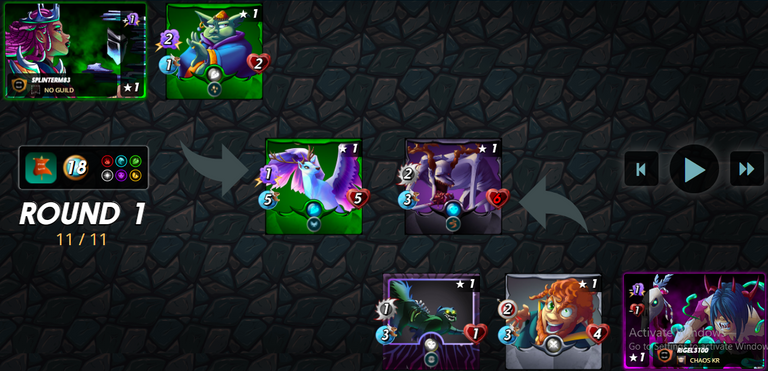 On the first round, 2 monster from the opponent side got eliminated. It got eliminated because that monster is only a decoy and the other one is a protector for the healer. It is only on the first position and last position to take the first hit and back hit, respectively. On this round, the Thorns ability of my tank becomes useless because of the kind of attack that my opponent has. Even though the other side has higher speed, in terms of first position monster, my tank's speed can still somehow catch up make an effective attack. Overall, my attacks, shows effectivity.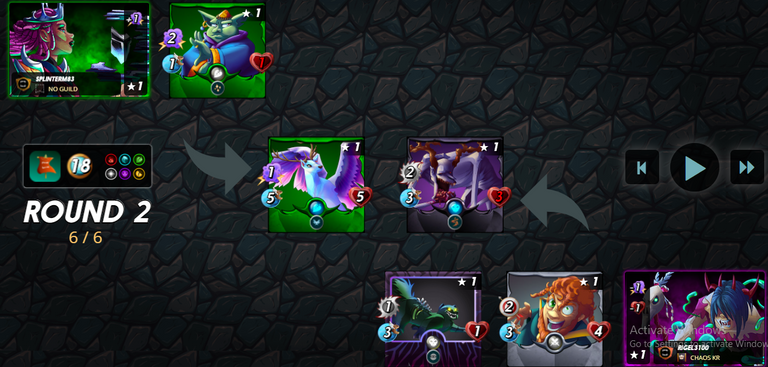 On the second round, the fight becomes so intense because the missing of attack starts. It becomes harder due to the healer who gives life again to the first position monster of the opponent. The only damage done by my monsters was made by Undead Badger to the healer.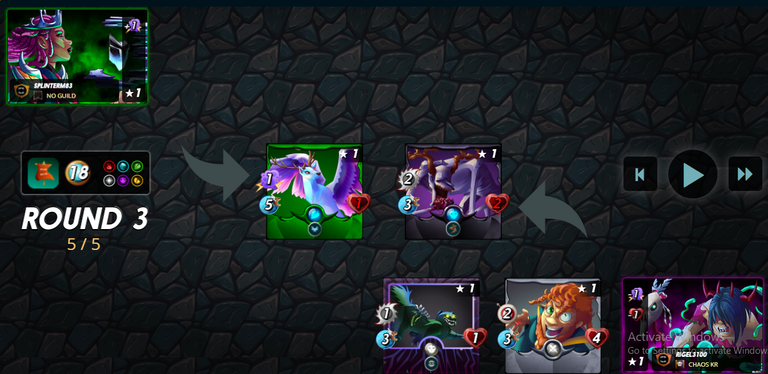 On the third round, success is becoming clear. he elimination of the healer in the game becomes a dead zone for the tank of my opponent. Its evasion did not work as well on this round, making its life only 1 for the next round. At this moment, Supply Runner finally makes a damage.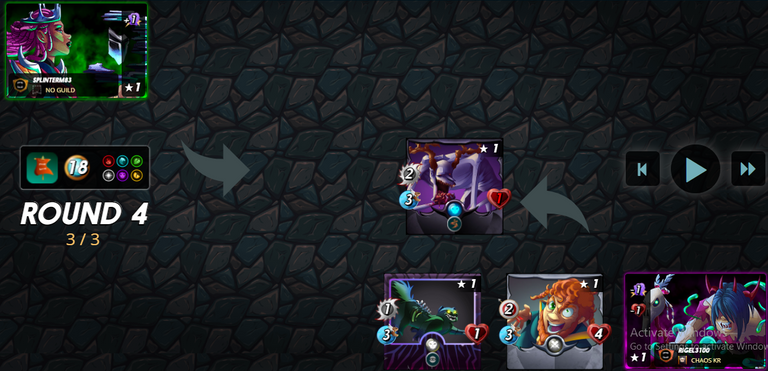 For the fourth round, Regal Peryton makes the first attack, making the life of my tank only 1. As a counter for this, Supply Runner make an attack again and that ends the battle.
Overall, Supply Runner contributes very well in the game but its characteristics can be easily overpowered by other monster. Suply Runner is a strong card but not as strong as the other monsters on the field on this battle. But I think, for now, it is okay because it is only in Level 1. On higher level, it is more powerful.

THANK YOU FOR READING EVERYONE!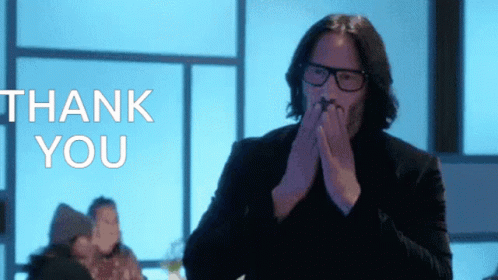 So that's all for today, Splinter Community ! Have a nice day!
Don't forget to hit LIKE, FOLLOW, and REBLOG for more updates.
If you want to play Splinterlands and visit the community, just click the linked texts below. The "SPLINTERLANDS" linked text is my referral link. You can use that for discounts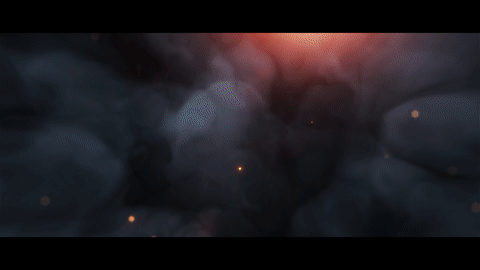 | SPLINTERLANDS | SPLINTERLORE | BLOG | DISCORD | TELEGRAM |


DISCLAIMER: THE FIRST GIF IS EDITED THROUGH CANVA. THE OTHER PHOTOS ARE IN-GAME SCREENSHOTS AND THE OTHER PHOTOS ARE FROM THE INTERNET AND TO THE RIGHTFUL OWNER.
Posted using Splintertalk
---
---