Swatch Test turned Dish Scrubber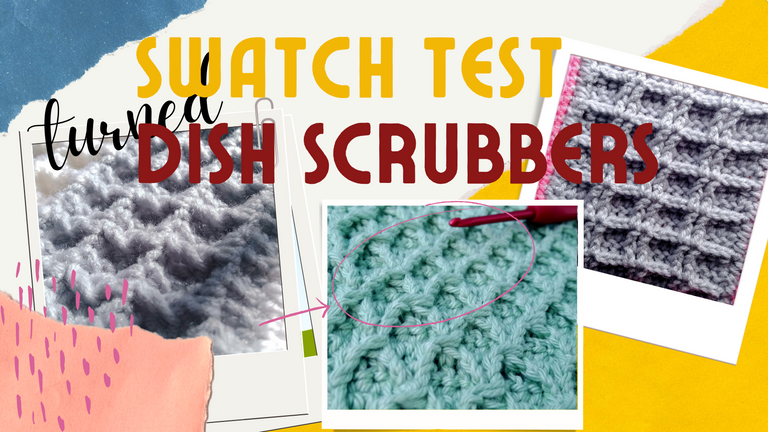 Last November, I bought Leather Bag bases. I intended to make a new purse but it took too long to be shipped out and delivered to me so the inspiration kind of got lost in limbo. So now, I have leather bag bases, lots of yarns, and no idea what design I would use for this new bag. I still have that burning desire to make one though. So I started crocheting single crochets onto the bag base. I still don't have any idea what design I should use. Or better yet, I have tons of designs in mind, none of which seem to connect with me enough to actually put it fruition.
Then my daughter suddenly had the craving waffles. She doesn't even like pancakes. And then it hit me. Why not try the waffle stitch? So after satisfying the little kid's cravings for waffles, I started my quest for the famous waffle stitch. Of course the first try was entirely wrong because I just went ahead and started making dc's and fpdc's on the fly. Once I get that strong urge to crochet, it just pushes me to just go ahead and start with whatever it is I am thinking about.
Waffle Stitch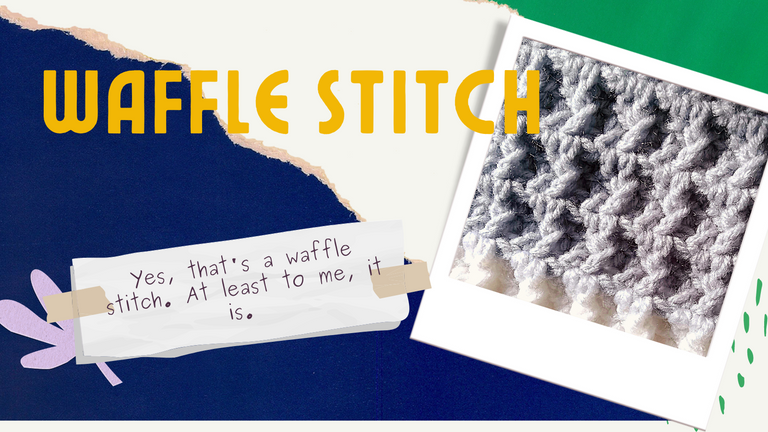 As a result, it the first try looked like a sorta kinda trying hard waffle stitch. It's a good thing that I only made a swatch to test out the pattern I had in mind. But seriously, it looked a lot better in my imagination. It doesn't look that bad at all. This small test became my very own eco-friendly dish scrubber. I don't plan on recreating the same pattern for my next dish scrubbers, but this one was made by alternating 2dcs and fpdcs all throughout the rows.
I am just a bit happy with the result of the first test so I knew I had to do another one. So while my daughter is busy with her mission organization with her toys, I went ahead and started looking for waffle stitch variations online. This time, I sought the help of the ever reliable google search for different ways to do waffle stitches.
Diamond Waffle Stitch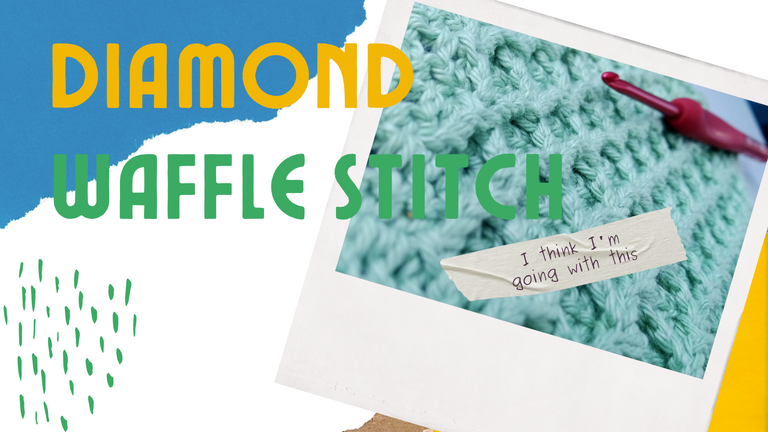 I have always been fascinated with the diamond waffle stitch. I thought it would be a perfect design for the crochet pouch I'll be making. Thanks to the Spruce Crafts, I found an easy to follow pattern. Ok, I had a hard time following it at first. But only because first, I was in a hurry to see the result and second, my daughter insists that I sing along with the song "All You Need is Love" while watching Beat Bugs in Netflix.
For this pattern, my intentions are a lot clearer. I want to learn how to do the diamond crochet stitch pattern, I wanted to test it out in a swatch first, but I also intend to create another dish scrubber. I have a feeling that this pattern could be the one I'll use for the crochet purse.
I learned in a homeschooling webinar I attended recently that the best way to gauge understanding is the ability to narrate the lesson using own words. Now, this diamond crochet stitch pattern is a bit confusing at first but once you get the hang of it, you'll enjoy it. It starts with a base of sc's, then dc's on the second row. The third row is a combination of sc's, tr's, and tr2tog's. I really suggest you check out the Spruce Craft's pattern.
Double Waffle Stitch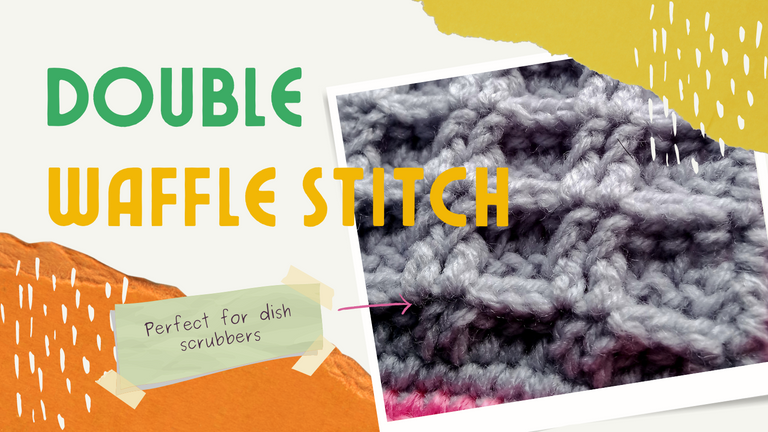 I had to try another pattern, of course. I am on the roll here. I found another variation online. To me, it looks a lot more waffle-like. I tried to make one on my own again but seeing that I did not succeed on the first try, I decided on sticking to a guide this time. This one is way easier to do than the diamond waffle stitch. To make the double waffle stitch, each row has an alternate pattern. One row starts with 2fpdc, 3dc alternatingly, then ends with 2fpdc. The other starts with 2sc, 3fpdc alternatingly, then ends with 2dc. The start and the end of the patterns are important because if you mess up the ends, it messes up the entire face of the waffle stitch.
This one I think is the best design for dish scrubbers. I used acrylyc yarns for both the first and the third design. I used cotton yarn for the second one. Since I'll need bulkiness for the dish scrubbers, I'll stick with the acrylic yarns. I have lots of leftover acrylic yarns since the time I started crocheting. I am delighted that they now have a purpose. One that will help not hurt Mother Earth anymore. Now I don't have to buy those dish sponge when there's no loofa supply in the grocery.
Who knew this simple swatch test led me to the another project. I am still going to work on the crochet purse with the leather base. But for now, I am enjoying making variations of the waffle stitch. Perhaps I'll work on it once my waffle stitch dish scrubber fever subsides.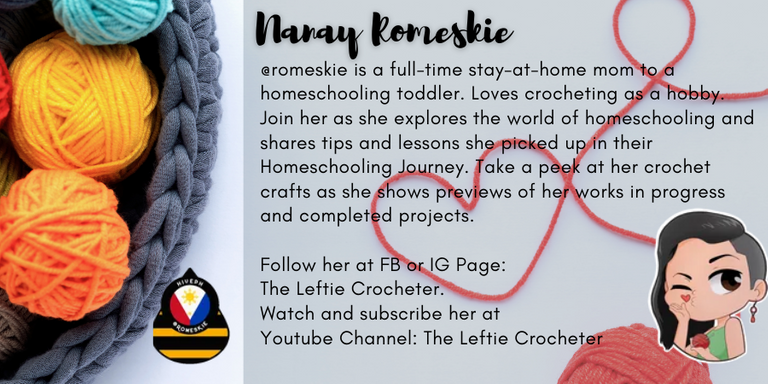 ---
---