Let's Talk Splinterlands' Strategies for ALL Level Players!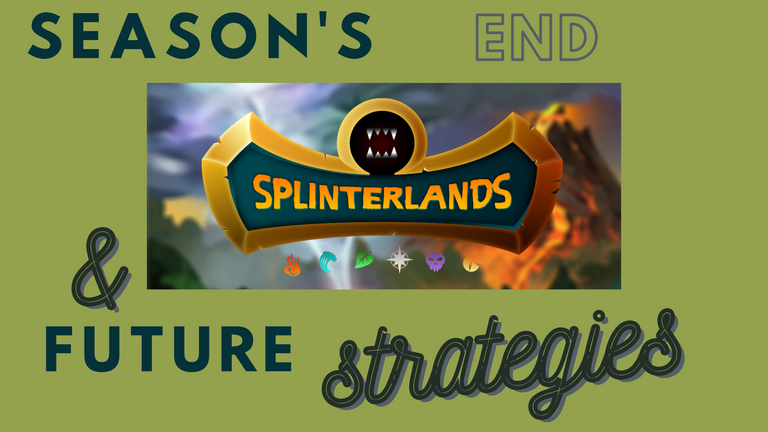 How can I reach the highest potential financially?
This blog post covers different strategies based upon your Splinterlands experience. I'm actually under the weather here, perhaps allergies or maybe a cold, so this post is going to be short and I do apologize for that, but I hope you get some information out of it, or perhaps you can share your ideas and strategies!
I wanted to print off the Season report card, but it doesn't seem to be working for me and apparently others were having the same trouble as well so I'm sorry about that. It's unfortunate, but no worries, because I already see that I've made money and what to do next. This post will work for ALL levels of players so I hope it helps you!
Novice Player Strategy
From what I can see, If you're new to the game, the best strategy you can do right now is just play some hands and keep learning the cards and how they work together. You want to complete the daily quests, and you won't have much power to get far as they have changed how it all works now, and we're ALL learning this new process, so the best advice that I can see here is to just get to know the game through the daily quests. Please know I'm not giving financial advice that's a sure thing. I am just giving my thoughts about what could work.
A Few Seasons In Player
I would put myself in this category, and yes, I'll take my own advice... HAHAHA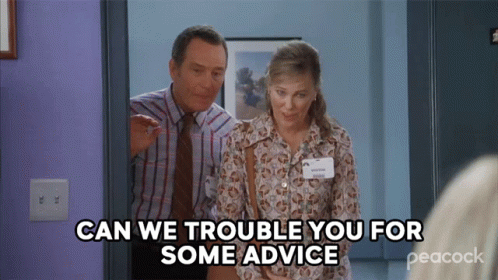 I don't have amazing cards, but I know the game better. My friend has been kind enough to delegate some cards to me, but that person needs to go rent those cards, because I want my friend's success probably more than I want my own (It's just kind of how I am! HAHA I'm more a cheer leader type). So, now that I've learned some strategies, favorite splinters and otherwise, I'm going to go rent some cards and get as FAR as I can so that I'll have even more rewards at the end of the season. I don't need to be an expert at every play imaginable. I will stick to the one or two splinters, and if I can't play those splinters and I'm feeling stressed about it, I'll just surrender. Why waste time knowing you'll lose if you don't have that card coverage you feel you'll need against a stronger player?
The best advice for the player who's not pro but not a novice is to not get discouraged when someone has better cards and you lose. It's just common sense that they will win that round, so don't let it get you frustrated. You stay in your lane, and you WILL find success!
Pro Player Advice
Now why would I know what a pro could do? Well, just because I don't HAVE the cards, doesn't mean I can't see what you can do with them if you have them. It's a weird glitch I think or perhaps we're all starting at zero here, I'm not sure, but did anyone else drop clear to novice, even when they had power to be in a different league? Bizarre.
Anyway, sorry that was a side question to you seasoned players. What I think a pro player is doing right now is building up their time in brawls and getting themselves in line for the new cards that will hopefully drop soon.
A pro player is also keeping up with the Splinterlands blogs, Discord and otherwise to see what's going on and where they should be.
So, either way, I wish you SO MUCH success this season everyone! I'm anxious to see if my strategy pays off this season. I will say that I am well on track making money in this game and you can't say that in many places that you already see returns after only a month (2 seasons) of play. My success really belongs to all of you, because you've been so supportive, helpful and encouraging that I can't thank you enough! It's been SUCH a great community of people, and I hope to keep growing and get stronger in the game so that one day I can be helpful to others! I won't forget your kindness! You really have no idea what it's done for me so thank you!
If you enjoyed my post and want to try Splinterlands, please use my referral link: https://splinterlands.com?ref=rosiew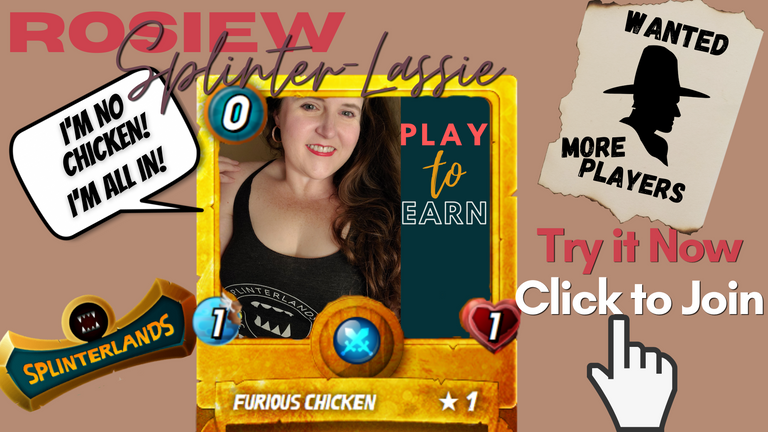 ---
---