Splinterlands Challenge Accepted!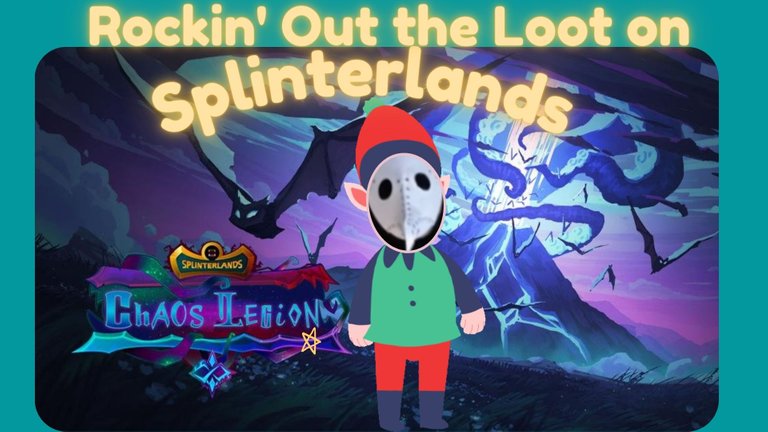 Challenge Accepted: Time to Sing!
Hello everyone in Splinterlands! I know I haven't been writing as much, but I'm still involved in Splintlerlands all the way! In fact, I noticed Splinterlands on Twitter shared a fun little post the other day, and I couldn't resist! I had to enter the contest if only to share some Christmas cheer.
Here's the Tweet from Splinterlands:
https://twitter.com/splinterlands/status/1470139143040561153
What you don't know about me Splinterlands folks, is that I love to sing/perform!! I actually got a little scholarship in high school for my theatrical performance/singing. I sing anywhere really. I sing at home, I sing as a cantor for my church, and I've sang on a bar table a time or two completely SOBER! (Yeah, I don't need anything to be fun. HAHAHA! I'm pretty silly as I am.)
So, it's been a bit quiet and serious for few days in Splinterlands regarding some activities that have happened, and I just felt like maybe some of you Splinterlands people needed a good laugh and Christmas cheer.
The Splinterlands Singing Contest
So about a week ago, @quillfire came up with new lyrics to "Walking in a Winter Wonderland!" -- Splinterlands style! The lyrics are HILARIOUS! It made me giggle so much. I WILL have you say though, girls do not need mansions ... they need gold foil cards if they know what's good for them! HAHAHA!
If you want to read the rules of this contest or the lyrics that @quillfire wrote for the song then click here.
Unfortunately, I don't think I can win this contest. First of all, I've heard the competition, and it's good. Secondly, I tried to sign up for 3Speak, and it wouldn't work, so I just uploaded to a YouTube channel I've never used before, but perhaps because it's not on 3Speak I'm disqualified. :(
I also don't understand what they are talking about with upvotes and all of that. I really don't care so much about the contest; I just love to sing, I love Splinterlands, and I wanted to share a side of myself you all haven't seen (well, HEARD I guess.. HAHAHA!)
So, I'm putting myself out here and hope you enjoy! I don't use auto tune or stuff like that so PLEASE HAVE MERCY ON ME! HAHAHA! :) Oh and enjoy the @aggroed Dr. Blight appearance as well! HAHA! :)
You all are wonderful. I hope you have a great rest of your week! I do hope to write again soon as I have SOOO MUCH swirling in my mind that I need to write; it's just SUCH a busy time of year!
If I don't write to you all, PLEASE KNOW I'm thinking of you!! Have a MERRY CHRISTMAS!!
If you enjoyed my post and want to try Splinterlands, please use my referral link: https://splinterlands.com?ref=rosiew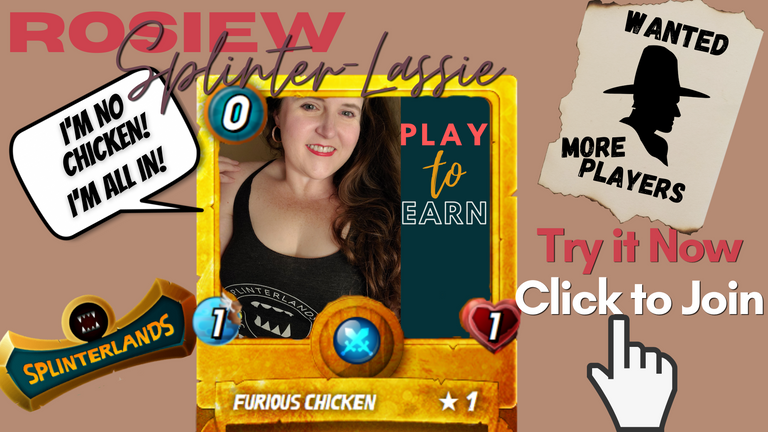 Please remember my post is not meant to be financial advice and is just my opinion.
Follow These Folks:
Splinterlands: https://peakd.com/@splinterlands/
Monster-Curator: https://peakd.com/@monster-curator/
1Up (#OneUp): https://www.1up.zone/
Here are some great links to join as well!
Splinterlands Discord: https://discord.gg/Tw7KjNsQGs
Monster Market Discord (Monster Curator): https://discord.gg/DR3J9rfRFV
PeakD Discord (PeakMonsters as well): https://discord.gg/7mQmzZeugE
NFT Studios Discord (aka 1UP Discord #OneUp): https://discord.gg/4VYBcNuVQd
---
---