Splinterlands Art Contest Week 191! - The Friendly Battle Orca [ENG/GER]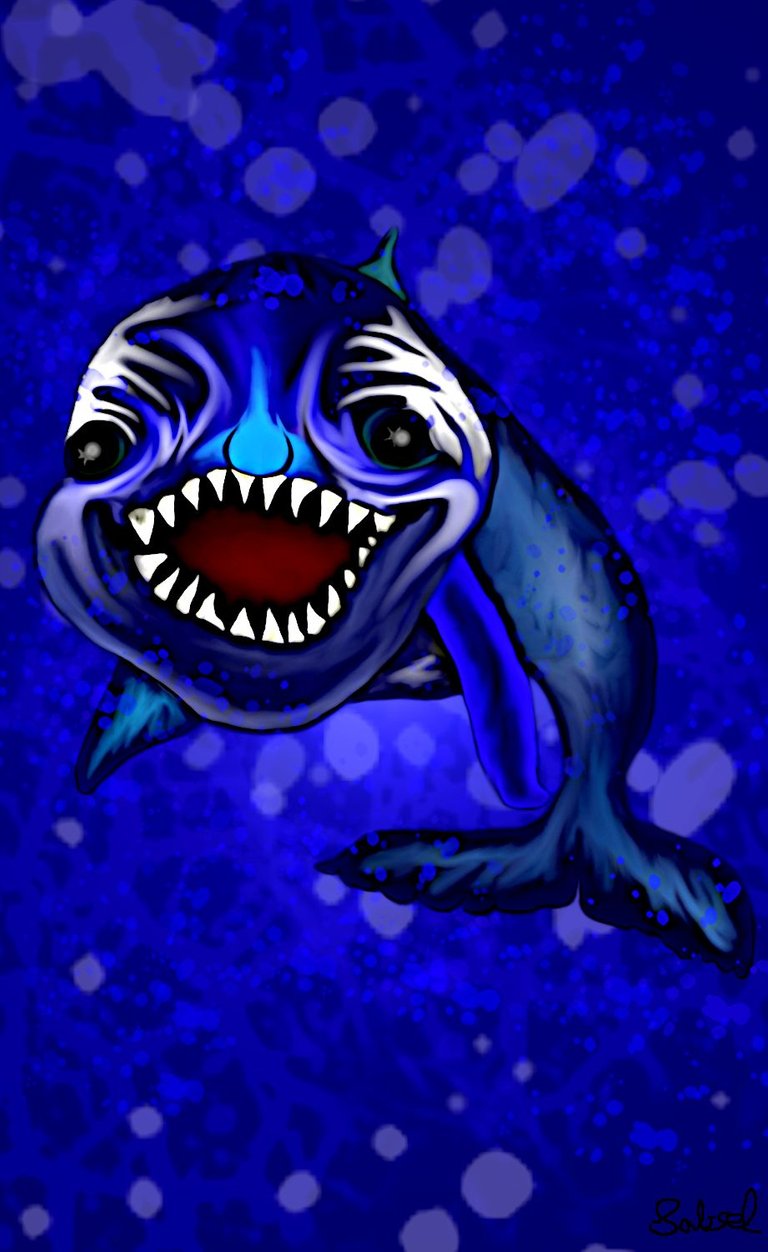 Splinterlands Art Contest Week 191!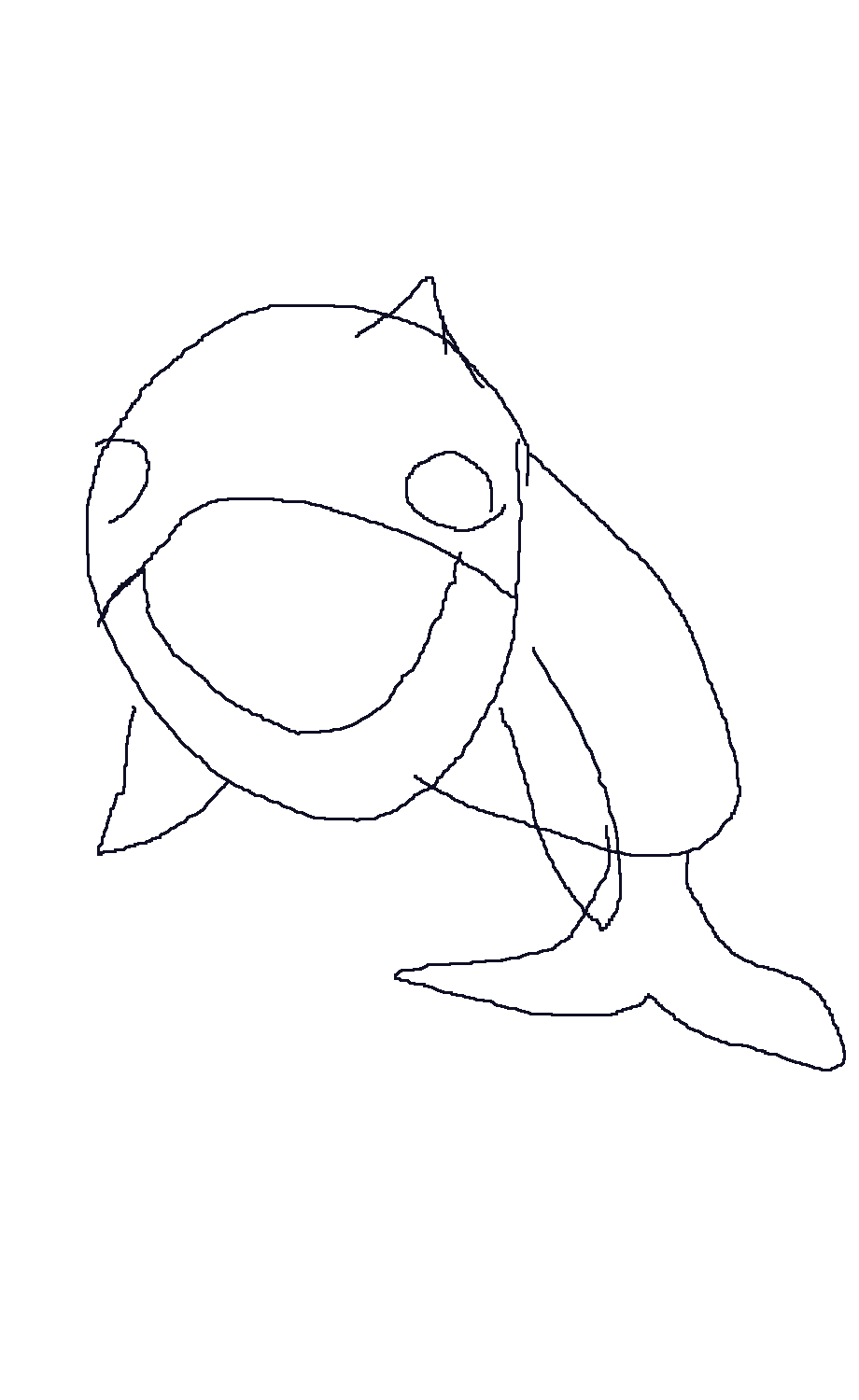 Battle Orca from the element of water inspired me for my artwork today.
Most of the northern coast of Azmaré is controlled by Prince Kasper and his Battle Orcas. That's how it reads from the lore of Splinterlands.
This week I'm showing you an orca for the Splinterlands Art Contest 191 that has also been captured and is currently being trained to fight orcas. He is not fully trained yet, so he doesn't look too dangerous. For my artwork I used Gimp as image editor.
Battle Orca aus dem Element Wasser hat mich für mein heutiges Kunstwerk inspiriert.
Den größten Teil der Nordküste von Azmaré kontrolliert Prinz Kasper mit seinen Kampf-Orcas. So lautet es aus der Lore von Splinterlands.
In dieser Woche zeige ich euch einen Orca für den Splinterlands Art Contest, der auch gefangen worden ist und gerade zum Kampf Orca trainiert wird. Er ist noch nicht voll ausgebildet, daher sieht er auch nicht all zu gefährlich aus. Für mein Kunstwerk habe ich Gimp als Bildbearbeitungsprogramm benutzt.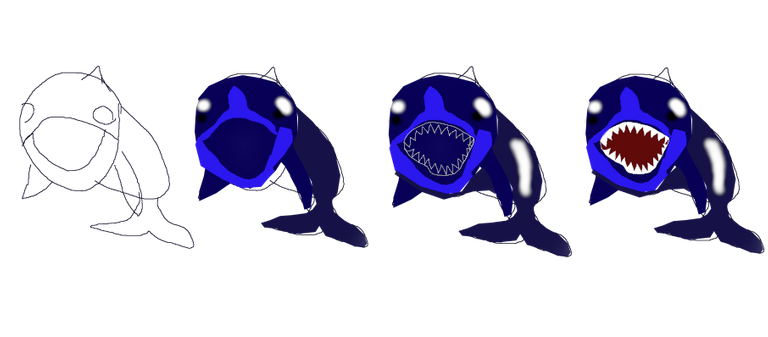 First I paint the base lines with black, selected that with the freehand selection the individual shapes after to fill this with color. I selected a dark and a bright blue. Two black dots for the eyes and the white spots above the eyes, which I will smudge later. Then I painted the teeth and filled the mouth interior with red and the teeth with white for now.
Zunächst male ich die Grundlinien mit schwarz, wählte das mit der Freihand Auswahl die einzelnen Formen nach, um dies mit Farbe zu füllen. Ich wählte ein dunkles und ein grelles Blau aus. Zwei schwarze Punkte für die Augen und die weißen Flecke über den Augen, die ich dann später noch verwischen werde. Dann habe ich die Zähne hingemalt und den Maul Innenraum mit Rot und die Zähne vorerst mit weiß gefüllt.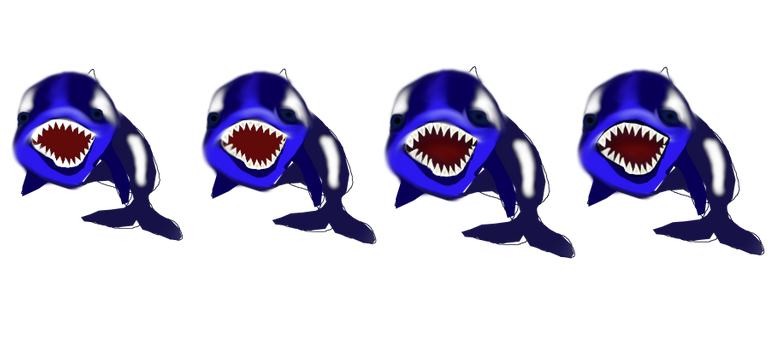 Now the teeth got several coats of paint. A little transcendent yellow and also gray. Also the mouth got several colors to achieve a certain depth.
Nun bekamen die Zähne mehrere Farbanstriche. Ein wenig transzendentes Gelb und auch grau. Auch das Maul bekam mehrere Farben, um eine gewisse Tiefe zu erreichen.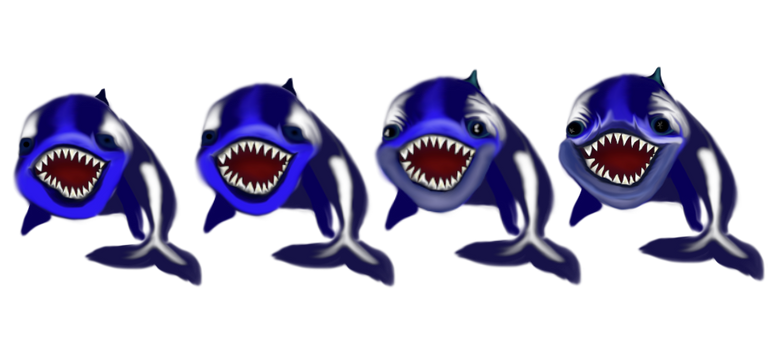 Now I started to smear the colors a little bit, the mouth I improved a little bit with the deform tool. The eyes got a light effect with a white line and the colors were smeared to get also more shape.
Nun fing ich an die Farben etwas zu verschmieren, das Maul habe ich mit dem Verform Werkzeug noch etwas verbessert. Die Augen bekamen einen Lichteffekt mit einem weißen Strich und die Farben wurden verschmiert um auch mehr Form zu bekommen.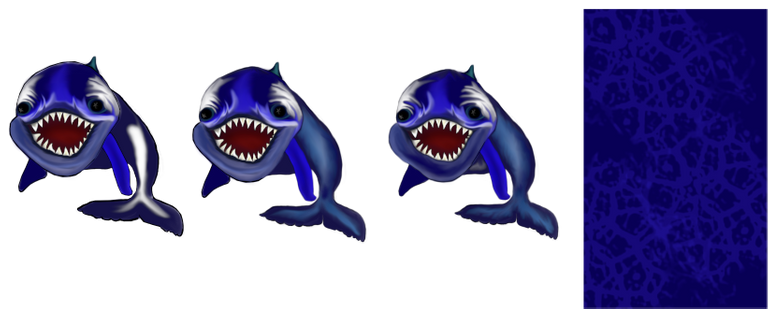 Now it was the turn of the body. Here I marked the individual parts and filled with more colors and mixed, so I got a nice effect of the body. Around the eyes I mixed the colors even more and then it was time for the background, which I filled with blue and drew in a few patterns with a stamp function.
Jetzt kam der Körper dran. Hier habe ich die einzelne Teile markiert und mit weiteren Farben gefüllt und vermischt, so bekam ich einen schönen Effekt des Körperbaus. Um die Augen habe ich die Farben noch mehr vermischt und dann kam der Hintergrund dran, den ich mit Blau gefüllt hatte und mit einer Stempelfunktion ein paar Muster einzeichnet.

I added a few more colors to the background, again using the stamp function. Then I added the fish and gave the background a luminous effect and improved some detail on the eye and nose. Last but not least I sharpened the whole thing a bit with contrast and now my artwork for this week was ready.
Zum Hintergrund kamen noch ein paar Farben dazu, auch hier wählte ich die Stempelfunktion. Dann fügte ich den Fisch dazu und gab dem Hintergrund noch ein leuchtenden Effekt dazu und verbesserte noch einige Detail am Auge und Nase. Zu guter Letzt schärfte ich das ganze noch ein wenig mit Kontrast und nun war mein Kunstwerk für diese Woche fertig.

inspires from @Splinterlands
Nice week for all, your @sabsel
Nette Woche für Euch alle, eure @sabsel
---
---