Splinterlands Art Contest! Week #193 – Flying Squid takes a break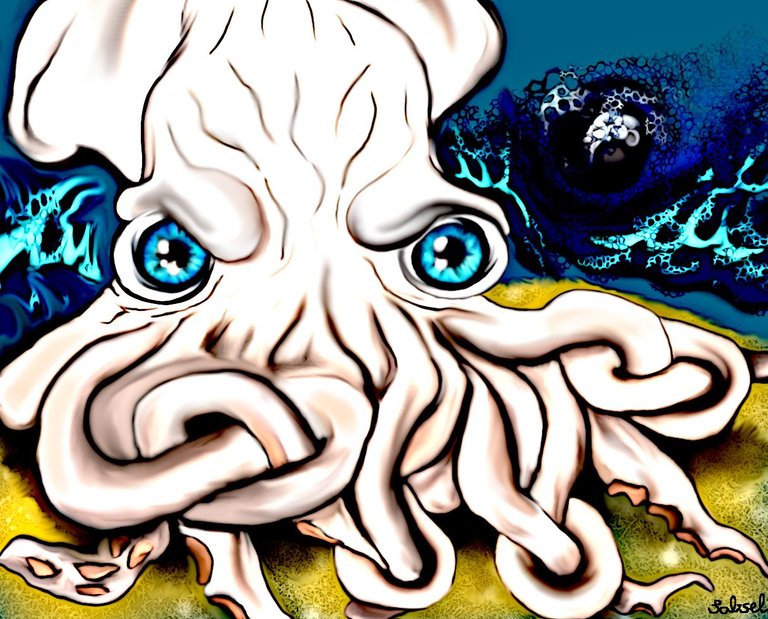 Splinterlands Art Contest Week 193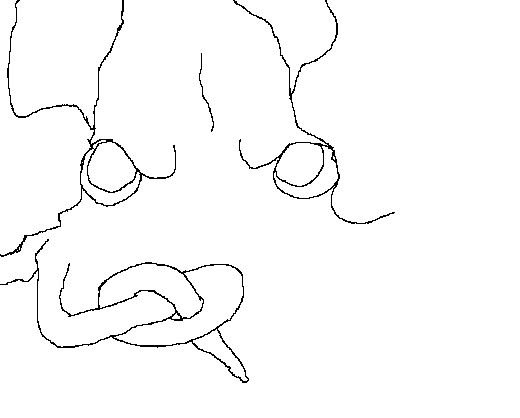 Hi dear splinterlandsgamer, hive community and art lovers also this week I had great fun again to get inspired by splinterlands maps and create a piece of art. This week the Flying Squid takes a break. He comes from the element water and is a good melee fighter. Enjoy my artwork and have a great week.
Hi liebe splinterlandsgamer, hive community und Kunstliebhaber auch diese Woche hatte ich wieder großen Spaß mich von Splinterlandskarten inspirieren zu lassen und ein Kunstwerk zu erstellen. Diese Woche macht der Flying Squid eine Pause. Er kommt aus dem Element Wasser und ist ein gute Nahkämpfer. Habt viel Freude mit meinem Werk und macht euch eine schöne Woche.

I created my work with the image editing program Gimp. Gladly I show you step by step how my artwork was created. First I had painted a few sketches and then traced them more precisely. The long octopus legs should knot a little bit. Already in the next step I started to color him a little bit with paint. For the eyes I chose a circle shape and filled it with white and some gray. Then I traced the contours with black and gave the eyes a blue tint. .
Mit dem Bildbearbeitungsprogramm Gimp habe ich mein Werk erstellt. Gern zeige ich Euch Schritt für Schritt wie mein Kunstwerk entstanden ist. Zuerst hatte ich mir ein paar Skizzen gemalt und diese dann genauer nachgezeichnet. Die langen Kraken Beine sollten sich etwas verknoten. Schon im nächsten Schritt habe ich angefangen ihn etwas mit Farbe auszumalen. Für die Augen wähle ich eine Kreisform und füllte diese mit weiß und etwas grau. Dann habe ich mit schwarz die Konturen nachgezeichnet und den Augen einen Blauton verpasst.

The next steps I was mainly busy with the long legs. I traced the edges with black and painted the individual legs with slightly transparent gray paint. With the smudging tool I blurred the colors a bit and then traced the contours again with black.
Die nächsten Schritte war ich überwiegend mit den langen Beinen beschäftigt. Die Ränder habe ich mit schwarz nachgezogen und die einzelnen Beine mit leicht transparenter grauer Farbe bemalt. Mit dem Verschmier Werkzeug habe ich die Farben etwas verwischt und dann erneut mit schwarz die Konturen nach gezeichnet.

Now I drew in suction cups, which I also outlined with black again, painted a slightly stronger color and smudged it. With a gray shade I painted in the face still a few folds and began to paint in some shadows just at the nodes. Now the eyes got more colors to it, a black border and a black dot in the middle for the pupil.
Jetzt habe ich noch Saugnäpfe eingezeichnet, die auch wieder mit schwarz umrandet, eine etwas kräftigere Farbe bemalt und verwischt. Mit einem grauen Farbton habe ich im Gesicht noch ein paar Falten gemalt und begann einige Schatten gerade an den Knoten ein zu malen. Nun bekamen die Augen noch weitere Farben dazu, eine schwarze Umrandung und einen schwarzen Punkt in der Mitte für die Pupille.

The eyes got another turquoise and dark blue hue that I mixed something with each other. And white dots for the light effect. Now I wanted to spice up the background a little, so I painted the element from Splinterland's water as a wave in the background. The I then painted with white and a bright light blue with it, I also mixed the colors with each other.
Die Augen bekamen noch einen türkisfarbenen und dunkel blauen Farbton die ich etwas mit einander vermischte. Und weiße Punkte für den Lichteffekt. Nun wollte ich den Hintergrund ein wenig aufpeppen, so malte ich das Element aus Splinterlands Wasser als Welle im Hintergrund. Die malte ich dann mit weiß und einem leuchtenden hellblau mit dazu, auch die Farben vermischte ich mit einander.

With the stamp tool I painted some structure to it and the colors should run a little into each other. The ears got some color, which I also smeared. And also on the other side the waves came out in the background. For the front area I decided to paint a land bottom. For this I took a green tone and smeared it with beige color.
Mit dem Stempel Werkzeug malte ich etwas Struktur dazu und die Farben sollten etwas in einander laufen. Die Ohren bekamen etwas Farbe, die ich auch verschmierte. Und auch auf der andere Seite kamen die Wellen im Hintergrund zum Vorschein. Für den vorderen Bereich entschloss ich mich einen Landboden zu malen. Hierfür nahm ich ein Grünton und verschmierte den mit beigefarbener Farbe.

In the last steps I painted some wrinkles on the face. I repainted all the shadows and strengthened them here and there. The eyebrows got a shape so that the right eye does not look too round. With a little more contrast in the picture I paint the eyes a little stronger and thus my work of art was ready.
In den letzten Schritten malte ich noch einige Falten im Gesicht dazu. Die ganzen Schatten habe ich erneut nachgemalt und hier und da etwas verstärkt. Die Augenbrauen bekamen eine Form damit das rechte Auge nicht zu rund wirkt. Mit etwas mehr Kontrast im Bild male ich die Augen noch etwas stärker und somit war mein Kunstwerk fertig.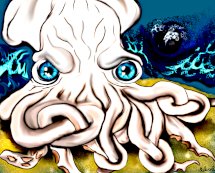 inspires from @Splinterlands / Fotomontage by @sabsel

This was my Splinterlands Art Contest entry for this week and I wish you a great week, see you soon your @sabsel
Das war mein Splinterlands Art Contest Beitrag für diese Woche und ich wünsche euch eine tolle Woche, bis bald eure @sabsel
---
---