Climbing my way up again
I had taken a break from actively playing on Splinterlands and Discord chats because of various duties. Splinterlands game is a serious one that requires a lot of dedication, attention, the right cards and time. So, it was difficult for me to spare time for such play and I took a break but I did play brawls even though my performance was affected a bit. I do notice that my opponents take a lot of time to submit battles and this might be due to the fact that they are waiting for the battle helper bot to choose a team. I did try that bot once but lost more than won. So, I stopped using it. Nowadays, I play on my own and even though my performance is average, I can still have the satisfaction of playing.
At present, I am in Bronze 1 and cards are cheap to rent and play. So, I decided to rent a few and I am trying to play seriously. I also bought a few packs and got legendaries to my pleasant surprise. Here is a game that I won and I thought I will take a screenshot and let you watch the game. You just have to click the image to watch the battle.
The rule is a bit tricky and luckily, I won the game.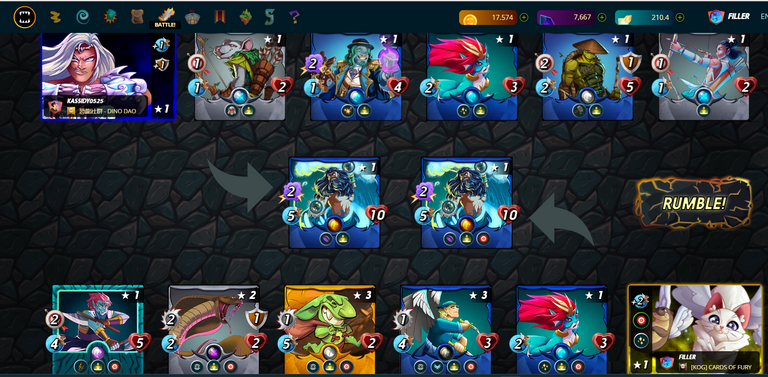 Splinterlands is a game that you can never let go of even if you want to. It is such a beautiful game that you just love all of it, be it the cards, the animation, the layout, the magic, the gameplay, the rules. So, if you have ever played this game, you will certainly be back at one time or another.
Thankfully, I have some SPS staked. So, that part does not worry me. The only part that does is the lack of money to keep on investing and with the new set, I am not sure I can even hope to buy like I did with the Chaos legion. Anyways, there is still time left, and if crypto booms, I can invest, hopefully.
The exit of bots from modern is really a refreshing thing. I can play against real humans and it gives a kick when I defeat an actual player. I know and realize that many had invested in bots but it would have put an end to the game itself and we players who love the game do not want that. I do hope that the Splinterlands team thinks of introducing many small games based on splinterlands - like paying one hive for a single game - could be crossword or something like that. We did have those sorts of games earlier but it was much more of a gamble-type game.
If you have read this much and are a splinterlands player, what do you feel about the game and do you plan to invest in the new set? Have you invited your friends or family to play the game and have you found new strategies to win?
The best answer will win a surprise card.
---
---