Are the rewards getting better? Fire Quest.


I have been playing Splinterlands now since November 2020 and still really enjoy the game. It seemed that lately the rewards for daily quests and Seasons end have not been worth writing anything about. My last season I finished in Gold III and receive 22 chests. In my 22 chest I got a few common cards, small amounts of DEC (Under 10 DEC per chest), and potions. For the last few weeks my daily quests have yeilded the same common cards, small amounts of DEC, and potions.
Watching Splinterlands Town Hall their is alot of talk about restructuring the rewards. One of the things discussed was the rewards should start getting better for players. Well todays daily quest for me was a fire quest. Todays fire quest revealed some rewards I was very happy about and hope this is the type of upgraded rewards we shall all expect to see. I got two rare cards one of them being a gold foil and an epic card.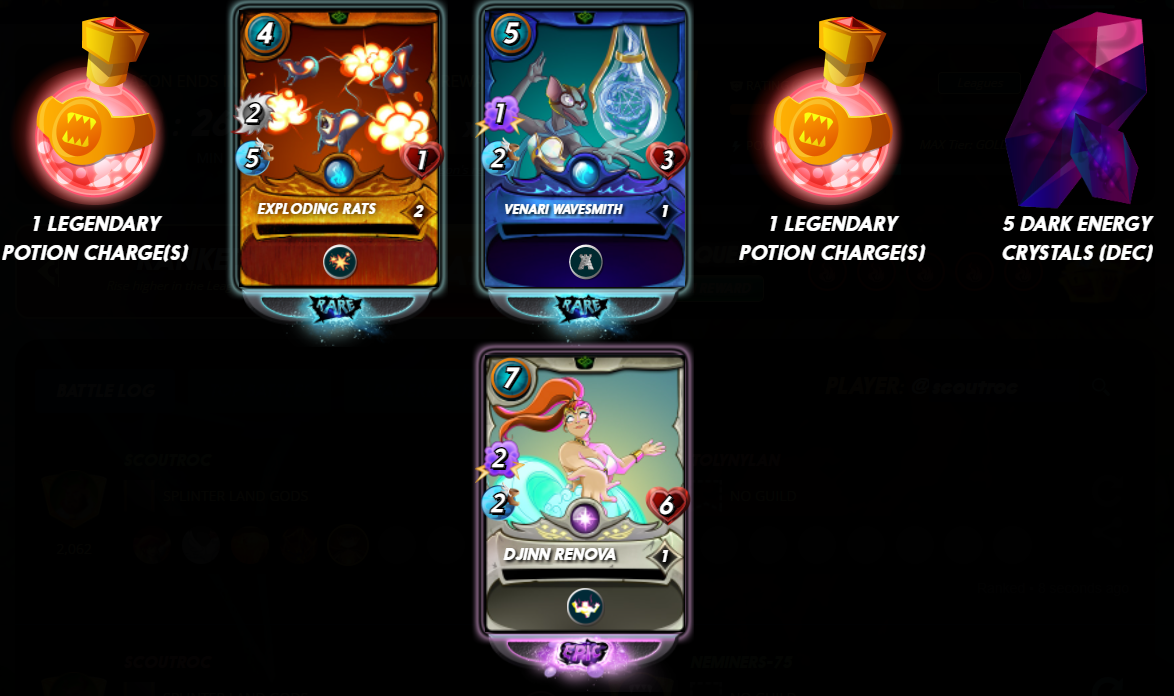 I am also looking forward to the Land upgrade. There is so much promised with it and sounds like we are finally to the point where we could see the land upgrade at any time. I know like many of you I have been waiting for the land upgrade for what seems like a year and a half or maybe in two years. I am sure that anything worth waiting for should be worth it's weight in gold. Lets hope the land upgrades start soon.
When I originally bought land you recieved a lottery ticket that at the end of the land selling period a lottery was going to occur. In the lottery I recieved totems which I have not heard much about but expect them to come out with the land. So I am looking foward to that as well.

Hopefully everyone receives good rewards at the seasons end which is coming in about 7 days.
If you are thinking about joining the fun in Splinterlands click on my link below.
https://splinterlands.com?ref=scoutroc
Another game I really like to play is Rising Star. If you have not played it yet I highly recomend it and it doesn't cost anything to start in it. Here is my link to Rising Star.
https://www.risingstargame.com?referrer=scoutroc
!PIZZA
#thgaming
!pgm
Posted using Splintertalk
---
---