New reward system is well thought out and delivering great rewards.

I was not sure if I was a fan of the new reward system at first. My first day with the new reward system, I lost at least 20 battles in a row. By the time the day ended I only had secured one chest and had dropped into the bronze league. A horrible start to the new reward system for me. That first chest gave me an Alchemy potion.
Since that first day I have managed to climb back up to the gold league. In doing so I have secured some decent rewards along the way. On one of the days I received 7 chests for the focus. Inside the 7 chests were almost 500 DEC and a two rare cards. As I have returned back to the gold league I have been very happy with the rewards I have been getting some are definitely better then others, but overall happy.
The new reward system allows you to battle throughout the day. Yes your capture rate does drop, but adding more chests to you focus may pay off. I found myself with the old reward system only completing enough battles to get my daily quest completed and then I stopped for the day. There was not really any further incentive other then additional DEC with the old reward system. The new reward system has allowed me to play Splinterlands much more during the day. I find myself thinking well I can get one more chest today if I play a little longer.
So at first I was not a fan of the new reward system but after playing awhile I think this was a great addition to the game. I think it will also add value to the game over time becuase I believe more people will start buying cards. I also like the fact that gold cards recieve an added point bonus during battles which definitely adds more value to the gold cards. I look forward to other upgrades, becuase it seems the developers think about and test the upgrades instead of just throwing them out there and hope they work.
Today I collected 8 chests from my daily focus and below are the rewards as you can see there are some nice rewards.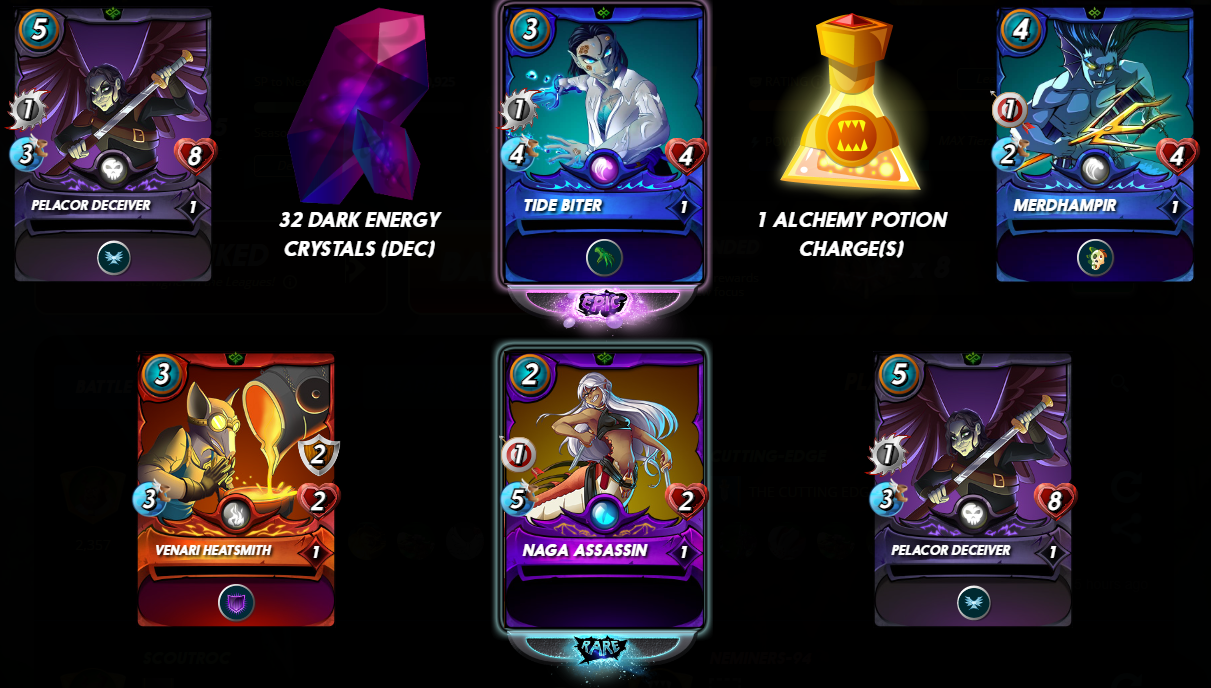 If you are thinking about joining the fun in Splinterlands click on my link below.
https://splinterlands.com?ref=scoutroc
Another game I really like to play is Rising Star. If you have not played it yet I highly recomend it and it doesn't cost anything to start in it. Here is my link to Rising Star.
https://www.risingstargame.com?referrer=scoutroc
#thgaming
!LOLZ
Posted using Splintertalk
---
---