FEW TIPS TO HELP YOU WIN MORE AND RANK UP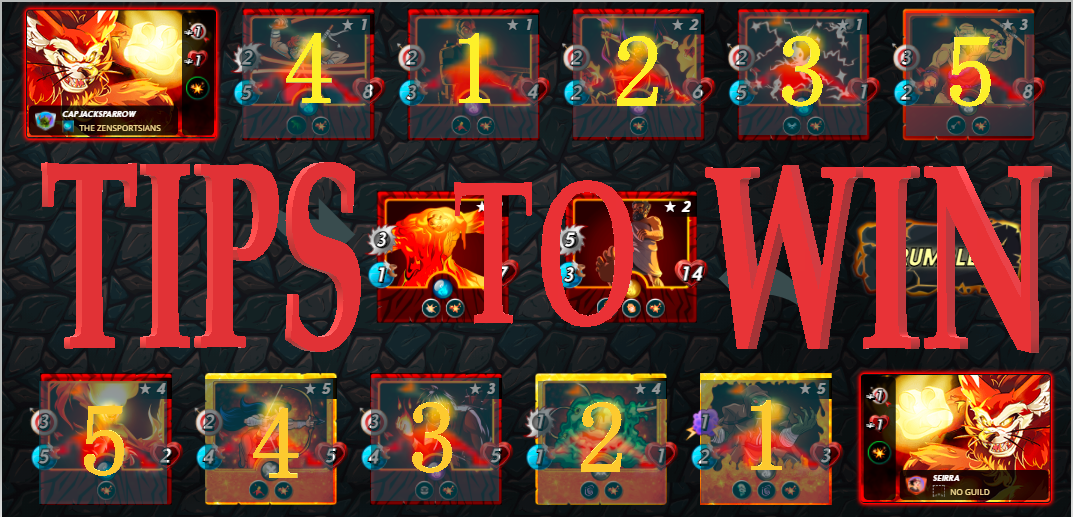 Many players have been asking for help on how they can win more games, what cards should they rent and the questions goes on. So I compiled some of the things I've learned after playing Splinterlands for a month. Below are a few tips to help you in your future games and hopefully provide you with more wins for the season.
Know the Skills
After going through some matches you may have a descent understanding of most of the skills in Splinterlands, but it's always right to make sure you are fully aware of all the skills that you'll encounter. This is why you should put sometime to read and be familiar with all the skills that is available in Splinterlands. Below is a link on where you can read them.
https://splinterlands.com/?p=gameplay
Accompanied by the right information you'll have a better chance of drafting the right team to win your battles. Here are some skills that best oppose each other to help you.
Self Heal or Tank Heal

Healing is best countered with Affliction

Affliction and other debuffs are best countered by Cleanse and Immunity


Shields

Rust and Piercing are some of the strong skills against Shield


It's just a few of them skills who are best to address some specific skill.
Card Levels and Max Level Cap of each League
Once you are familiar with the skills you should now learn about the card levels and how to use them. Every card increases their level to a certain number depending on their rarity.
Common - up to Level 10

Rare - up to Level 8

Epic - up to Level 6

Legendary - up to Level 4
Everytime a card increase its level it also gains additional stat/skill. So it would be better for you to spend some time and familiarize on what level does a card gain an additional skill. Below is a sample.


In addition to card levels each league has a balance rule that forces high level cards to go down on the certain league requirement. This will better help you especially if you're just staying in a specific league to memorize what is the max level of the cards to be used in there.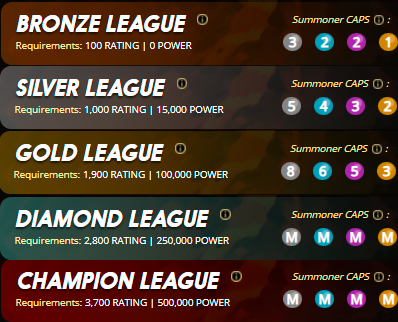 Simply put it that whatever is the level of your summoner that is the max level of the cards you may use in that specific league. So if your trying to compete in a specific rank, remember to bring the cards with the right level to ensure more victories.
Positions and Rules
Positions of every cards are very important to this game. It can certainly determine victory or defeat of a player. This is why in most cases the positions of each cards are based on the set of rules provided within the match.
In assessing the right positions for the card you'll have to take their Atk, Spd, and Hp and Skill in consideration. Whoever has the lowest hp and most significant game favoring skill will almost always be on the safest positions.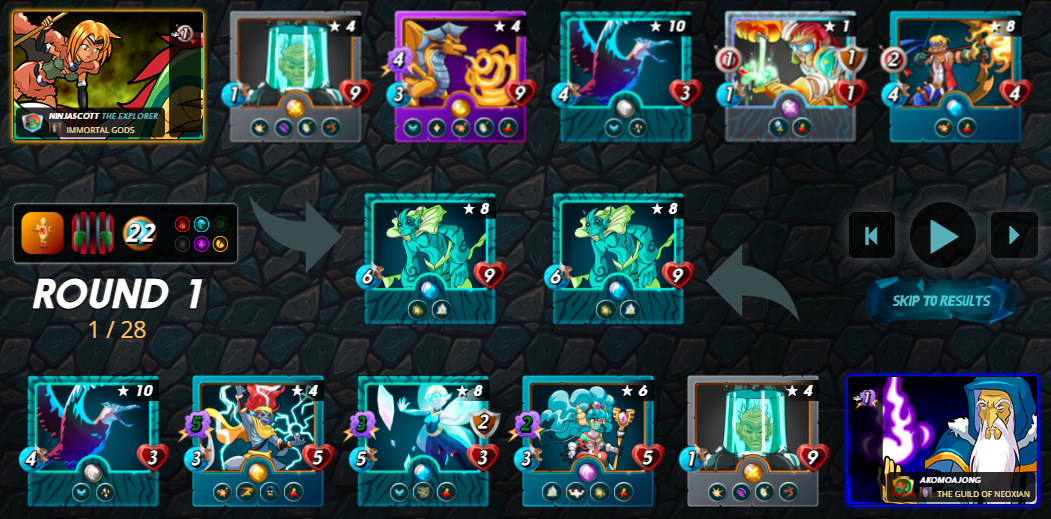 (Photo was taken from the top battles to be used as a sample)
Full Battle Replay
https://splinterlands.com?p=battle&id=sl_3989d36faf8ea603e0c5b671be8e69dd&ref=seirra
So in the photo you'll see the rule of the match was "Target Practice and Keep your distance" this rule will disable all the melees and then all range and magic attacks cards will have a "Snipe Ability".


So just an aditional information about Snipe, the cards that have this ability will always prioritize the card that is closest to the 2nd position that has no attack, and with range or magic atk. So if there's a melee at the back line they will be the last target. If it's all melee the first one to be targetted will always be the one in the 2nd postion.
Going back to the photo, they both have their main damage absorber(tank) positioned at the 2nd and because there is no melee in the match it's a guarantee that the first target will be the 2nd postion.
The Person who took the most advantage on the positioning here was the player on the top. It's because the card on his 3rd position has the same ability with the card that he have on the 2nd, which is reflect so everytime a Blast ability is triggered both of them will reflect the damage in half. That pretty much concludes the match since they have the same number of healers.
Other Rules and Position to be a sample is "Up Close and Personal" where in you may only use your melee monster cards. When this rule comes up most players are going for Mylor Crowling or other cards that has thorns.
Another skill to consider for this is Retaliate this skill is very good on this type of rules eespecially if thorns are not available and you're wondering how to protect your back line.


Instead of your backline waiting to be killed by a Sneak card, it now has the ability to fight back even if it's not your turn.
These are just the few of them. If you have some other tips for other players feel free to right it down below.
If you are reading this I'd like to thank you for taking sometime in reading my blog and to the people who've welcomed me warmly on my first post, Thank you very much!
---
---