Splinterlands Art Contest Week 208: Serpentine Spy 🃏🔥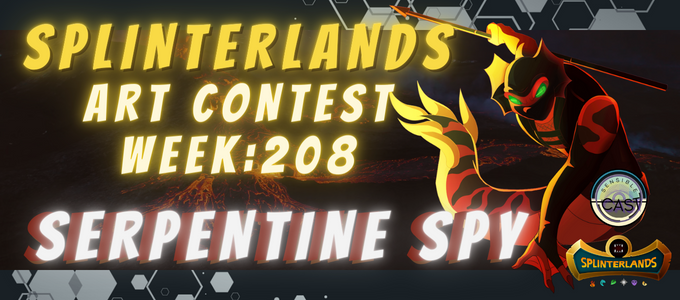 What's Good Splinterlands!
Its been a while since I made artwork for #Splinterlands and today I just finished an artwork for this week fan art contest.
For this entry I made it via free-hand drawing using only My Sketchpad, Pencil, Ballpen, and Sign pen, Pretty much this with turn out just black and white. It's good for me that Splinterlands has a lot of Cards that I can play around with, so I might do this more often now. 🫠🫠🫠


Frames




I wanted Serpentine Spy to make a posture as if he is currently in battle, with his spear facing his enemy and his other hands for gauging his oppontent.

frame Finish




Now that I got everything in place and position Serpentine Spy how I wanted it to be, Next is Pen tracing.

Tracing with Pen

Finishing tracing the whole frame work before I can start doing the shade.







Hatching and Shading




Wrapping this Up!




Anddd I'm Done

Hey if this is your first hearing about Splinterlands its a #Play2Earn Card game with in #Hive blockchain, earning #DarkEnergyCrystals and #Splintershard that you can exchange for Hive token or Stake to earn more! Click the link on the bottom of this post and Sign Up your account.


The Serperntine Spy | Lore

Serpentines are naturally sneaky, but their highly-trained spies can infiltrate even the most secure bases in the Splinterlands. They wear minimal armor, because they are never caught. Retractable miniature spears are the chosen weapon of the Serpentine Spies; they can be hidden easily and brandished quickly for many uses.




Serpentine Spy Stats

| LVL | CARD | | | | | Est Power | ABILITY |
| --- | --- | --- | --- | --- | --- | --- | --- |
| 1 | 1 | 2 | 3 | 0 | 1 | 10 | |
| 2 | 5 | 2 | 4 | 0 | 1 | 50 | |
| 3 | 14 | 2 | 4 | 0 | 2 | 140 | |
| 4 | 30 | 2 | 5 | 0 | 2 | 300 | |
| 5 | 60 | 3 | 5 | 0 | 2 | 600 | |
| 6 | 100 | 3 | 5 | 0 | 3 | 1000 | |
| 7 | 120 | 3 | 6 | 0 | 3 | 1500 | |
| 8 | 220 | 4 | 6 | 0 | 2 | 2200 | |
| 9 | 300 | 4 | 6 | 0 | 3 | 3000 | |
| 10 | 400 | 4 | 6 | 0 | 3 | 4200 | |

---

"Live the life you Love, Love the Life you Live" - Bob Marley

Cheers! 🍻

Disclaimer:I made the banner, divider via Canva, Splinterdlands photos where used from Splinterland asset and all rights and credit to them. Illustration drawing was made by @sensiblecast ⓒ All Rights and Credit Reserved to the mention above.

---

Follow me

Visit my Page @sensiblecast.

Tip me? via BNB network: 0x2868d254c938753C4619F4b6A3c0e5734703977f

---

Posted using Splintertalk



---
---