Splinterlands Art Contest // Week 180 // Lira the Dark (ENG-ESP)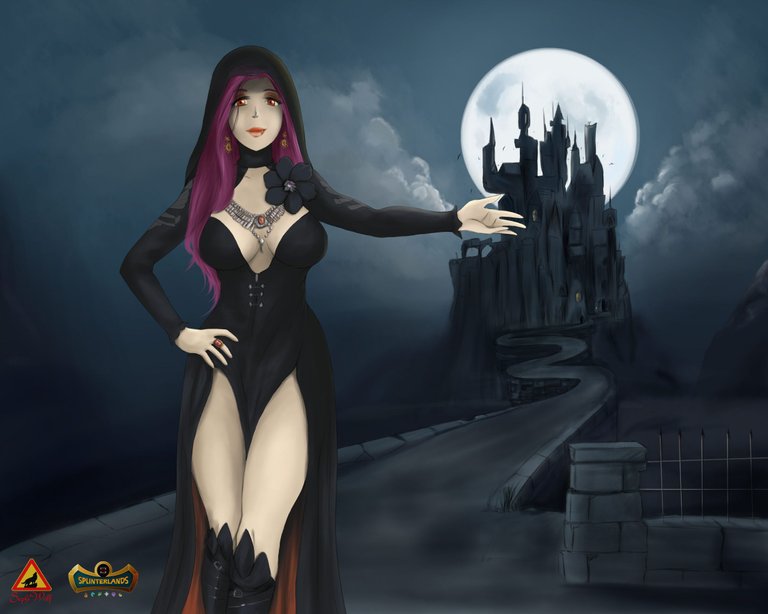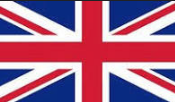 Greetings, my dear readers and summoners of Splinterlands, this time I bring you the waifu Lira the dark, for the contest of the week 180. So far this is my favorite drawing I am very happy for the result because I feel that I advanced a lot since my first post, the background is inspired by one of my favorite video games castlevania, the castle has small details, I also applied several things that I learned during the week and I hope to develop in future drawings and paintings for the community ... without more to say let's start!
Saludos, mis queridos lectores e invocadores de Splinterlands, en esta oportunidad les traigo a la waifu Lira the dark, para el concurso de la semana 180. Hasta el momento este es mi dibujo favorito estoy muy feliz por el resultado pues siento que avance mucho desde mi primer post, el fondo está inspirado en uno de mis videojuegos favoritos castlevania, el castillo cuenta con pequeños detalles, también aplique varias cosas que fui aprendiendo en la semana y espero poder desarrollar en futuros dibujos y pinturas para la comunidad... sin más que decir empecemos!
sketch // boceto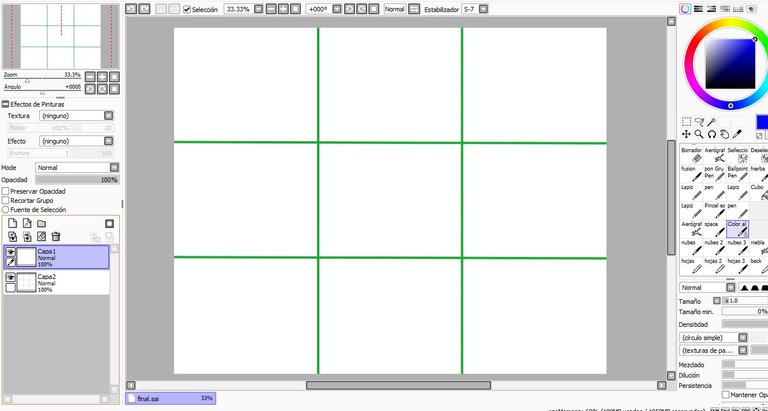 I will use or try to use the rule of thirds, it is something I have been studying lately, to create this grid I used the program "pain tool sai 2" and then I imported it to "pain tool sai 1" I have not yet mastered the new version of Sai so I will continue for a while with the usual one.
Usaré o trataré de usar la regla de los tercios, es algo que he estado estudiando últimamente, para crear esta cuadrícula use el programa "pain tool sai 2" y luego lo importe al "pain tool sai 1" aun no domino bien la nueva versión del Sai por lo que seguiré un tiempo con la de siempre.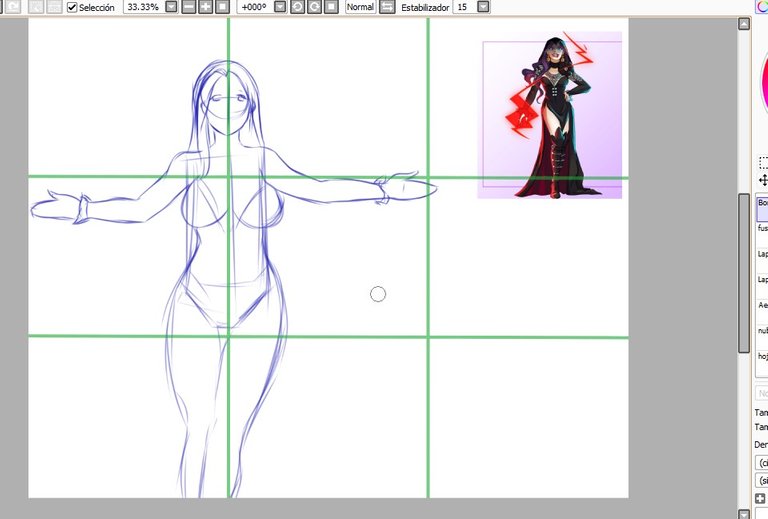 The initial idea was a pose with both arms outstretched in reference to Tony Stark in Iron Man 1.
Tony Stark Explotion
La idea inicial era una pose con los dos brazos extendidos haciendo referencia a Tony Stark en iron man 1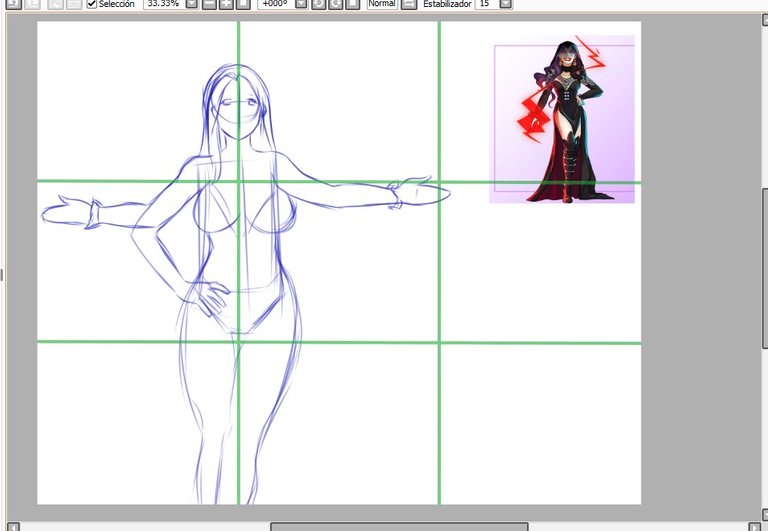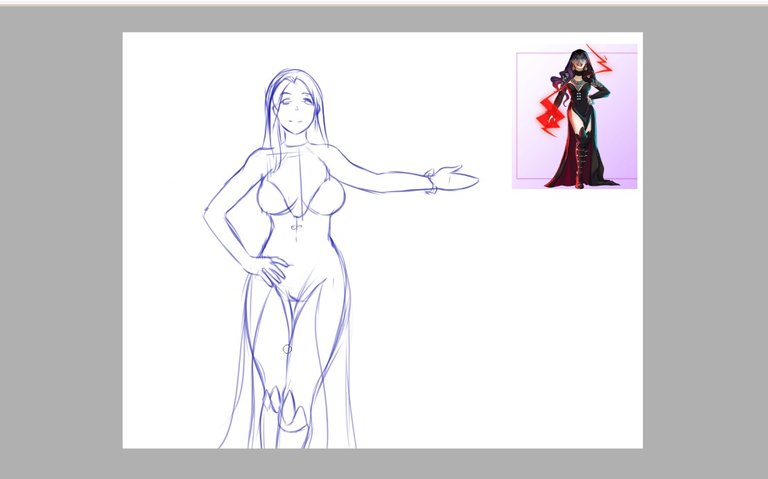 After looking at the two options and also taking into consideration that the girl is not in the center of the image, I decided to use the hand on the waist, also referring to the image on the card.
Después de mirar las dos opciones y también tener en cuenta que la chica no está en el centro de la imagen, me decidí por usar la mano en la cintura, también hace referencia a la imagen de la tarjeta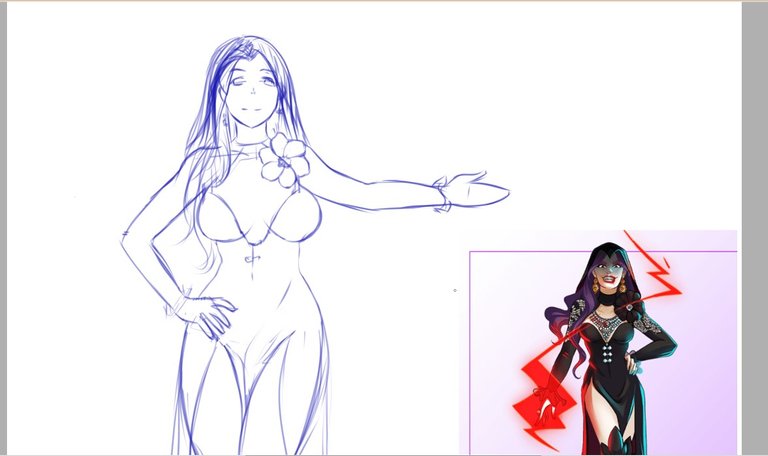 adding other details to the sketch
Agregando otros detalles al boceto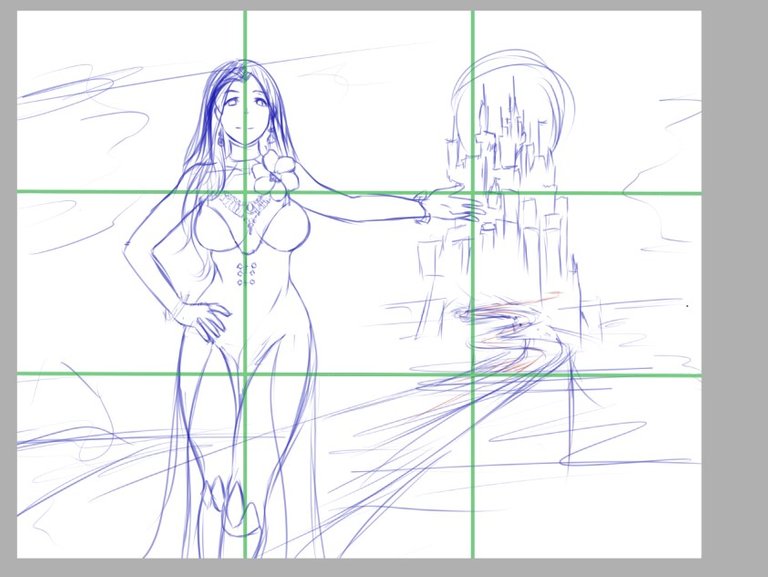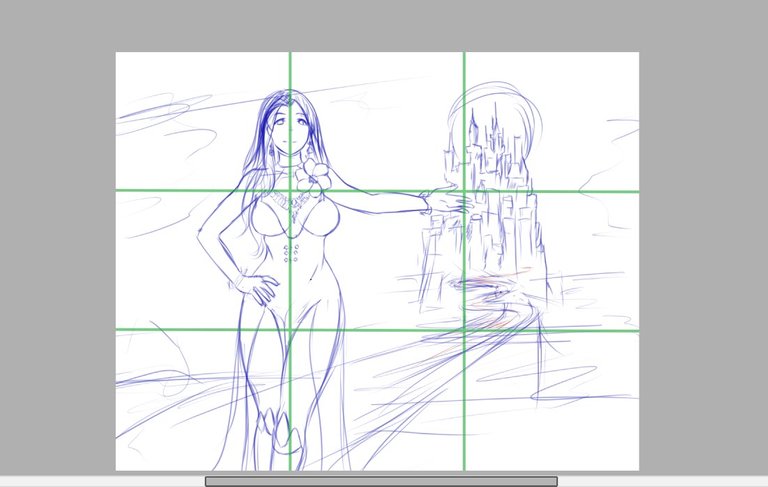 Well with the background it would look like this, I still use the rule of thirds.
Bien con el fondo se vería así, sigo usando la regla de los tercios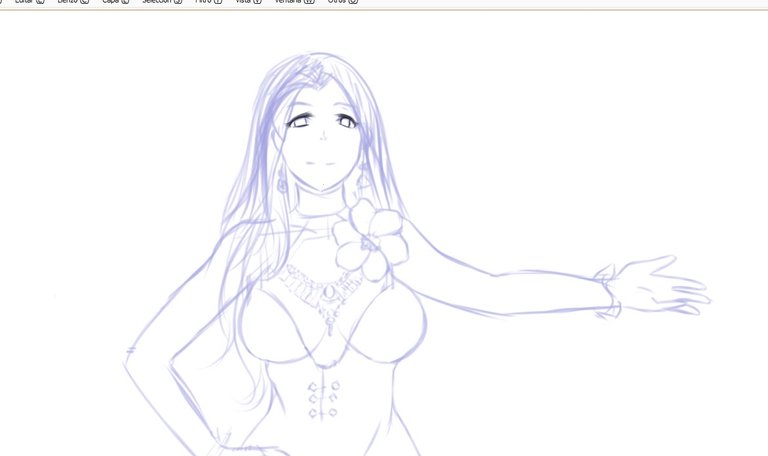 I start the lineart this part will take me a long time I know... I know... I know.
Empiezo el lineart esta parte me llevará mucho tiempo lo se... lo se.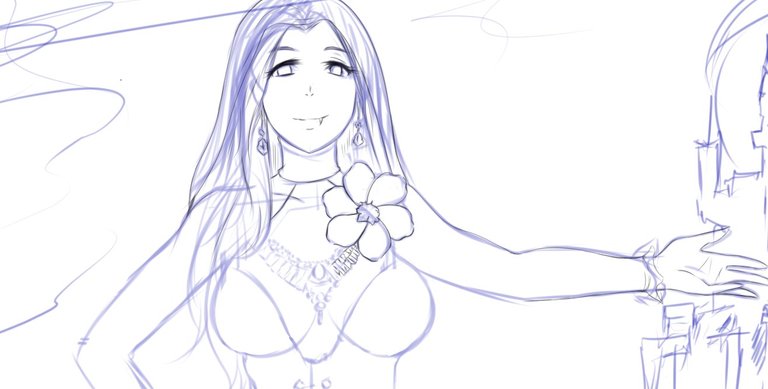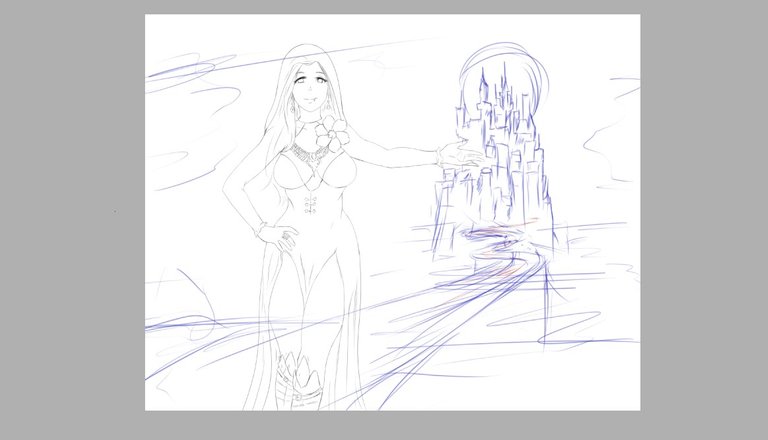 Once the lineart of the character is finished, I continue with the background.
Una vez terminado el lineart del personaje continuo con el fondo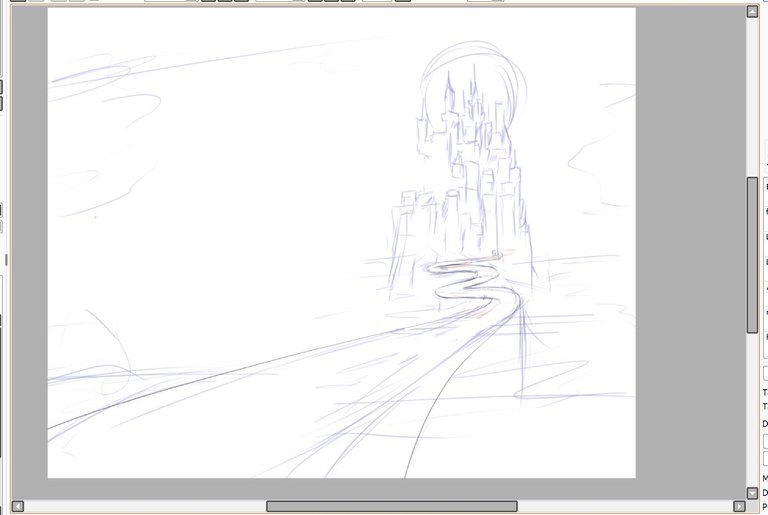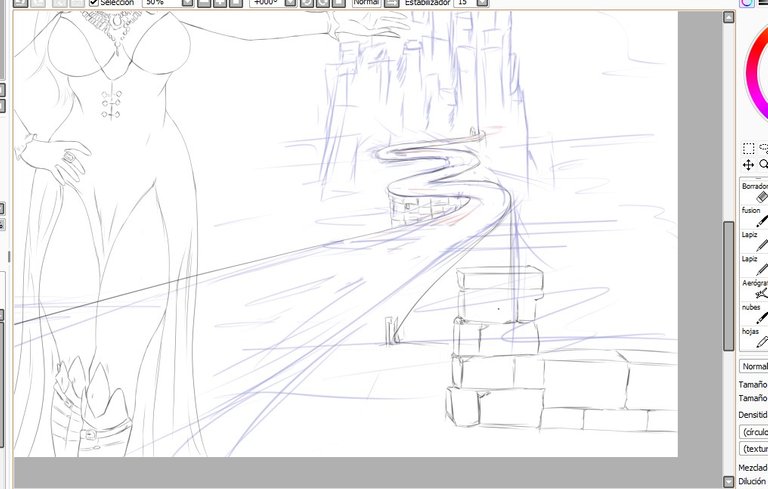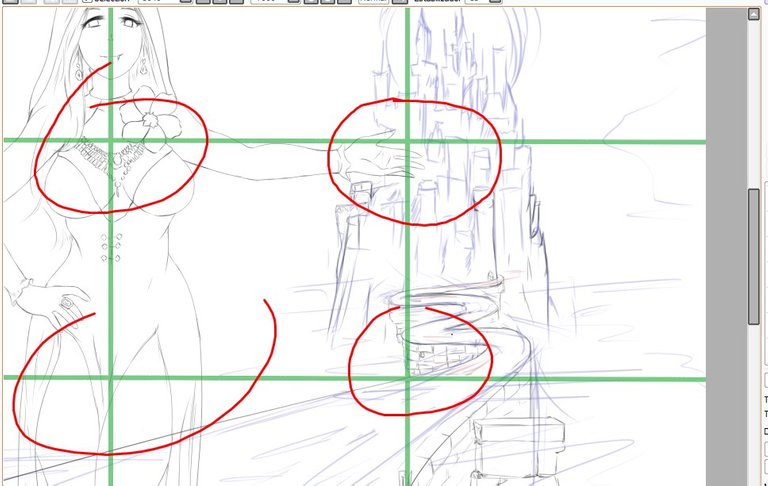 I gave more detail to these areas
le di mayor detalle a estas zonas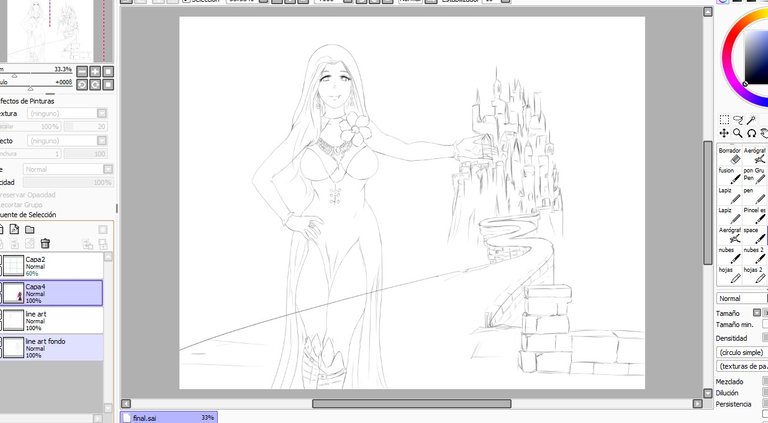 Finally the complete lineart
Finalmente el lineart completo
Color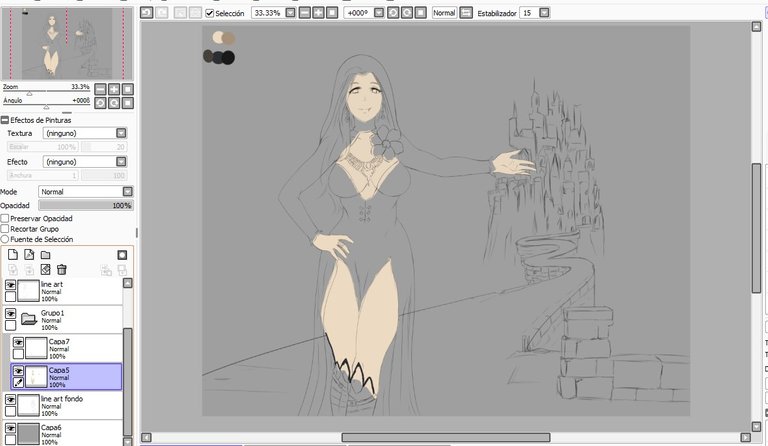 I apply the base color, as usual I use a gray background to have contrast in the applied colors.
aplico la base del color, como es costumbre uso un fondo de color gris para tener contraste en los colores aplicados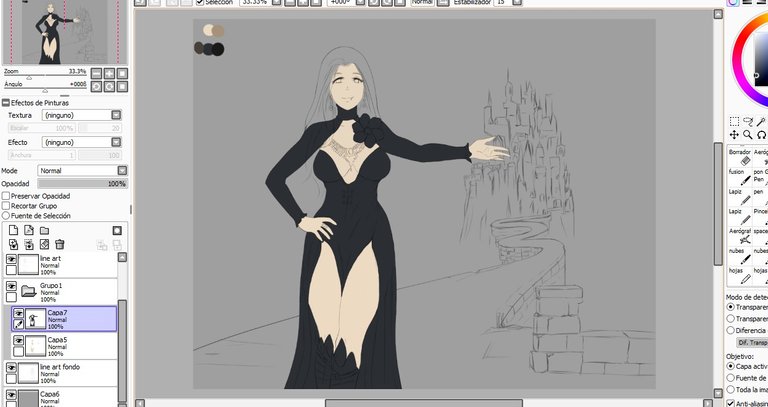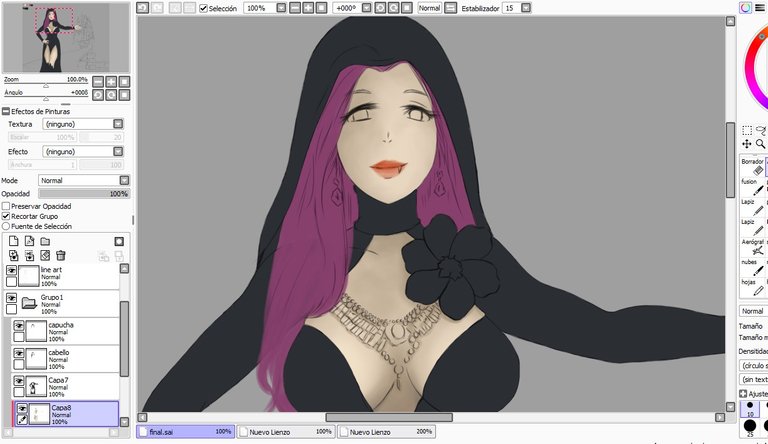 Continuing with the shadows, for some time now I have been using only the base color and another tone for the shadows, and occasionally another tone for the highlights, that would depend on the light source in the drawing.
Continuamos con las sombras, desde hace un tiempo estoy usando solo el color base y otro tono para las sombras, y ocasionalmente otro tono para los brillos, eso dependería de la fuente de luz en el dibujo.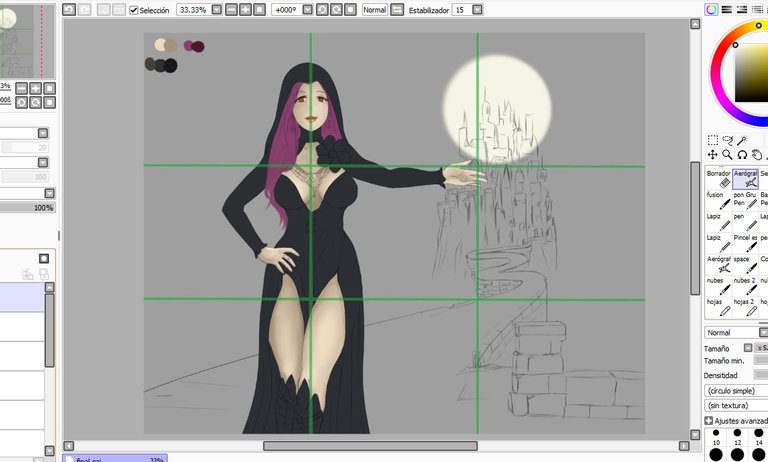 Initially, the moon was not going to be that bright, I placed it at this stage to give me an idea of where to put the glows.
Inicialmente, la luna no iba a tener tanto brillo, la coloqué en esta etapa para darme una idea de donde poner los brillos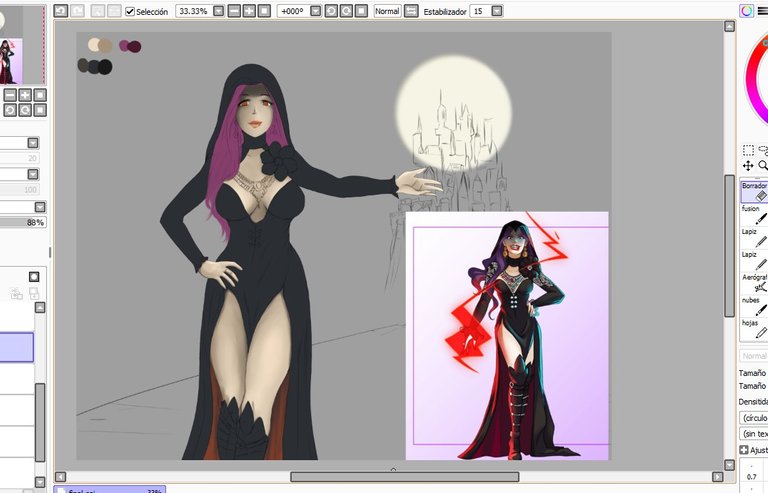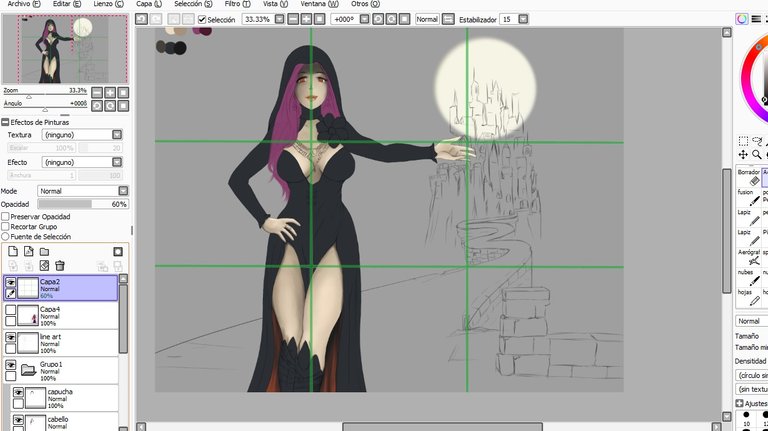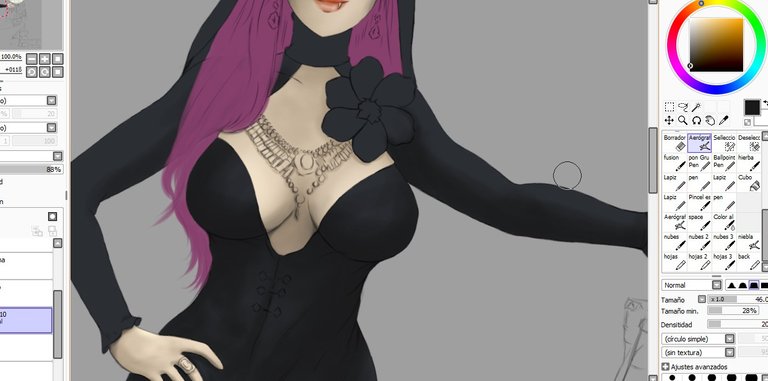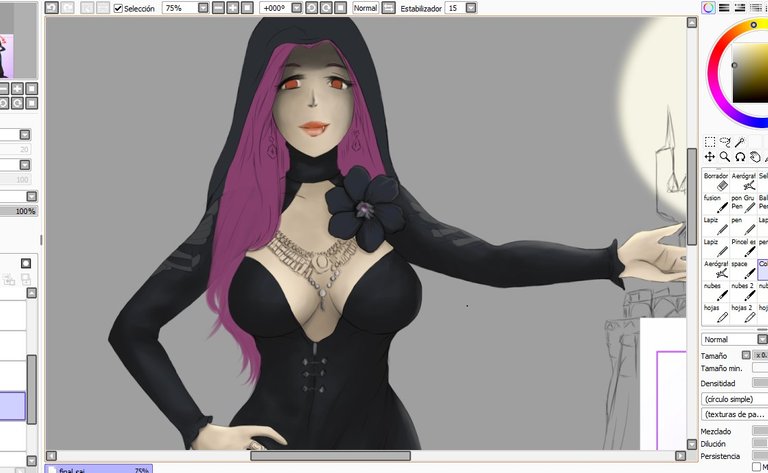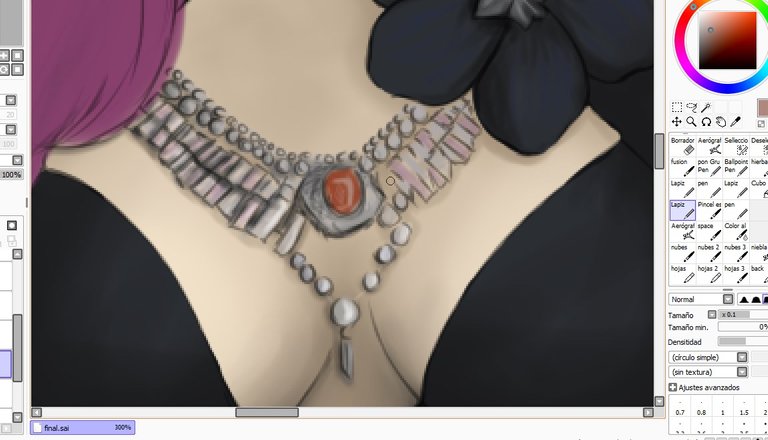 I continue with the details and shadows, giving high priority to the points in the rule of thirds, this part took me a long time, but I wanted to get it right.
Sigo con los detalles y sombras, dando mucha prioridad a los puntos en la regla de los tercios, esta parte me llevo mucho tiempo, pero quería hacerlo bien.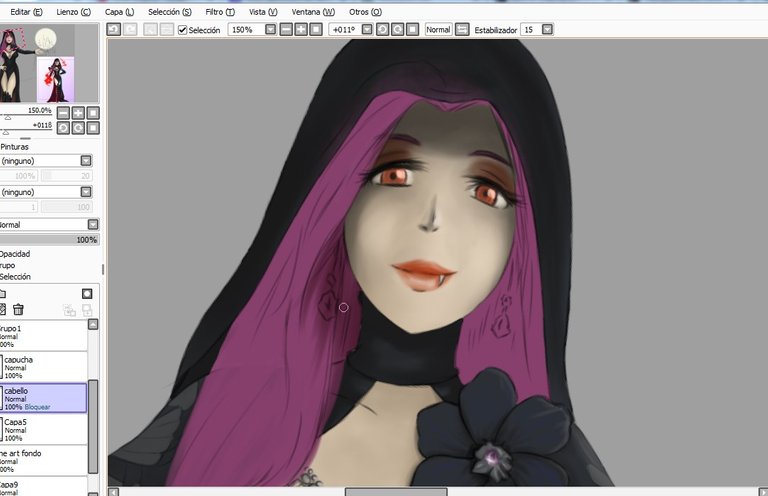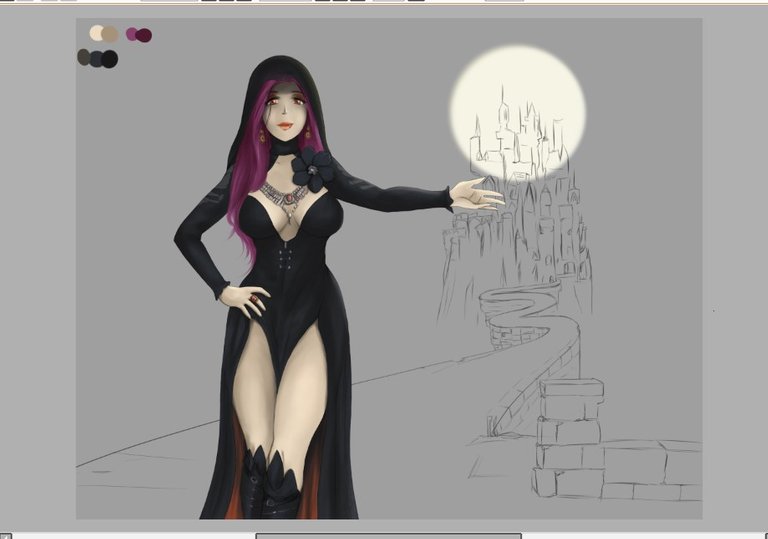 Finally, after several details this is the result, "it took me some time, I think it's because of how distracted I am" from here on comes the background, I also modified a little bit, the color of the eyes I gave a little more brightness and saturation to highlight them.
Finalmente, después de varios detalles este es el resultado, "me llevo tiempo, creo que es por lo distraído que soy" de aquí en adelante viene el fondo, también modifique un poquito, el color de los ojos le di un poco más de brillo y saturación para destacarlos
background // Fondo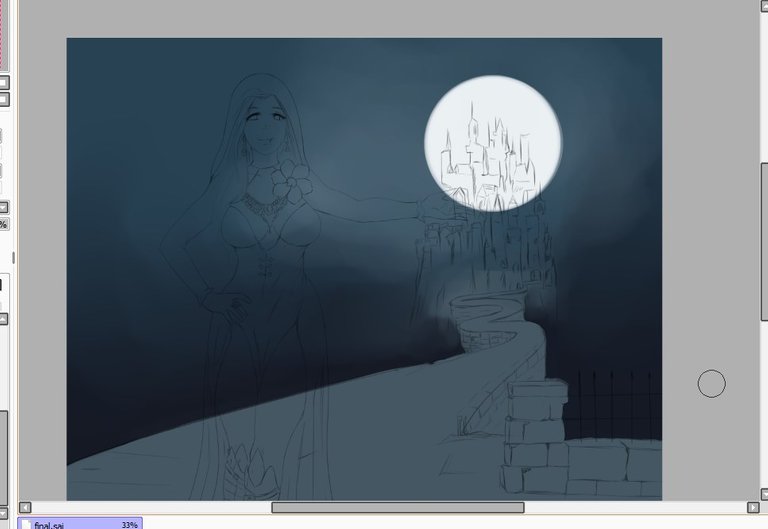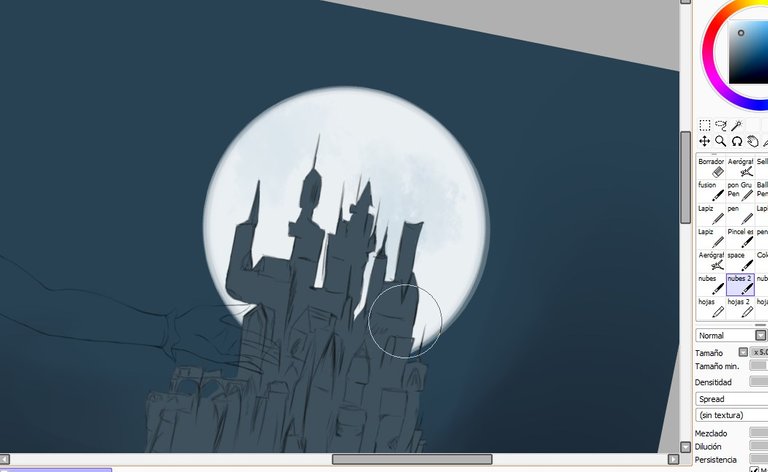 A much larger and much lighter colored Moon behind the castle makes it stand out from the rest of the castle.
Una Luna mucho más grande y de un color mucho más claro, detrás del castillo hace que resalte mucho a la vista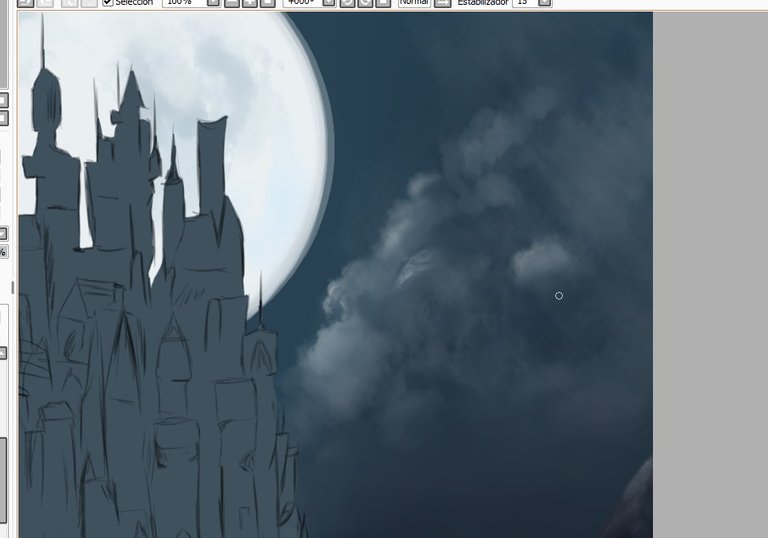 The clouds, one of my favorite parts of this drawing and near one of the focal points of the drawing, the effect was achieved by experimenting with various brushes and blurring.
Las nubes, una de mis partes favoritas en este dibujo y cerca de uno de los puntos de atención del dibujo, el efecto fue logrado experimentando con varios pinceles y difuminando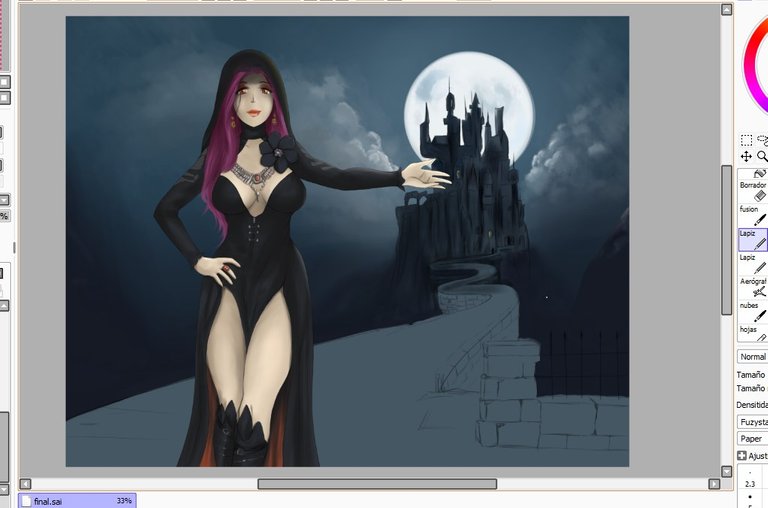 At this stage I didn't take many pictures so as not to make the post so long, but believe me it took me a while to see the small details that are not visible to the naked eye.
Así va quedando, en esta etapa no tome muchas capturas para no alargar tanto el post, pero créanme me llevo un buen rato entre los pequeños detalles que no se ven a simple vista.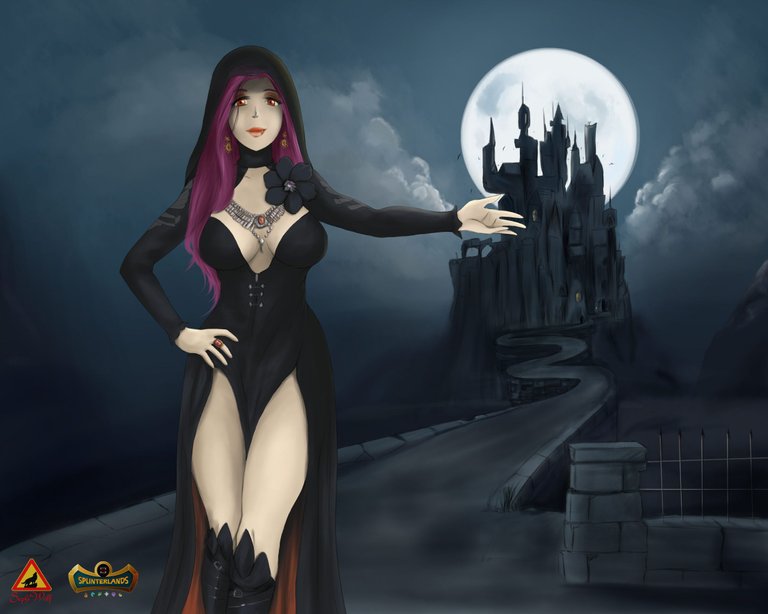 A few more "many" details, and this is the final result, the castle has some little bats and some hidden surprises, I also gave a little bit of fog to the road but not too much.
Unos cuantos "muchos" detalles más, y este es el resultado final, el castillo tiene unos pequeños murciélagos y una que otra sorpresa oculta, también le di un poquito de niebla al camino pero no mucha


If you don't play splinterlands yet you can join here!
Si aún no juegas splinterlands puedes unirte aquí!


---
---