Splinterlands Art Contest // Week 183 // Spineback Turtle (ENG-ESP)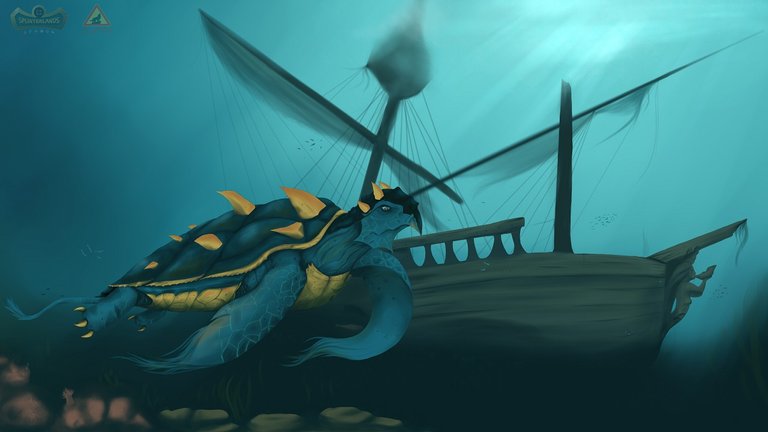 I edited " the original image is 3140x2160" but in the blog it looks a bit pixelated so I added another one of 1280X720".
edite " la imagen original es de 3140x2160" pero en el blog se ve algo > pixelado asi que agregue otra de 1280X720"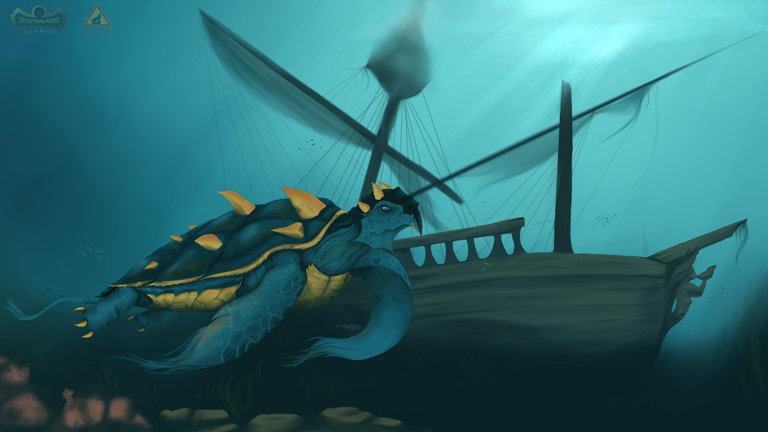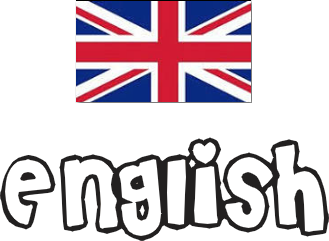 Greetings, my dear readers and summoners of splinterlands, for this week I was thinking about not entering the contest. the last drawing I did was really bad and had almost no support, after a lot of thinking and resting I got down to work and tried to do something really worthy of presenting. For this week I made Spineback Turtle with my personal style also taking sea turtles as a reference, I hope you like it, it took me several days to finish it, but I think it was worth it. without more to say let's start!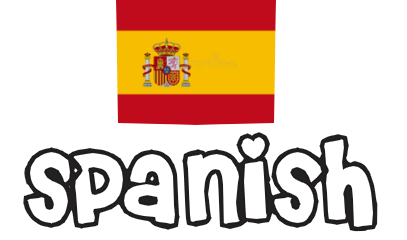 Saludos, mis queridos lectores e invocadores de splinterlands!, para esta semana estaba pensando en no entrar al concurso. el último dibujo que hice quedo realmente mal y casi no tuvo apoyo, después de mucho pensar y descansar puse manos a la obra y trate de hacer algo realmente digno de presentar. Para esta semana hice a Spineback Turtle con mi estilo personal también tomando como referencia a las tortugas marinas, Espero sea de su agrado me llevo varios dias para poder terminarlo, pero creo que valió la pena. ¡sin más que decir comencemos!

Sketch // Boceto
reference // referencia 1
reference // referencia 2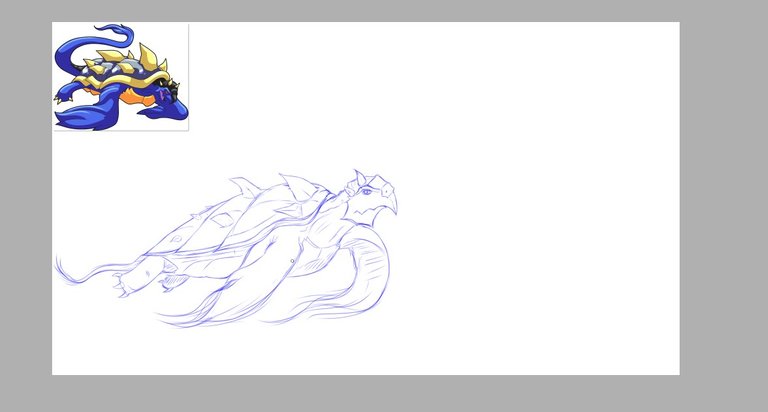 I wanted to do something very original but being faithful to the character's design.
Quise hacer algo muy original pero siendo fiel al diseño del personaje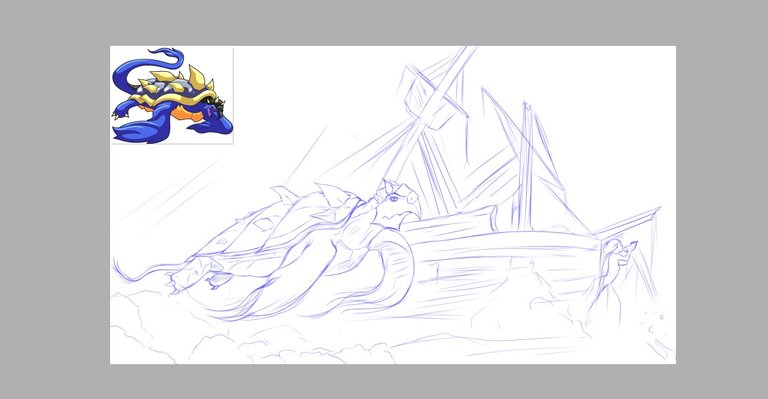 Originally the shipwreck was going to have all its parts, but I changed it later to give the effect that it has been there much longer, at this point I am considering whether to make a drawing with lineart or without it.
Originalmente el naufragio iba a tener todas sus partes, pero lo cambie más adelante para dar el efecto que lleva mucho más tiempo allí, en este punto me planteo si hacer un dibujo con lineart o sin ella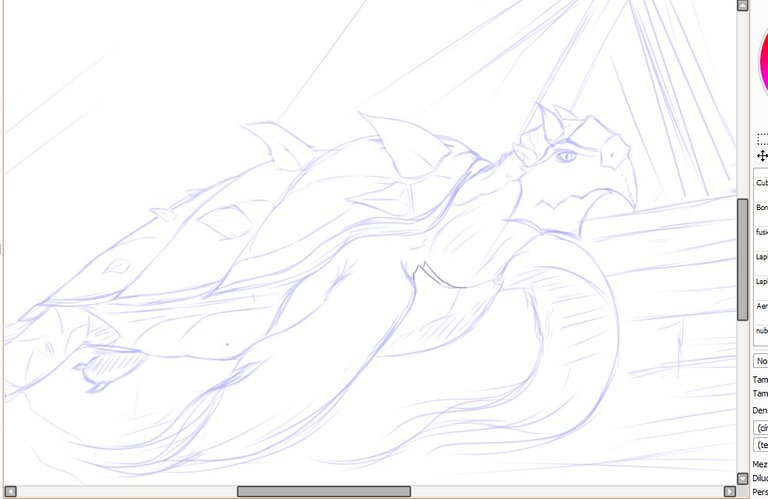 I decided to do the lineart, this will add more time, but I have an idea that may be worthwhile....
Decidí hacer el lineart, esto sumará mas tiempo, pero tengo una idea que puede valer la pena...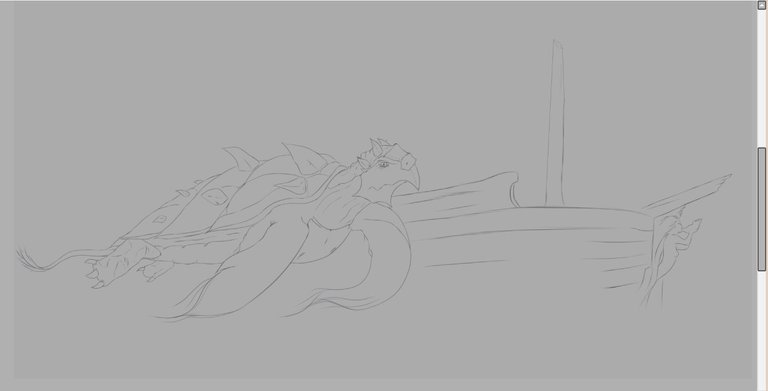 Finally, this is the lineart I will use, I plan to use it, but in a subtle way lower the opacity of the layer and erase certain parts, for that I will have to know where to apply well the leftovers and colors, but here we go....
Finalmente, este es el lineart que usaré, planeo usarlo, pero de forma sutil bajar la opacidad de la capa y borrar ciertas partes, para ello tendré que saber donde aplicar bien las sobras y colores, pero allí vamos...
Color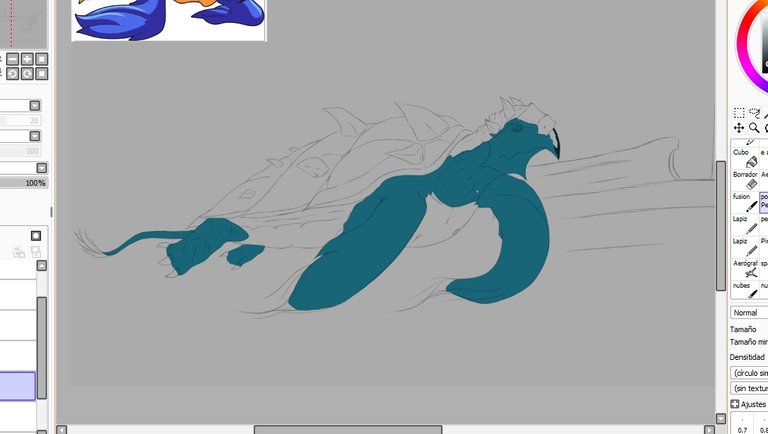 Another thing I want to change is the palettes I used to use, so I studied a lot the work of other artists "reference 2" to get an idea of what palettes would look good. here we are applying the base colors.
Otra cosa que quiero cambiar son las paletas que solía usar. así que estudie mucho el trabajo de otros artistas " referencia 2" para darme una idea de que paletas quedarían bien. aquí vamos aplicando los colores base.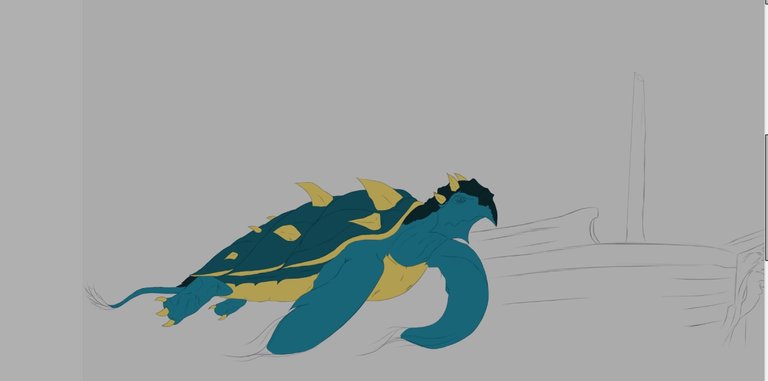 I think they look harmonious, and remain true to the original design.
Creo que se ven en armonía, y siguen siendo fiel al diseño original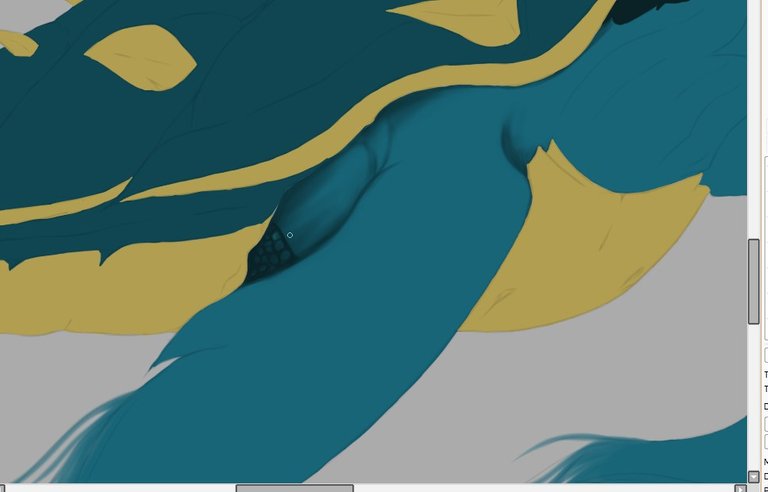 To achieve much maximum detail I decide to work on one area at a time.
Para lograr mucho el máximo detalle decido trabajar en una zona a la vez.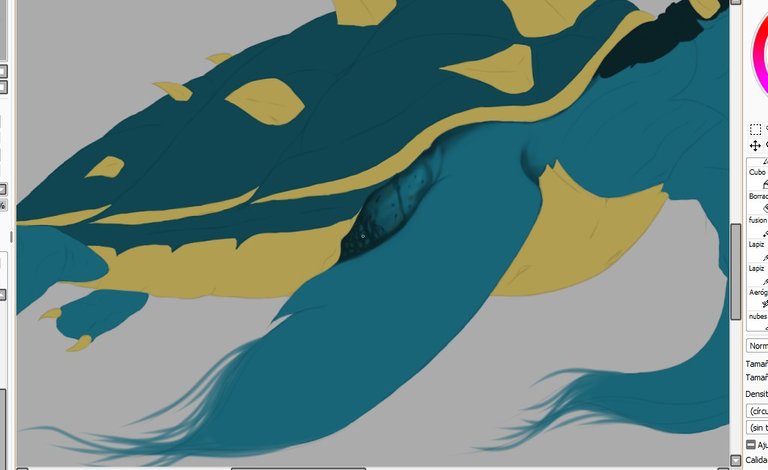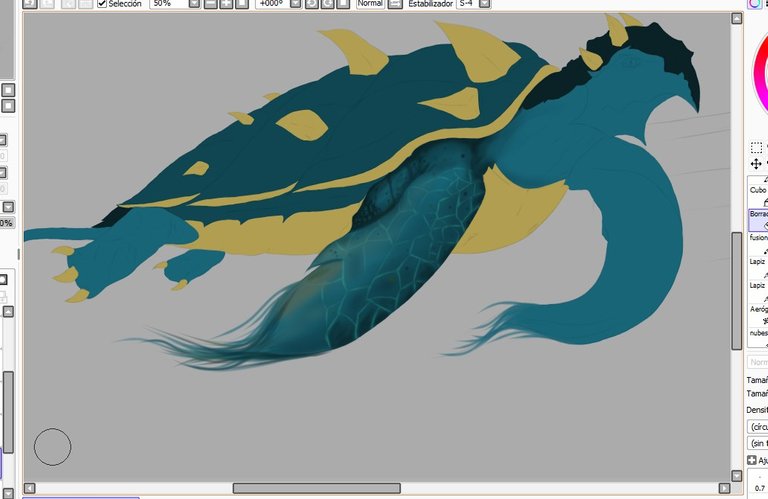 So I apply shadow and detail, same strategy, one area at a time.
Así voy aplicando sombra y detalle, misma estrategia, una zona por vez.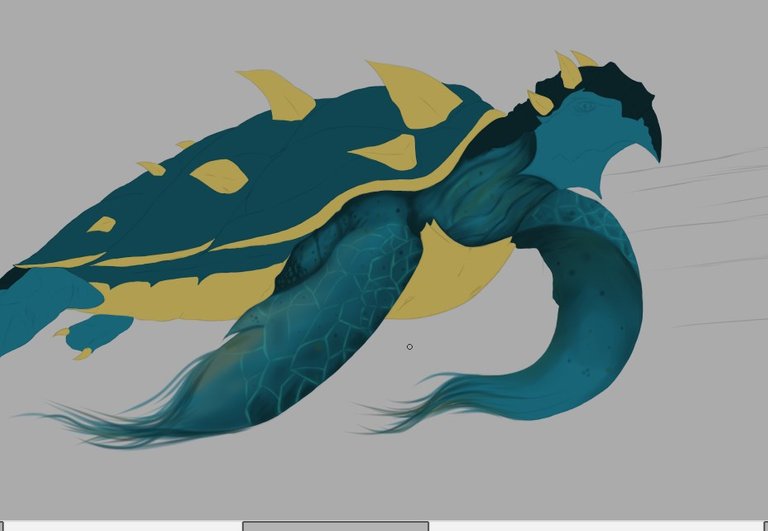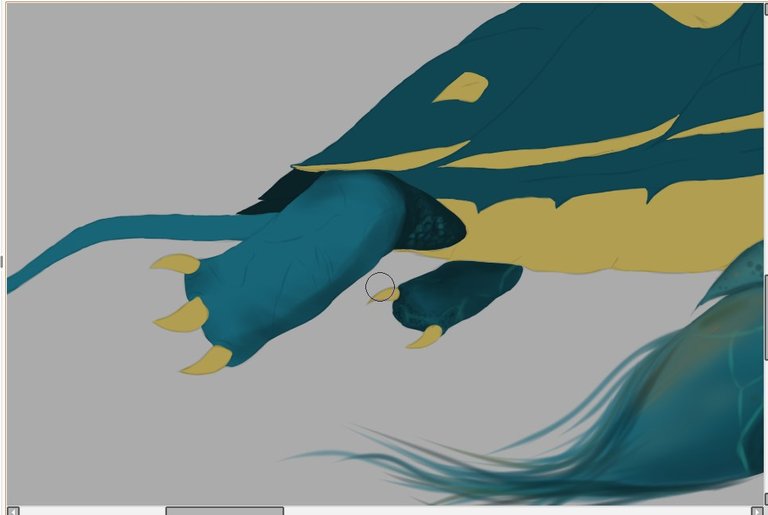 This took me a long time, to be honest, but I wanted to deliver something really good for this week....
Esto me tomo mucho tiempo, la verdad, pero quería entregar algo realmente bueno para esta semana...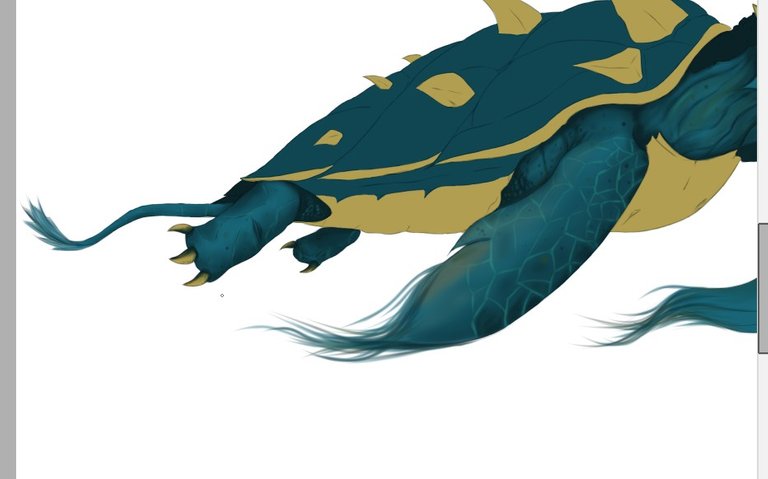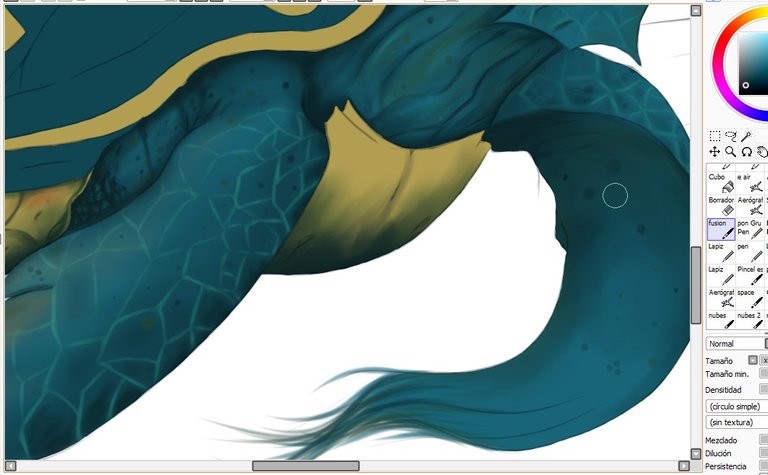 I really like those little spots on the sea turtles so I added them to my drawing.
Me gustan mucho esas pequeñas manchas que tienen las tortugas marinas así que las agregue a mi dibujo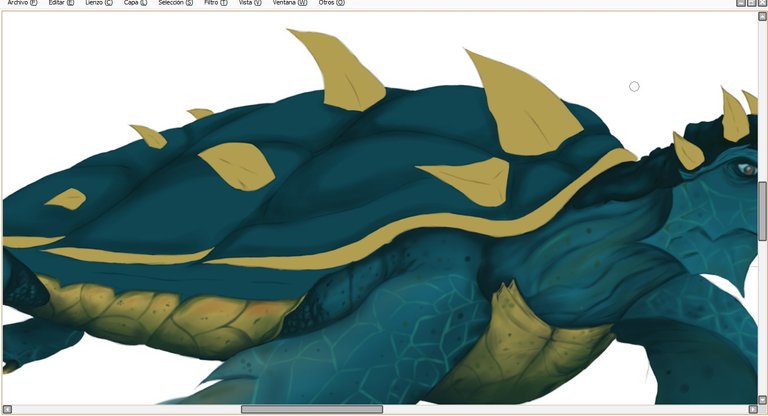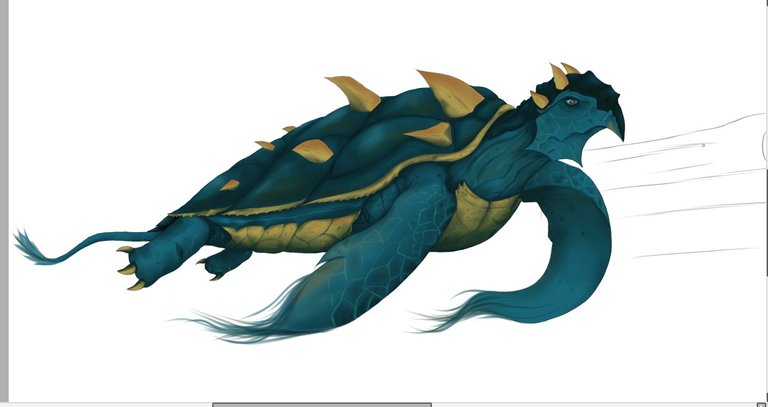 After a long time, here is the result, the opacity of the lineart was about 33% and in some parts it was erased.
Después de mucho tiempo, aquí el resultado, la opacidad del lineart estaba a unos 33% y en algunas partes fue borrada.
Background // Fondo
Many drawings look great, but they also need a great background so I will dedicate some time to it.
Muchos dibujos quedan geniales, pero también necesitan un fondo genial así que le dedicaré su debido tiempo.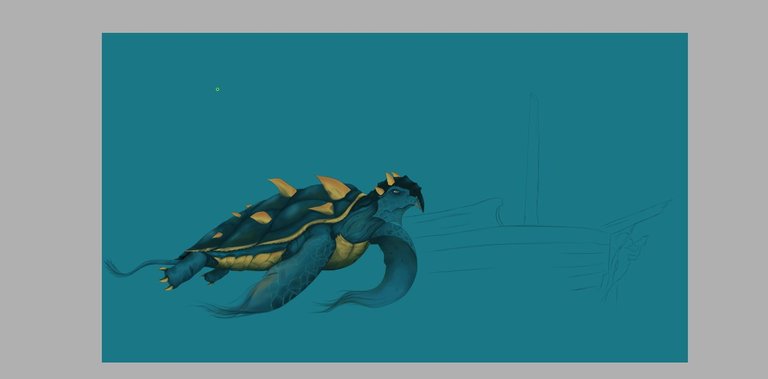 Base color
Color base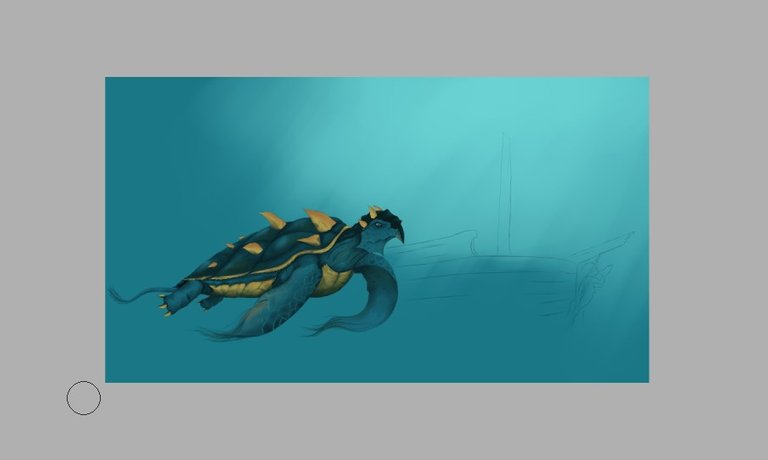 as you can see there are a lot of changes, I was looking for something that convinced me
Como pueden ver hay muchos cambios, estuve buscando algo que me convenciera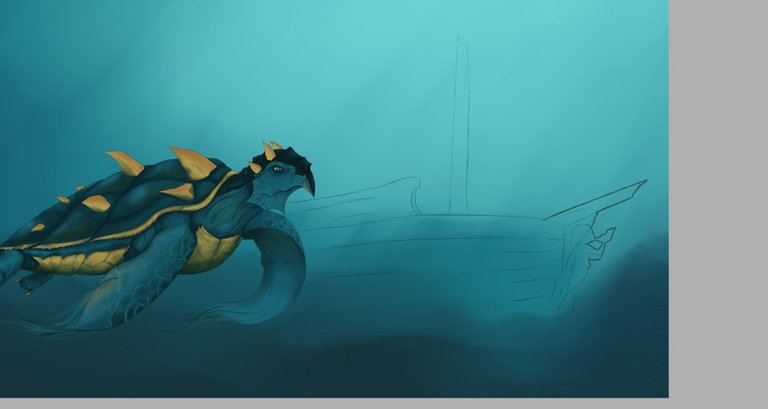 Before continuing, I wanted to give color to the wreck to better know where the general shadows are going.
Antes de seguir quise darle color al naufragio para saber mejor donde van las sombras generales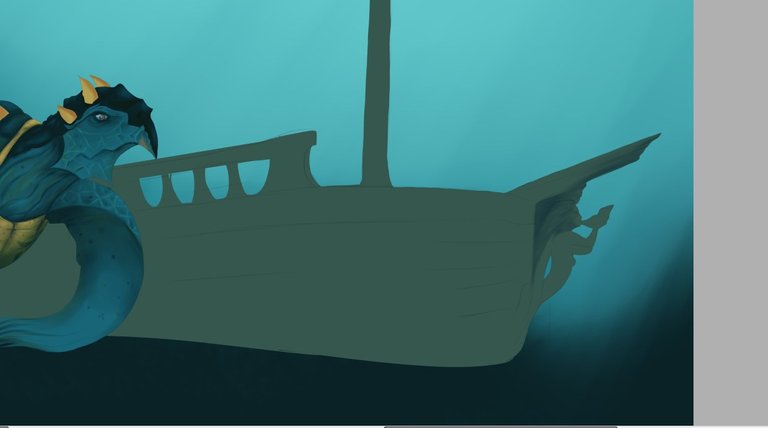 I forgot to mention that I used a mermaid as a "figurehead" that's how they called the bow ornament on old ships, this is a reference to Mischievous Mermaid from my other drawing.
Olvidaba mencionar que use una sirena como "Mascarón de proa" así le decían al adorno de la proa en los barcos antiguos, esta es una referencia a Mischievous Mermaid de mi otro dibujo.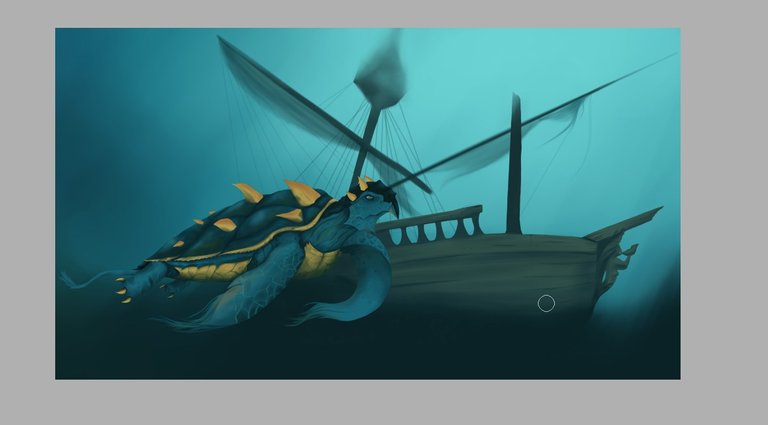 At this stage I tried several things until I came up with this result, I did not want to make a very complete ship because the intention was to create an old and battle damaged ship.
En esta etapa intenté varias cosas hasta dar con este resultado, no quería hacer un barco muy completo pues la intención era crear un barco algo antiguo y dañado por las batallas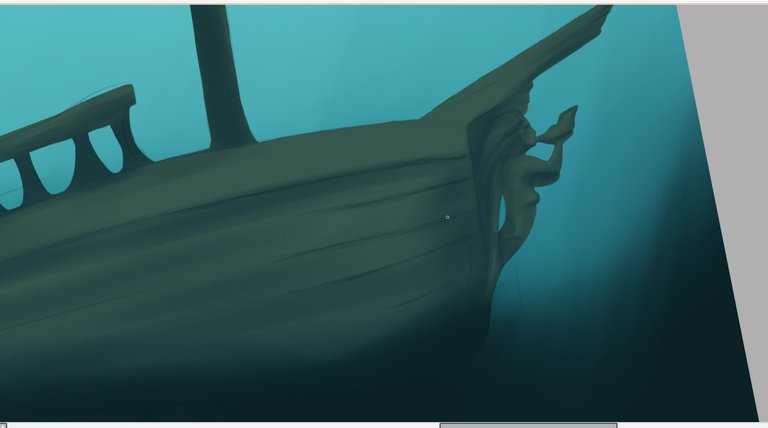 With these colors there is no need to add a filter. To appear to be underwater
Con estos colores no hace falta agregar filtro. Para aparentar estar bajo del agua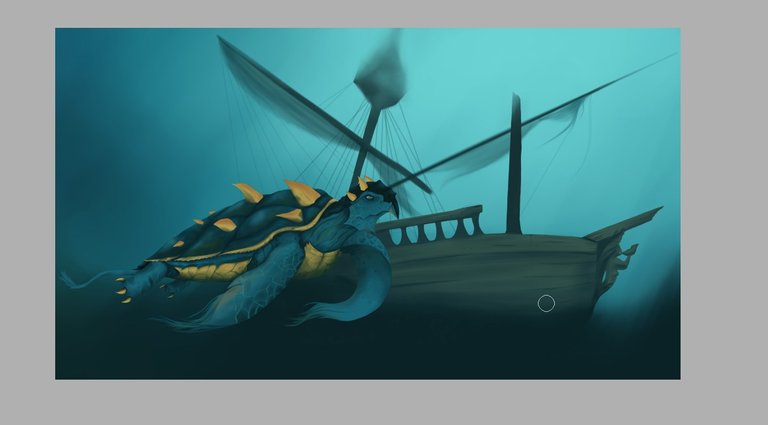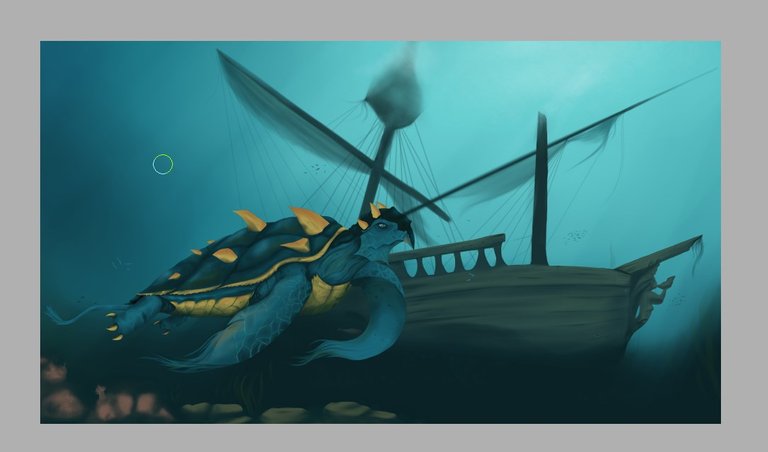 I don't know if you can tell, but I added some sea life. I plan to use this image as wallpaper so I wanted to make it as pretty as possible.
No se si se nota, pero agregue unos y algo de vida marina. Tengo pensado usar esta imagen como fondo de pantalla, así que quería hacerla lo más bonita posible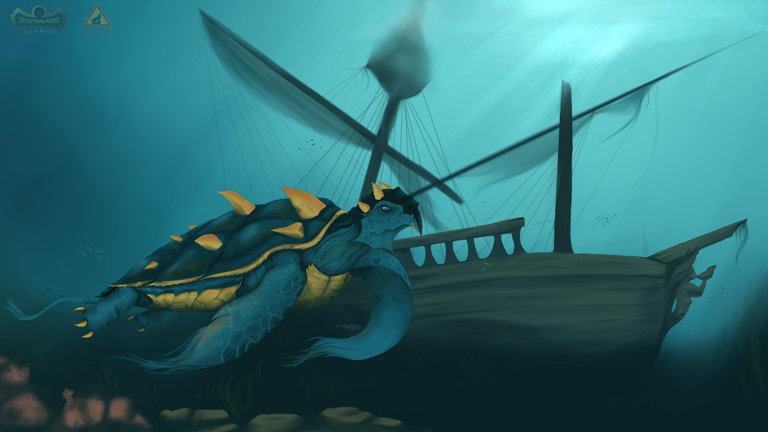 To finish I added a little more shine on the surface with the luminous effect.
Para terminar agregué un poco más de brillo en la superficie con el efecto luminosidad.


I hope you liked it, I put a lot of time, effort and love into it :)
Espero les allá gustado, le puse mucho tiempo, esfuerzo y cariño :)

If you don't play splinterlands yet you can join here!

Si aún no juegas splinterlands puedes unirte aquí!
---
---