Splinterlands Art Contest // Week 197 // Epona // Eng-Esp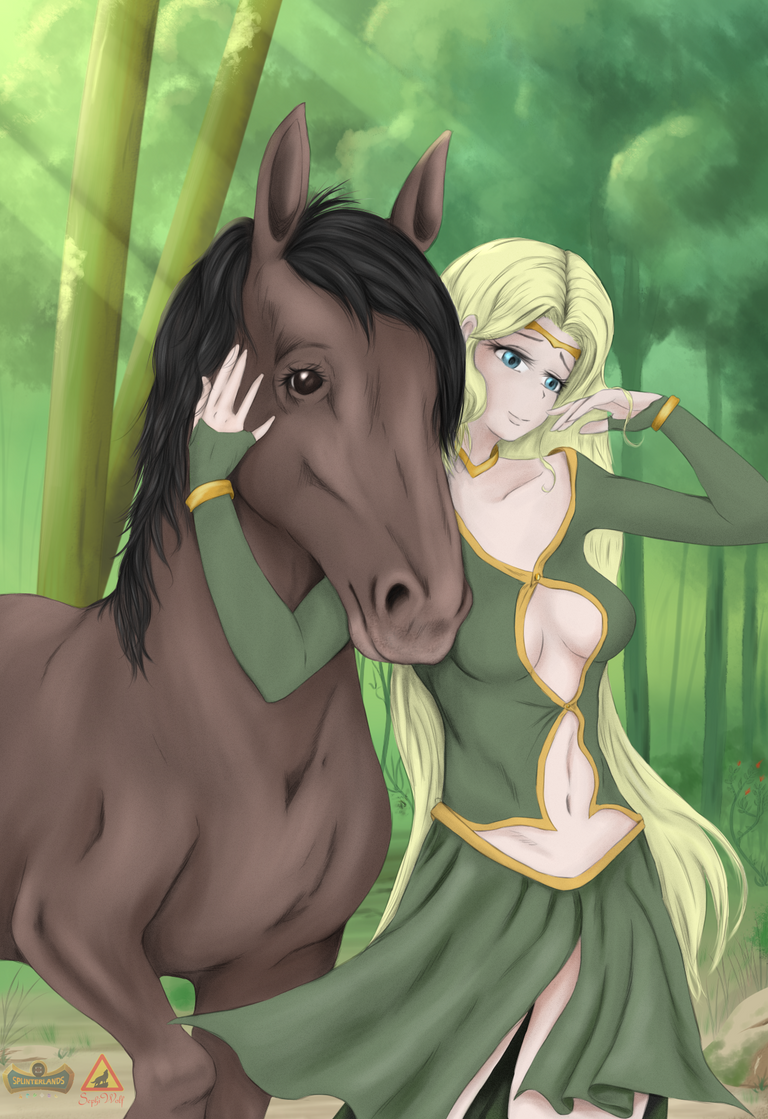 Reference card



Greetings, my dear readers, for this week's entry I bring you Epona and her horse, I was practicing and reviewing old tutorials, since drawing animals is not my forte, I also tried a grayscale technique used by many artists but unknown to me.
I'm excited! Every week the competition is stronger and very cool drawings are uploaded, that leads me to give my best effort and try new techniques and things.
Even though it's not my usual way of drawing, I feel that the result was good and I learned a lot of things that I can use in future projects.
As long as you are learning you are not failing-
Saludos, mis apreciados lectores, para la entrada de esta semana Les traigo a Epona y su caballo, estuve practicando y revisando viejos tutoriales, pues dibujar animales no es mi fuerte, también intente una técnica con escalas de grises usada por muchos artistas pero desconocida para mí.
¡Me emociona! Cada semana la competencia es más fuerte y suben dibujos muy geniales, eso me lleva a dar mi mejor esfuerzo e intentar técnicas y cosas nuevas.
A pesar de no ser mi forma acostumbrada de dibujar, siento que el resultado fue bueno y aprendí muchas cosas que puedo usar en futuros proyectos.
Mientras estes aprendiendo no estas fallando

Process // Proceso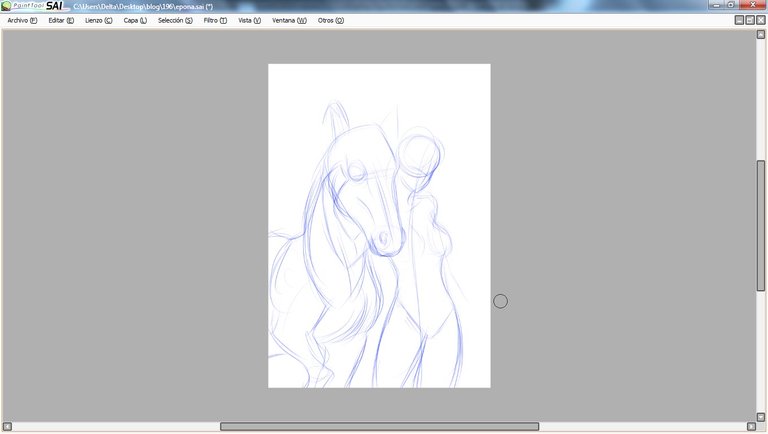 I made the two sketches at the same time, I also had in mind the background I wanted to put on it, here my first doubt, horses are usually taller than people, but in the reference chart it is the same size as Epona. I think the horse is young, I'm not sure. hehe
Hice los dos bocetos al mismo, también tenía presente el fondo que quería ponerle, aquí mi primera duda, los caballos por lo general son más altos que las personas, pero en la carta de referencia es del mismo tamaño que Epona. Creo que el caballo es joven, no estoy seguro jeje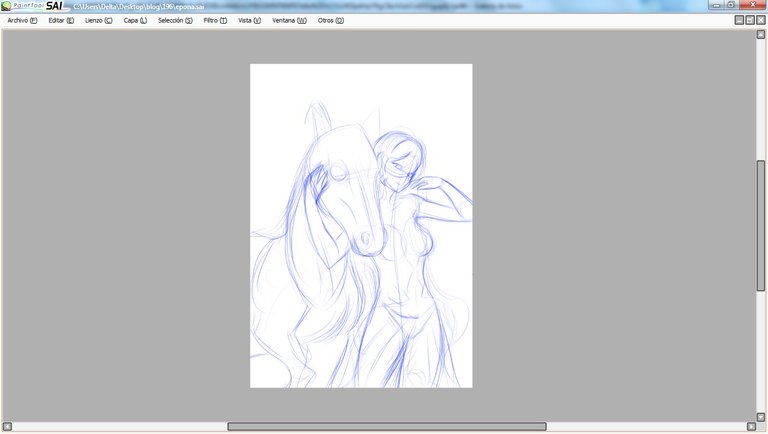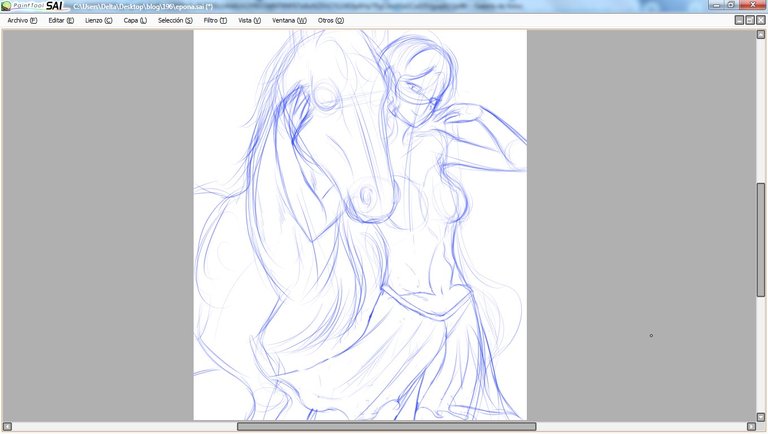 Adding clothes and other details, I also plan to erase and draw again part of the sketch once I have the idea well defined.
Agregando ropa y otros detalles, de igual forma tengo pensado borrar y dibujar otra vez parte del boceto una vez tenga la idea bien definida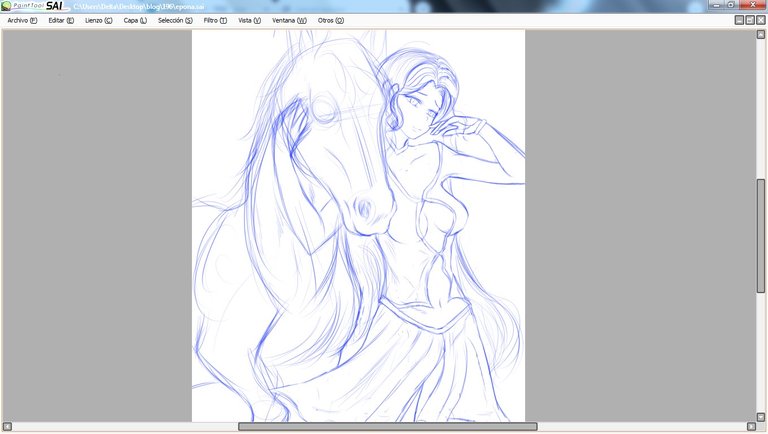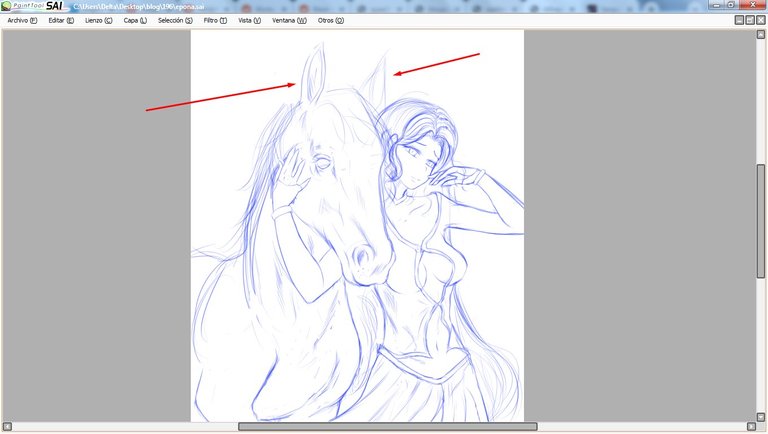 We corrected the ears several times... at this point in the drawing I think the horse looks more like a donkey haha. what do you say, does it look like one?
Corregimos varias veces las orejas... en este punto del dibujo yo pienso que el caballo parece más un burro jaja. ¿qué dicen ustedes, si se parece?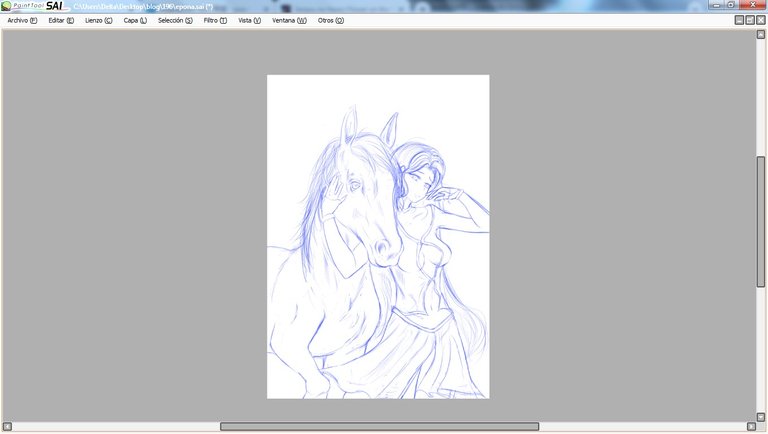 Finished sketch "later I corrected other things like the height of the eyes".
Boceto terminado "más adelante corregí otras cosas como la altura de los ojos"
The lineart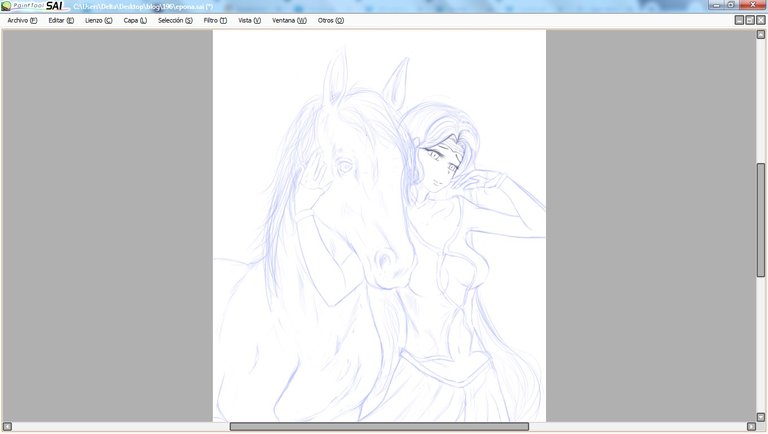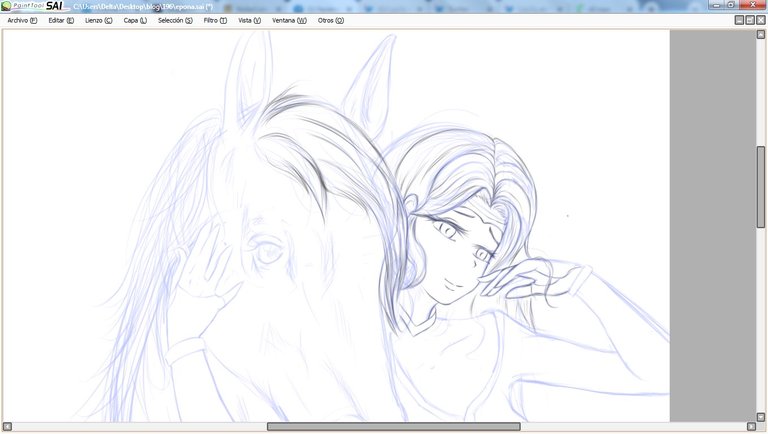 This stage takes time, because I have to correct some things, I also wanted to use a very thin type of line.
Esta etapa lleva tiempo, pues debo corregir algunas cosas, también quise usar un tipo de línea muy delgada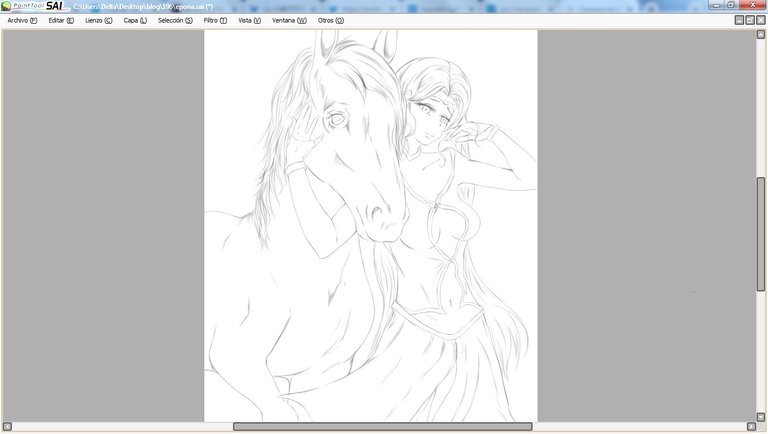 Once finished, we are left with something like this.
Una vez terminado, nos queda algo así.
The experiment / El experimento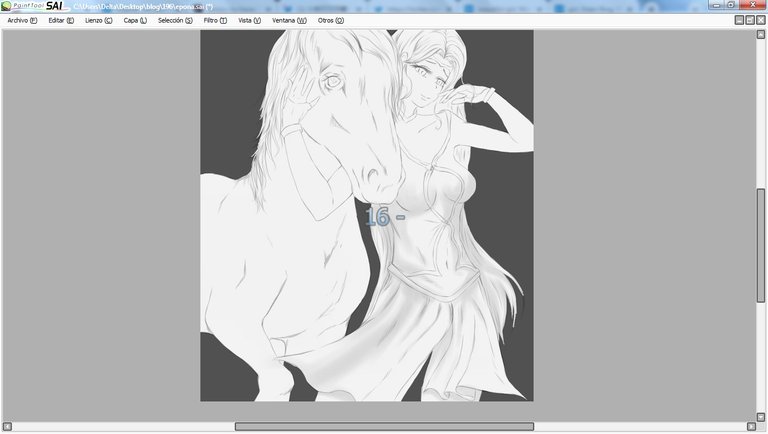 As I explained before I don't usually use this technique, even so I wanted to use it, basically it consists of creating the drawing in grayscale and then on that layer place all the colors.
Como explique anteriormente no suelo usar esta técnica, aun así quería usarla, básicamente consiste en crear el dibujo a escala de grises y luego sobre esa capa colocar todos los colores.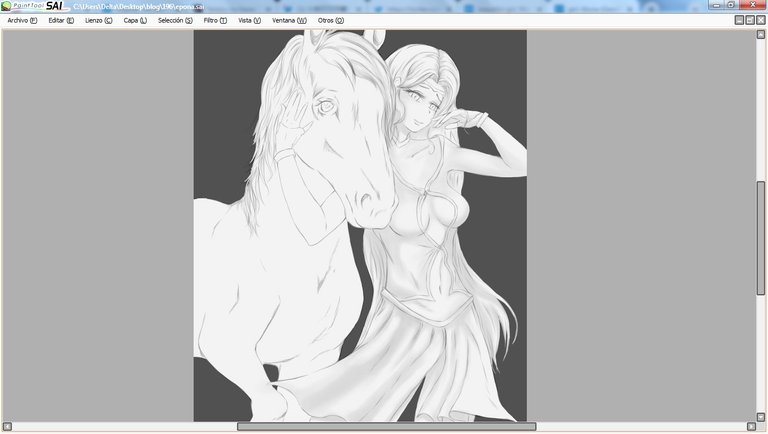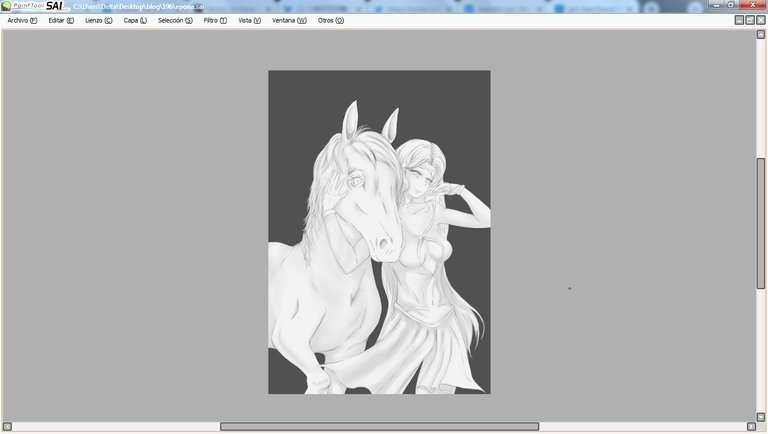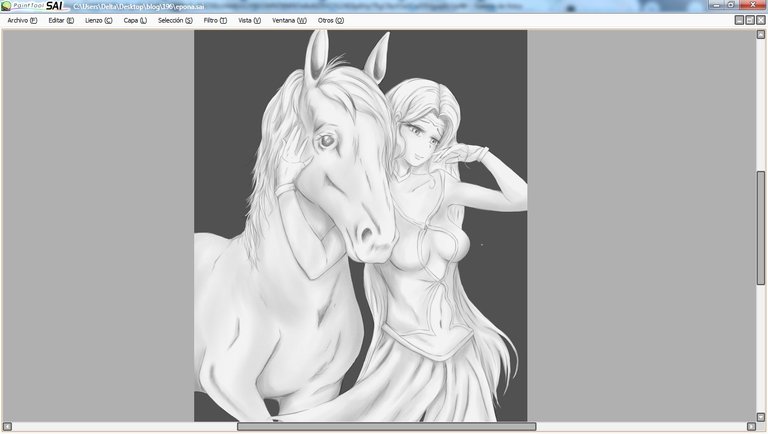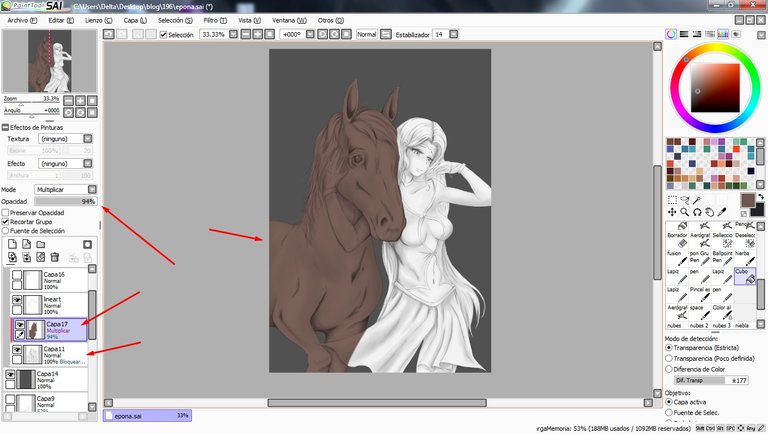 On the gray color layer, I use a new layer with the multiply effect, and a transparency of 94% although I remember that I changed it several times until I was satisfied, I did this to make the shadows look better.
Sobre la capa de colores grises, uso una nueva capa con el efecto multiplicar, y una transparencia de 94% aunque recuerdo que la cambie varias veces hasta estar conformo, esto lo hice para que las sombras se vieran mejor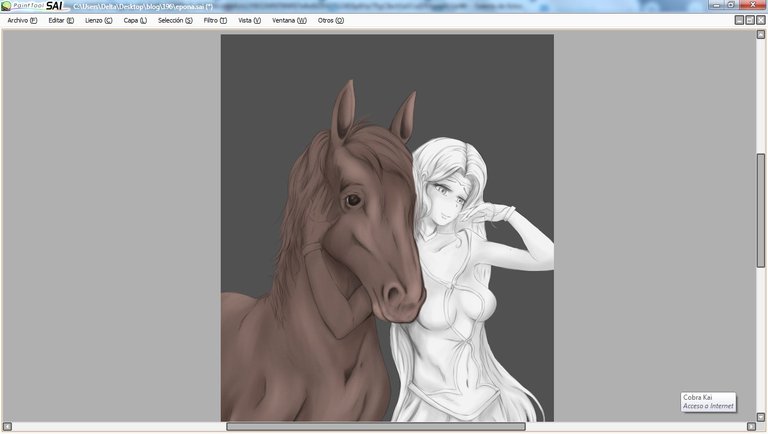 Applying everything in the same layer I could also reinforce certain shadows and highlights using different colors, this method has its advantages, but I'm not sure if the best is to do it with this program that I use to draw "paint tool sai" because in most of the tutorials I saw that they used others like clipstudio or photoshop.
Aplicando todo en la misma capa también pude reforzar ciertas sombras y brillos usando colores diferentes, este método tiene sus ventajas, pero no estoy seguro si lo más óptimo es realizarlo con este programa que uso para dibujar "paint tool sai" pues en la mayoría de los tutoriales vi que usaban otros como el clipstudio o photoshop.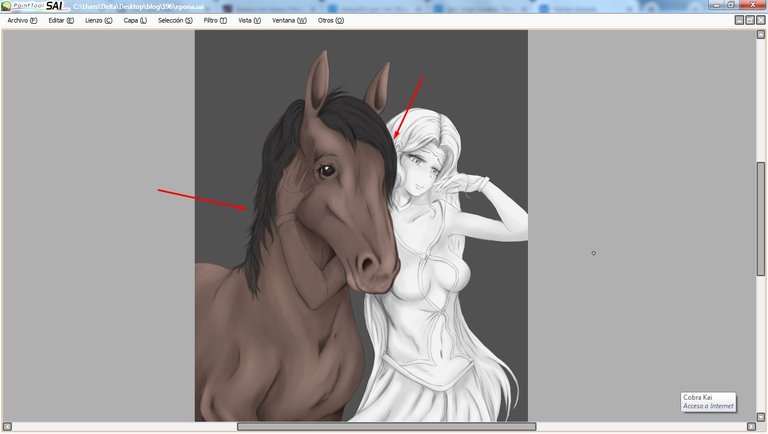 All the color goes on the same layer, this helps me to mix the colors, but on the other hand it gets complicated when defining certain details.
Todo el color va sobre la misma capa, esto me ayuda a mezclar los colores, pero en contraparte se complica al momento de definir ciertos detalles.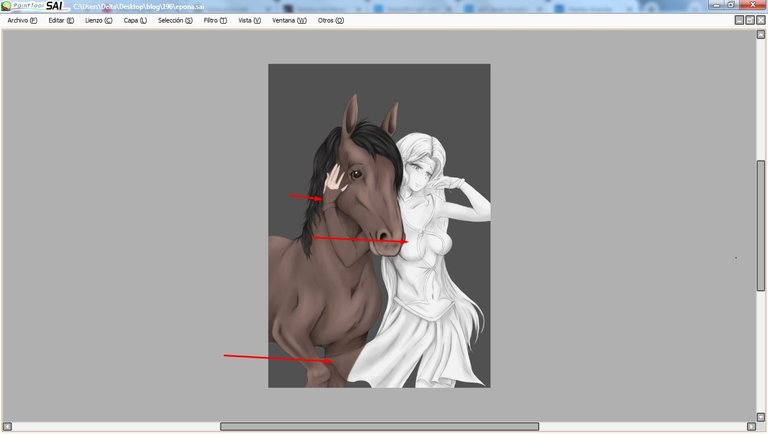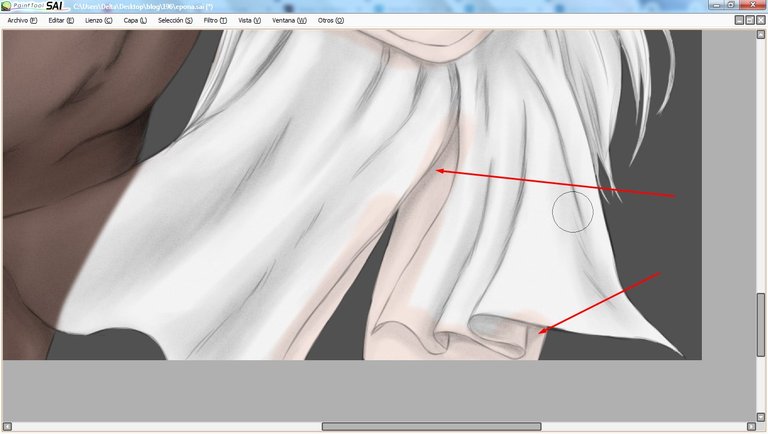 The skin... with this technique I got this kind of shadows, which I don't like. At least with the human skin I feel it's not right to leave it with that scale of gray shadows, to solve it I applied other colors below and over this layer.
La piel... con esta técnica conseguí este tipo de sombras, las cuales no me gustan. Al menos con la piel humana siento que no está bien dejarla con esa escala de sombras grises, para solucionarlo aplique otros colores abajo y sobre esta capa.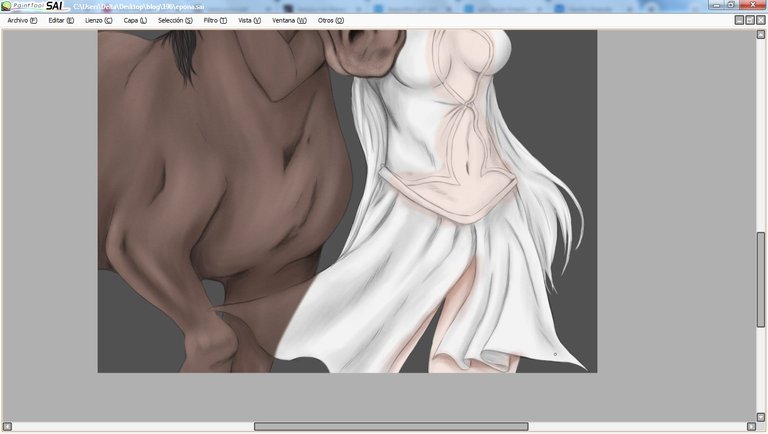 I consider that the skin looks better with a red rather than a gray color.
Considero que la piel se ve mejor con un tomo más rojo que gris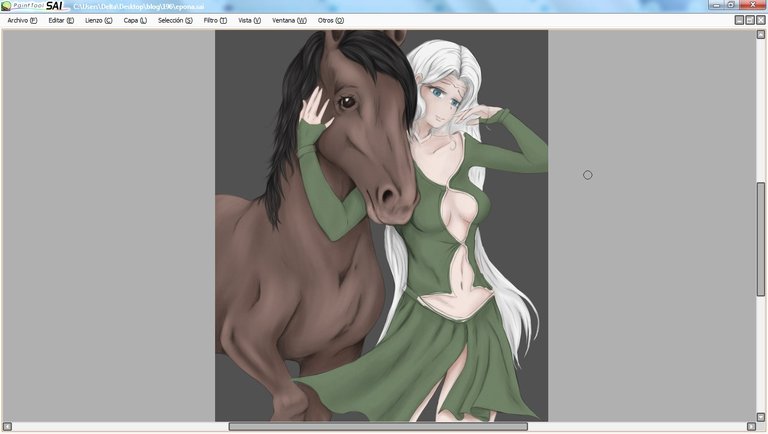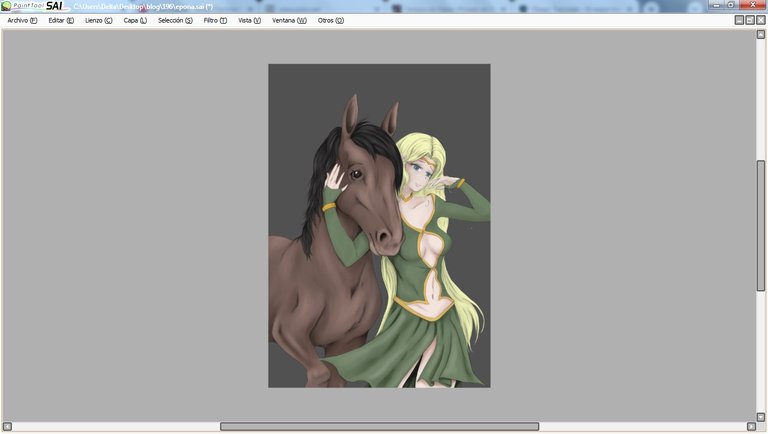 I continue adding details and details until finishing this stage, some of the shines I made them in another layer with some transparency and the luminosity effect.
Continuo agregando detalles y detalles hasta terminar esta etapa, algunos de los brillos los hice en otra capa con algo de transparencia y el efecto luminosidad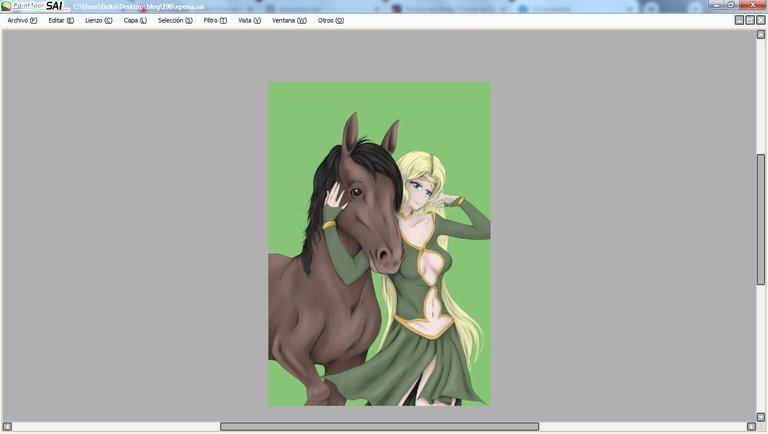 For the background I have in mind a forest with a predominantly green color and a touch of yellow, in this chromatic circle are brothers, this will give harmony and will not detract from the importance of the main characters.
Para el fondo tengo pensado un bosque con un color dominantemente verde y un toque amarillo, en él circuló cromático son hermanos, esto le dará armonía y no le restará importancia a los personajes principales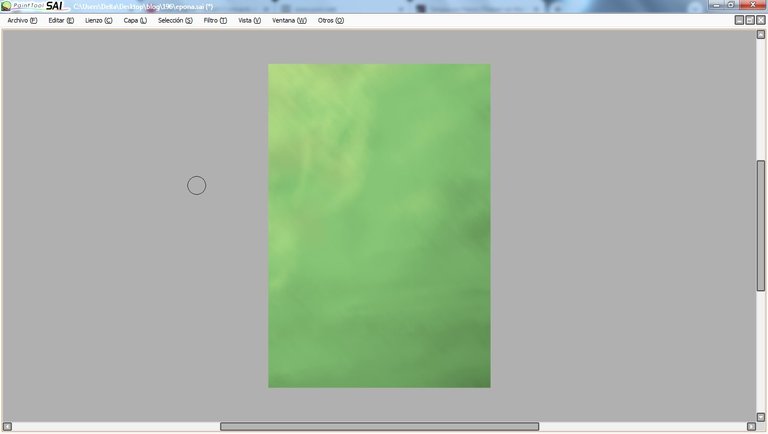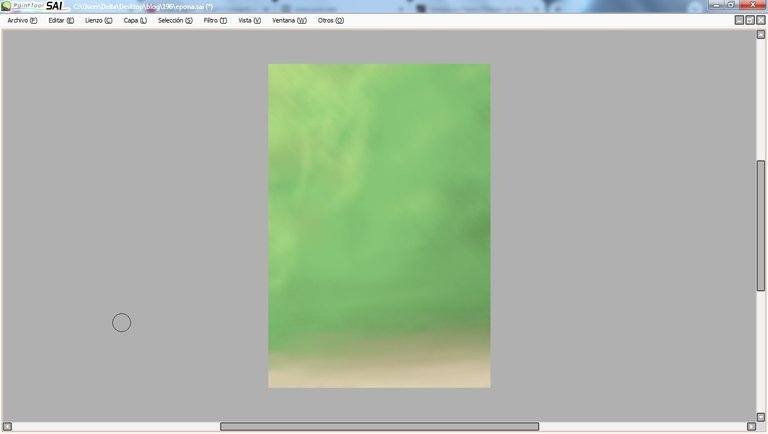 I was going to create the whole background separately, but I decided to give more details only to the areas that will be visible, as I will only use it for this drawing.
Iba a crear todo el fondo aparte, pero decidí darle más detalles solo a las zonas que serán visibles, pues solo lo usaré para este dibujo.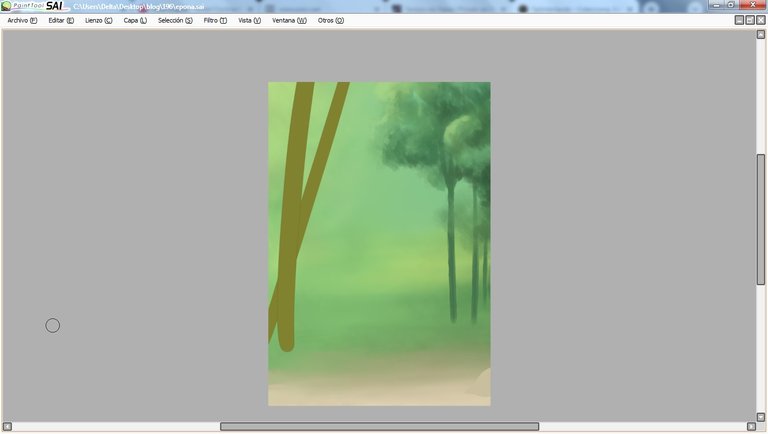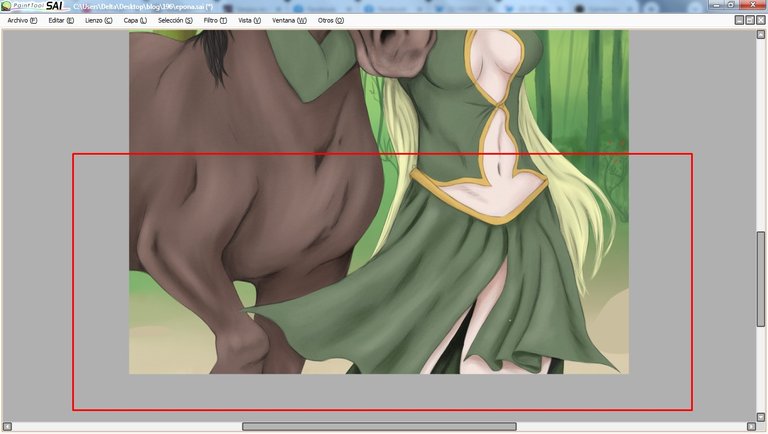 Almost at the end I can focus on the lower part of the drawing.
Ya casi al final puedo centrarme en la zona baja del dibujo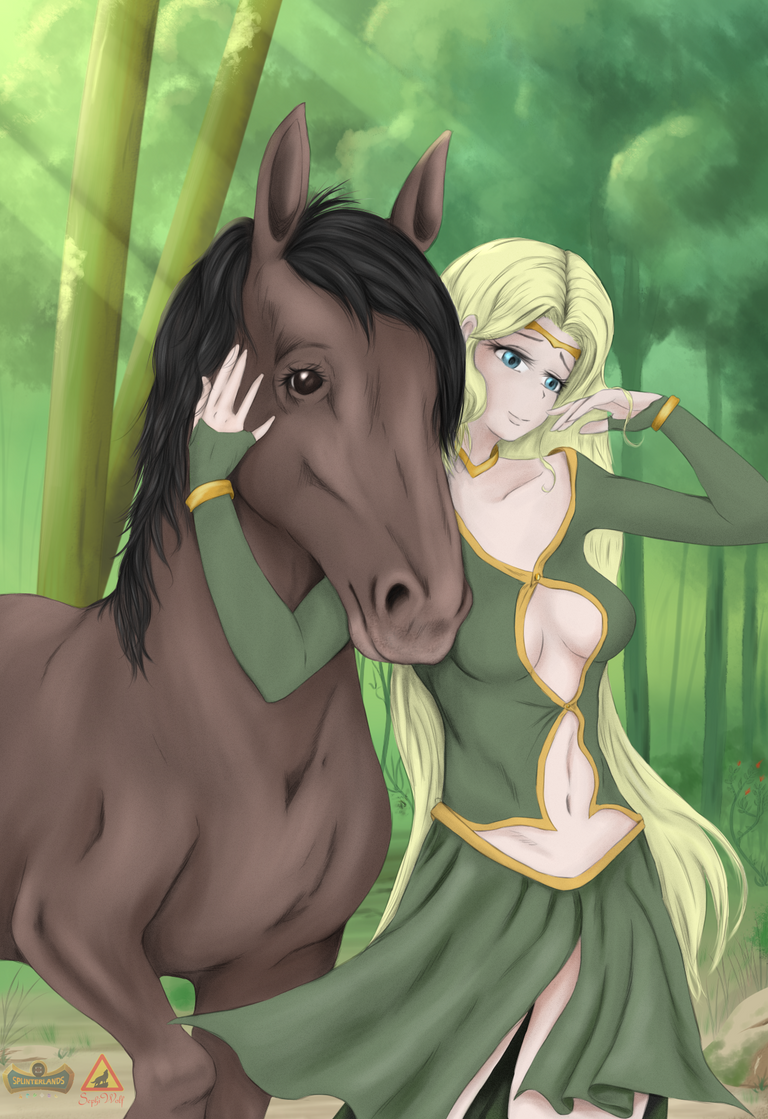 To finish a new layer over all with the luminosity effect, with that I got the effect of rays of light entering between the leaves of the forest, I also applied a little bit on the characters, especially the horse's ears.
Para terminar una nueva capa sobre todas con el efecto luminosidad, con eso conseguí el efecto de rayos de luz entrando entre las hojas del bosque, también aplique un poquito sobre los personajes, en especial las orejas del caballo

If you don't play splinterlands yet you can join here!

Si aún no juegas splinterlands puedes unirte aquí!
---
---