Splinterlands Art Contest Week 227 / River Nymph / Eng- Esp

Splinterlands Art Contest Week 227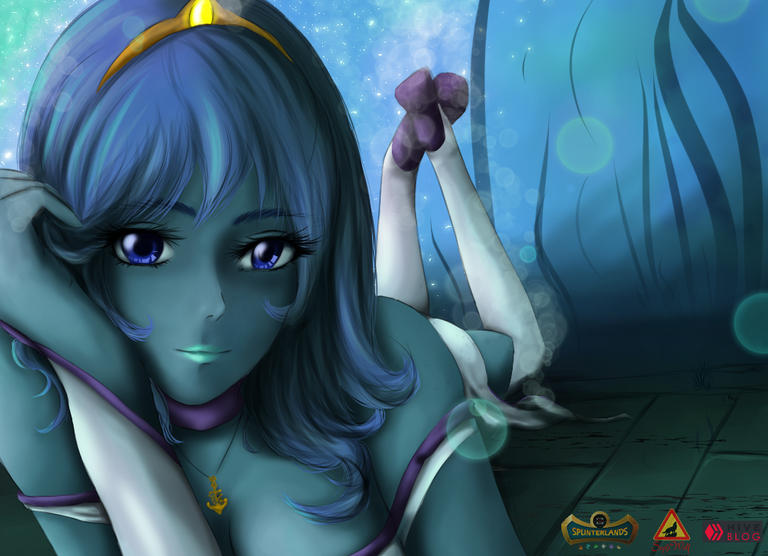 English
Greetings dear and appreciated readers, I was somewhat absent, but I was able to solve all the problems I had or at least put them on a positive track.
To avoid giving details, I want to tell you that everything is going great!
Oh, River Nymph again?
Yeah, why not, it's one of my favorite cards! I had a lot of time to draw her, this would be the third drawing I've done of her and it's very noticeable the change of style between them.
I decided to take some time to plan and finish the drawing, I'm very happy with the result.
I wanted to represent her in some ruins under the river, I think that gives her a touch of mystery and a cool effect.
Hey are you still here? Let's see how it went step by step!
Español
Saludos queridos y apreciados lectores, estuve algo ausente, pero ya pude resolver todos los problemas que tenía o al menos encaminarlos en algo positivo.
Para no dar detalles quiero decirles que todo va genial!.
Oh, otra vez River Nymph?
Si!, ¿porque no?, es una de mis cartas favoritas! Tenía mucho si dibujarla, este sería el tercer dibujo que hago de ella y es muy notable el cambio de estilo entre ellos.
Decidí tomarme un buen tiempo para planificar y terminar el dibujo, estoy muy feliz con el resultado.
Quise representarla en unas ruinas bajo el río, creo que eso le da un toque de misterio y un efecto genial.
Hey sigues aquí? ¡Veamos como fue el paso a paso!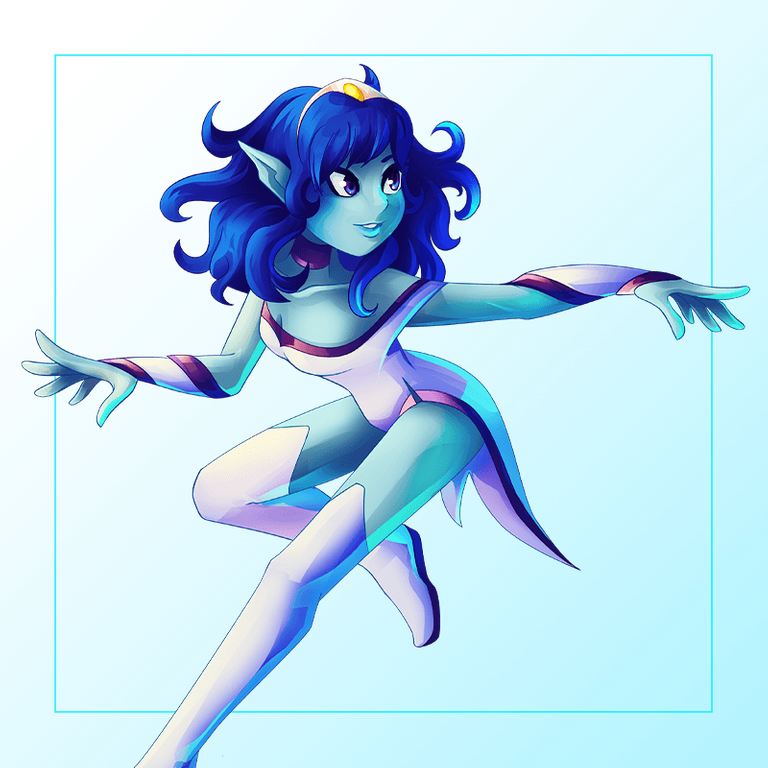 First steps
We started the sketch with a blue tone and thin lines. It took several attempts to achieve this result, as it is a pose that I don't usually draw.
Empezamos el boceto con un tono azul y líneas delgadas. Fueron varios intentos hasta lograr este resultado, pues es una pose que no suelo dibujar.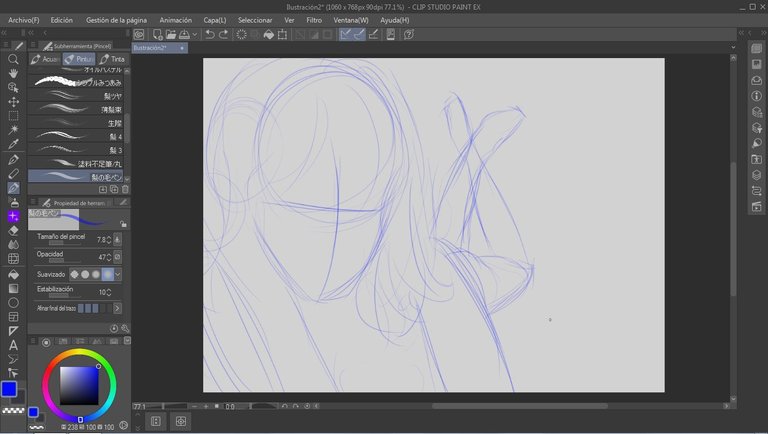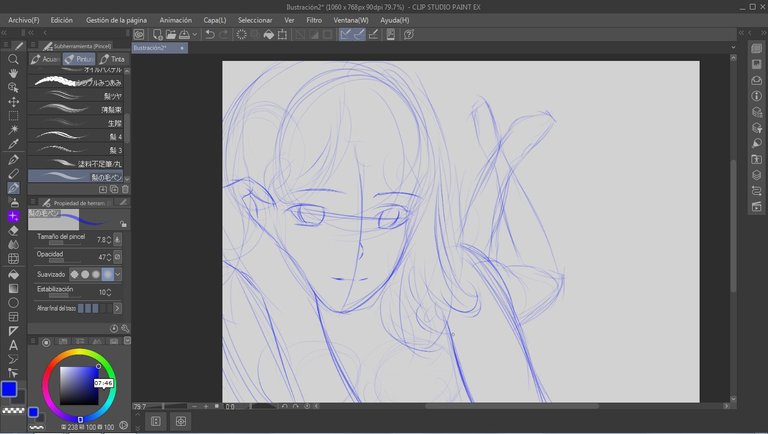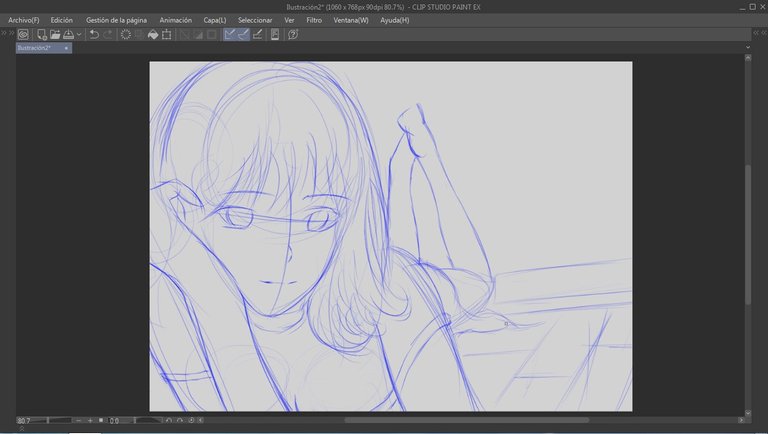 After correcting a lot of things, I found just what I had imagined, it is time to move on to the next step and create the lineart in a new layer.
Después de corregir realmente muchas cosas, encontré justo lo que había imaginado, es momento de pasar a la siguiente etapa y crear en una nueva capa el lineart.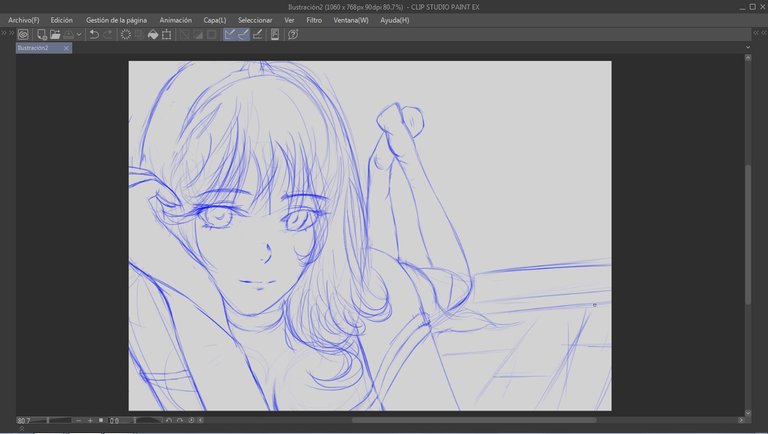 The lineart is just a matter of patience and time, I used thin lines, something very common in my drawing style, I still think I have better results keeping the anime style in my drawings.
El lineart es solo cuestión de paciencia y tiempo, use lineas delgadas, algo muy común en mi estilo de dibujo sigo pensando que tengo mejores resultados manteniendo el estilo anime en mis dibujos.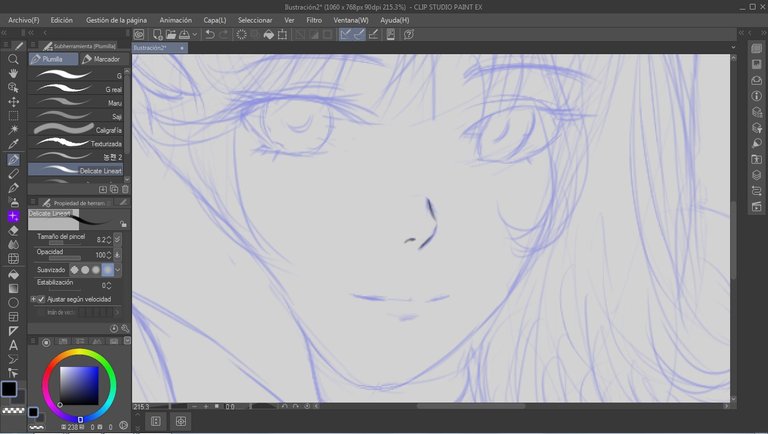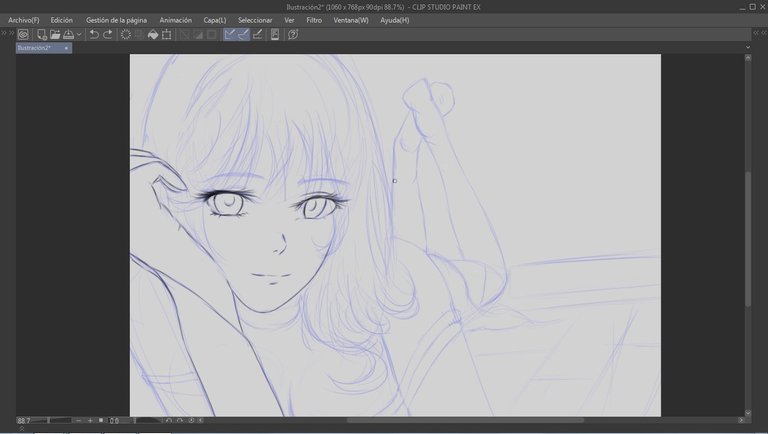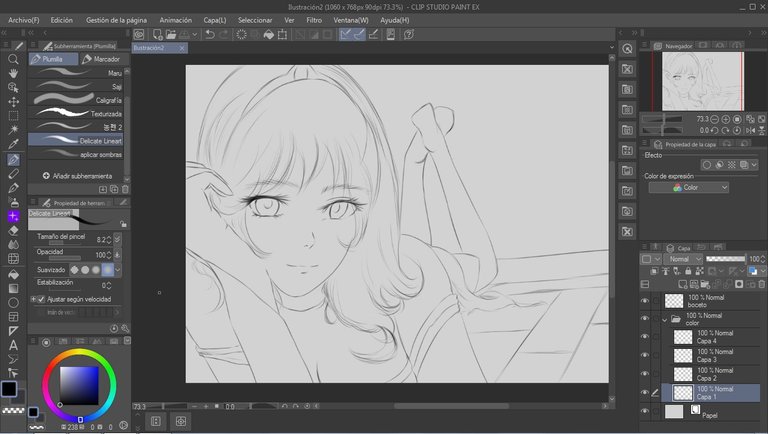 Color
We apply all the base color layers, I will use not very saturated colors, as I think they look more pleasing to the eye.
Aplicamos todas las capas de color base, usaré colores no muy saturados, pues creo que se ven más agradables a la vista.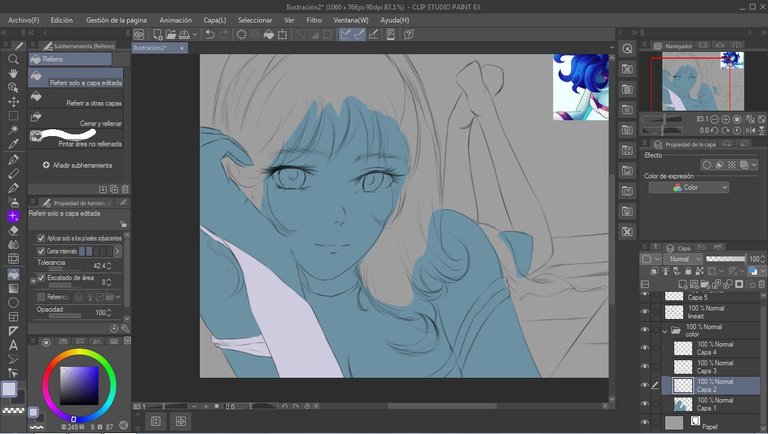 The shading, as usual, are with darker solid tones and then blurred with another brush, Oh I should mention that I also usually apply glosses and other darker tones depending on the area.
El sombreado, como es de costumbre, son con tonos más sólidos y oscuros para luego difuminarlos con otro pincel, Oh debo mencionar que también suelo aplicar brillos y otros tonos más oscuros dependiendo de la zona.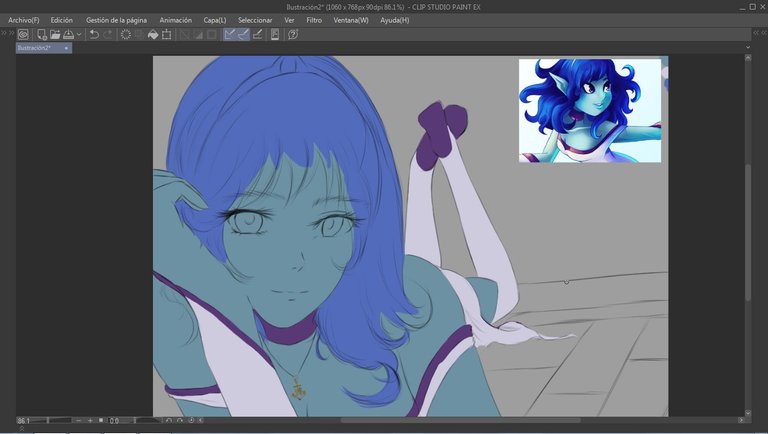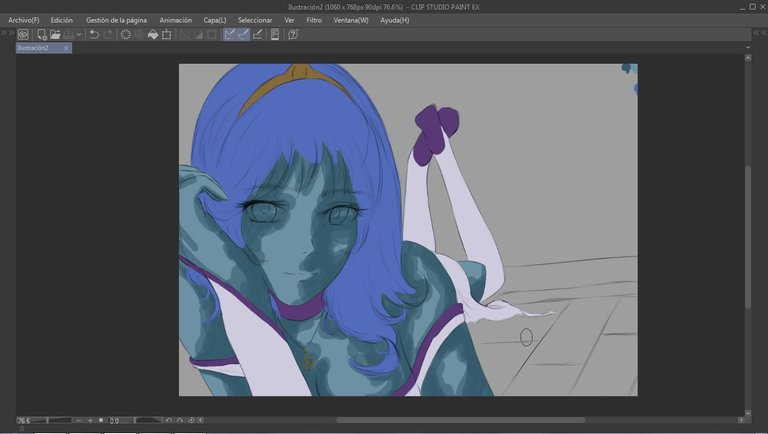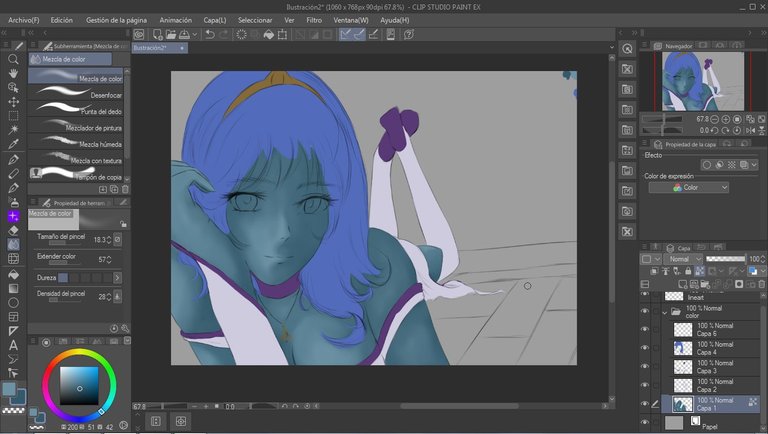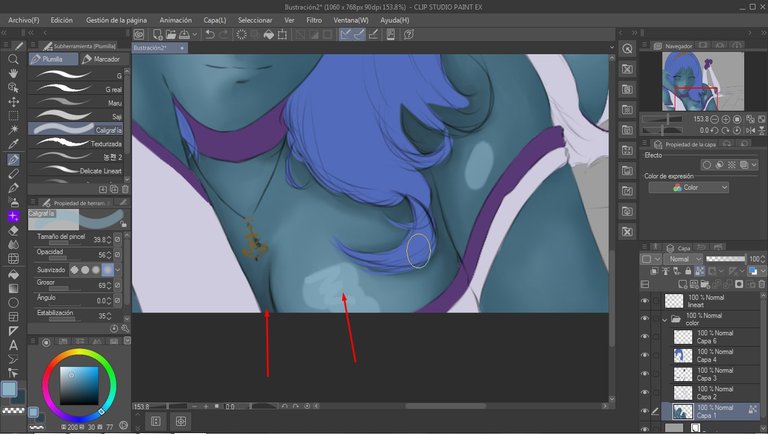 Here we will define from which direction the light comes from, I was thinking that being underwater it should be from above or with multiple light sources.
Aquí definiremos de que dirección viene la luz, estaba pensando que al ser bajo del agua debería ser desde arriba o con múltiples fuentes de luz.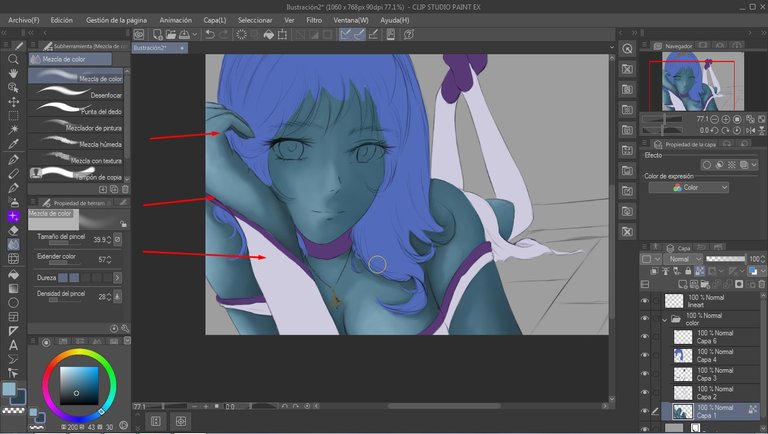 Time to add many more details, there are really too many to detail in a single post, so we will emphasize the most relevant and notorious, The small necklace is not canon with the original design, it is more a reference to @yasmirgs who has a similar one hehe.
Momento de agregar muchos más detalles, realmente son muchos para detallarlos en un solo post, así que haremos énfasis en los más relevantes y notorios, El pequeño collar no es canon con el diseño original, es más una referencia a @yasmirgs que tiene uno parecido jeje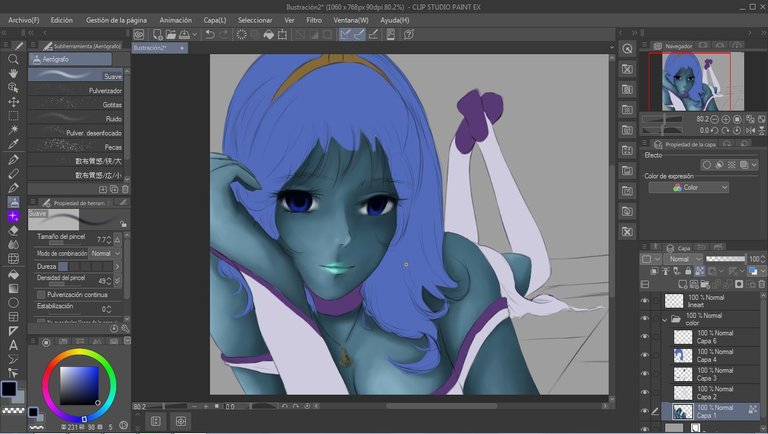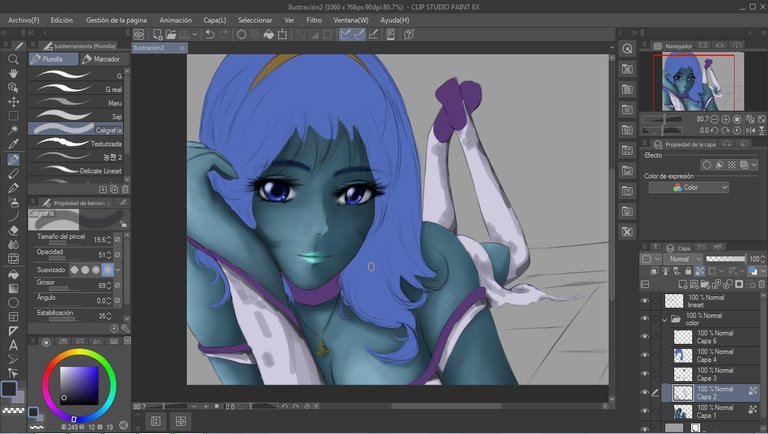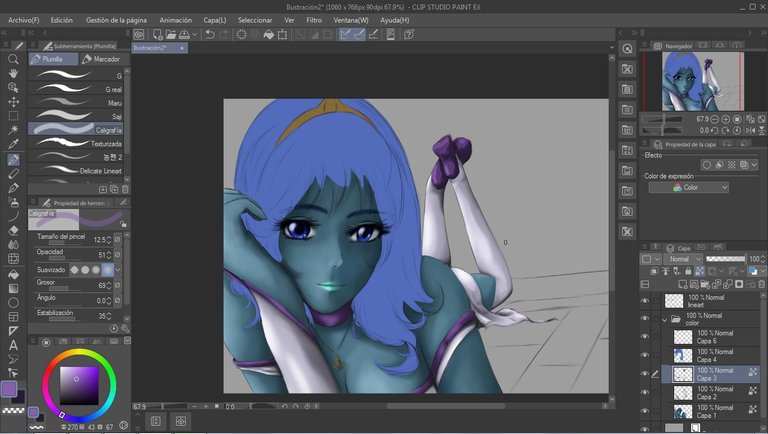 We are adding shadows in the different layers of the drawing, face, clothes, jewelry, etc. The process is very similar in all apply base color, shadow color, brightness and blur.
Vamos sumando sombras en las diferentes capas del dibujo, rostro, ropa, joyas etc. el proceso es muy similar en todos aplicar color base color sombra, brillo y difuminar.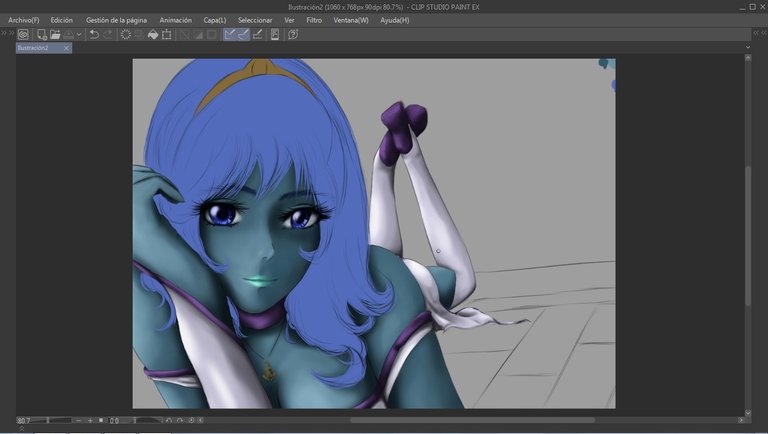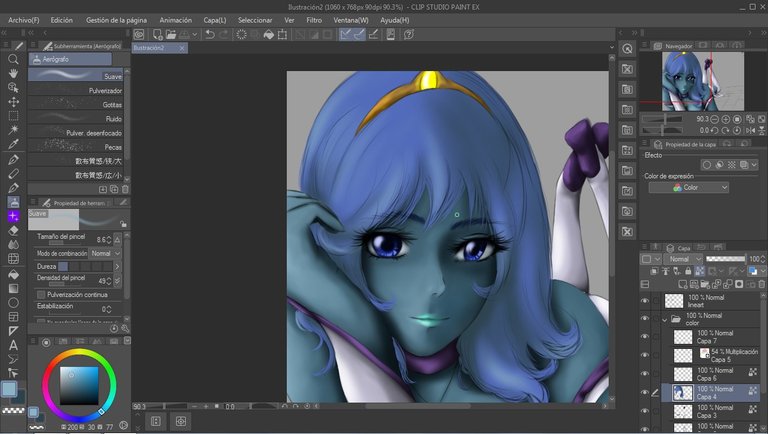 Well let's go with the background as you can notice it is different from the final result that is due to a last minute change, at this point I wanted to make a dark background but I feel that it was not going well, as the character looks much lighter.
Bien vamos con el fondo como pueden notar es diferente al del resultado final eso se debe a un cambio de último momento, en este punto quería hacer un fondo oscuro pero siento que no iba bien, ya que el personaje se ve mucho más claro.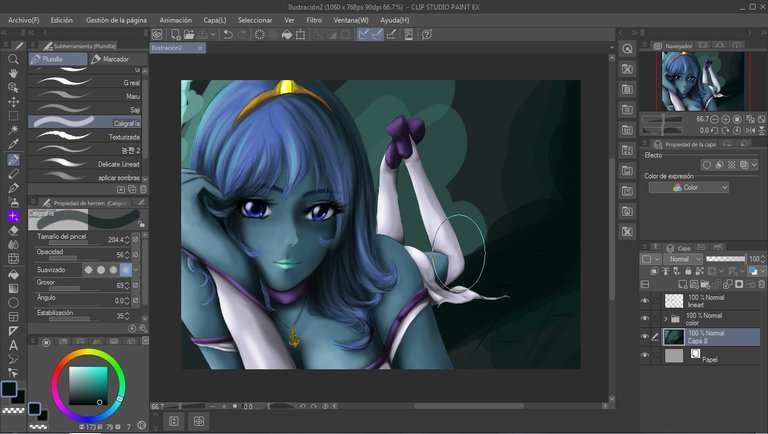 For this change just apply the multiply effect on the background layer, then on other layers apply the details like algae and more darkness on the background.
Para este cambio solo aplique el efecto multiplicar en la capa del fondo, luego en otras capas aplique los detalles como algas y mas oscuridad en el fondo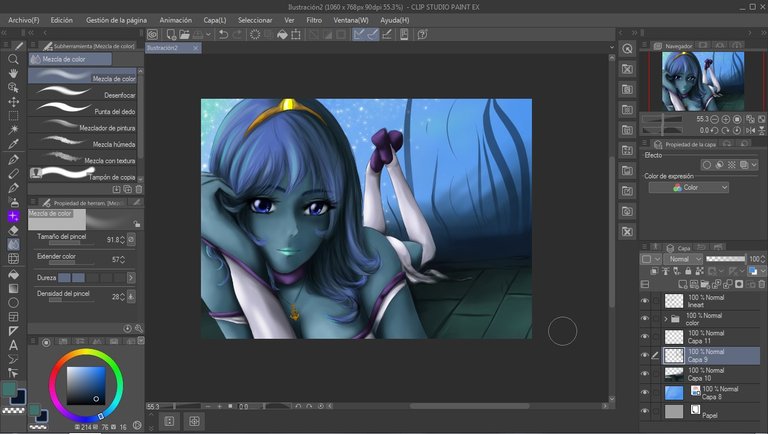 One of the final details was a kind of filter using a layer with a uniform color, and then give it some transparencies and erase other areas, another detail that I must mention are the bubbles and other water effects.
Uno de los detalles finales fue una especie de filtro usando una capa con un color uniforme, para luego darle algo de transparencias y borrar otras zonas, otro detalle que debo mencionar son las burbujas y otros efectos acuáticos.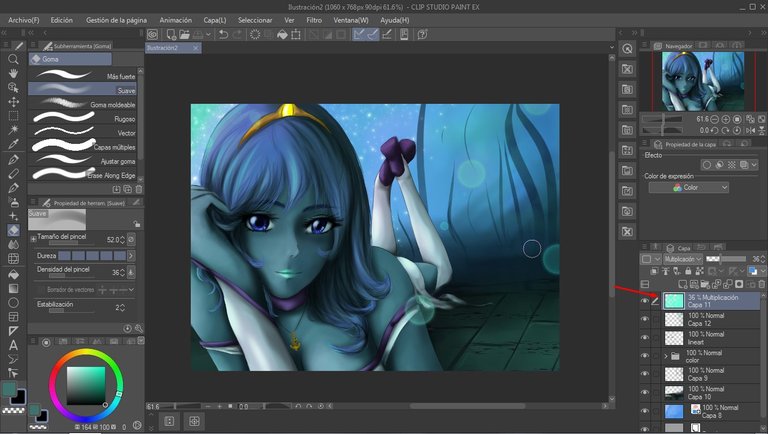 Finally, here is the result, I wanted to imagine that River Nymph can be underwater without any problem, because she is part of the river, this is really one of my favorite characters, which brings me good memories playing Splinterlands, it is possible that for the next one I will make one of Wood Nymph, why? Well, she is my favorite hehe.
if you got this far I want to thank you for joining me this was my drawing for week 227 I hope you liked it!
Finalmente, aqui el resultado, quería imaginar que River Nymph puede estar bajo del agua sin ningún problema, pues ella es parte del rio, realmente este es uno de mis personajes favoritos, el cual me trae buenos recuerdos jugando Splinterlands, es posible que para la próxima haga uno de Wood nymph ¿porque? Pues es mi favorita jeje.
si llegaste hasta aqui quiero darte las gracias por acompañarme este fue mi dibujo para la semana 227 espero te haya gustado!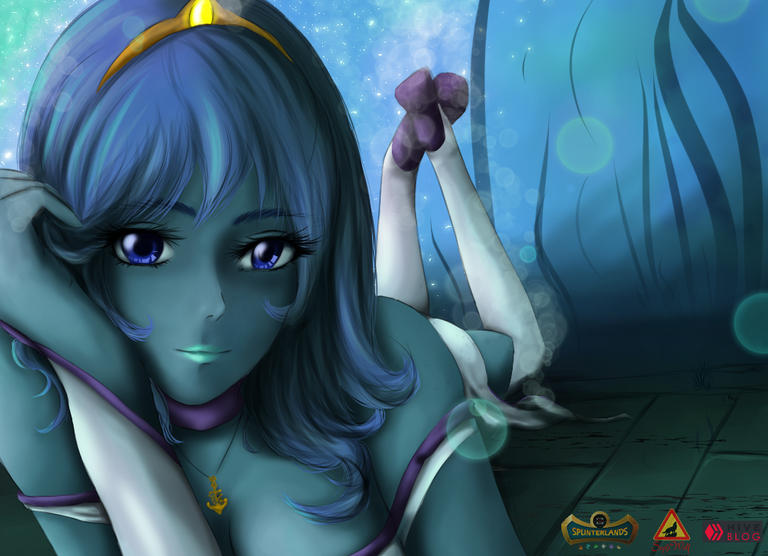 If you don't play splinterlands yet you can join here!
Si aún no juegas splinterlands puedes unirte aquí!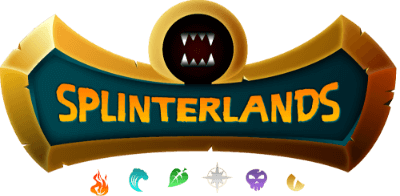 ---
---