Splinterlands Art Contest Week 230 / Wood Nymph - DOLL / Handicraft / Eng- Esp
Splinterlands Art Contest Week 230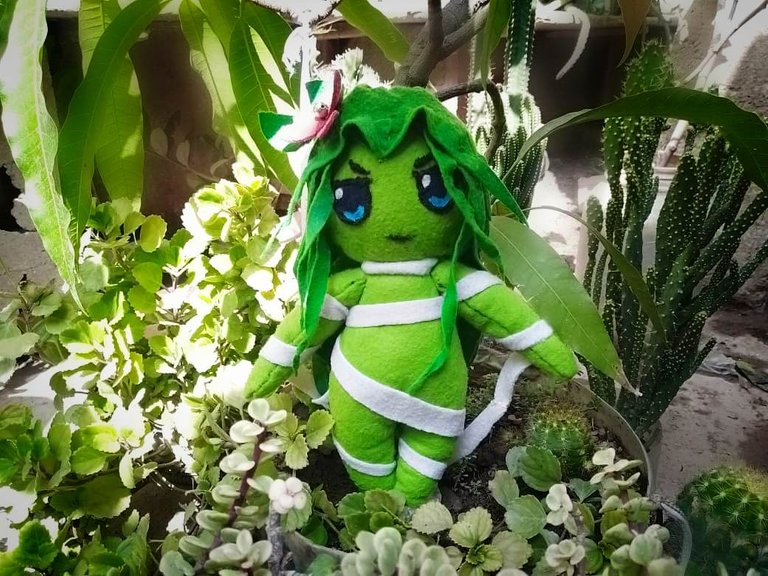 English
Greetings my dear readers, This time we will do something totally different from my usual content, With the help of my girlfriend @yasmirgs I was able to finish a project which took a lot of time, planning and cost.
A beautiful doll inspired by the character Wood Nymph from our beloved game Splinterlands.
We wanted to give our best effort and pay attention to the details, beyond working for the reward we have the satisfaction of giving life to one of our favorite characters.
Let's talk a little bit about the idea, originally I wanted to make a doll known as "Fumo Doll" but the material and size was out of my budget so we were more creative.
After investing in the materials and having the time required I decided to put my hands to work and for this I have the help of my girl who knows a lot about sewing :P
Well, a post full of curiosities awaits us.
Let's get started!
Español
Saludos mis apreciados lectores, En esta oportunidad haremos algo totalmente diferente a mi contenido abitual, Con ayuda de mi novia @yasmirgs pude terminar un proyecto el cual tomo mucho tiempo planificacion y costo.
Una hermosa muñeca inspirada en el personaje Wood Nymph de Nuestro amado juego Splinterlands
Quisimos dar nuestro mejor exfuerzo y prestar atencion a los detalles, mas alla de trabajar por la recompenza nos queda la satisfacion de darle vida a uno de nuestros personajes favoritos.
Hablemos un poco de la idea, originalmente queria hacer una muñeca conocida como "Fumo Doll" pero el material y el tamaño se salian de mi presupuesto asi que fuimos mas creativos.
despues de invertir en los materiales y contar con el tiempo requerido decidi poner manos al trabajo y para esto cuento con la ayuda de mi chica la cual sabe mucho de costura :P
Bien nos espera un post algo estenzo y lleno de curiosidades.
Empecemos!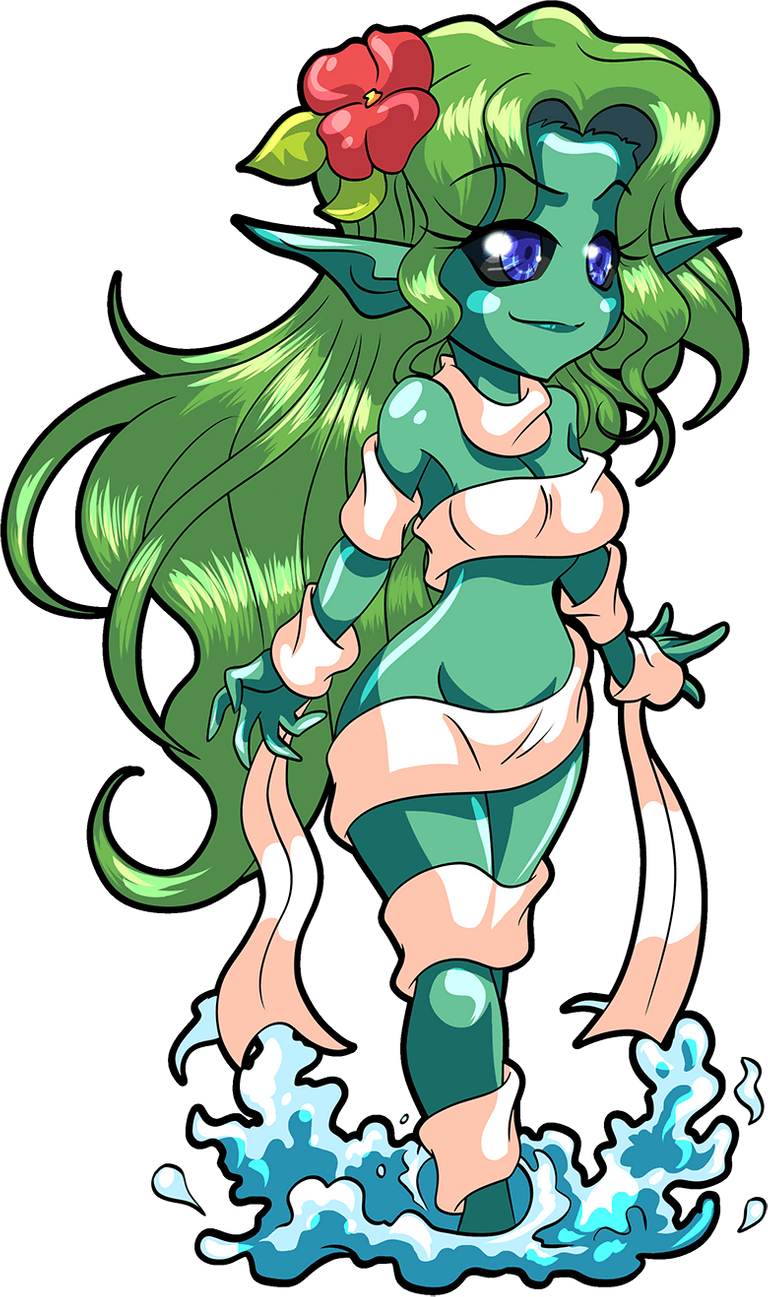 First steps
Okay, well I should mention every material used but instead let's make a little cameo, I had the idea in my mind of how I wanted the doll and after discussing it with my girlfriend, we came up with an idea that we could start working with.
Bien, Bien deberia mencionar cada material usado pero en lugar de ello hagamos un pequeño cameo, tenia la idea en mi mente de como queria la muñeca y despues de discutirlo con mi novia. conseguimos una idea con la cual podiamos empezar a trabajar.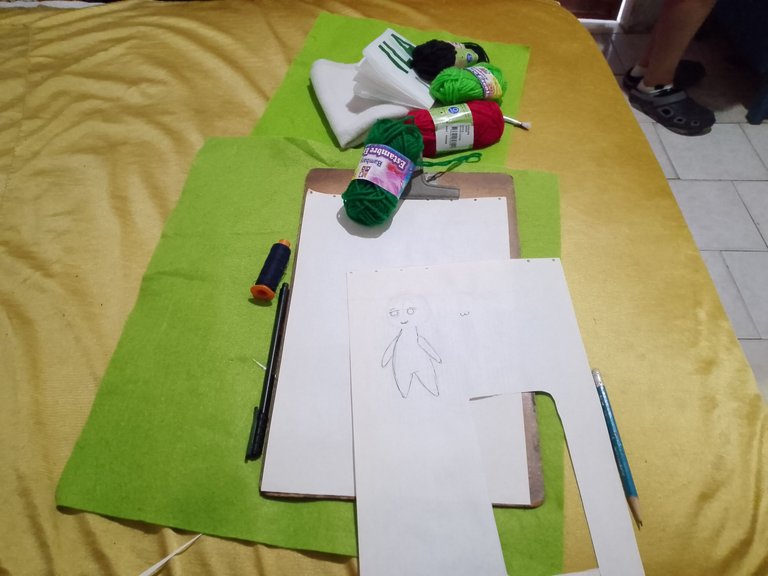 Once the idea was ready it was time to design the patterns for the fabric, here was very important the help of my mother in law, because both my girlfriend and I were not very clear about the shape that this should have.
Una vez lista la idea es momento de diseñar los patrones para la tela, aqui fue muy importante la ayuda de mi suegra, pues tanto mi novia y yo no teniamos muy claro la forma que esto debia tener.
Here we have finished the pattern, we will use:
4 parts Braz
2 parts c
2 parts body.
Aqui tenemos terminado el patron, usaremos:
4 partes Brazos
2 partes cabeza
2 partes cuerpo.
It's time to cut all the parts in the fabric, by the way for this doll I used a fabric called Felt, maybe it has another name in your country.
Es momento de cortar todas las partes en la tela, por cierto para esta muñeca use una tela llamada Fieltro tal vez tenga otro nombre en tu pais.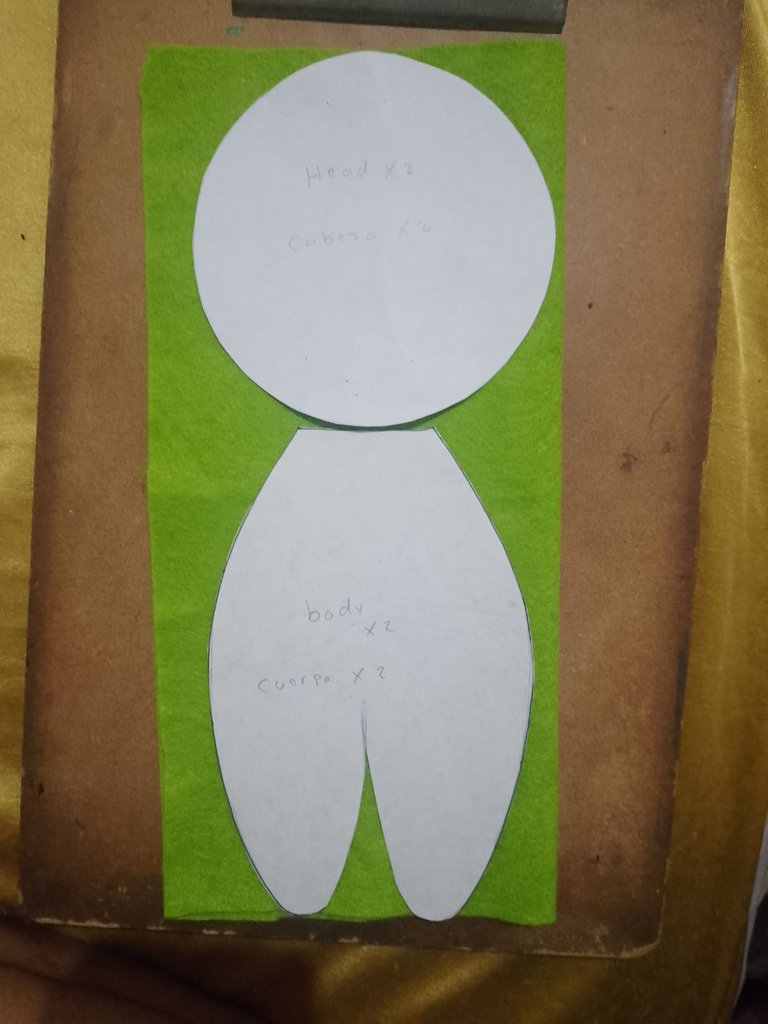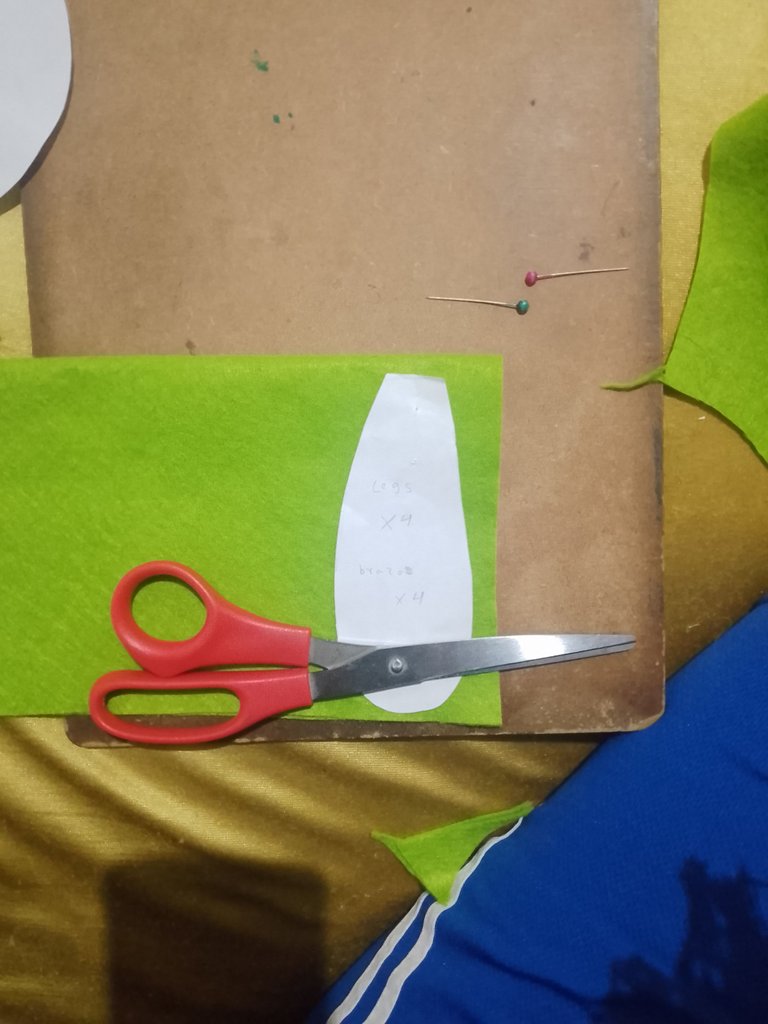 Now we have the parts that we will use for the doll and it is time to join them, unfortunately I didn't have green thread so I will use dark blue for the whole doll.
Ya tenemos las partes que usaremos para la muñeca es momento de unirlas, lamentablemente no tenia hilo de color verde asi que usare de color azul oscuro para toda la muñeca.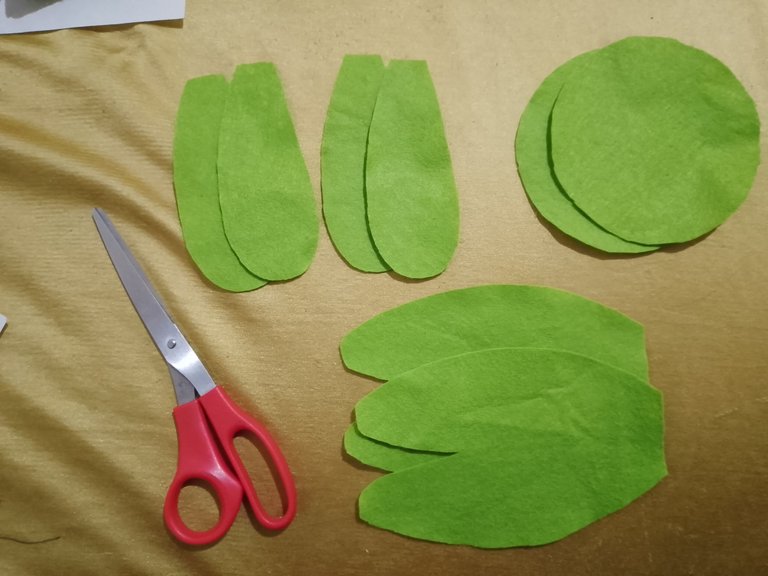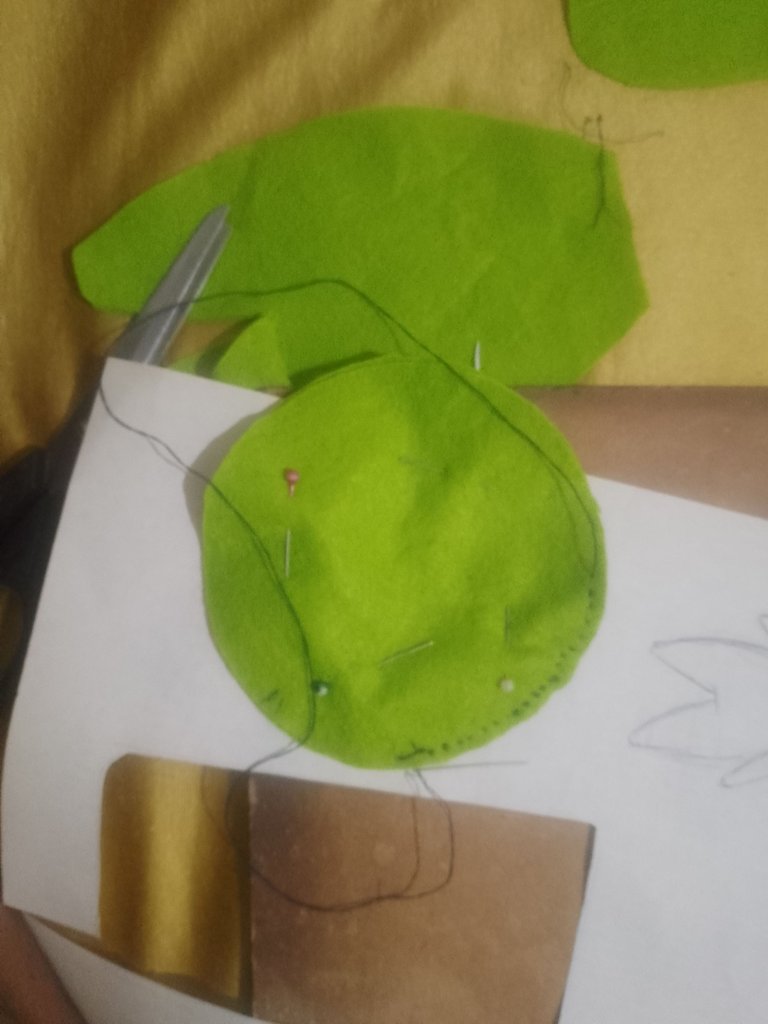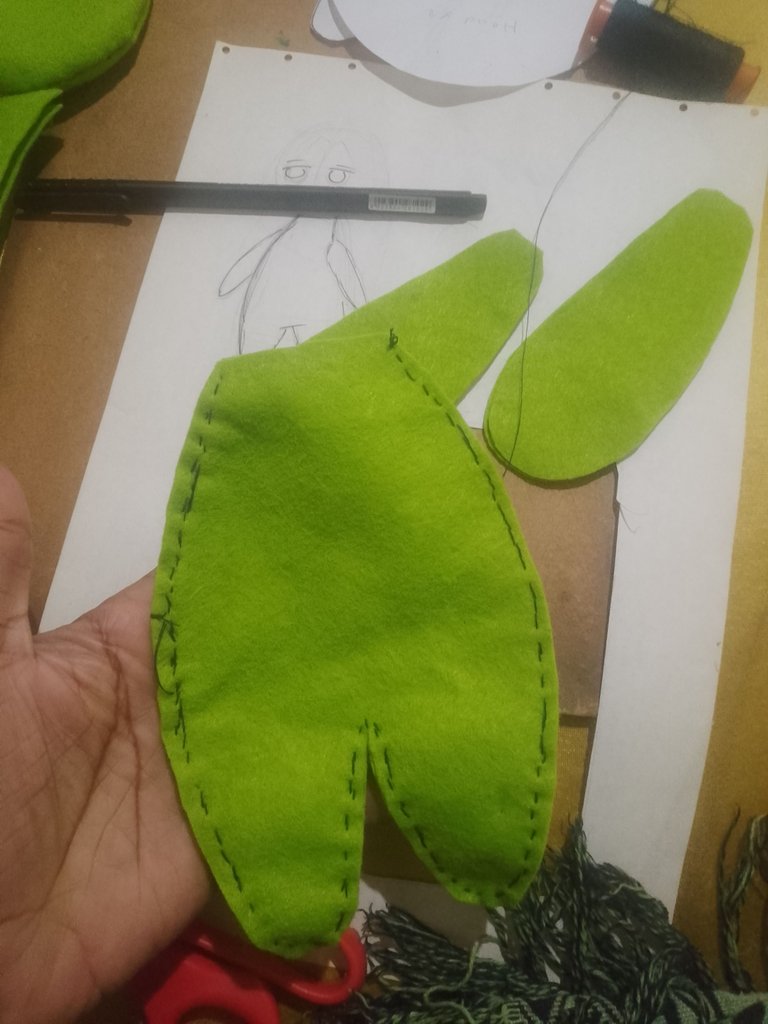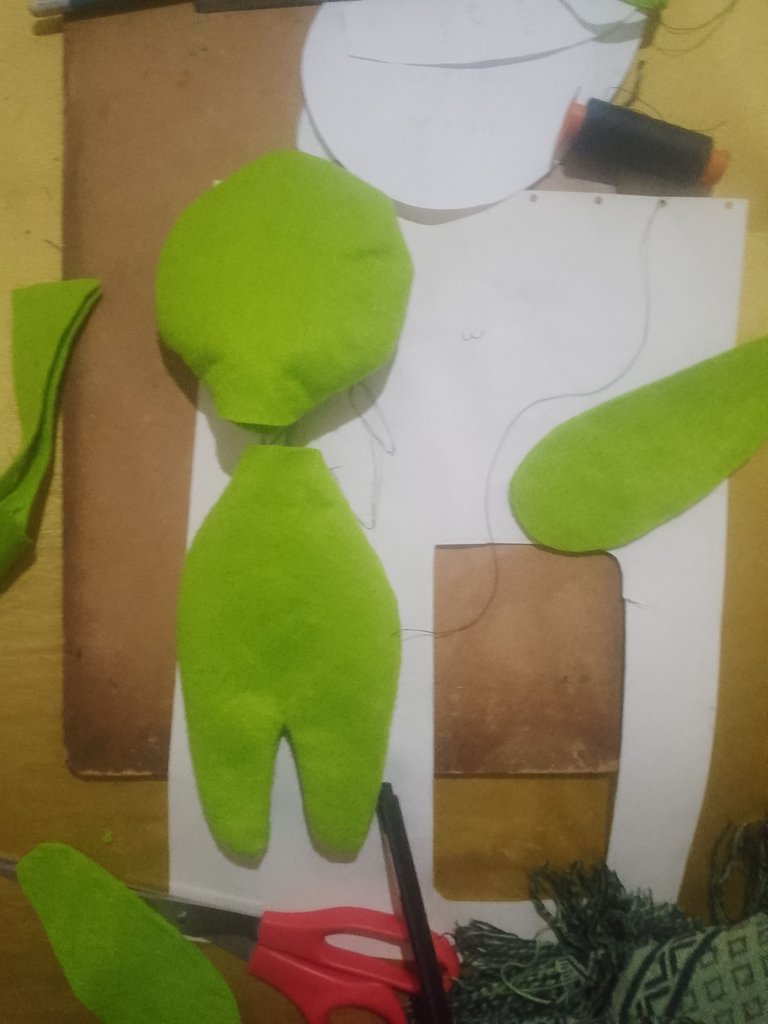 It's time to stuff and stuff... for this I used this synthetic foam I'm not sure what it's called but I know it as wadding.
Es momento de rellenar y rellenar... para esto use esta espuma sintetica no estoy seguro de que nombre tiene yo la conozco como guata.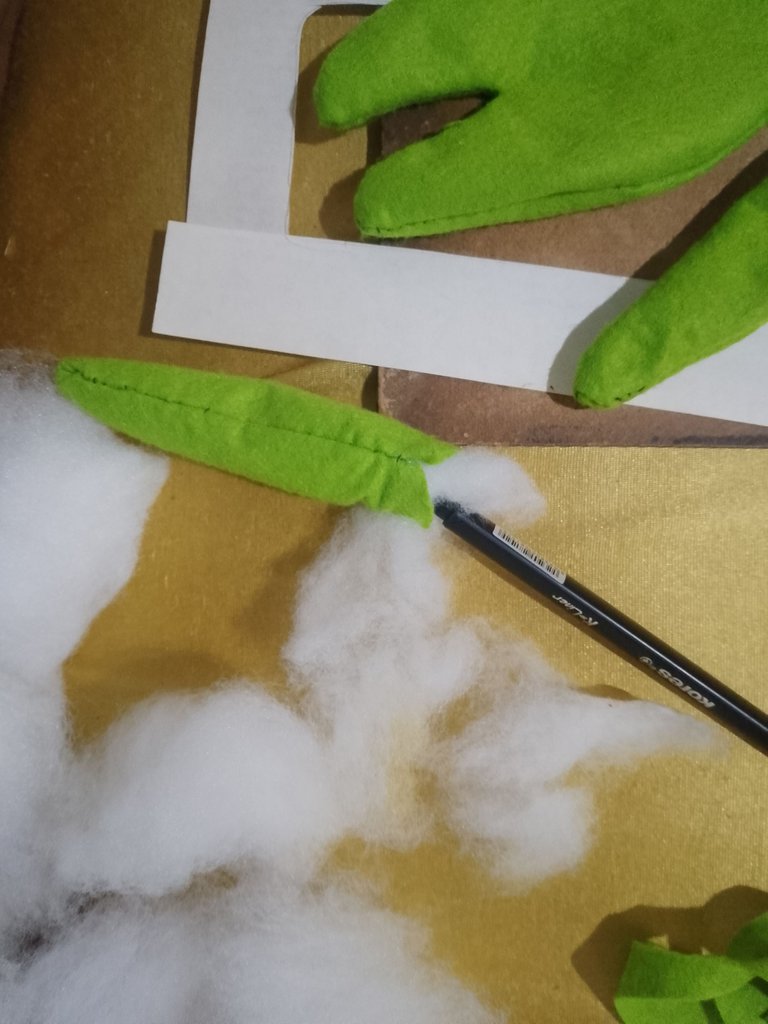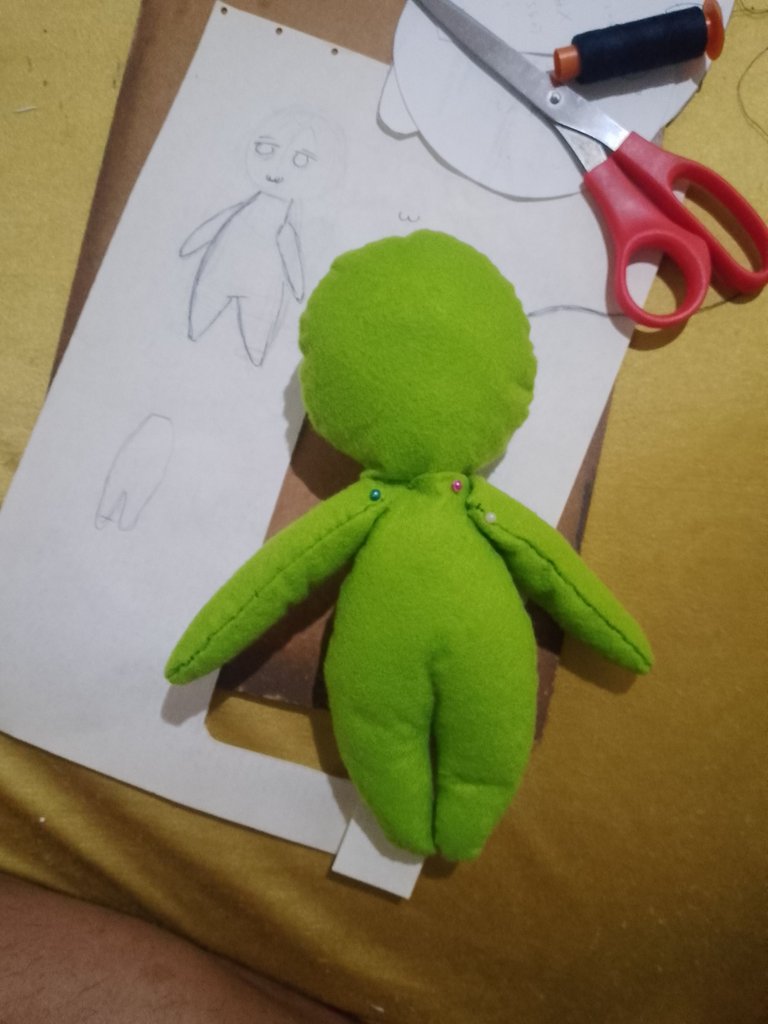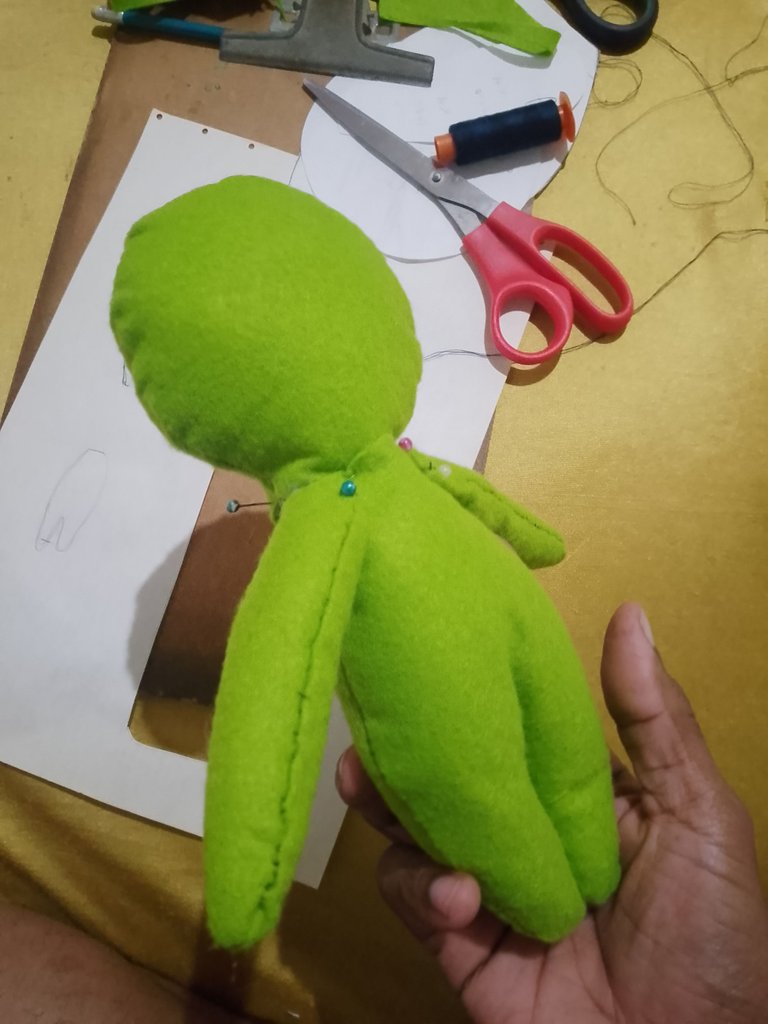 While my girlfriend helps me with some details I'm preparing what would be the bandages that cover the character.
Mientras mi novia me ayuda con unos detalles voy preparando lo que serian las vendas que cubren el personaje.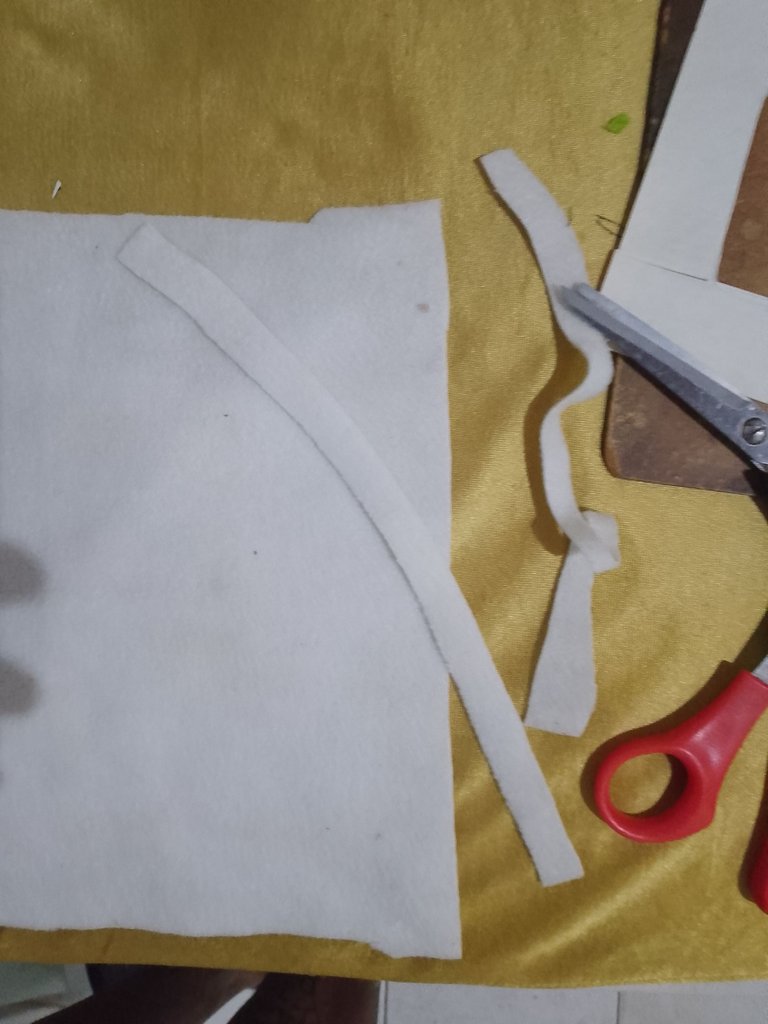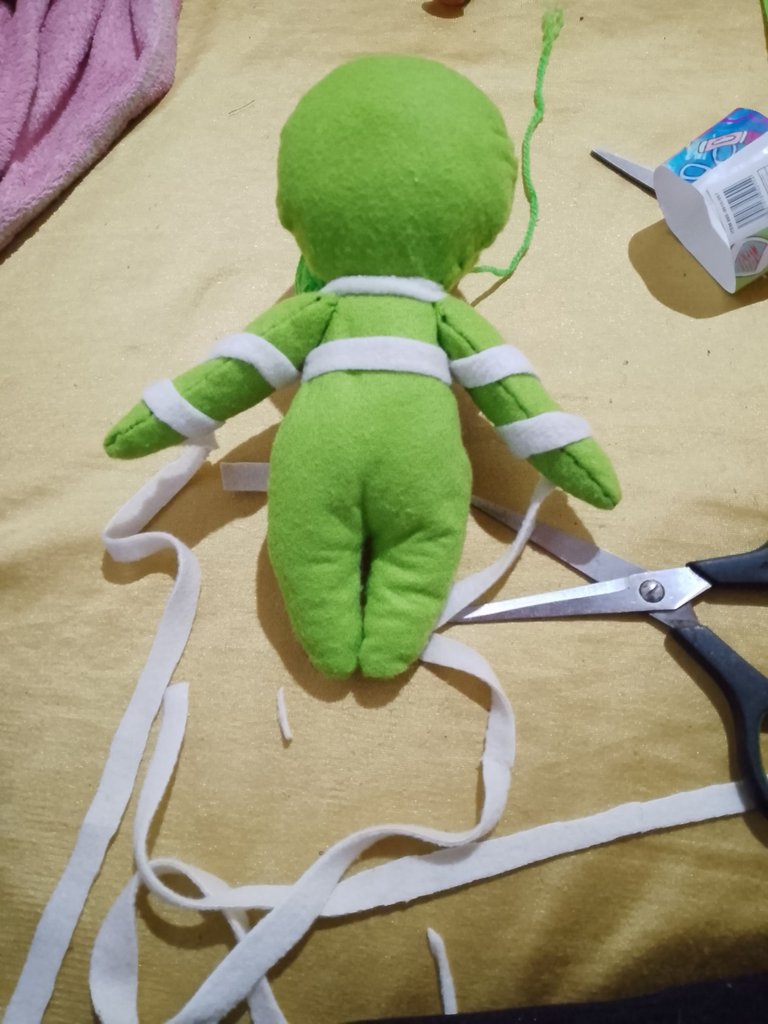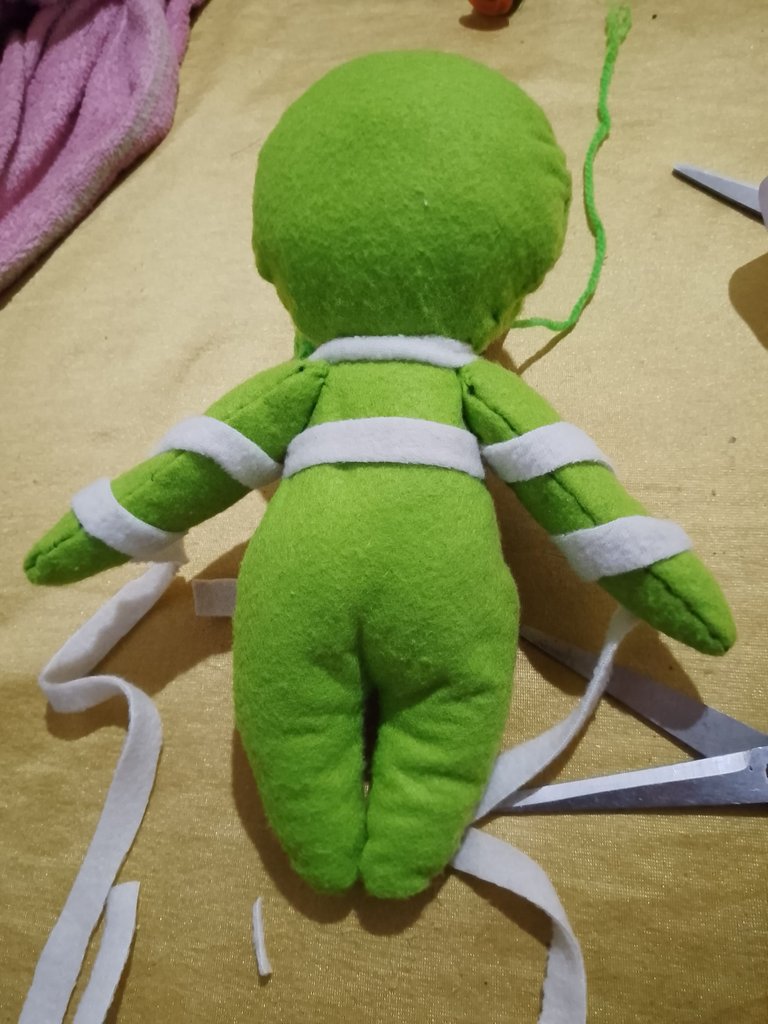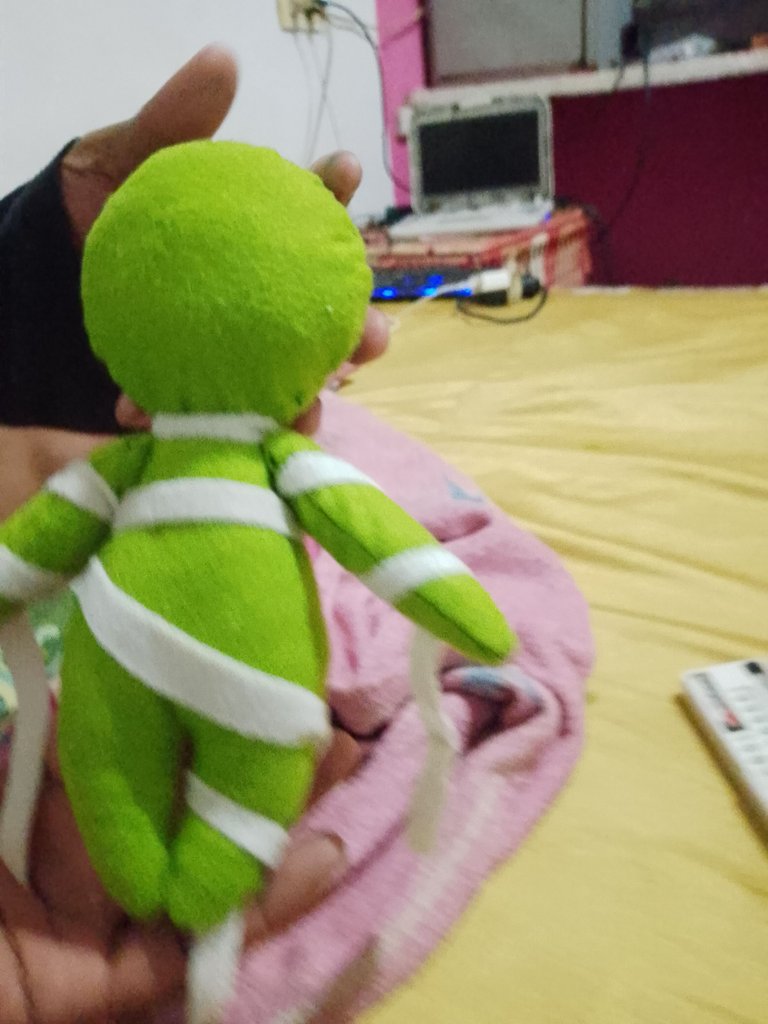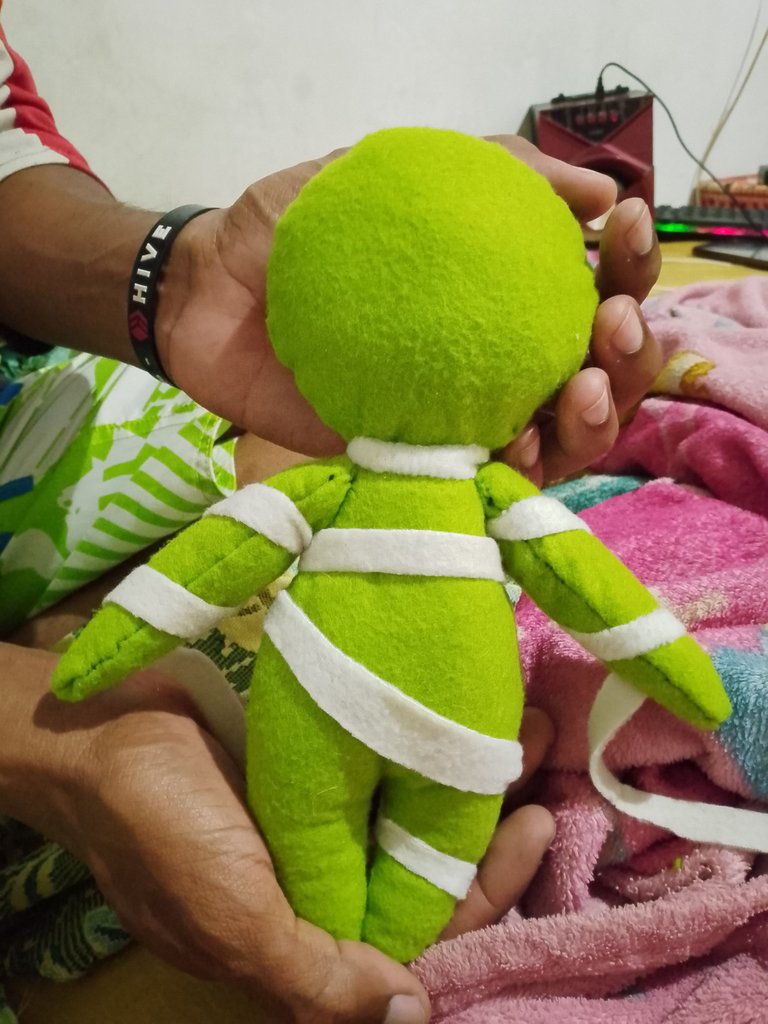 For the hair I didn't have the right color felt but I did have dark green paint, I let it dry overnight and the result was very good.
Para el cabello no tenia el fieltro con el color correcto pero si tenia pintura de un color verde oscuro, deje secar toda la noche y el resultado fue muy bueno.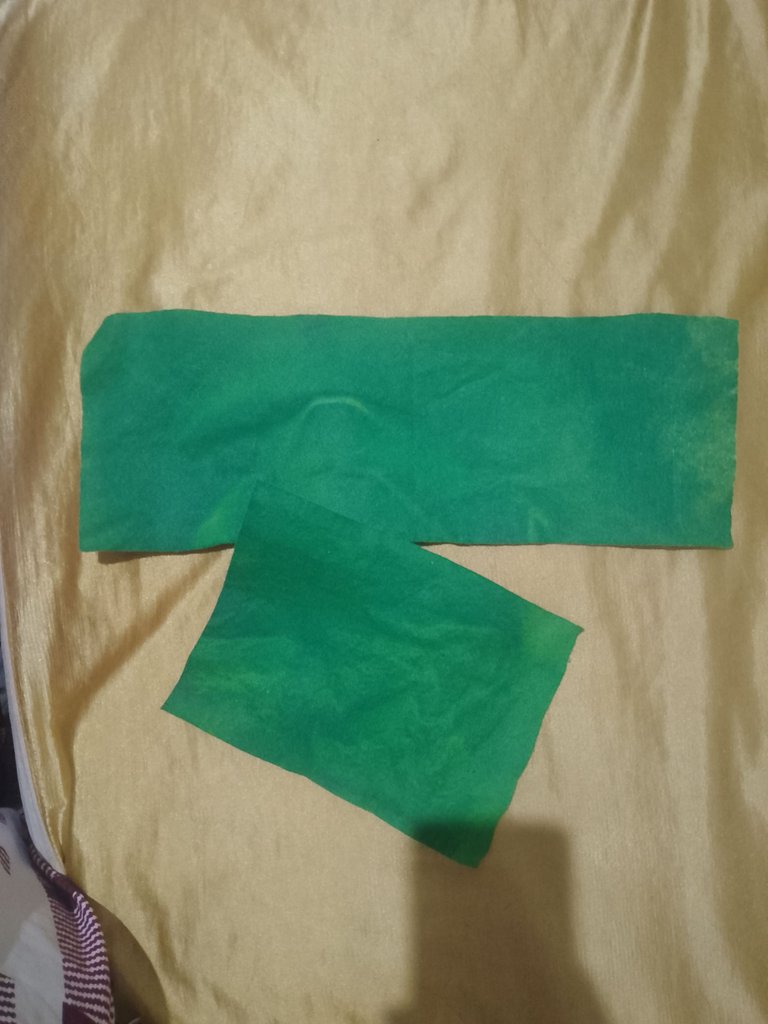 Here you can see the original sketch for the face a look and a slight smile hehe my girlfriend wanted to change it to a more serious smile hehe
Aqui pueden apreciar el boceto original para el rostro una mirada y una ligera sonrisa jeje mi novia quiso cambiarla por una sonrisa mas seria jeje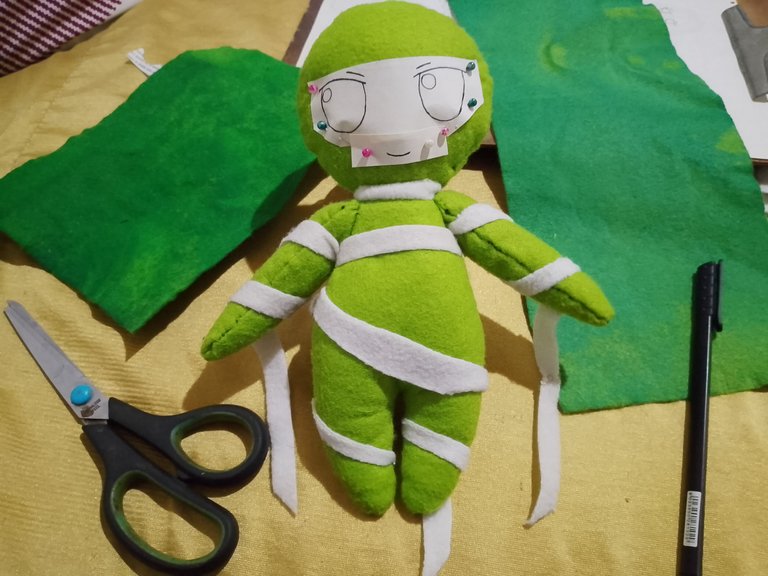 We mark with graphite pencil number 12 on the fabric and in this way we get this result, it is time to add the lines that define the eyes.
Marcamos con lapiz de grafito numero 12 sobre la tela y de esta forma conseguimos este resultado, es momento de agregar las lineas que definen los ojos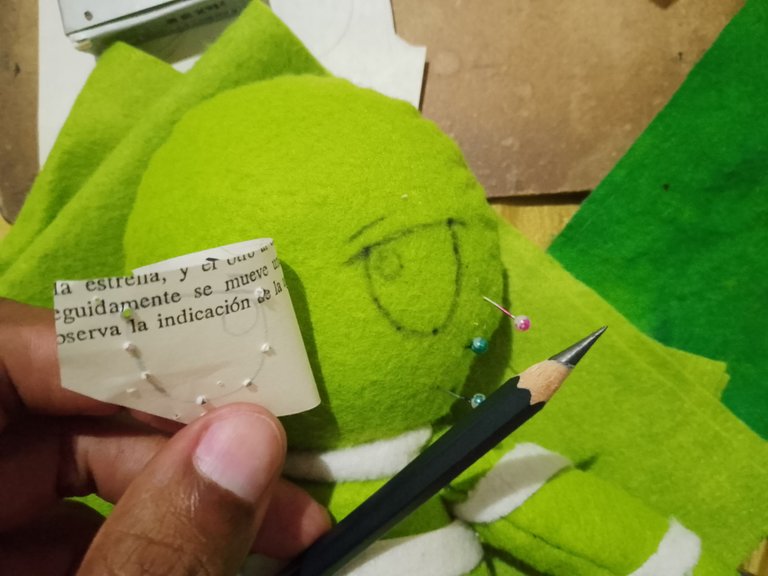 ---
eh, for this stage I'll let my girlfriend do it while I start creating the character's hair.
eh, para esta etapa dejare que mi novia lo haga mientras yo empiezo a crear el cabello del personaje.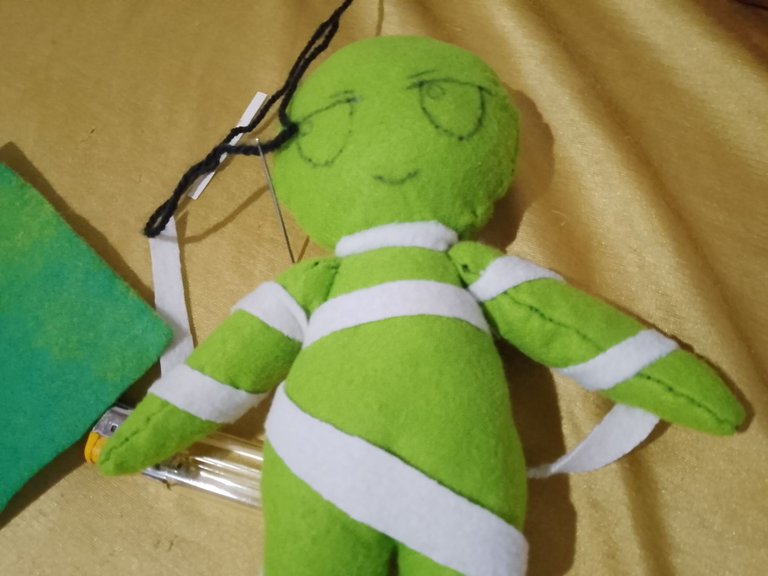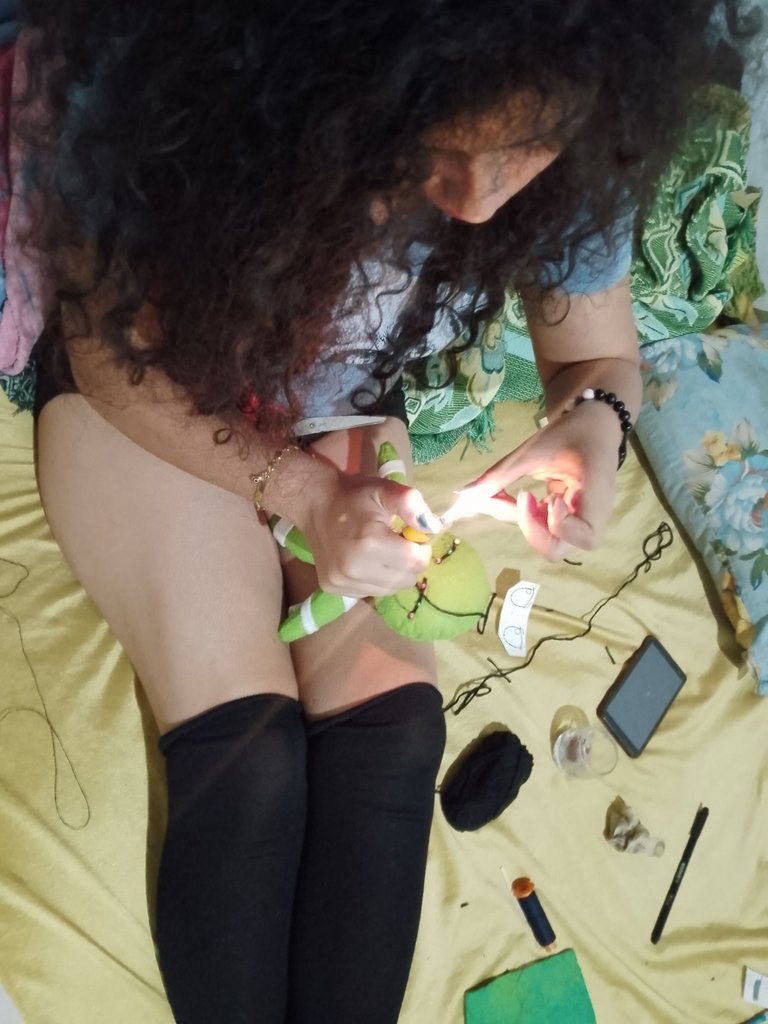 I use worsted yarn to define the thick lines and in the other areas where thin lines are required I use a worsted yarn treated with the heat of a lighter.
Uso estambre para definir las lineas gruesas y en las otras zonas donde se requiere lineas delgadas uso un estambre tratado con el calor de un encendedor.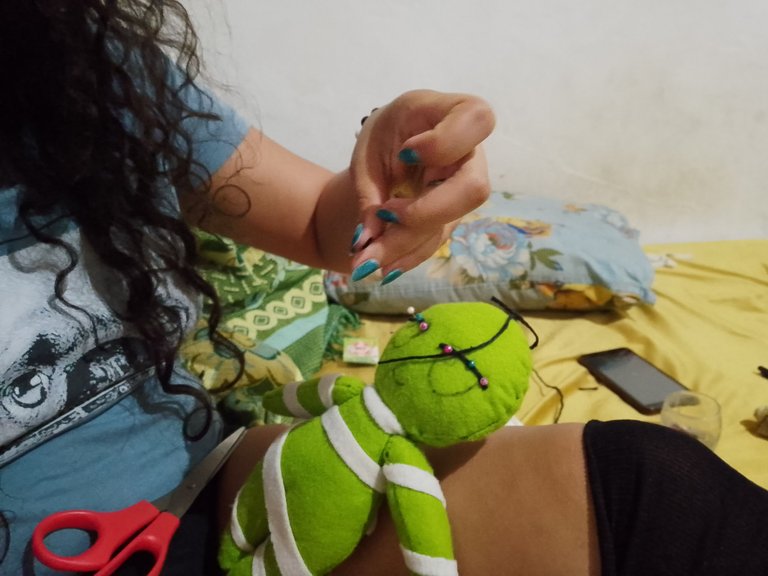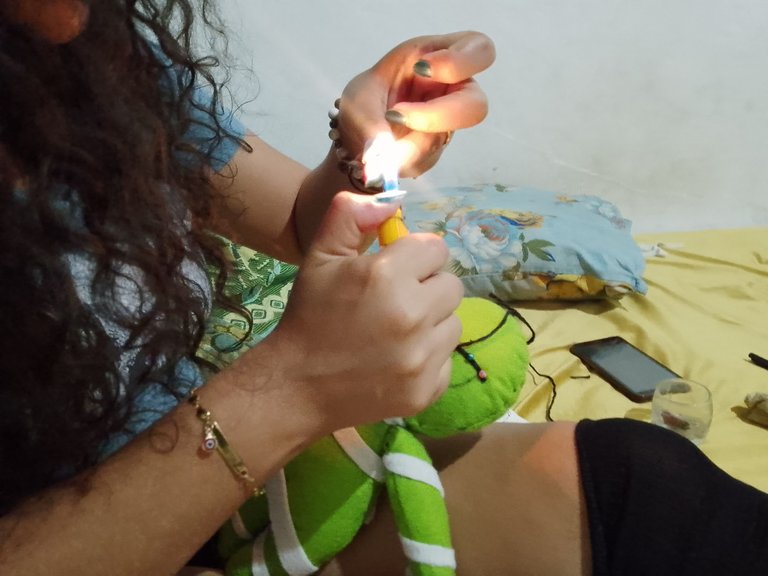 to finish the eyes add dark blue fabric inside and other details...
para finalizar los ojos agregara tela de color azul oscuro dentro y otros detalles...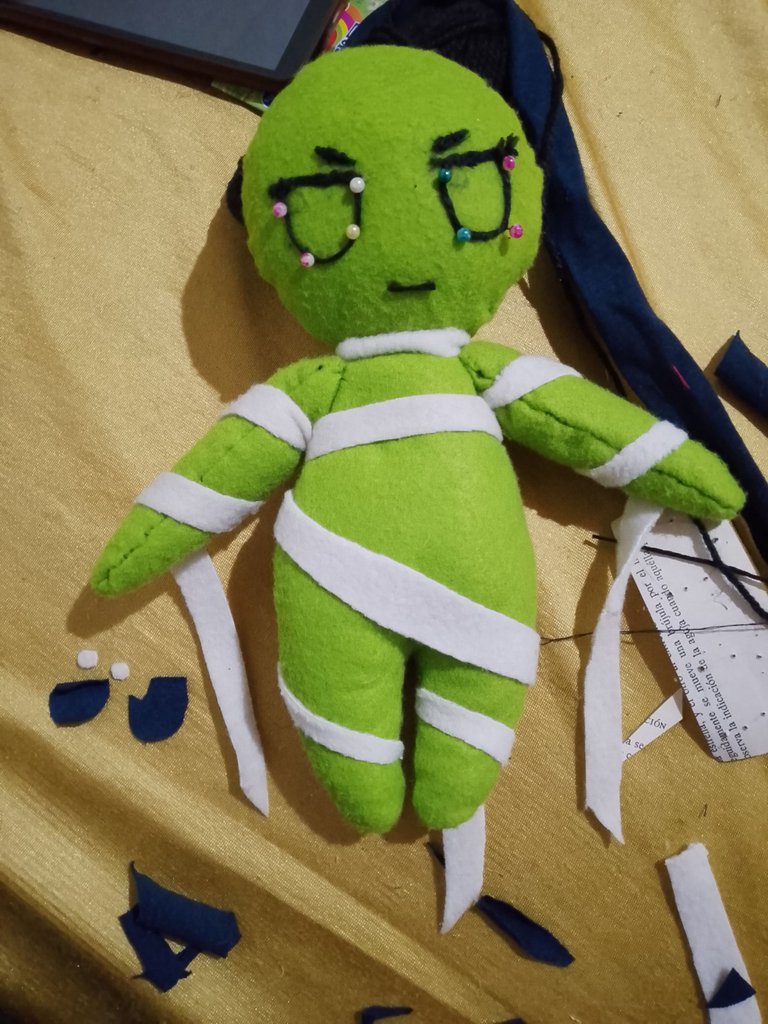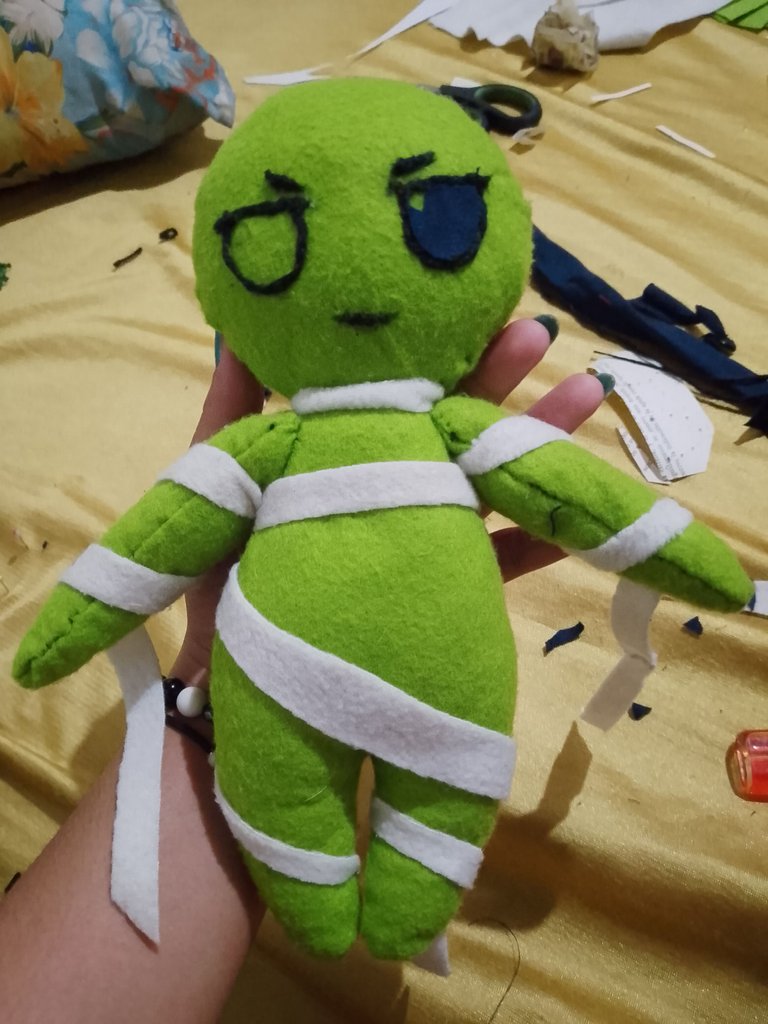 ---
Well on my own I started to design the patterns for the hair, these would be the main ones, before cutting the fabric I fixed this paper hair on the doll to give us an idea of how it was going to look like once it was ready.
Bien por mi cuenta empece a diseñar los patrones para el cabello, estos serian los principales, antes de cortar la tela fije este cabello de papel sobre la muñeca para darnos una idea de como iba a quedar una vez listo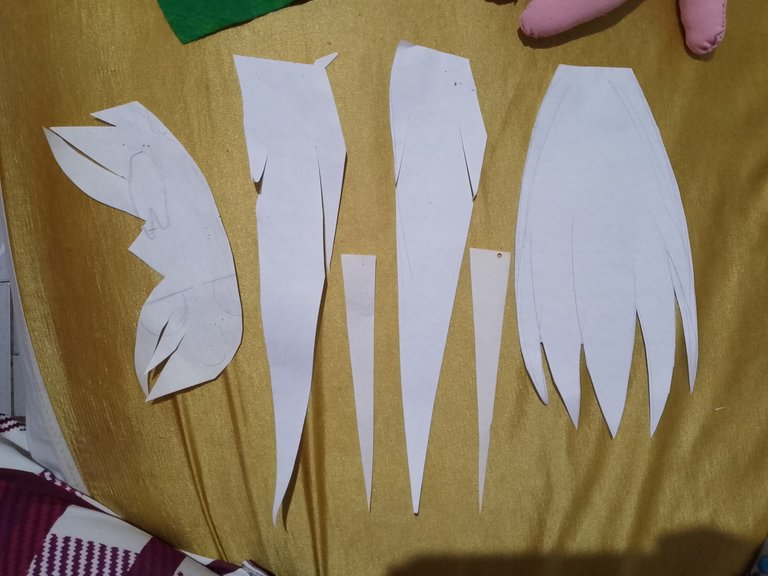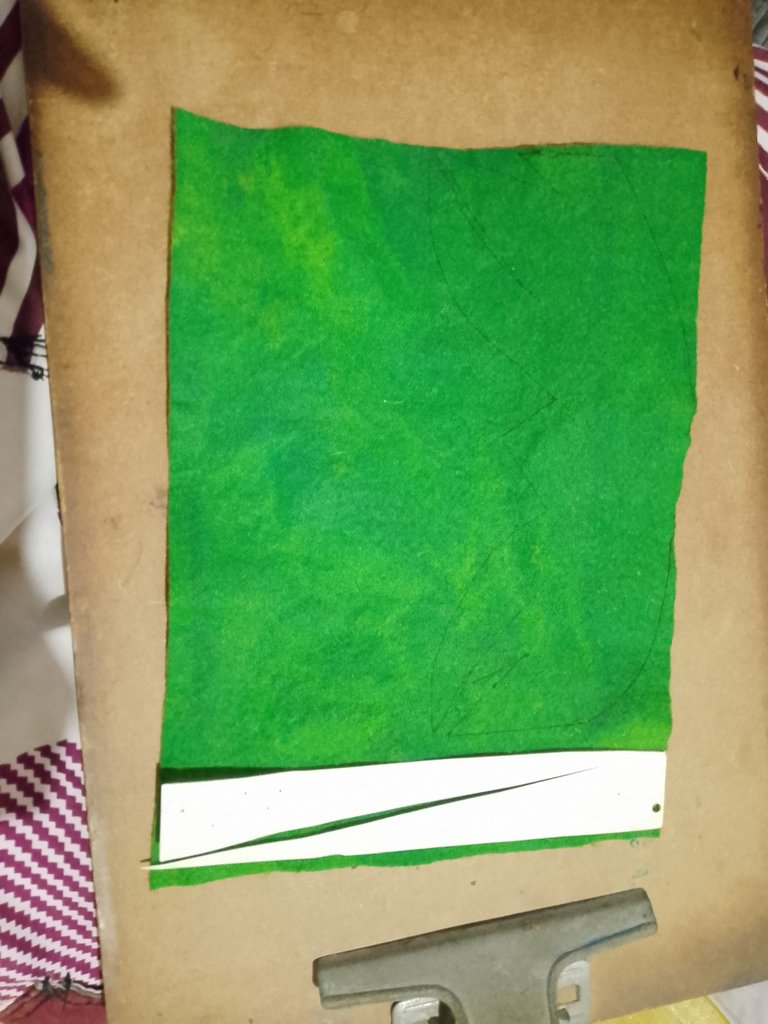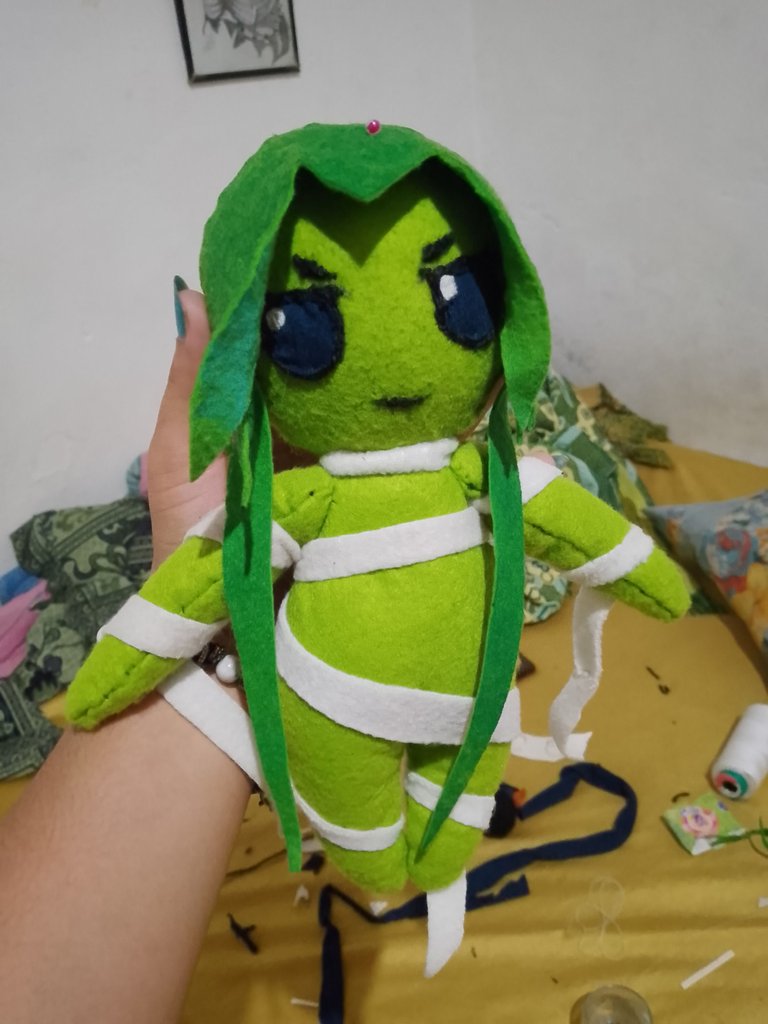 We added strands of hair using as much fabric as possible, this gives volume to the hair. With each strand we added we discussed whether it looked good or not, in the end I think we achieved something that we were both comfortable with and resembled the original character.
Vamos agregando mechones de cabello usando toda la tela posible, esto le da volumen al cabello. Con cada mecho que agregamos discutíamos si se veía bien o no, al final creo que logramos algo con lo que los dos estuviéramos a gusto y semejanza con el personaje original.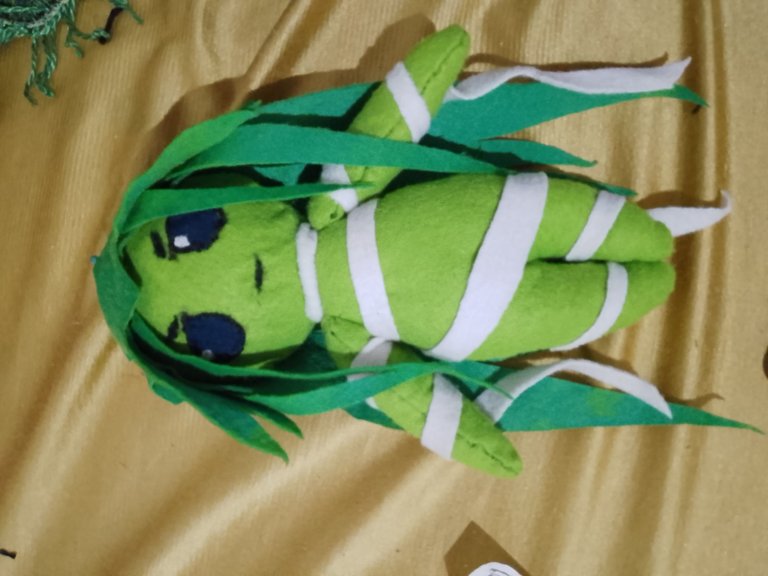 While I am creating some details like the flower in her hair, this is a unique detail of the character, for the petals I used fabric painted with red paint and for the leaves a more intense green.
Mientras voy creando algunos detalles como la flor de su cabello, este es un detalle único del personaje, para los pétalos use tela pintada con pintura roja y para las hojas un verde un poco más intenso.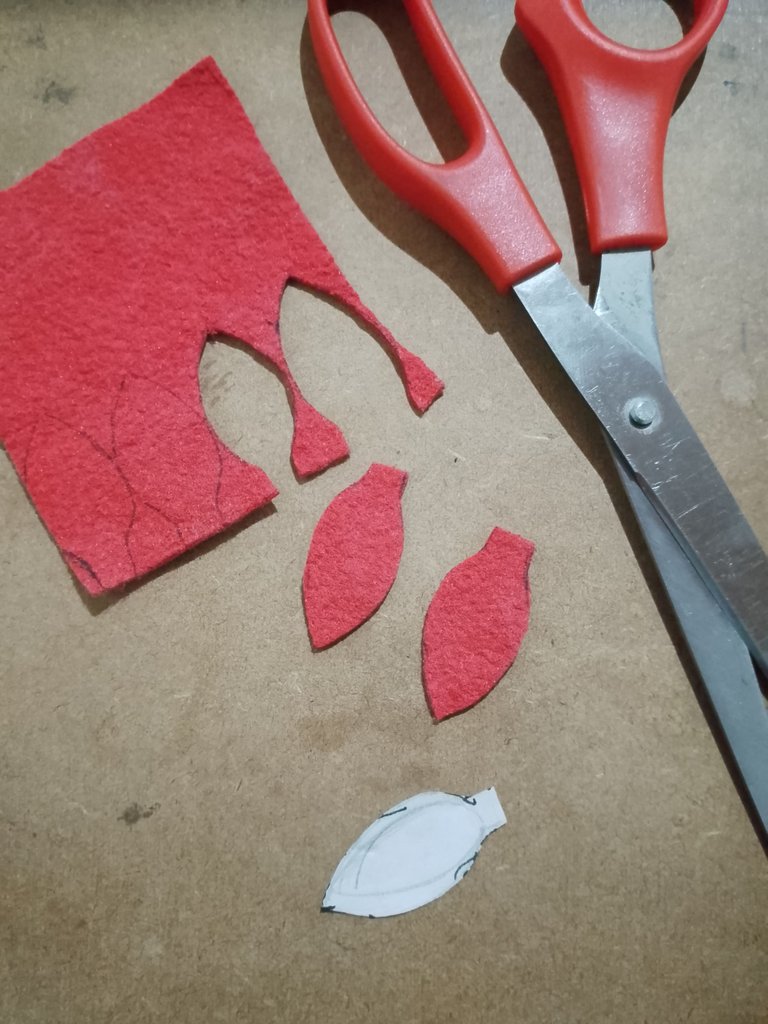 Well ready, time to fix everything in place, here is when we see that my girlfriend knows how to do invisible stitching, haha seriously I love her hair was very well fixed.
Bien listo, momento de fijar todo en su lugar, aquí es cuando vemos que mi novia sabe hacer costura invisible, jaja en serio la adoro quedo muy bien fijado el cabello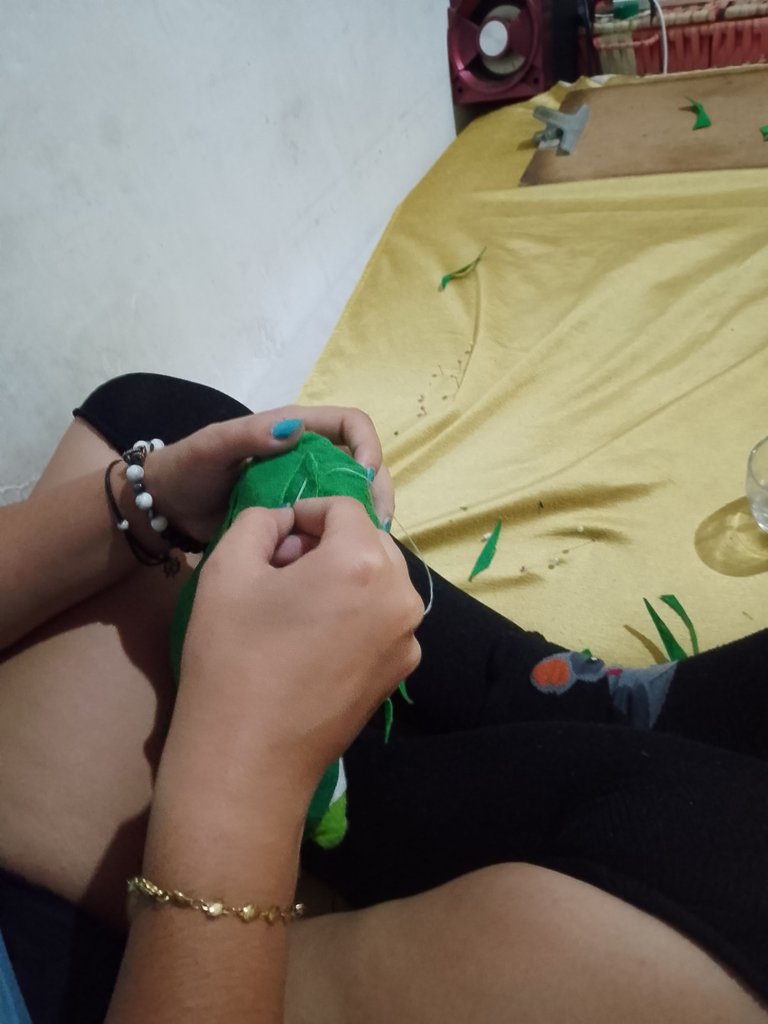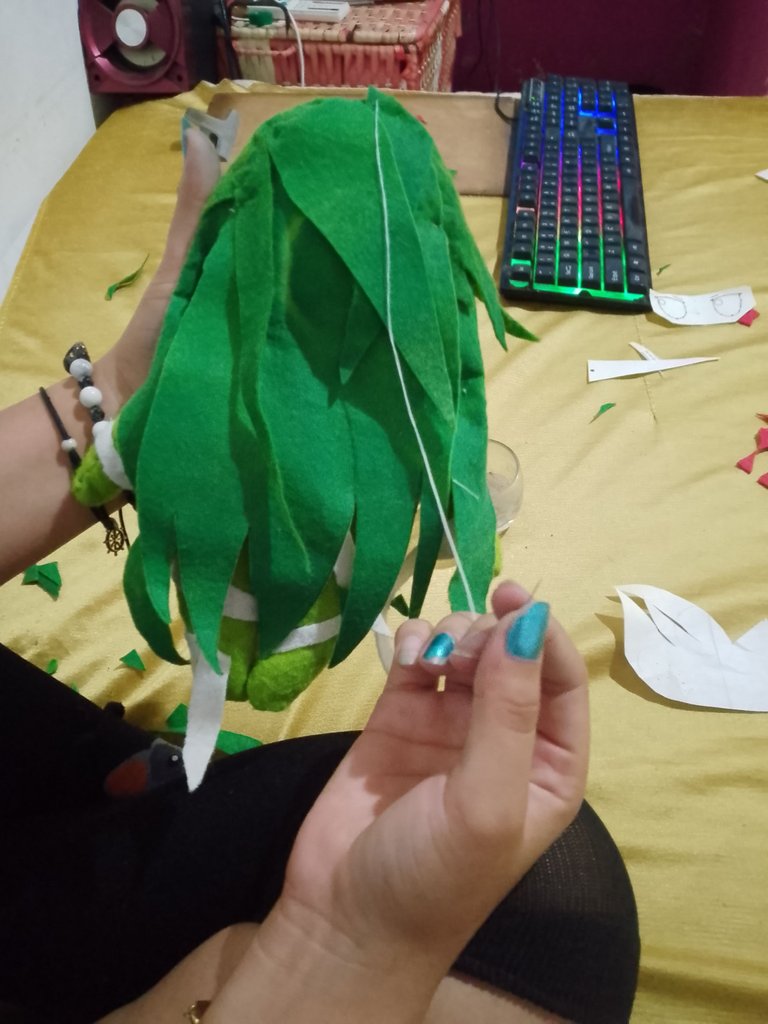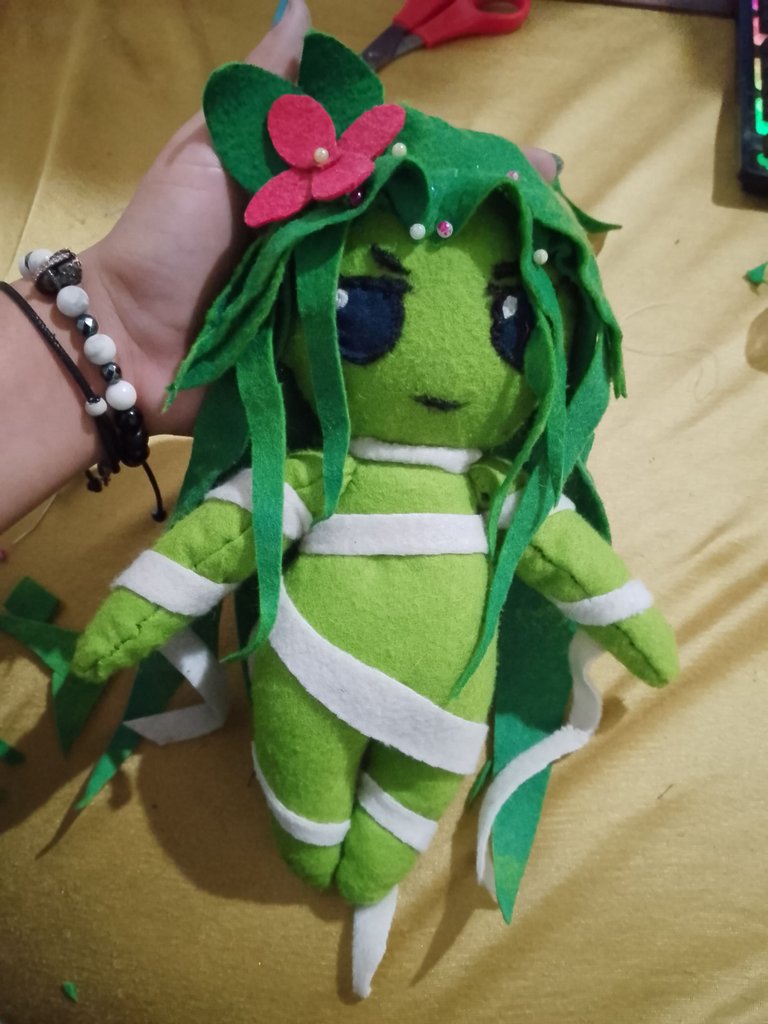 ---
Well we continue with more details, for the eyes I used some white and blue paint until I got a nice tone for the eyes.
Bien seguimos con más detalles, para los ojos usé un poco de pintura blanca y azul hasta conseguir un tono agradable para los ojos.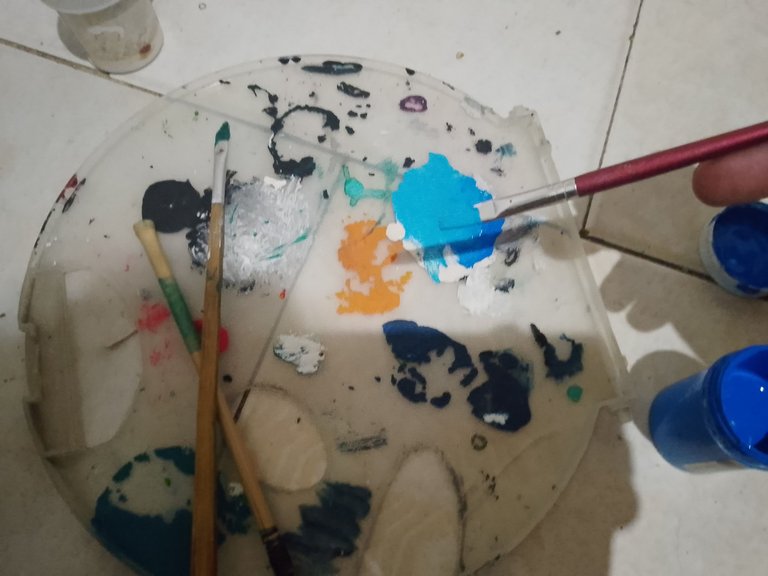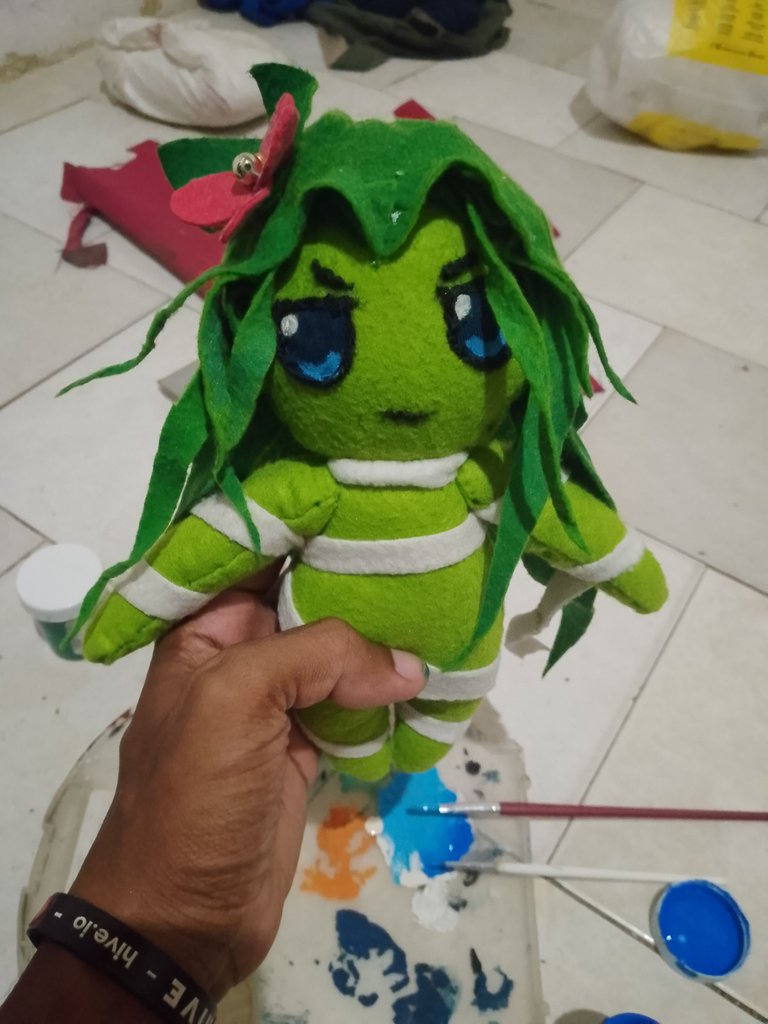 Well, she's ready, our little Wood nymph, it's time to take lots of pictures!
Bien, ya está lista, nuestra pequeña Wood nymph, es momento de tomar muchas fotos!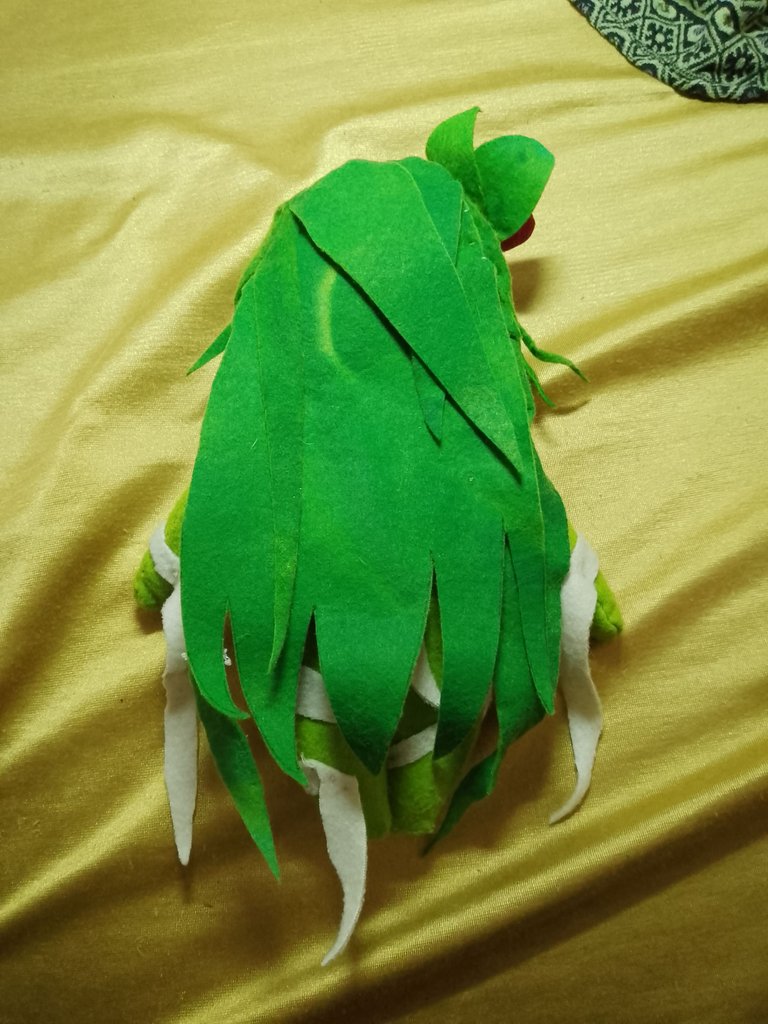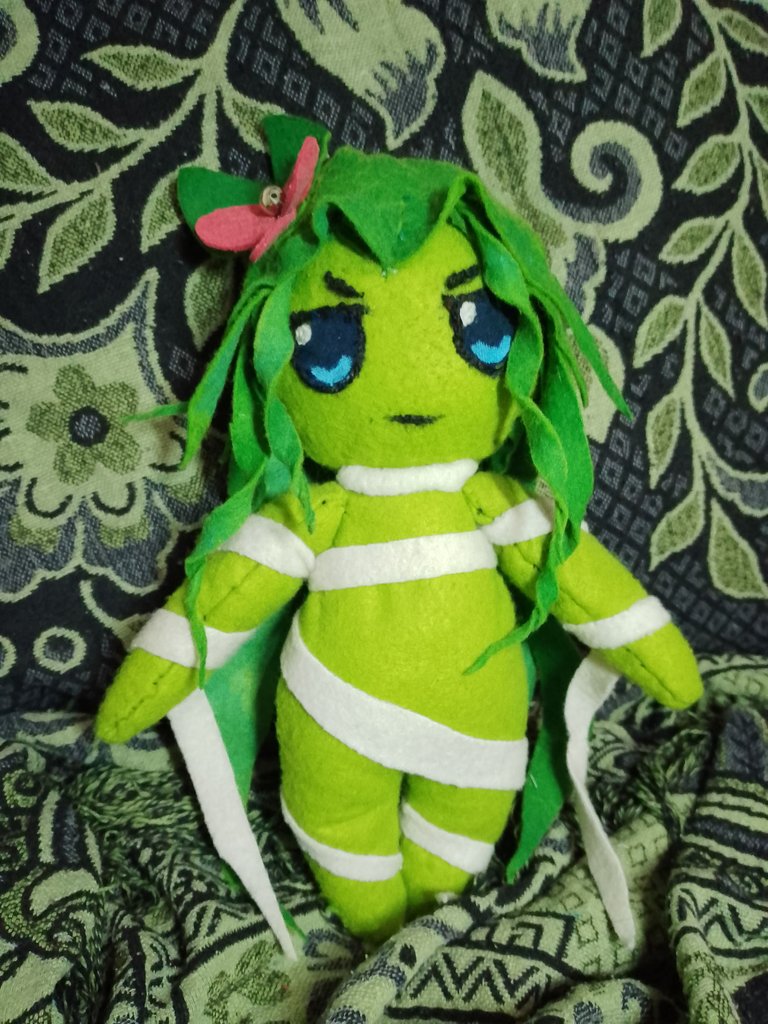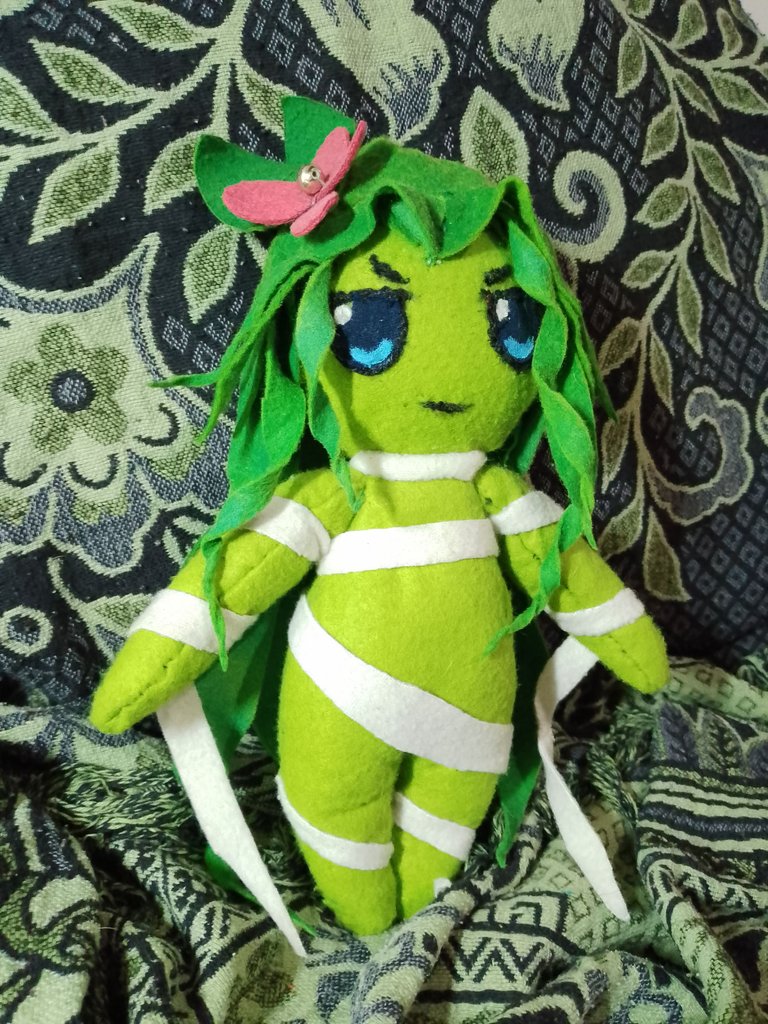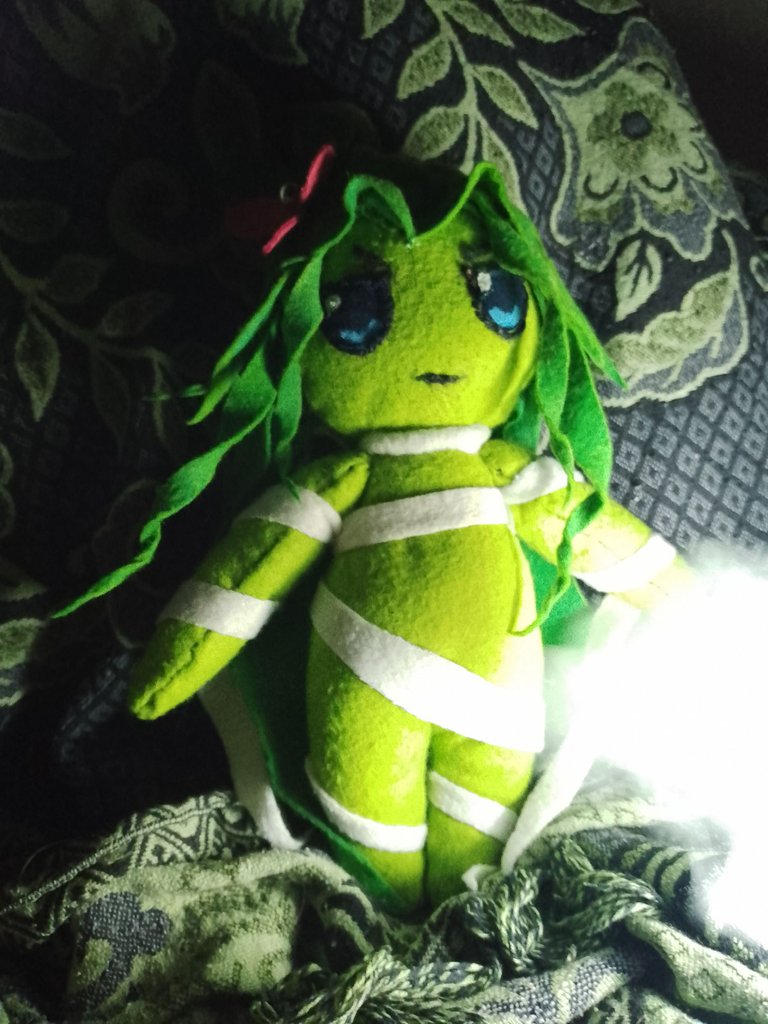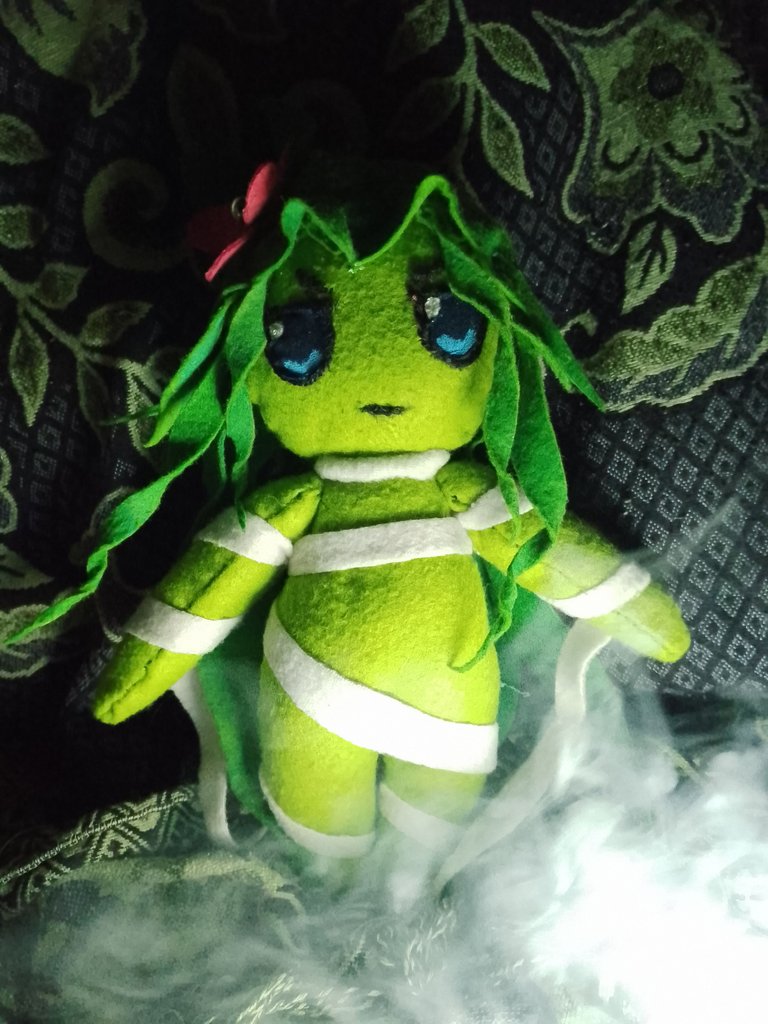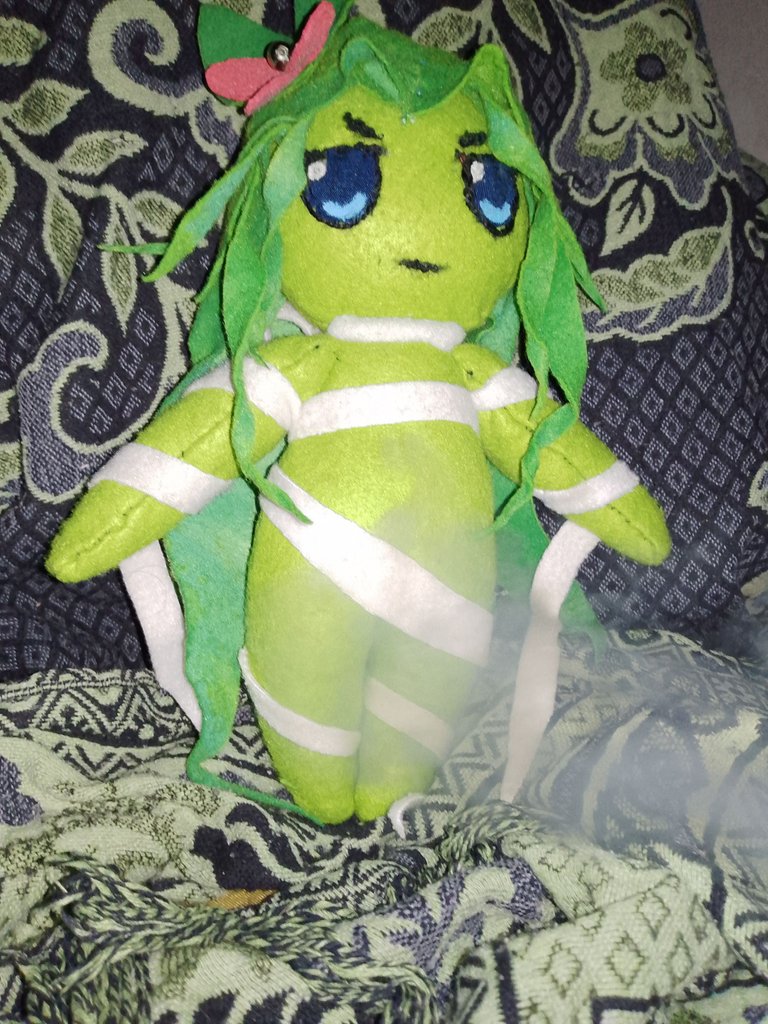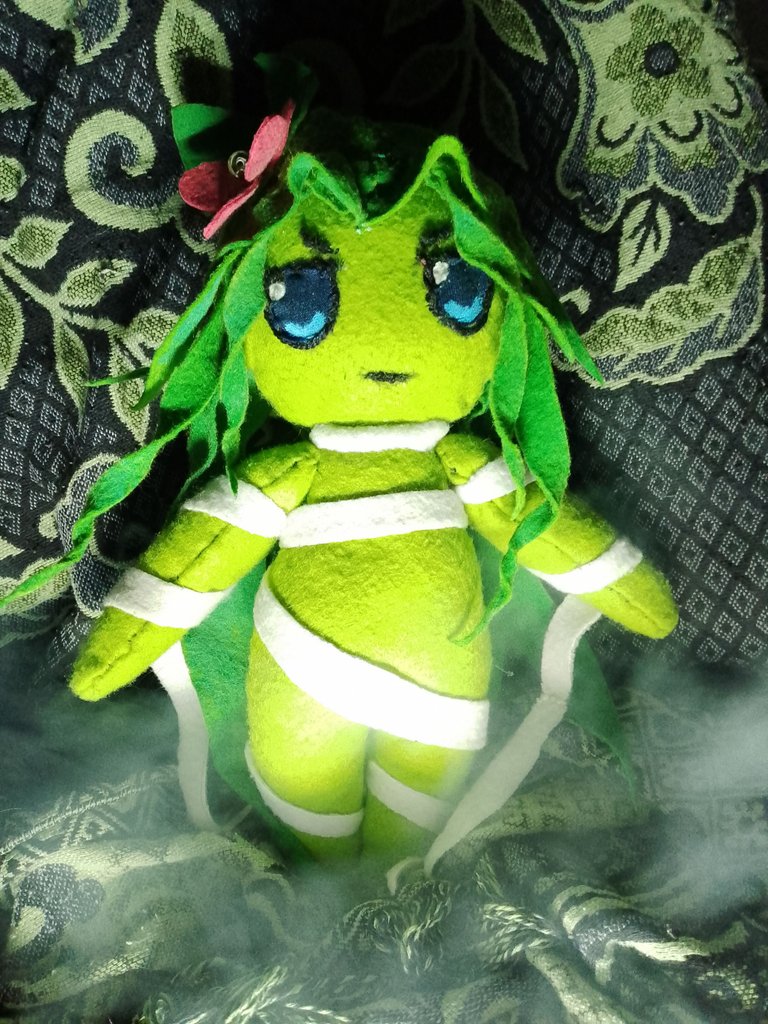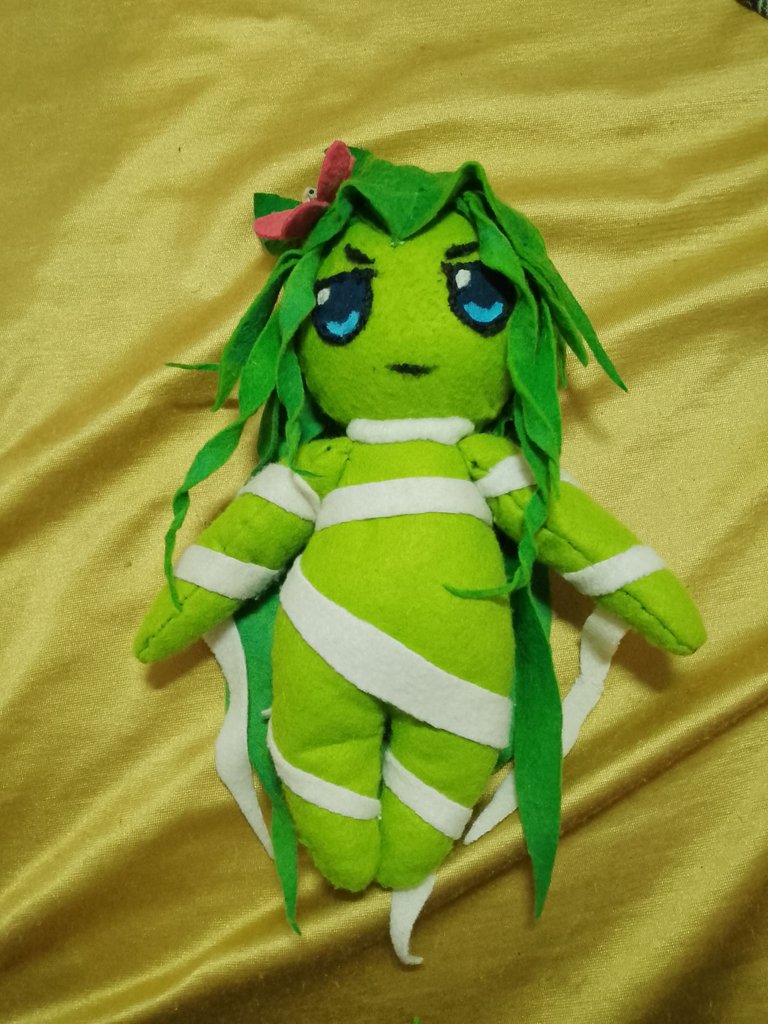 ---
We will take a break to try another type of photos, we prepare the background with black cloth, we get the smoke using a vaper, we experiment with different lamps and light sources.
Tomaremos una pausa para intentar otro tipo de fotos, preparamos el fondo con tela de color negro, el humo lo conseguimos usando un vaper, experimentamos con diferentes lámparas y fuentes de luces.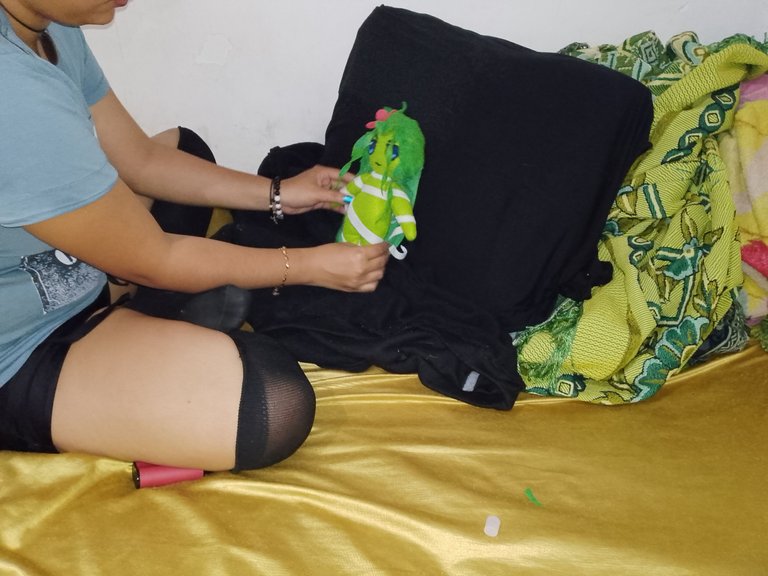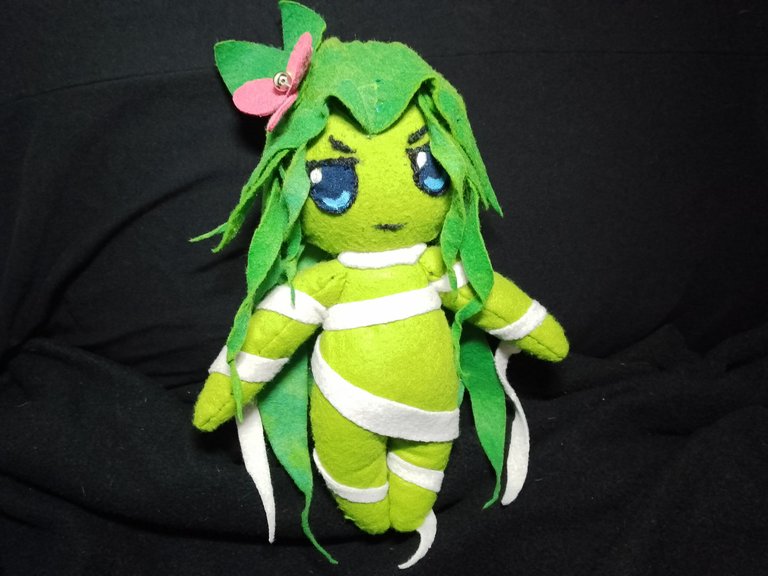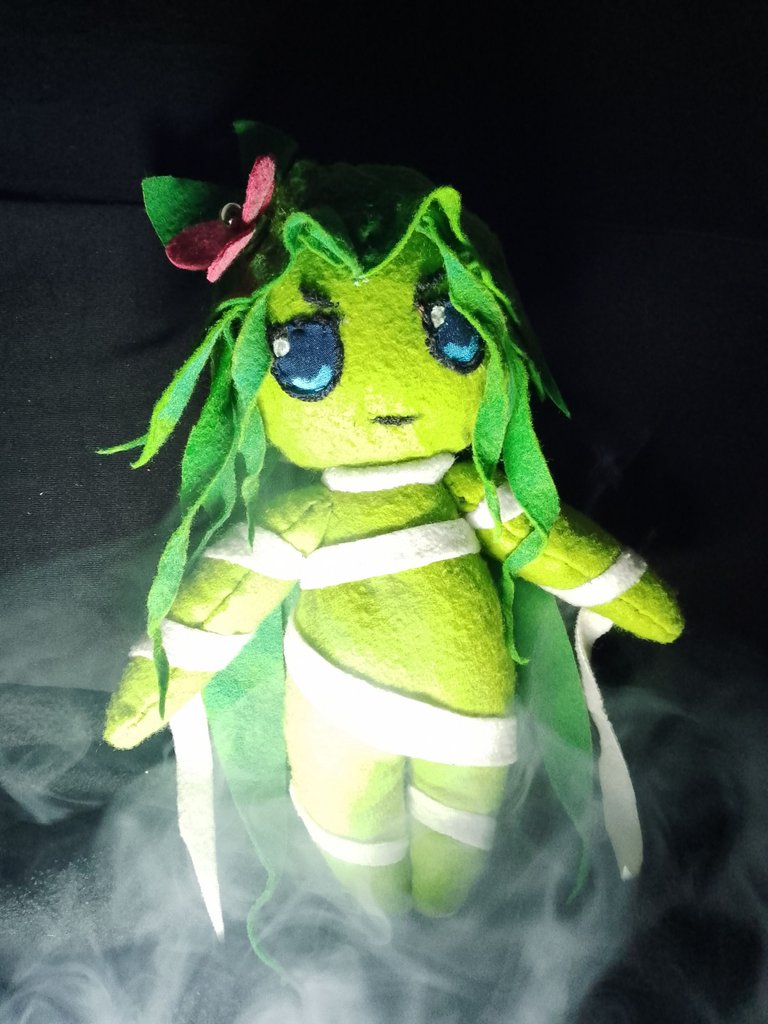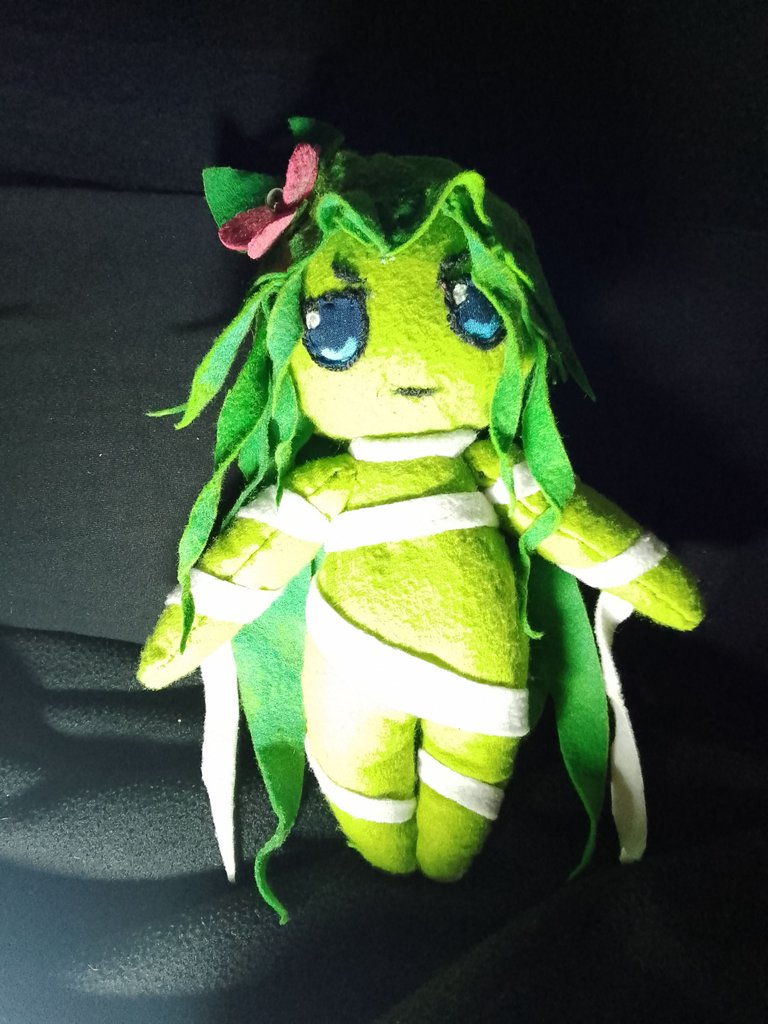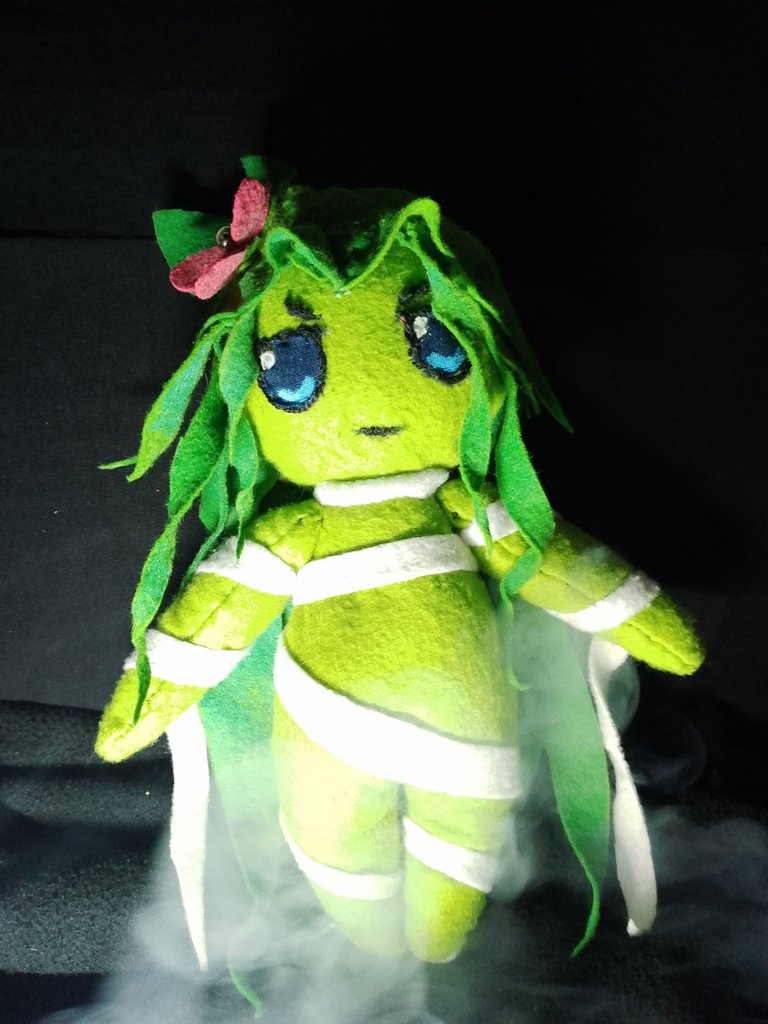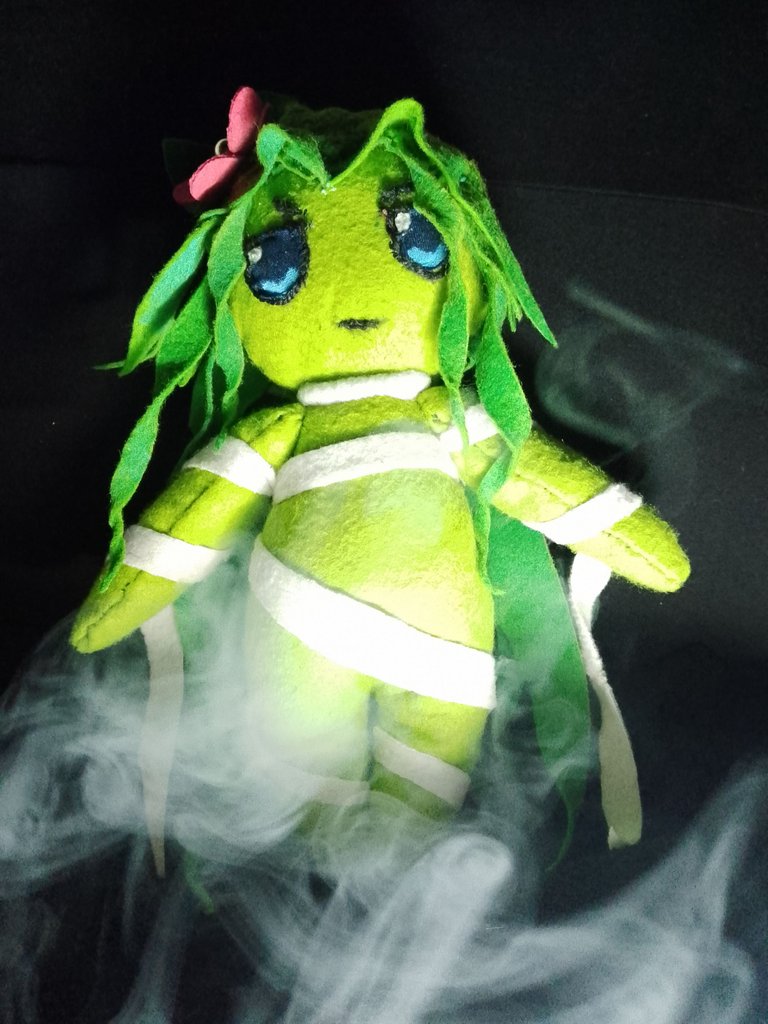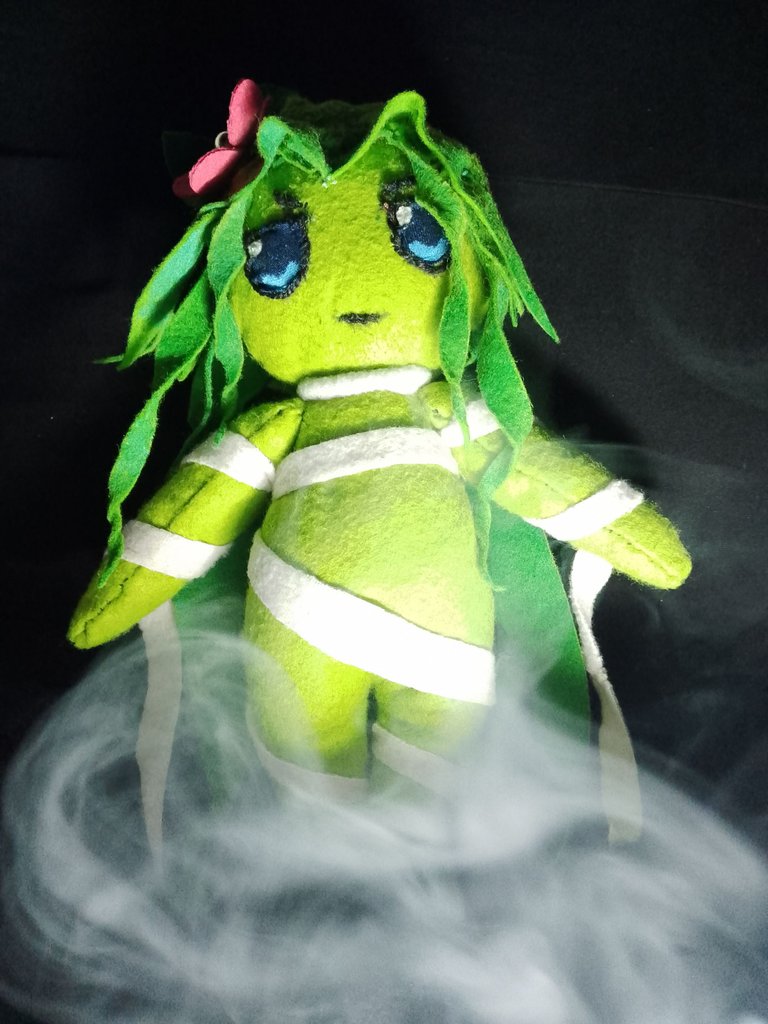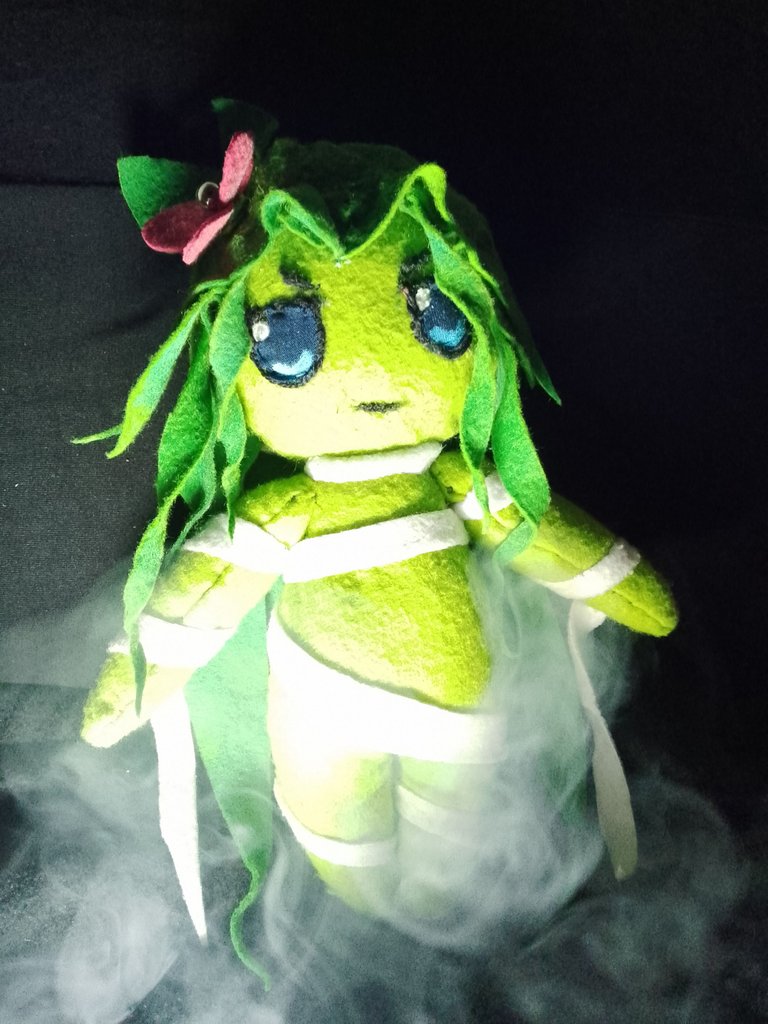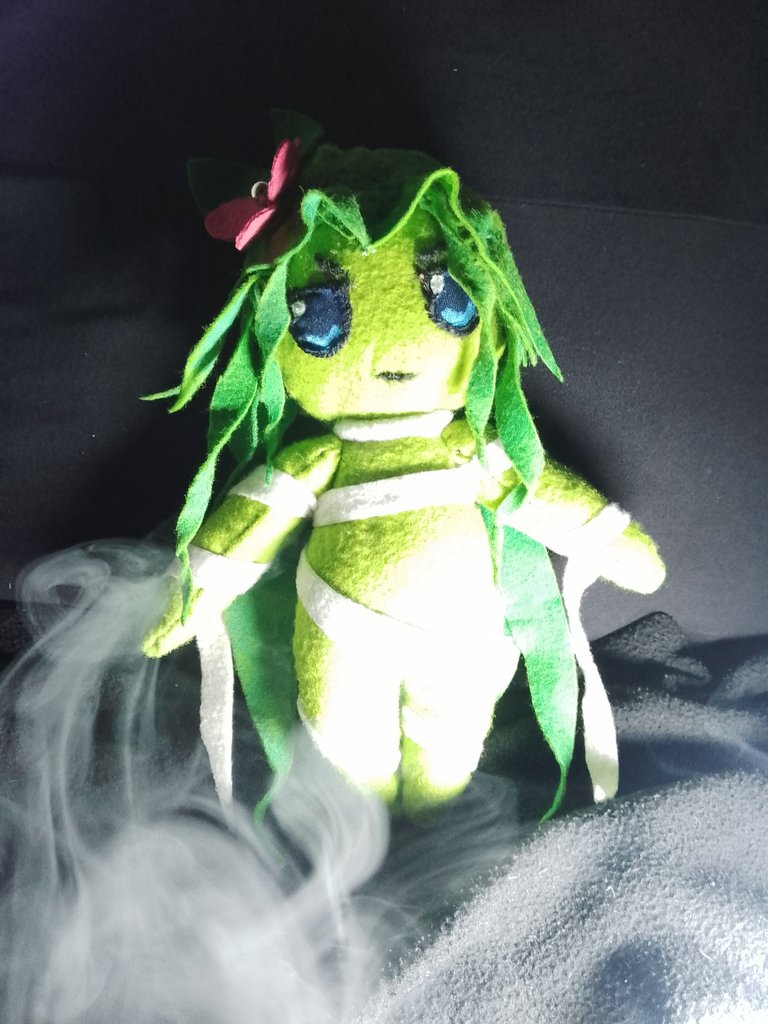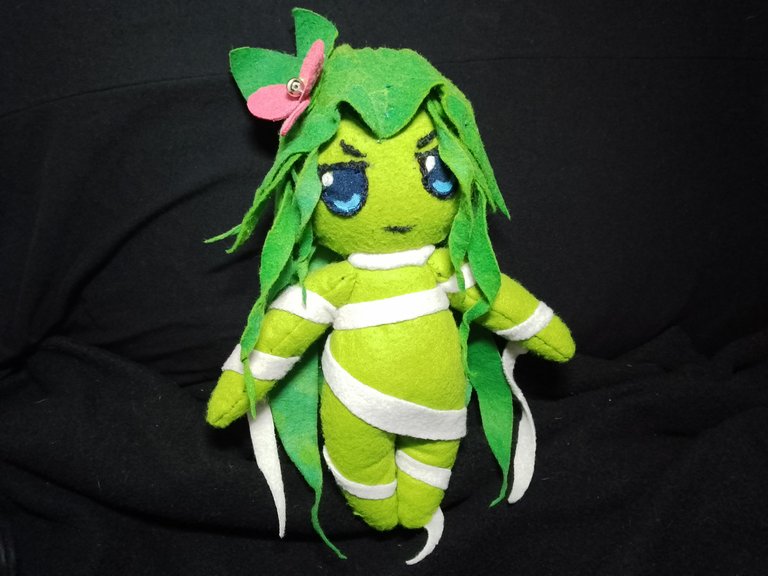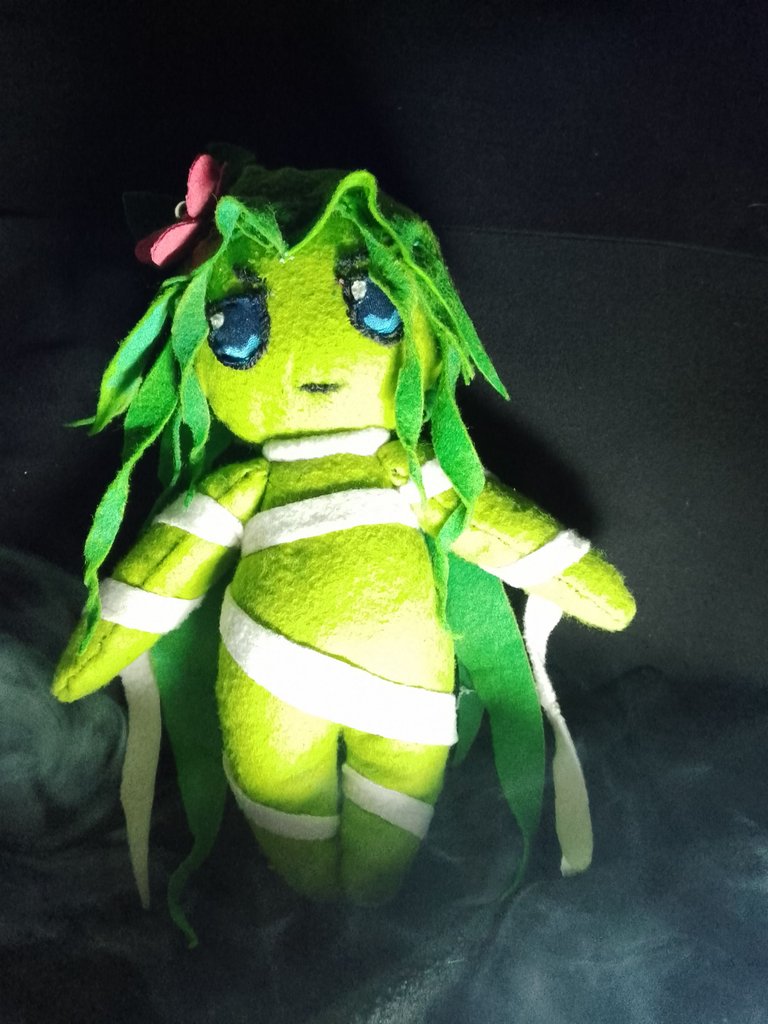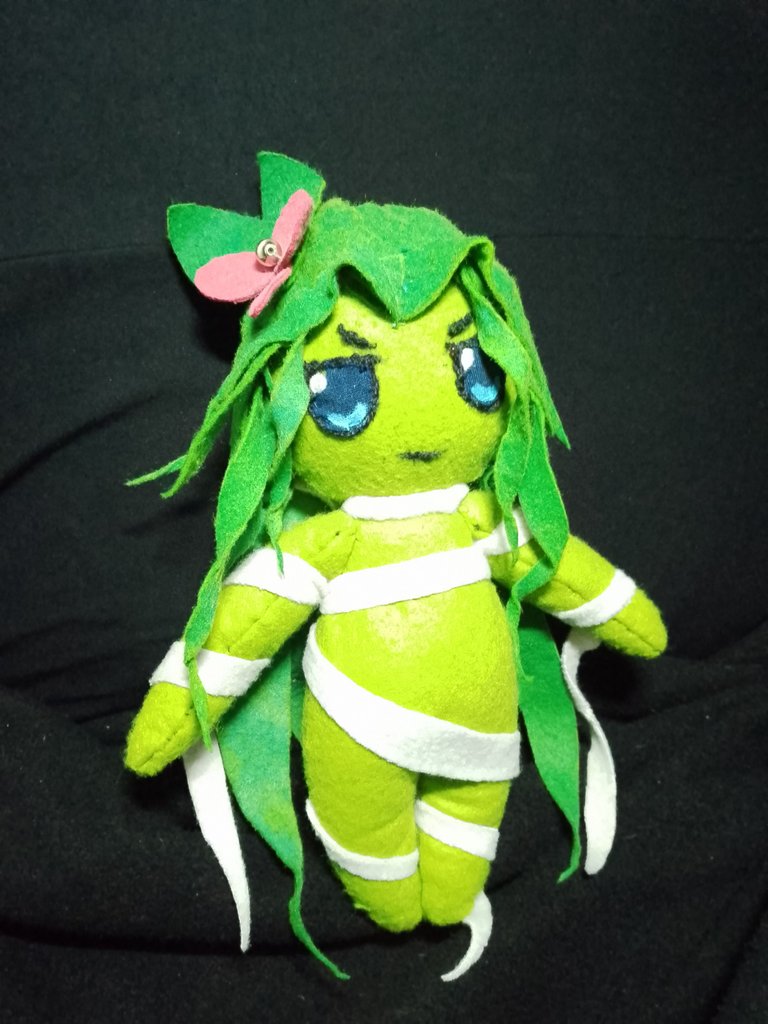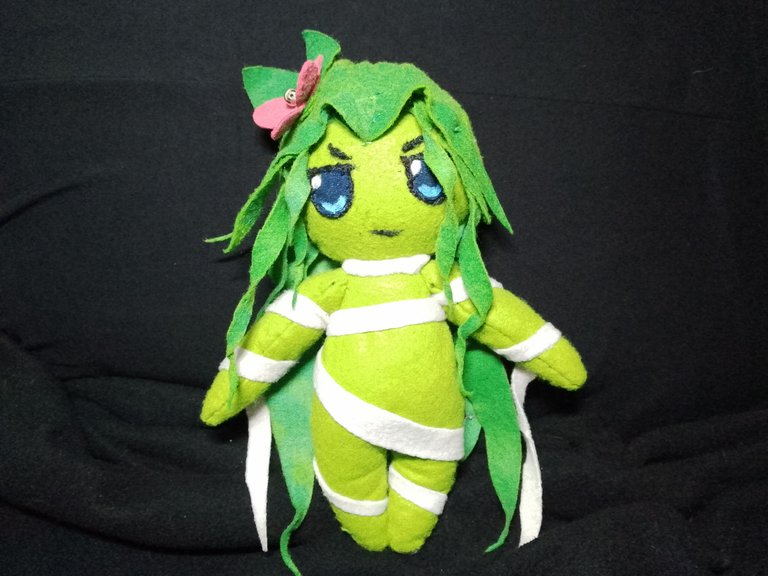 ---
Other photos, we created an environment using my bonsai and my girlfriend's cactus, let's see how it looks.
Otras fotos, creamos un ambiente usando mis bonsáis y los cactus de mi novia, veamos que tal se ve.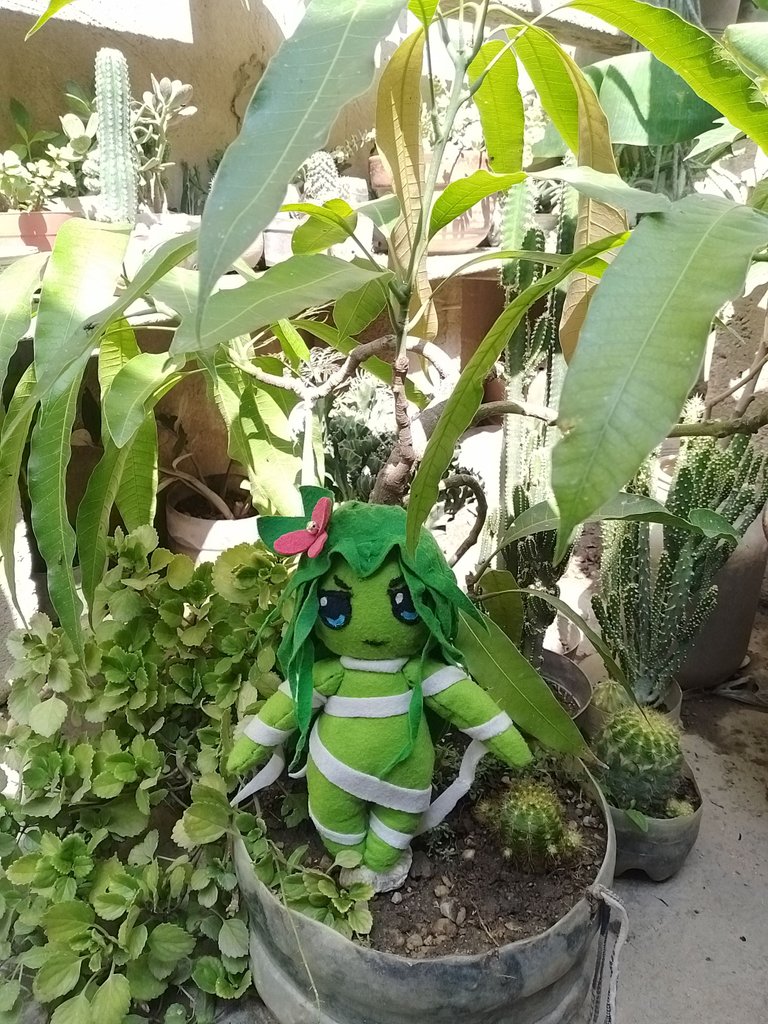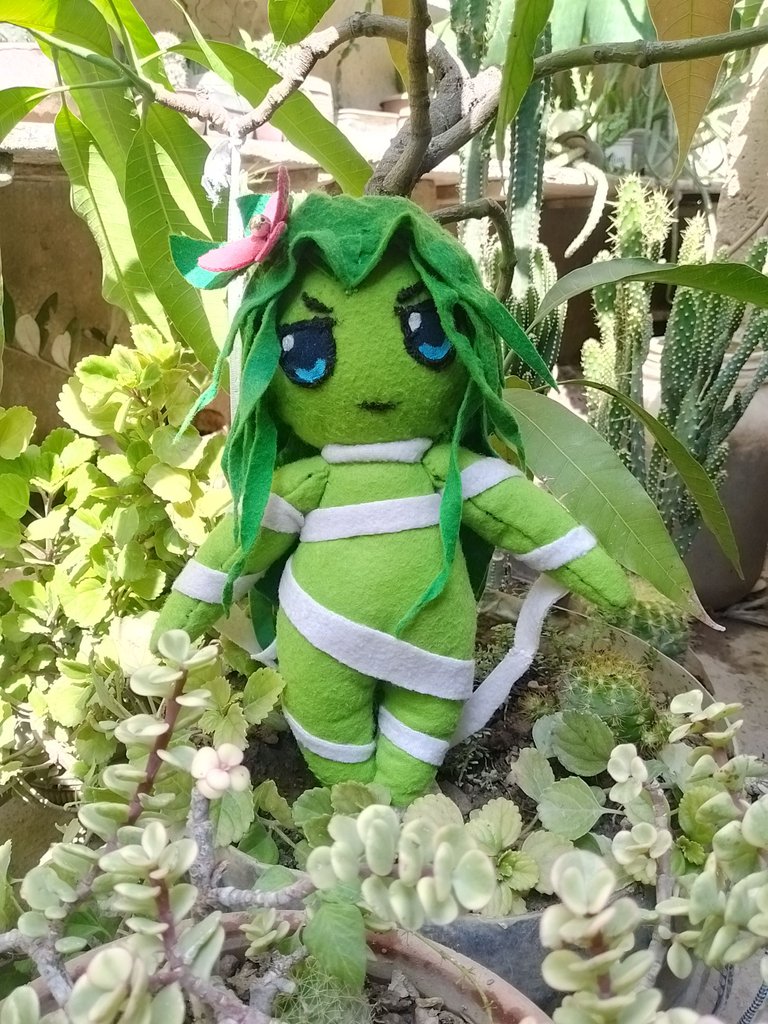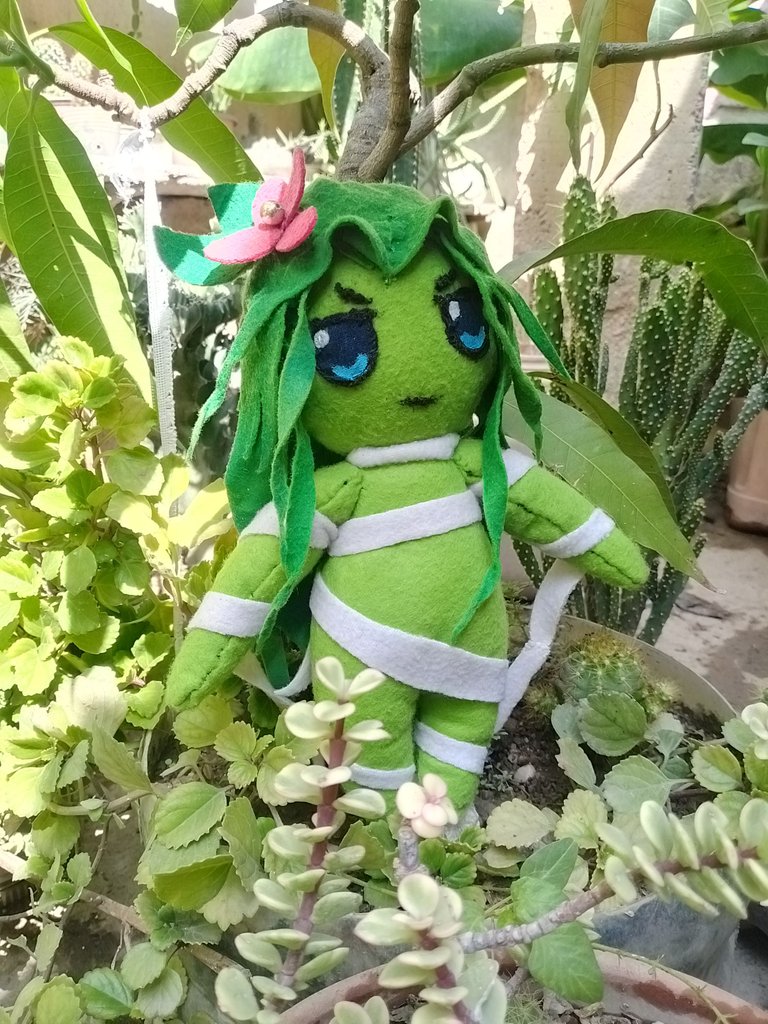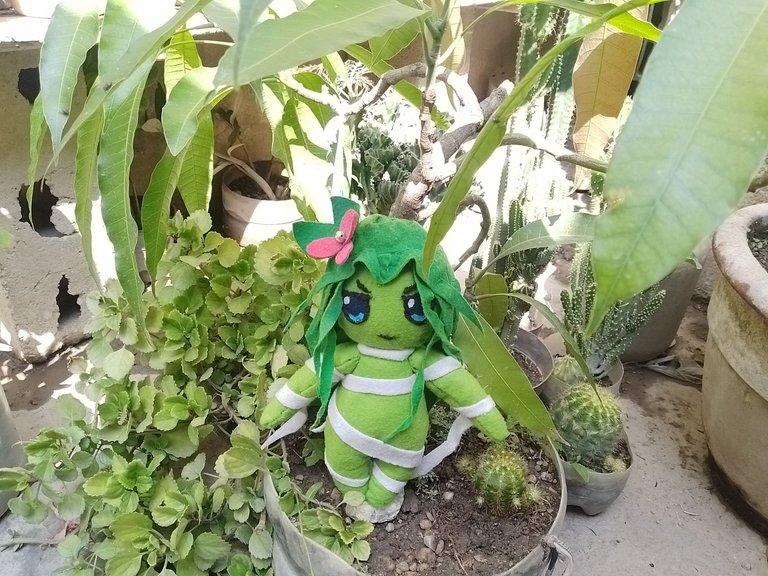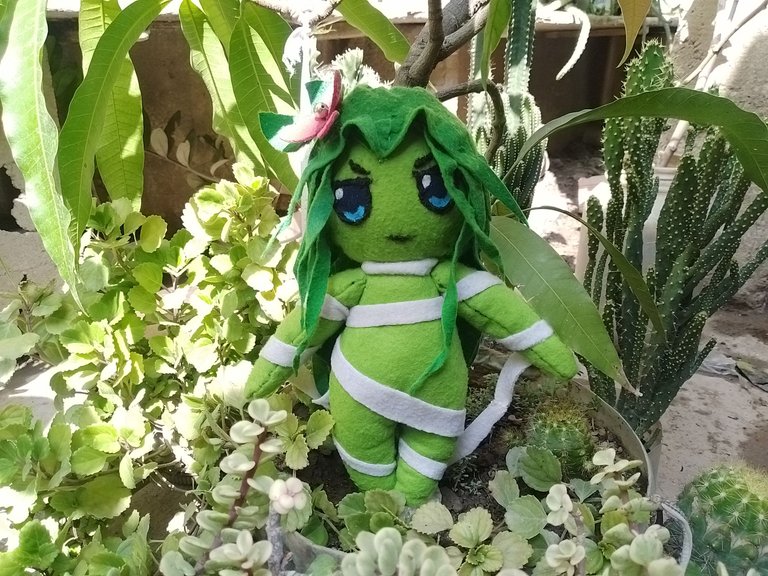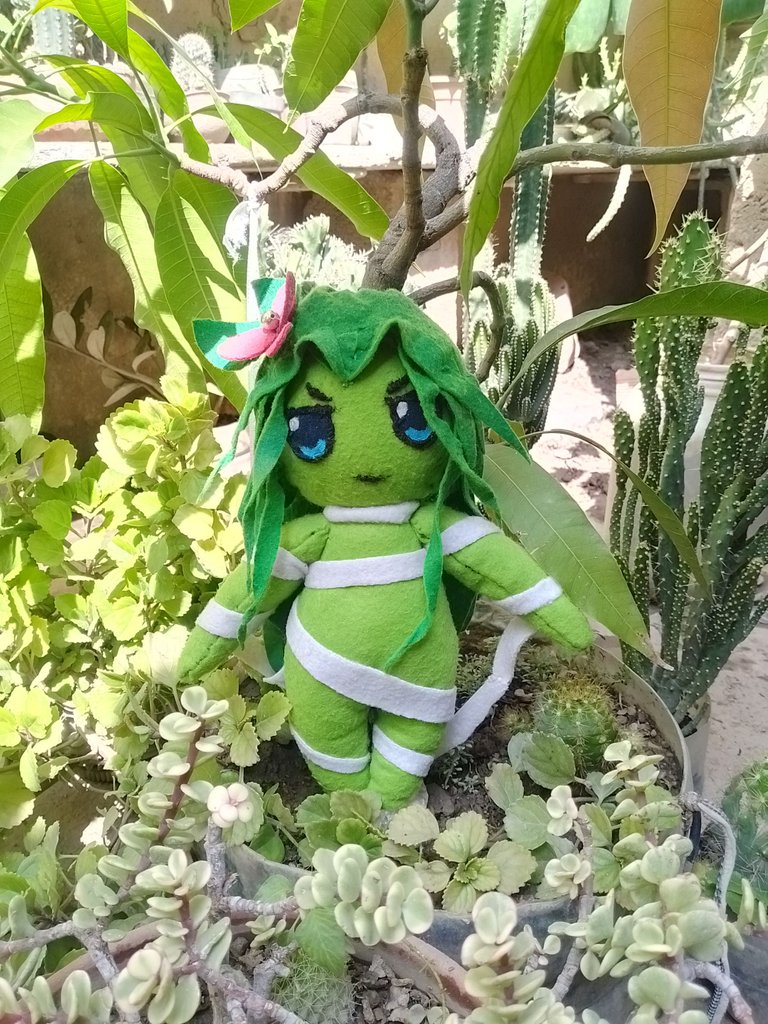 We came to the end, some things I should mention are.
This project took about 2 days to complete leaving out the time it took to buy the materials, I think the result was worth all the time, money and effort invested, it is very beautiful!
I want to thank my girlfriend @yasmirgs without her this project would not have been possible.
The experience was very good so we decided to make another plushie with the splinterlands theme very soon.
This was my post for this week, I hope you liked it as much as I did.
See you cowboys
Llegamos al final, algunas cosas que debo mencionar serían.
¡Este proyecto tardo unos 2 días en completarse dejando por fuera el tiempo que tarde en comprar los materiales, creo que el resultado valió la pena todo el tiempo, dinero y esfuerzo invertido está muy hermosa!
Quiero agradecer a mi novia @yasmirgs sin ella este proyecto no fuera ha sido posible.
La experiencia fue muy buena, así que decidimos hacer otro peluche con el tema de splinterlands muy pronto.
Este fue mi post para esta semana, espero les allá gustado tanto como a mí.
Nos vemos vaqueros!

If you don't play splinterlands yet you can join here!
Si aún no juegas splinterlands puedes unirte aquí!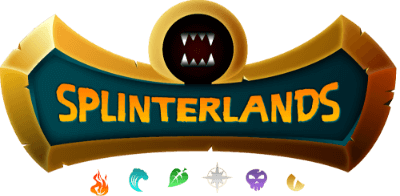 ---
---