ARBOL DE ESPINAS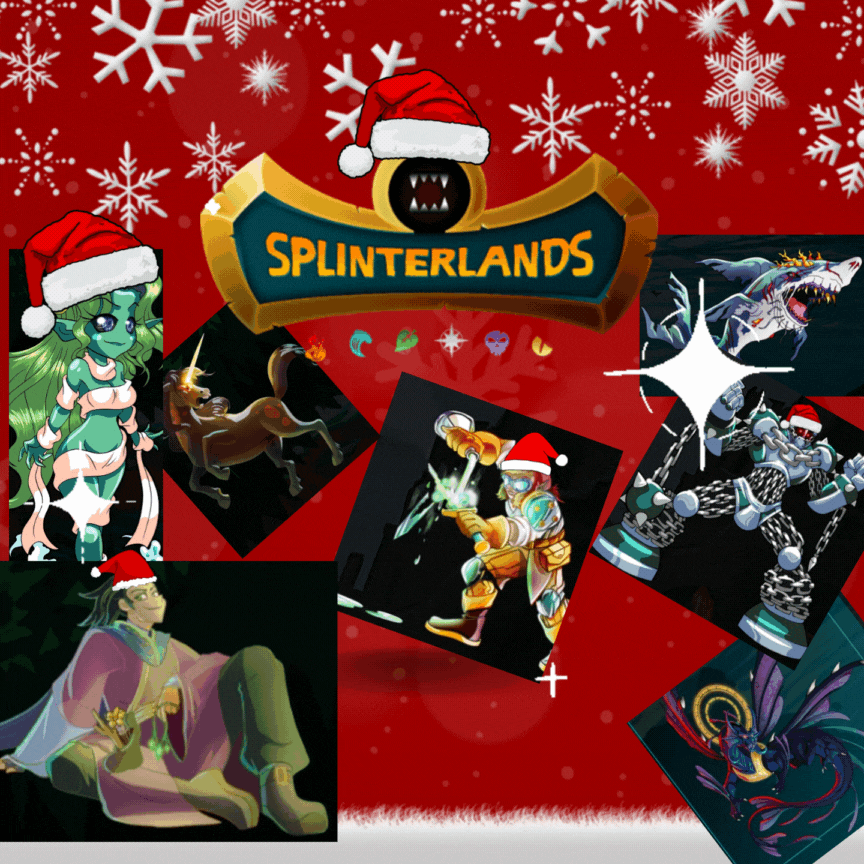 ID DE LA BATALLA
---
Hola todos como le va a esta excelente comunidad de splinterlands, yo de nuevo por acá para desearles una feliz navidad a todos, espero hayan disfrutado la llegada del espíritu de la navidad y también que se hayan portado bien para que reciban también sus regalitos.
Amigos, esta vez la batalla fue con uno de mis equipos clásico que uso más a menudo, para mí el que me funciona bastante bien sin alquilar cartas, aunque subir de nivel es cada vez mucho más complicado, batallas que piensa que tienes ganadas resulta que la pierdes por mucho.
Hello everyone how is this excellent splinterlands community doing, I'm here again to wish you all a Merry Christmas, I hope you have enjoyed the arrival of the spirit of Christmas and also that you have behaved well so that you also receive your gifts.
Friends, this time the battle was with one of my classic teams that I use more often, for me the one that works quite well without renting cards, although leveling up is becoming much more complicated, battles that you think you have won turns out to be lost by a lot.
---
Composición de la batalla
después de muchas derrotas seguidas y ya bastante estresado me decidí jugar con mi equipo clásico de la siguiente manera
invocador: MYLOR CROWLING

primera: UNICORN MUSTANG

segunda: GOBLIN THIEF

tercera: WOOD NYMPH

cuarto: GOBLIN PSYCHIC

quinto: HALFLING ALCHEMIST
Composition of the battle
after many defeats in a row and already quite stressed I decided to play with my classic team as follows
summoner: MYLOR CROWLING

first: UNICORN MUSTANG

second: GOBLIN THIEF

third: WOOD NYMPH

fourth: GOBLIN PSYCHIC

fifth: HALFLING ALCHEMIST

---
Composición enemiga
La composición enemiga me sorprendió bastante su invocador, ya que uso uno de bastante poder y habilidades
invocador: POSSIBILUS THE WISE

primera: CHAIN GOLEM

segunda: DEMENTED SHARK

tercera: TORRENT FIEND

cuarta: FEASTING SEAWEED

quinta: PELACOR BANDIT
Enemy composition
The enemy composition surprised me a lot with his summoner, since I used one with a lot of power and abilities.
summoner: POSSIBILUS THE WISE

first: CHAIN GOLEM

second: DEMENTED SHARK

third: TORRENT FIEND

fourth: FEASTING SEAWEED

fifth: PELACOR BANDIT

---
Condiciones de batalla
en esta oportunidad las condiciones eran no superar el maná de veintisiete puntos, además los esplinter a usar eran fuego, agua, tierra y muerte, seguidos de las siguientes habilidades, escudo divino, ataques a corta distancia
Battle conditions
in this opportunity the conditions were not to exceed the mana of twenty seven points, also the splinter to use were fire, water, earth and death, followed by the following skills, divine shield, close range attacks.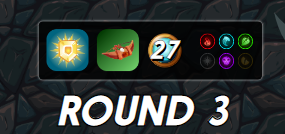 ---
DESARROLLO DE LA BATALLA
Ahora si señores arranca la batalla, así empieza la primera ronda y salgo yo atacando sin mayor efecto por el escudo que ambos tenemos, así que esta ronda nadie sufrió mayor daño, solo el deshabilitar el escudo divino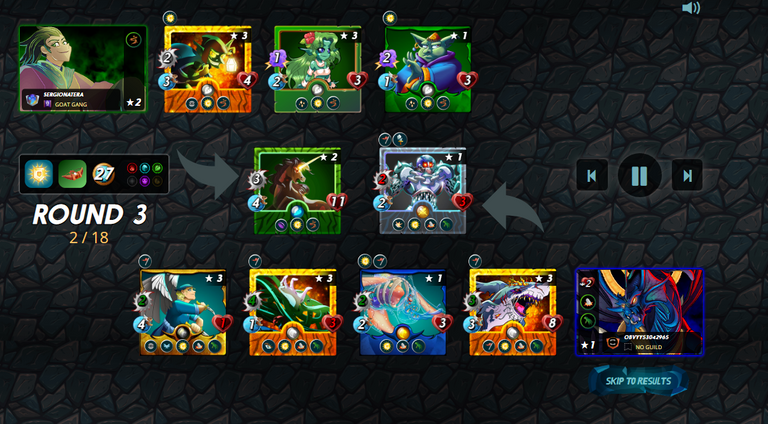 en esta segunda ronda gracias a las espinas los monstruos que me atacaron también perdieron su protección contra el escudo divino, gracias a esta ronda pude bajar el daño de su primer monstruo con el alquimista
tercera ronda y vuelvo con mi ataque solo afectando su escudo, a lo cual él responde atacando mi alquimista y darle de baja, pero afectando su vida también gracias a las espinas, continuo el ataque a su último monstruo que lo dejo a solo uno de vida, responde con el tiburón sin ocasionar mayor daño, lanzo mi doble cura para que el caballo recupere toda su vida y así finalizar esta ronda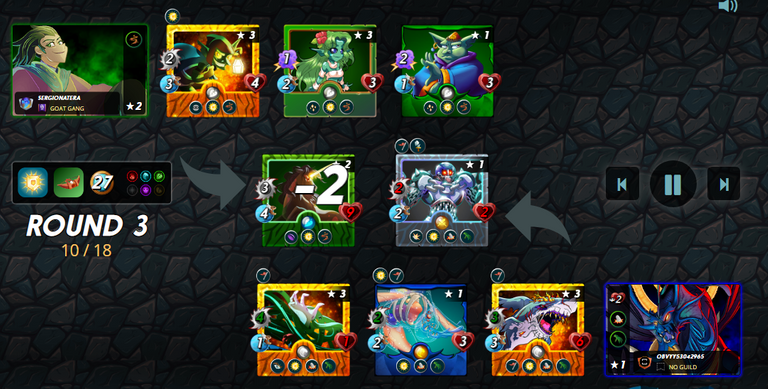 Empiezo la ronda atacando nuevamente con el caballo y solo hacer daño al escudo, en seguida el enemigo responde con un ataque a distancia el cual le afecto su vida con la espina y se da de baja él solo, respondo el ataque de la misma manera a distancia ocasionando dos de daño y dejarlo en uno, tiburón lanza su ataque desde la segunda posición enseguida lanzo la cura y uno de daño para el monstruo en primera posición y terminar esta ronda dándole de baja
Así que empezamos esta ronda el enemigo atacando con todo y dando de baja a una de mis curadoras favoritas y haciéndose daño el mismo para también caer, ya en este punto doto se volvió más fácil, ya que derrote a su monstruo más poderoso y gracias a mi doble curadoras pude aguantar los ataque de cada monstruo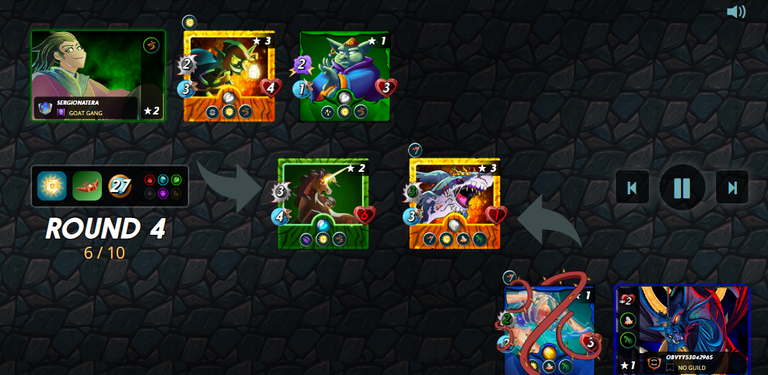 El enemigo, por más que se esforzaba en lanzar sus ataques, estos también le afectaban a él y lo debilitaba cada vez más para así otorgarme esta nueva victoria.
DEVELOPMENT OF THE BATTLE
Now if gentlemen starts the battle, so begins the first round and I go out attacking without major effect by the shield that we both have, so this round no one suffered more damage, only the disabling of the divine shield.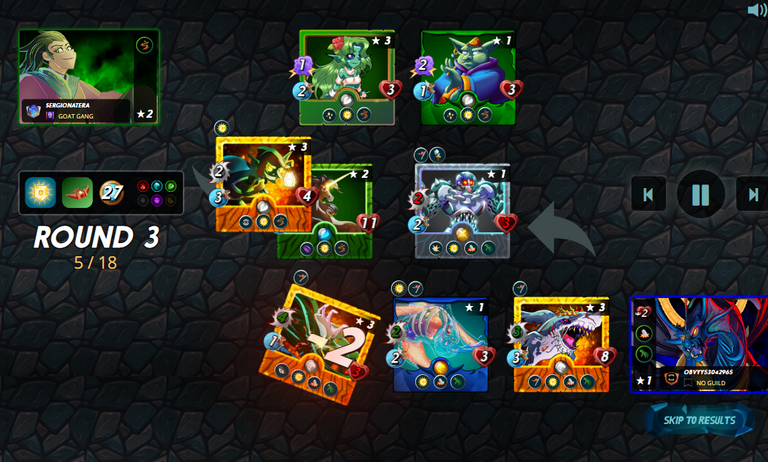 in this second round thanks to the thorns the monsters that attacked me also lost their protection against the divine shield, thanks to this round I was able to lower the damage of their first monster with the alchemist.
third round and I return with my attack only affecting his shield, to which he responds by attacking my alchemist and give him down, but also affecting his life thanks to the thorns, I continue the attack to his last monster that I leave him with only one life, he responds with the shark without causing more damage, I throw my double cure so that the horse recovers all his life and thus end this round.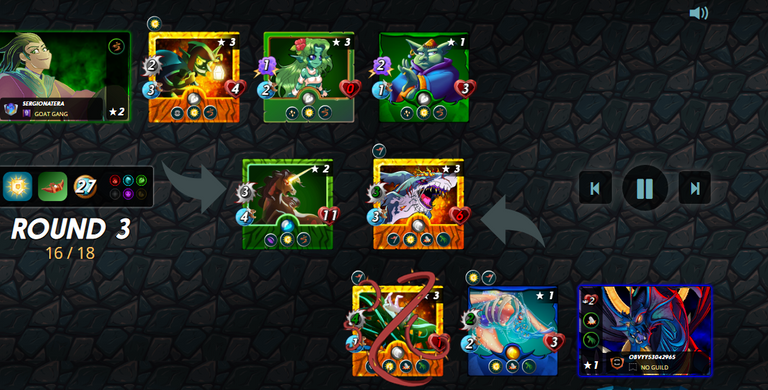 I start the round attacking again with the horse and only do damage to the shield, then the enemy responds with a ranged attack which affected his life with the thorn and he kills himself, I answer the attack in the same way causing two damage and leaving him at one, shark launches his attack from the second position then I throw the cure and one damage for the monster in first position and finish this round killing him.
So we started this round the enemy attacking with everything and taking down one of my favorite healers and taking damage himself to also fall, already at this point doto became easier, since I defeated his most powerful monster and thanks to my double heals I could withstand the attacks of each monster.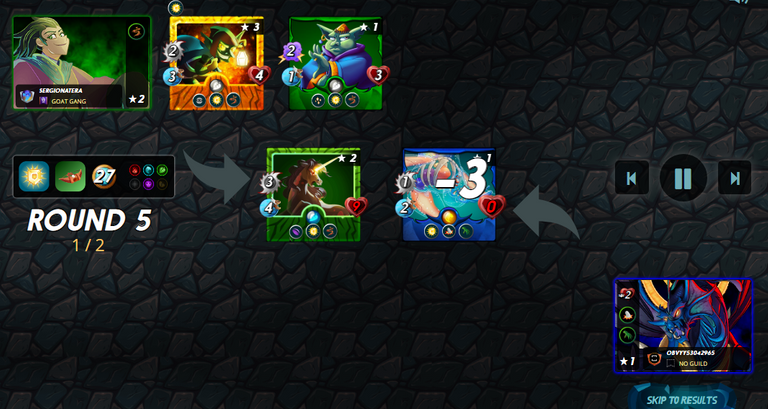 The enemy, no matter how hard he tried to launch his attacks, they also affected him and weakened him more and more to give me this new victory.
---
---