Duos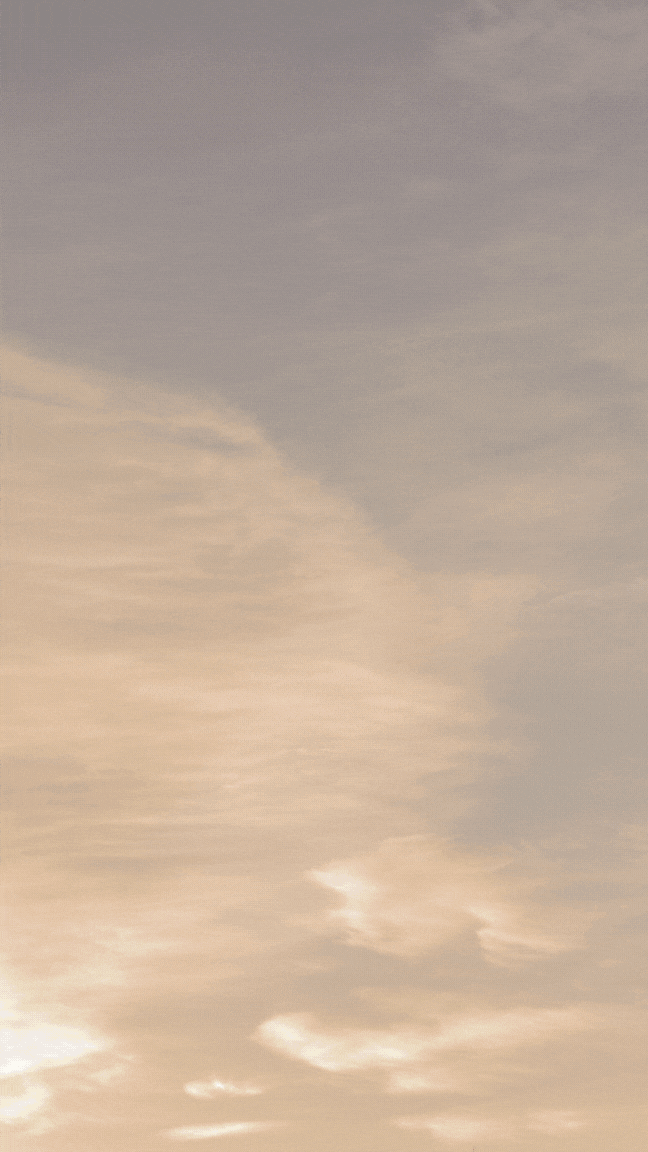 ID DE LA BATALLA
---
Hola, ¿qué tal como le va? De nuevo por acá esta excelente comunidad como lo es splinterlands y como una batalla más, en esta semana he visto cambios excelentes en el juego como nuevas cartas, invocadores y nuevas habilidades que le dan un giro más de dificultad al juego que me parece muy bien, ya que el juego no se torna repetitivo
Hello, how are you doing? Again here this excellent community as is splinterlands and as one more battle, this week I have seen excellent changes in the game as new cards, summoners and new skills that give a twist more difficulty to the game that I think very well, because the game does not become repetitive.
---
condiciones de la batalla
Esta vez las condiciones de batallas son as siguiente equal opportunity que no es más que monstruo con poca vida, será el objetivo con en enrage los monstruos subieran su poder de ataque.
Luego tenemos el maná que no es muy alto, pero tampoco bajo, es de treinta puntos ideales para ser preciso con tus monstruos.
Por último, los elementos a usar estas batalla serias: fuego, vida y dragones
battle conditions
This time the battle conditions are as follows equal opportunity which is nothing more than monster with low life, will be the target with enrage monsters will raise their attack power.
Then we have the mana which is not very high, but not low either, it is thirty points ideal to be precise with your monsters.
Po Finally, the elements to use in these battles are: fire, life and dragons.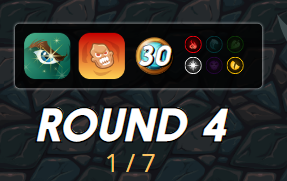 ---
Alineación enemiga
En esta alineación vemos que el enemigo optó por jugar con el elemento de vida y su invocador y monstruos fueron colocados de la siguiente manera:
invocador: GENERAL SLOAN
WARRIOR OF PEACE

RUNESLINGER

XENITH ARCHER

PELACOR ARBALEST

VENARI CRYSTALSMITH

PELACOR CONJURER

Mi alineación
bueno, amigo yo de la misma forma que el contrincante decidí usar el elemento de vida, pero esta vez con un invocador nuevo y con una habilidad que me llamo bastante la atención, ya que este invocador te permite usar una carta gladius en su alineación
invocador: FRANZ RUFFMANE
SHIELDBEARER

LUMINOUS EAGLE

VENARI CRYSTALSMITH

AJAX LIGHTFOOT

HALFLING ALCHEMIST

---
Desarrollo de la batalla
amigos y así empezamos esta primera ronda otorgando los beneficio de los invocadores para luego empezar atacando yo con bastante fuerza ajax quien lanza su ataque para dar de baja al primer arquero del enemigo y gracias a su habilidad de sangre aumenta un punto de ataque, velocidad y escudo sin perder mucho tiempo el enemigo lanza un ataque desde la segunda posición y activar su habilidad de stun y anular mi ataque de la primera posición así que el turno es de nuevo para mí, pero esta vez atacando desde la segunda posición, pero con la habilidad de opportunity ataca a monstruo más bajo en vida dejándolo a uno de vida inmediatamente lanza su doble ataque que da en el blanco ocasionando seis de daño gracias al stun no pude lanzar el ataque el cual pasa el turno nuevamente al enemigo que viene con cura y dos de ataque, rápidamente mi ataque es muy similar recuperando dos de vida y lanzar el ataque al más débil que termina dando de baja al segundo monstruo en esta primera ronda, nuevamente es mi turno y respondo con el alquimista con su habilidad reduce el ataque a la mitad para así terminar esta ronda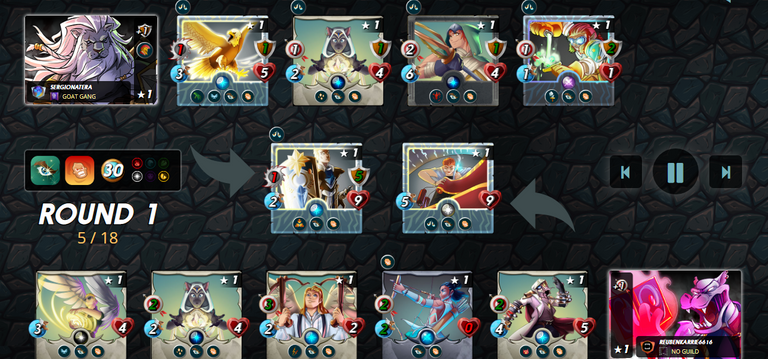 Rápidamente, arranca la segunda ronda y empiezo yo atacando desde el arco de ajax quien busca al más débil y da de baja a otro monstruo, subiendo aún más su ataque, velocidad y escudo, enseguida lanza su ataque y activa el stun para quedar nuevamente inhabilitado en la primera posición vuelvo a lanzar un ataque que afecta solo un punto, sigue mi turno y recuperó un poco de energía y lanzo un doble ataque al cual fallo en su totalidad y así terminar esta ronda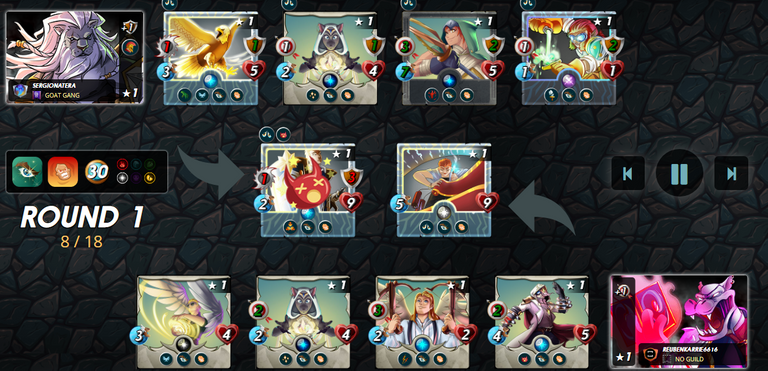 Development of the battle
friends and so we start this first round giving the benefits of the summoners and then start attacking me with enough strength ajax who launches his attack to kill the first archer of the enemy and thanks to his ability of blood increases a point of attack, speed and shield without wasting much time the enemy launches an attack from the second position and activate their ability to stun and cancel my attack from the first position so the turn is back to me, but this time attacking from the second position, but with the ability of opportunity attacks the lowest monster in life leaving him at one life immediately launches his double attack that hits the target causing six damage thanks to the stun I could not launch the attack which passes the turn again to the enemy who comes with healing and two attack, quickly my attack is very similar recovering two life and launch the attack to the weakest that ends up killing the second monster in this first round, again it is my turn and I respond with the alchemist with his ability reduces the attack by half to finish this round.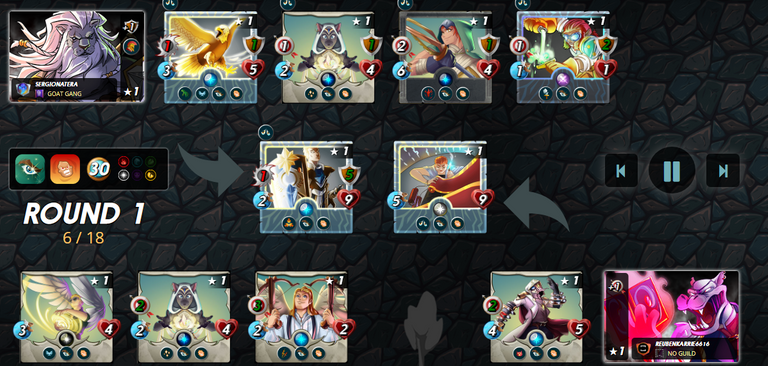 Quickly, the second round starts and I start attacking from the arc of Ajax who looks for the weakest and kills another monster, raising even more his attack, speed and shield, then launches his attack and activates the stun to be disabled again in the first position again I launch an attack that affects only one point, my turn continues and recovered some energy and launch a double attack which I fail in its entirety and thus end this round.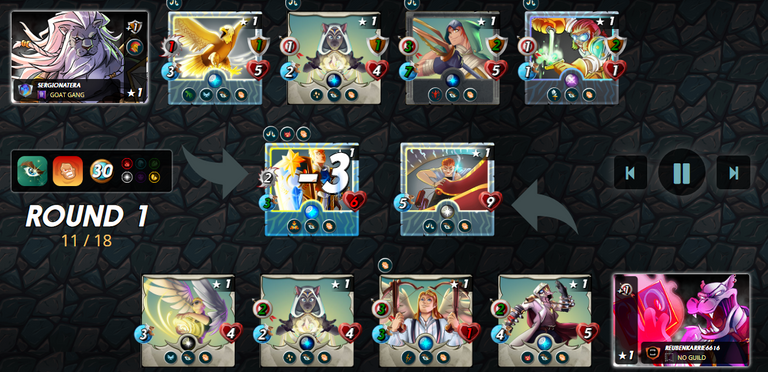 ---
Abro paso con la tercera ronda nuevamente del arco de ajax y da de baja a otro monstruo para tener una evidente ventaja sobre el enemigo, ya que solo tiene una sola carta de ataque y es un arquero, el enemigo lanza su ataque, el cual hace un daño de dos puntos el cual no es suficiente, así que toca mi turno y lanzo mi ataque el que hace un daño de un punto solamente, así que llega mi turno nuevamente y lanzo un triple ataque el cual los tres fueron fallados y así terminar esta ronda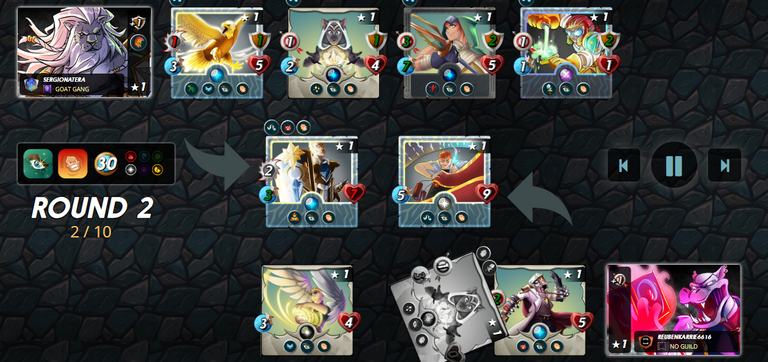 En la ronda cuatro ya todo está definido y ajax es quien lanza el ataque a esta última ronda y quien ya tenía un ataque de cinco puntos y da de baja de manera inmediata al enemigo y dejándolo bastante vulnerable y otorgarme esta victoria, ya que lo que tenía que hacer es recibir todos mis ataques para finalmente caer en la arena de batalla.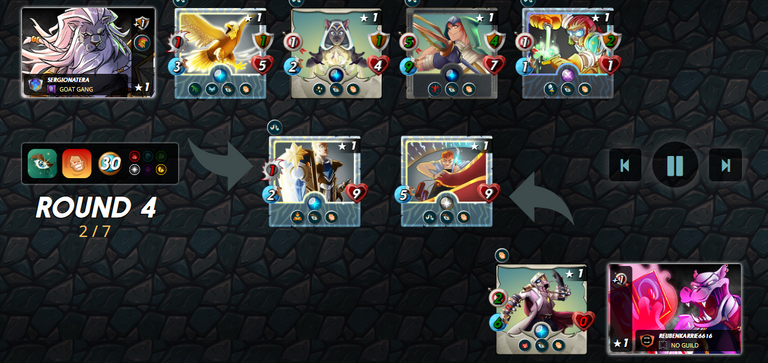 Gracias a este nuevo invocador que me da paso a invocar una carta gladius que es bastante poderosa y con cada ronda que pasa pega mucho más fuerte y está lejos de ser un blanco de ataque por su velocidad
amigos, espero que le allá gustado mucho esta batalla, me pareció bastante interesante este invocador, pero el arquero es quien se roba las miradas con sus ataques muy muy fuertes con cada ronda que pasa, así que nos vemos en una próxima batalla y recuerda que si quieres participar en estas batallas de la misma forma que yo solo tengo que hacer clic Aquí y listo nos vemos en la próxima
I open the way with the third round again of ajax's bow and he kills another monster to have an obvious advantage over the enemy, since he only has one attack card and it is an archer, the enemy launches his attack, which does a damage of two points which is not enough, so it's my turn and I launch my attack which does a damage of only one point, so my turn comes again and I launch a triple attack which all three were failed and thus end this round.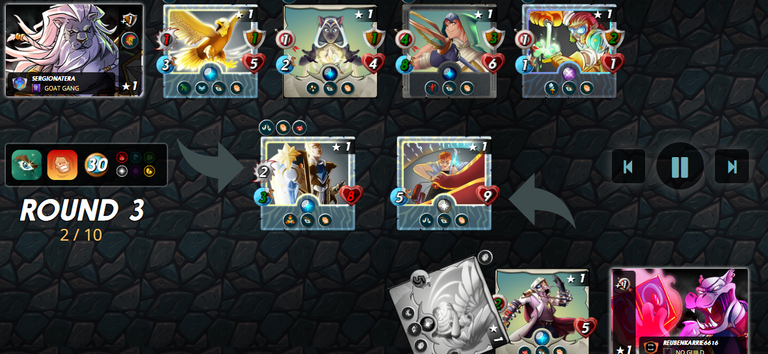 In round four everything is already defined and Ajax is the one who launches the attack in this last round and who already had a five-point attack and immediately kills the enemy and leaving him quite vulnerable and giving me this victory, since what I had to do was to receive all my attacks to finally fall in the battle arena.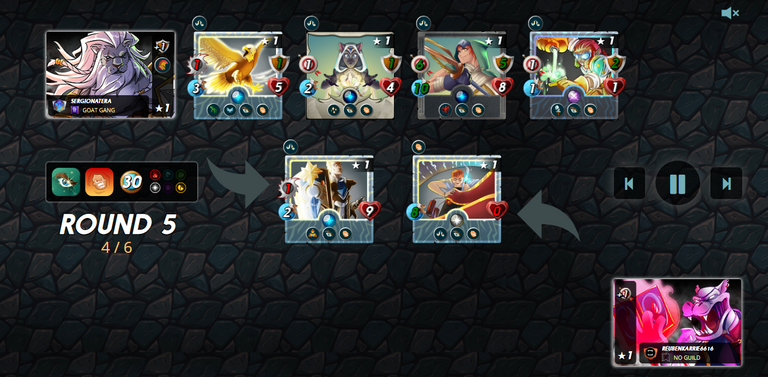 Thanks to this new summoner that gives me step to summon a gladius card that is quite powerful and with each round that passes hits much stronger and is far from being a target of attack for its speed.
friends, I hope you liked this battle, I found this summoner quite interesting, but the archer is the one who steals the looks with his attacks very very strong with each round that passes, so see you in a next battle and remember that if you want to participate in these battles in the same way I just have to click Here and ready see you in the next one.
---
---