EL PODER DE IMMORTALIS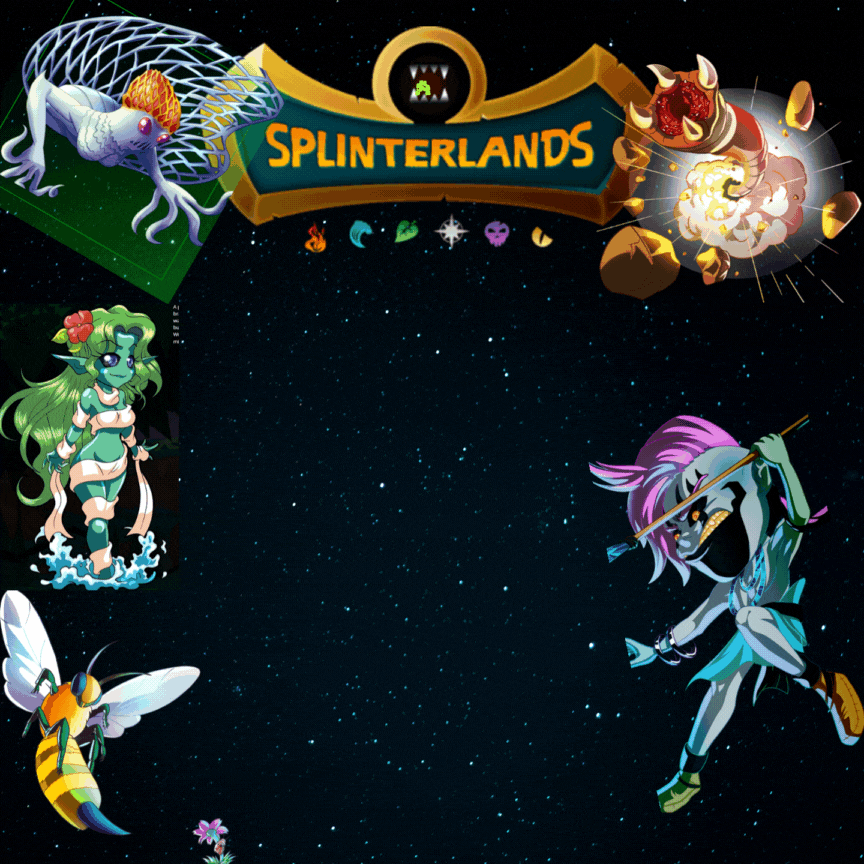 ID DE LA BATALLA
---
Hola amigos que tal como le va yo de nuevo por acá compartiendo mi batalla de esta semana, pero algo bastante estresado porque ahora esta mucho pero mucho más difícil que antes escalar de liga, demasiadas cartas muy buenas y las nuevas condiciones, una locura
esta vez quiero compartir con ustedes una nueva batalla con un elemento que es uno de mis favoritos, pero con un invocador distinto que a mi parecer es bastante poderoso cuando es de enfrentar un equipo de magia contrarresta bastante el daño, lo cual hace que tenga una pequeña ventaja
Hello friends, how are you doing, I'm back here sharing my battle of this week, but something quite stressed because now is much, much more difficult than before to climb the league, too many very good cards and the new conditions, crazy.
this time I want to share with you a new battle with an element that is one of my favorites, but with a different summoner that in my opinion is quite powerful when facing a team of magic counteracts the damage, which makes it have a small advantage.
---
condiciones de batalla
en estas condiciones de batalla podemos observar que tenemos casi todos los elementos desbloqueado a excepción del elemento de muerte, tenemos que todos los monstruos estarán desprotegidos sin escudo y con un maná de cincuenta y ocho puntos bastante alto para elegir monstruos bastantes poderosos
battle conditions
in these battle conditions we can see that we have almost all the elements unlocked except for the element of death, we have all the monsters will be unprotected without shield and with a mana of fifty-eight points high enough to choose quite powerful monsters.
---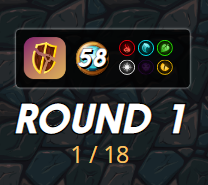 Alineación enemiga
El enemigo decidió usar el elemento de agua con un equipo conformado por dos monstruos de ataque cuerpo a cuerpo, dos arqueros y dos de magia
invocador: KELYA FRENDUL
DIEMONSHARK

FLYING SQUID

DJINN OSHANNUS

NERISSA TRIDAWN

COASTAL NYMPH

WAVE BROOD

Mi alineación
por otro lado, yo decidí jugar con el elemento de tierra usando el nuevo invocador que a pesar de que no tiene las espinas es bastante poderoso y esta batalla fue bastante útil
invocador: IMMORTALIS
NECTAR QUEEN

MYCELIC SLIPSPAWN

MYCELIC INFANTRY

WOOD NYMPH

SAND WORM

MITICA HEADHUNTER

---
Desarrollo de la batalla
Bueno señor arrancamos esta primera ronda atacando el enemigo con sus monstruos de magia desviando el ataque aún solo monstruo lanza dos ataques seguidos el cual alcanzo su objetivo logrando hacerme daño fuertemente, al culminar sus ataques lanzo yo el mío de la primera posición ocasionando cuatro de daño para dejarlo con dos de vida vuelvo atacar, pero esta vez desde la segunda posición, pero mi ataque es desviado al monstruo de la última posición recupero un poco de energía para finalizar mi turno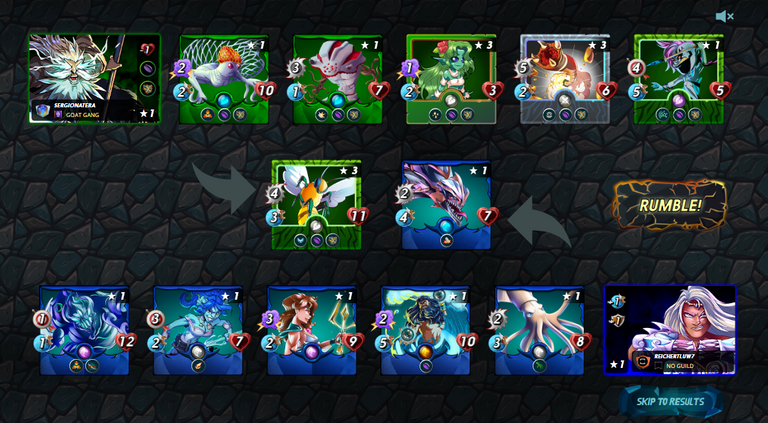 Arranca el enemigo nuevamente, esta vez con los arqueros haciendo dos de daño, rápidamente lanzo mi ataque con el gusano de arena para así dar de baja al primer monstruo y los ataques no sean desviados, enseguida responde con un ataque el cual es desviado nuevamente, respondo con mi arquero para darle de baja a su monstruo en primera posición para así terminar este turno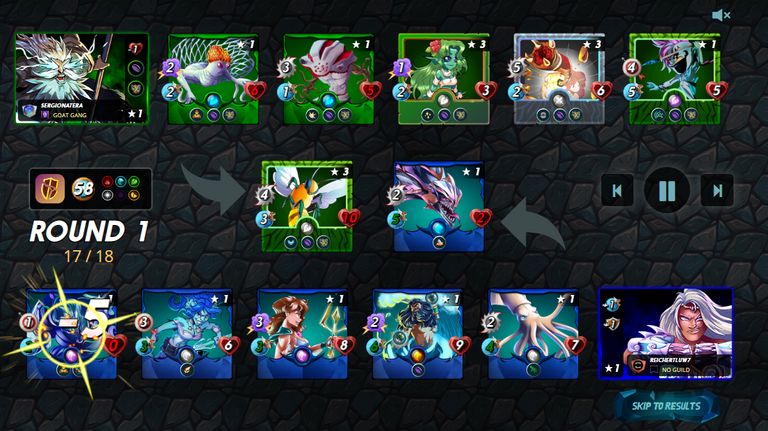 Arranca este turno algo enfurecido y lanza su ataque que alcanza al gusano ocasionando un daño de tres puntos, con la misma lanzo un triple ataque el cual da de baja a otro de sus monstruos y además recupero un poco de energía para culminar mi turno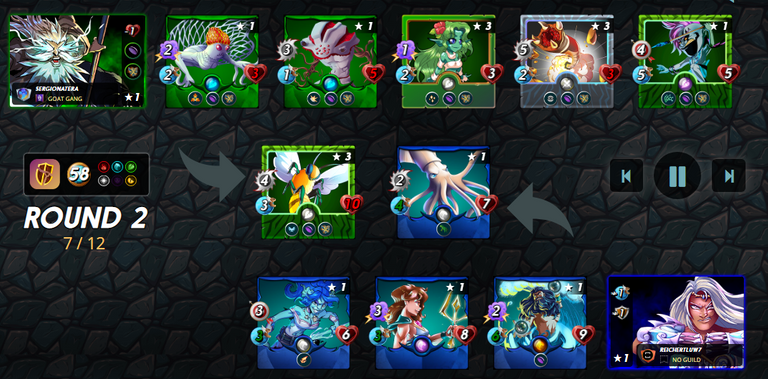 La siguiente el enemigo lanza su ataque de magia ocasionando solo uno de daño gracias a los beneficios del invocador de contrarrestar la magia, enseguida lanzo un ataque con el gusano el cual hace un daño de cinco puntos y solo dejarlo a uno de vida, sigue mi turno y ataco con mi arquera que hace un daño de cuatro puntos, ya a este nivel de la batalla el enemigo se encontraba bastante frustrado, ya que no podía dar de baja a ninguno de mí monstruos
En esta última ronda y ya casi que saboreando la victoria, la doy de baja a otros de sus monstruos dejándolo con solo dos y con algo de desventaja porque era uno de magia y una arquera, toca mi turno y lanzo un ataque con el gusano y darle de baja a su arquera y dejarlo con solo un monstruo el cual pude derrotar con solo dos ataques y así otorgarme esta victoria, gracias a este invocador que con sus habilidades contrarresto los ataques de magia que eran bastantes poderosos.
Development of the battle
Well sir we start this first round attacking the enemy with their magic monsters deflecting the attack still only one monster launches two attacks in a row which reached its target and managed to hurt me heavily, at the end of their attacks I launch mine from the first position causing four damage to leave him with two life I attack again, but this time from the second position, but my attack is deflected to the monster of the last position I recover some energy to end my turn.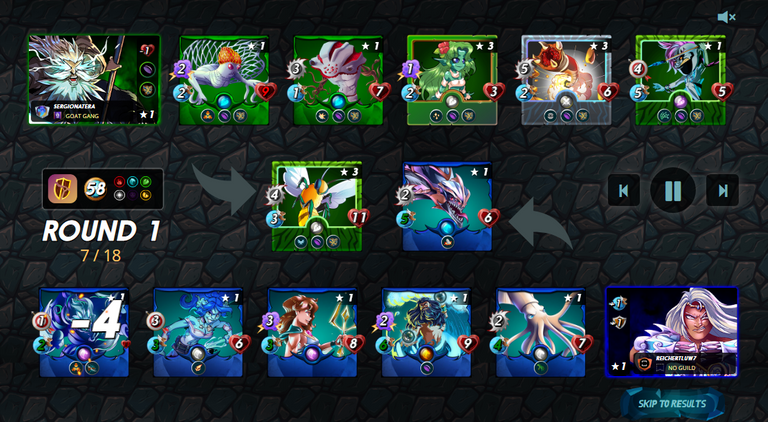 The enemy starts again, this time with the archers doing two damage, I quickly launch my attack with the sand worm to kill the first monster and the attacks are not deflected, then responds with an attack which is deflected again, I respond with my archer to kill his monster in first position to end this turn.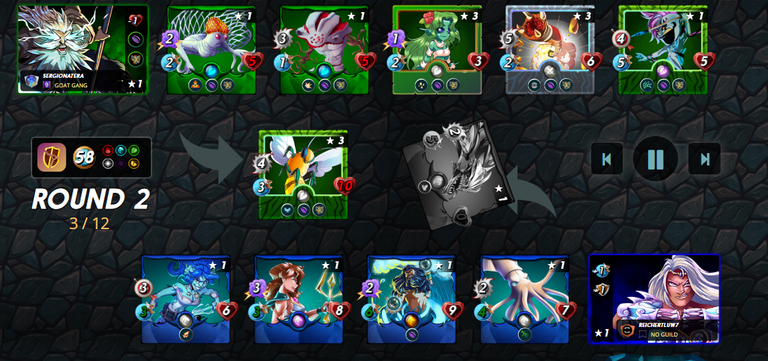 He starts this turn somewhat enraged and launches his attack that reaches the worm causing a damage of three points, with the same I launch a triple attack which kills another of his monsters and also recover some energy to finish my turn.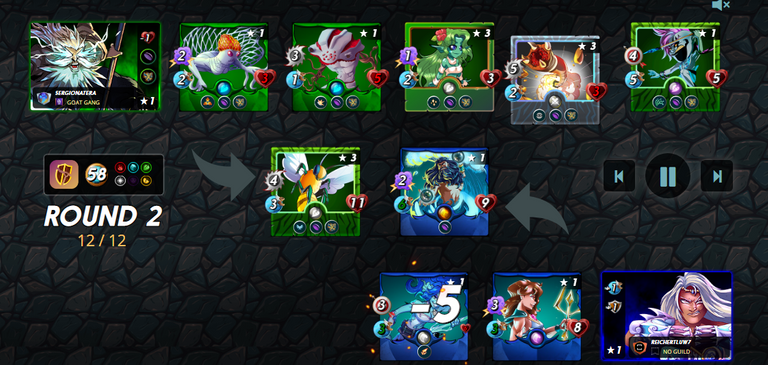 The next one the enemy launches his magic attack causing only one damage thanks to the benefits of the summoner to counteract the magic, then I launch an attack with the worm which does a damage of five points and only leave him with one life, my turn continues and I attack with my archer that does a damage of four points, and at this level of the battle the enemy was quite frustrated because he could not kill any of my monsters.
In this last round and almost savoring the victory, I kill another of his monsters leaving him with only two and with some disadvantage because it was one of magic and an archer, it's my turn and I launch an attack with the worm and kill his archer and leave him with only one monster which I could defeat with only two attacks and thus give me this victory, thanks to this summoner that with his skills countered the magic attacks that were quite powerful.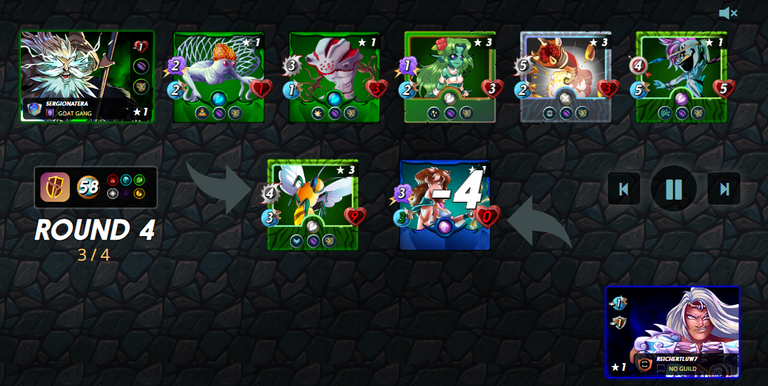 ---
Amigos, espero le allá gustado mucho esta batalla y recuerda que si quieres jugar de la misma forma que yo lo hago solo tienes que hacer clic, aquí nos vemos en la próxima batalla
Friends, I hope you liked this battle and remember that if you want to play the same way I do you just have to click, here see you in the next battle.
---
---