EL PODER DE QUORA TOWERSHEAD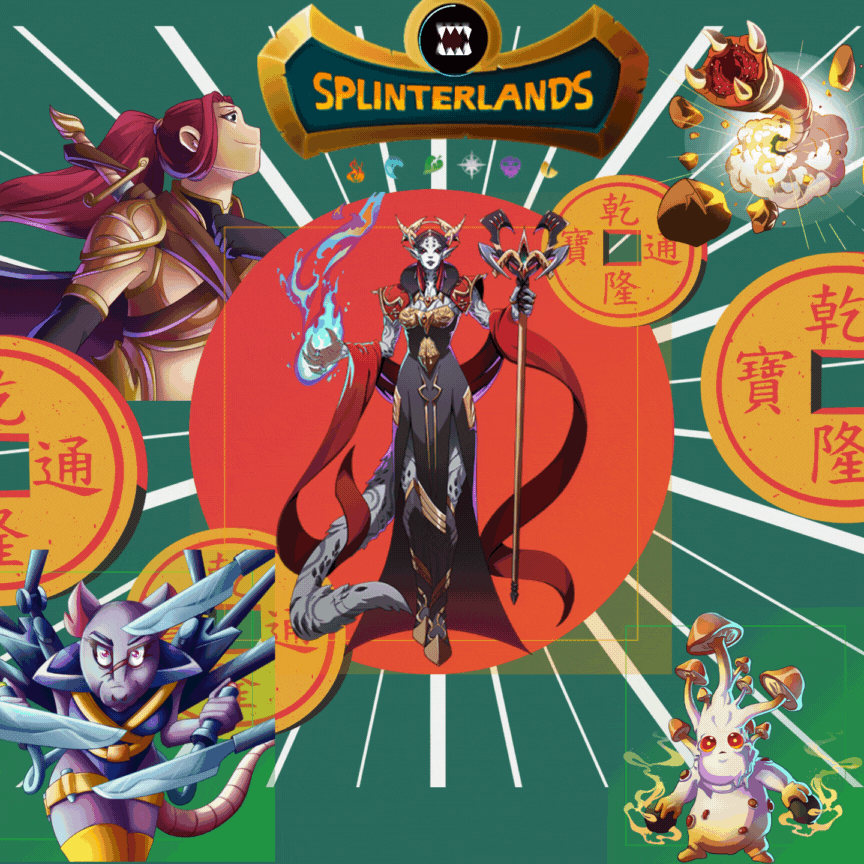 ---
Hola amigos que tal como le va yo de nuevo por acá compartiendo con todos ustedes en esta excelente comunidad splintelands, anda algo desaparecido, pero aquí estamos de nuevo sin parar de jugar las batallas que están cada vez más complicadas con las nuevas cartas e invocadores, pero vamos poco a poco subiendo el nivel
Hello friends, how are you doing? I'm back here sharing with all of you in this excellent splintelands community, I've been missing a bit, but here we are again without stopping to play the battles that are becoming more complicated with the new cards and summoners, but we are gradually raising the level.
---
condiciones de batallas
en estas condiciones fue bastante sencilla, solo tenemos bloqueados los elementos de vida y muerte, aparte de esos la habilidad que nos dio esta vez fue ecualizador que no es más que todos los monstruos elevaran su salud a la del monstruo que tenga más haciendo que la batalla sea un poco más larga además contamos con un mana alto de cincuenta y dos puntos
battle conditions
in these conditions was quite simple, we only have blocked the elements of life and death, apart from those the ability that gave us this time was equalizer which is nothing more than that all monsters will raise their health to that of the monster that has more making the battle a little longer also we have a high mana of fifty-two points.
---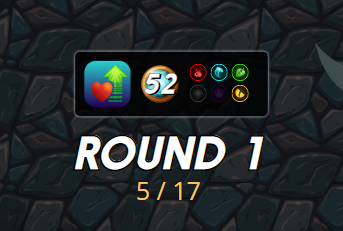 Mi alineación
En mi alineación me decidí por dragones y además con el invocador nuevo que es:
HELIOS MATRIARCH
1. DJINN CHWALA
2. VENARI KNIFER
3. FUNGUS FLINGER
4. QUORA TOWERSHEAD
5. GOBLIN PSYCHIC
6. SAND WORM

Alineación enemiga
En la alineación del enemigo decidió usar el invocador de:
OBSIDIAN
1.UNICORN MUSTANG
2.VENARI SPELLSMITH
3.ELVEN MYSTIC
4.GOBLIN PSYCHIC
5.REGAL PERYTON
6.MYCELIC SLIPSPAWN

---
Desarrollo de la batalla
bueno, amigo y así arrancamos con esta nueva batalla y empiezo atacando yo con quora quien lanza su taque de magia al monstruo en la última posición, ya que tiene la habilidad de desviar todos los ataques hacia donde en se encuentra, ocasionando dos de daño, enseguida el enemigo responde desde la primera posición llegando su ataque al escudo y afectando su vida con las espinas así que le devuelvo el ataque afectando dos puntos más, desde a última posición recibo un ataque de magia que pasa por debajo del escudo afectando mi salud repite el ataque dos veces más esta vez desde el puesto dos y el tres afectando mi salud a solo dejarla a dos, rápidamente vuelve a ser mi turno y recupero dos puntos con la cura y ocasionando dos de daño al y sigue mi turno así que ataco con el arquero haciendo un daño de solo un punto, sigo yo con el ataque esta vez con sand worm que le da un fuerte golpe y dejarlo a solo uno de vida y darle el turno al enemigo y aprovecho para curar a su caballo y lanzar un ataque magia de tres puntos y otro ataque de dos puntos para que así el enemigo diera de baja a su primer monstruo y finalizar esta ronda
Development of the battle
well, friend and so we start with this new battle and I start attacking with quora who launches his magic tank to the monster in the last position, as it has the ability to deflect all attacks to where it is, causing two damage, immediately the enemy responds from the first position arriving his attack to the shield and affecting his life with the thorns so I return the attack affecting two more points, from the last position I receive an attack of magic that passes under the shield affecting my health repeats the attack two more times this time from the position two and three affecting my health to only leave it at two, quickly it's my turn again and I recover two points with the cure and causing two damage to the and continues my turn so I attack with the archer doing a damage of only one point, I continue with the attack this time with sand worm that gives a strong blow and leave it to only one life and give the turn to the enemy and I take the opportunity to cure his horse and launch a magic attack of three points and another attack of two points so that the enemy gave down his first monster and end this round.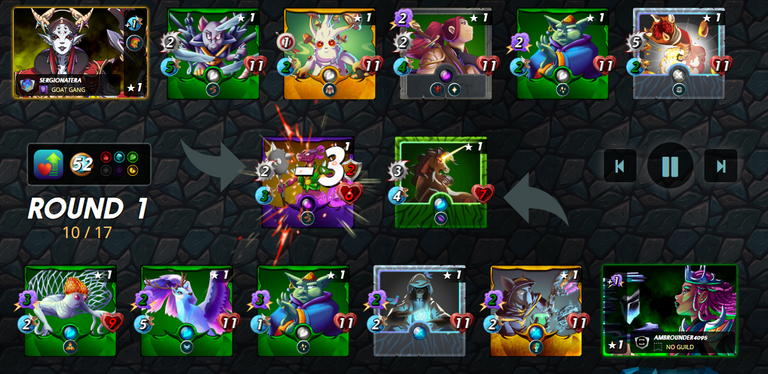 ID DE LA BATALLA
---
Segunda ronda
empiezo atacando desde la primera posición haciendo dos de daño continua mi turno y lanzo un ataque de magia hacia el último en su posición para así darle de baja y eliminar el desvío de ataque aparte de su ataque quora con su habilidad de bloodlust se le otorga un punto de ataque uno de magia y uno de velocidad, para así el enemigo atacar desde la primera posición y ocasionar tres de daño sobre el rival y llevándose un daño de dos puntos por las espinas y atacar de forma inmediata y dejar dos de daño, el enemigo ataca desde la tercera posición con su ataque de magia de dos puntos así que rápidamente activo la curación y un ataque de uno de magia, sigue mi turno con un doble ataque el cual falla y le da una oportunidad al enemigo poder curarse y lanzar un ataque de tres puntos y así finalizar esta ronda
Second round
I start attacking from the first position doing two damage, my turn continues and I launch a magic attack towards the last one in his position in order to kill him and eliminate the attack deflection, apart from his quora attack with his bloodlust ability, he gets one attack point, one magic point and one speed point, The enemy attacks from the first position and cause three damage on the opponent and taking a damage of two points for the thorns and attack immediately and leave two damage, the enemy attacks from the third position with his magic attack of two points so I quickly activate the healing and an attack of one of magic, follows my turn with a double attack which fails and gives an opportunity to the enemy to heal and launch an attack of three points and thus end this round.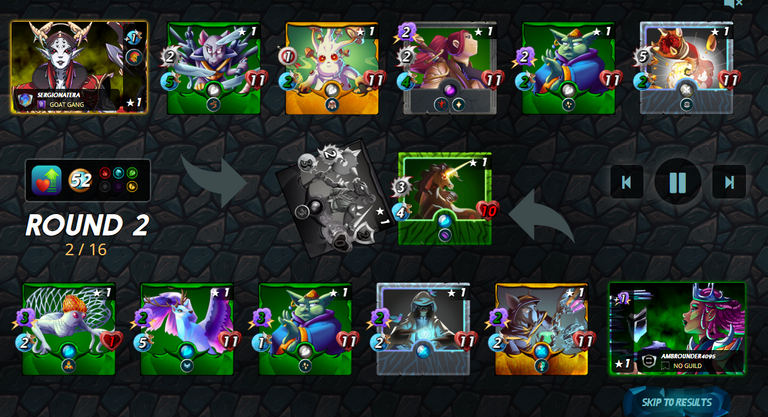 ---
Tercera ronda
Empiezo yo nuevamente con un ataque de magia alcanzando solo dos de magia, rápidamente el enemigo responde con un ataque de magia de tres puntos para dejar así a mi monstruo a solo dos puntos de vida, viene el ataque del enemigo desde la primera posición el cual da de baja a mi segundo monstruo y dejándolo a él a solo uno de vida dándole el turno al enemigo el que lanza un doble ataque de cinco puntos, rápidamente activo la cura lanzo mi ataque de magia que da en el blanco y da de baja al segundo monstruo del enemigo y estar parejos, lanzo mi último ataque el cual fallo y así finaliza esta ronda
Third round
I start again with a magic attack reaching only two of magic, quickly the enemy responds with a magic attack of three points to leave my monster at only two points of life, comes the enemy attack from the first position which knocks down my second monster and leaving him at only one life giving the turn to the enemy who launches a double attack of five points, I quickly activate the cure I launch my magic attack that hits the target and knocks down the second monster of the enemy and be even, I launch my last attack which fails and thus ends this round.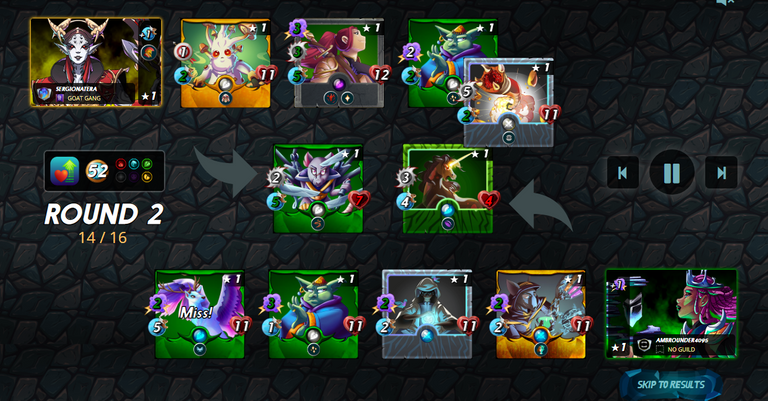 ---
Cuarta ronda
empieza atacando el enemigo con sus tres monstruos de magia el cual hizo un daño considerable y dejarlo a solo un punto de vida, llega nuevamente mi turno y activo la cura para que se recupere un poco, lanzo mi segundo ataque para fallar nuevamente y darle el turno al enemigo quien no desperdicio este turno para curar a uno de sus monstruos y lanzar un ataque casi letal para dejarlo a solo uno de vida y finalizar este turno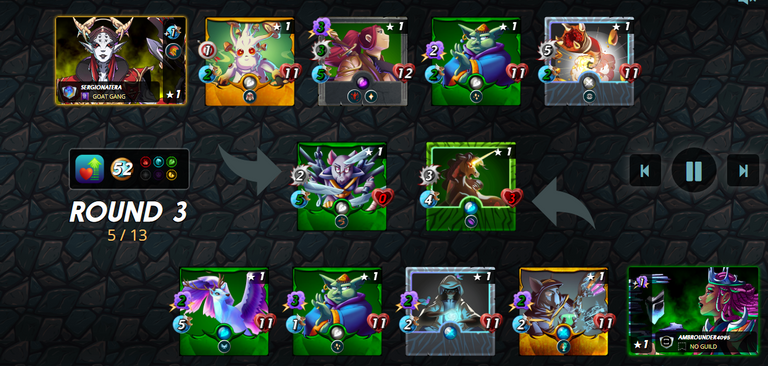 Fourth round
starts attacking the enemy with his three monsters of magic which did considerable damage and leave him with only one point of life, my turn comes again and I activate the cure to recover a little, I launch my second attack to fail again and give the turn to the enemy who did not waste this turn to cure one of his monsters and launch an almost lethal attack to leave him with only one point of life and end this turn.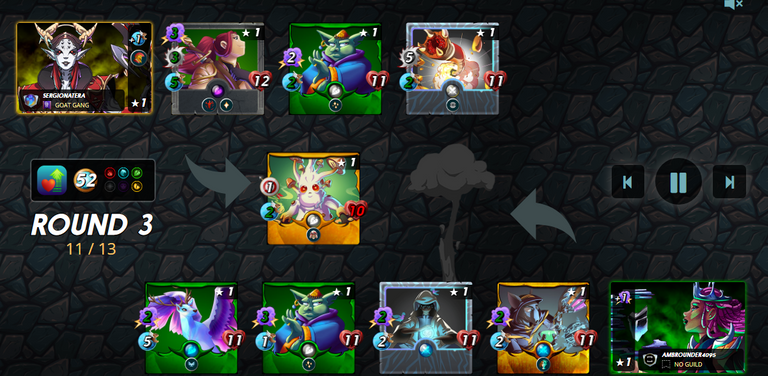 ---
Quinta ronda
arranca esta ronda y empieza quora atacando y dejando un daño de tres puntos, pasa el turno al enemigo quien no desperdicio esta oportunidad para darle de baja a otros de mis monstruos, pero gracias a la habilidad de este arquero le otorgo al monstruo más cercano en este caso a quora un punto de vida, velocidad, ataque y magia y volverla mucho más letal. Vuelve de nuevo el turno al enemigo, quien lanza un doble ataque que no hace mucho daño, pero por la habilidad del enemigo me regreso mi ataque a su forma normal, así que desde la segunda posición lanzo un ataque de magia y a su vez curando al monstruo de la primera posición, lanzo el segundo ataque con worm quien da en el blanco y hace un daño bastante considerable y así finalizar esta ronda
Fifth round starts this round and quora starts attacking and leaving a damage of three points, the turn goes to the enemy who did not waste this opportunity to kill other of my monsters, but thanks to the ability of this archer I give the closest monster in this case to quora a point of life, speed, attack and magic and make it much more lethal. It's the enemy's turn again, who launches a double attack that doesn't do much damage, but due to the enemy's ability I return my attack to its normal form, so from the second position I launch a magic attack and at the same time healing the monster of the first position, I launch the second attack with worm who hits the target and does considerable damage and so end this round.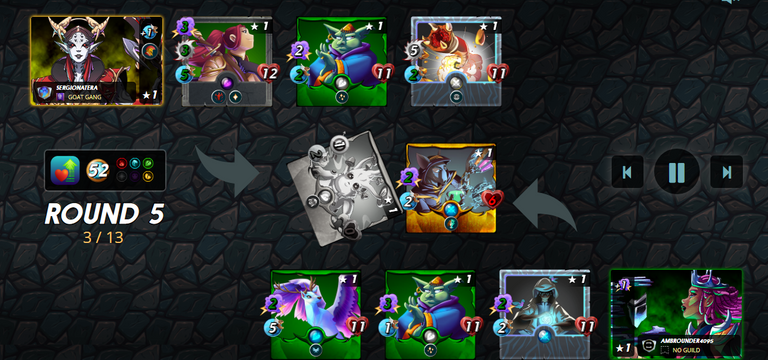 ---
Sexta ronda
arranca esta ronda atacando el enemigo con un daño de dos puntos, rápidamente respondo con quora y lanza su ataque de magia, cuerpo a cuerpo y se lanza un poco de cura, el turno pasa al enemigo quien lanza un doble de ataque y dejar a mi monstruo a solo cinco de salud, llega mi turno nuevamente lanzo la cura y dos de magia para dejar a solo uno de vida al enemigo sigo lanzando mi segundo ataque el cual he fallado y finalizar esta ronda
Sixth round
This round starts attacking the enemy with a damage of two points, I quickly respond with quora and launches his magic attack, melee and throws a little cure, the turn passes to the enemy who launches a double attack and leave my monster to only five health, my turn comes again I throw the cure and two magic to leave only one of life to the enemy I continue launching my second attack which I have failed and end this round.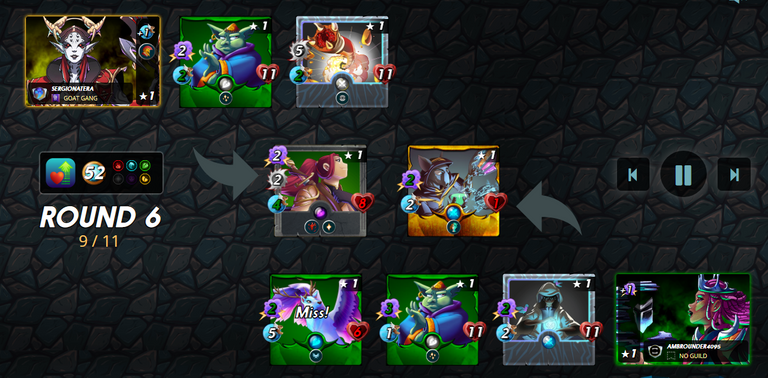 ---
Séptima ronda
ya en esta ronda gracias a la fuerza y el ataque letal de quora estaba ya más que definido que la victoria iba a ser para mí, el enemigo lanza su doble ataque dejando a quora a solo cinco de salud, el cual ella respondió con su doble ataque y dando de baja a otro monstruo del enemigo, ya en este punto toca es solo resistir los ataque, pero como tengo suficiente cura está muy difícil que puedan dar de baja a mi monstruo estrella, la batalla continuaron por tres rondas más solo era cuestión de tiempo de ir desgastando al enemigo hasta el final, ya que sus ataques no eran los suficientes para poder dar de baja a algunos de mis monstruos y así poder obtener esta victoria con este invocador que me deja usar una carta gladius las cuales son muy poderosas.
Seventh round
already in this round thanks to the strength and the lethal attack of quora was already more than defined that the victory was going to be for me, the enemy launches its double attack leaving quora with only five health, which she responded with her double attack and killing another monster of the enemy, and at this point it's just a matter of resisting the attacks, but as I have enough healing it is very difficult for them to kill my star monster, the battle continued for three more rounds, it was only a matter of time to wear down the enemy until the end, as their attacks were not enough to kill some of my monsters and thus be able to get this victory with this summoner that lets me use a gladius card which are very powerful.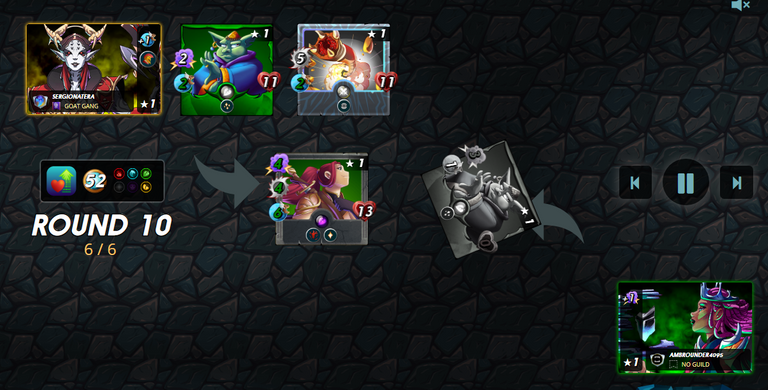 Amigos, espero que le allá gustado mucho esta batalla y nos vemos en la próxima con un desafío nuevo
---
---