Mi grupo favorito

---
Hola amigos, sean todos bienvenidos una vez más a tus batallas favorita, aun nuevo desafío, solo recuerda que si quieres jugar de la misma forma que yo lo hago y así divertirte un rato y al mismo tiempo ganar deferentes obsequios solo tienes que hacer clic aquí
Hello friends, everyone welcome once again to your favorite battles, a new challenge, just remember that if you want to play the same way I do and so have fun and at the same time win different gifts just click here
---
bueno, compañero, esta vez me toco una batalla bastante clásica para mí, ya que en el noventa porciento de los casos el contrincante suele usar un equipo con una misma alineación, ahora sin más nada que agregar nos dirigimos al campo de batalla
well, partner, this time I got a pretty classic battle for me, since in ninety percent of the cases the opponent usually uses a team with the same lineup, now with nothing more to add we head to the battlefield.
---
en el campo
bueno, amigo, ya en pleno campo podemos observar como todos los elementos se encuentran reunidos para saber qué elementos estarán permitidos y cuáles saldrán a jugar, a solo minutos del pitazo inicial de los árbitros, se pueden ver ambos equipo bastante confiado, esta será una batalla bastante épica
on the field
well, my friend, already on the field we can see how all the elements are gathered to know which elements will be allowed and which ones will play, just minutes before the referees' whistle, you can see both teams quite confident, this will be a pretty epic battle.
---
condiciones de la batalla
Los árbitros se dirigen al campo de batalla para dar las primeras condiciones de batallas, agrupa ambos equipo y le muestras las condiciones que solo será permitido en este encuentro.
Los árbitros deciden que todos los elementos están disponibles a excepción el de agua

2.Rise of the commons :solo monstruos comunes y raros pueden usarse en batalla

3.Spreanding fury: todos los monstruos tienen habilidad de enrage

Por último y no menos importante tenemos un maná de cuarenta puntos

Ya con las condiciones lista se le darán dos minutos a ambos competidores para que piense y elijan con quien decidirán participar en este encuentro.
battle conditions
The referees go to the battlefield to give the first battle conditions, group both teams together and show them the conditions that will only be allowed in this match.
The referees decide that all elements are available except the water element.

Rise of the commons : only common and rare monsters can be used in battle.

3.Spreanding fury: all monsters have the ability to enrage

Last but not least we have a forty points mana

With the conditions ready, both competitors will be given two minutes to think and choose with whom they will decide to participate in this match.
---
El enemigo
Abre de manera excelente con su invocador obsidian un invocador muy bueno, ya que te otorga un punto a todos los monstruos de magias, en su primera posicion jugo a venari knifer con habilidad de thorns, luego unicorn mustang y void una muy excelente habilidad, regal peryton, goblin spychic y su habilidad tank heal, hkmer princess y por último mycelic slipspawn con su habilidad de desviar todos los ataques como lo es el taunt.
Muy excelente alineación, ya que decidió apostar por un equipo de magia y con la ayuda de su invocador ahora todos tendrán un punto más de ataque, solo los de magia
The enemy
He opens in an excellent way with his summoner obsidian a very good summoner, since he gives you a point to all the magic monsters, in his first position he played venari knifer with thorns ability, then unicorn mustang and void a very excellent ability, regal peryton, goblin spychic and his tank heal ability, hkmer princess and finally mycelic slipspawn with his ability to deflect all the attacks like taunt.
Very excellent lineup, since he decided to go for a magic team and with the help of his summoner now everyone will have one more attack point, only the magic ones.

---
Mi alineación
Ya observando como serán las condiciones de esta batallas y casi que leyéndole la mente al enemigo, sabía que usaría un equipo de magia, y así es un poco más fácil que combinación usar tratando de colocarle un contra.
Como invocador decido usar mi favorito por su habilidad, el confiable MYLOR CROWLING, luego la nectar queen, unicord mustang y su habilidad protagonica como lo es el void, un poco de curación para los de primera posición que nos la otorga wood nymph, otro que no puede faltar es mi tanque sand worm y el goblin thief ambos con sneak y por último para completar todas las casillas screeching vulture un buitre que se juega de forma estrategica por su habilidad de opportunity
My lineup
Already observing how will be the conditions of this battle and almost reading the mind of the enemy, I knew I would use a team of magic, and so it is a little easier to use combination trying to place a counter.
As a summoner I decide to use my favorite for its ability, the reliable MYLOR CROWLING, then the nectar queen, unicord mustang and its main ability as it is the void, a little healing for the first position that gives us wood nymph, another that can not miss is my tank sand worm and goblin thief both with sneak and finally to complete all the squares screeching vulture a vulture that is played strategically for its opportunity ability.

---
La batalla
asi suena el pitazo inicial al primer round y vemos como inmediatamente la queen es atacada por regal quitándole dos puntos y poniéndola furiosa para que ataque con un daño de seis dejando a solo uno de salud a venary poniéndolo furioso ataca con tres de daño, pero gracias a la espina le termina dando de baja para así dale fin al primer round.
Rápidamente, empieza el round 2 y vemos como ataca el mustang para darle tres de daño a la queen y dejarla a solo cuatro de salud, el buitre sale atacar, pero no hace mucho daño, ya que está bajo la habilidad de taunt así que continúan los ataques hacia la queen, se recupera un poco de salud, pero le vienen dos ataques seguidos de magia dándole de baja y otorgando este round al enemigo, pelea muy parejo señor
arranca el round 3 en la primera posición ambos mustang se encuentran frente a frente vemos que regal suelta el primer ataque del round poniendo furioso a nuestro mustang y arremetiendo con su enemigo causándole doble daño y quedando ambos con solo tres de salud siguen los ataques señores ambos curan a su monstruo los que no es suficiente para que el mustang furioso saque su ataque de cinco puntos y ambos caer al mismo tiempo y así finalizar este turno está bastante reñida esta pelea.
The battle
The first round starts with the opening whistle and we see how immediately the queen is attacked by regal taking two points and making her furious so that she attacks with a damage of six leaving only one of health to venary, making him furious he attacks with three damage, but thanks to the thorn he ends up giving him down to end the first round.
Quickly, round 2 begins and we see how the mustang attacks to give three damage to the queen and leave her at only four health, the vulture attacks, but does not do much damage, as it is under the ability of taunt so the attacks continue towards the queen, she recovers a little health, but two consecutive attacks of magic come giving her down and giving this round to the enemy, a very even fight sir.
Round 3 starts in the first position both mustangs are facing each other and we see that regal releases the first attack of the round making our mustang furious and attacking his enemy causing double damage and leaving both with only three health. The attacks continue both heal their monsters but it is not enough for the furious mustang to get his five point attack and both fall at the same time and so end this turn, it is quite close this fight.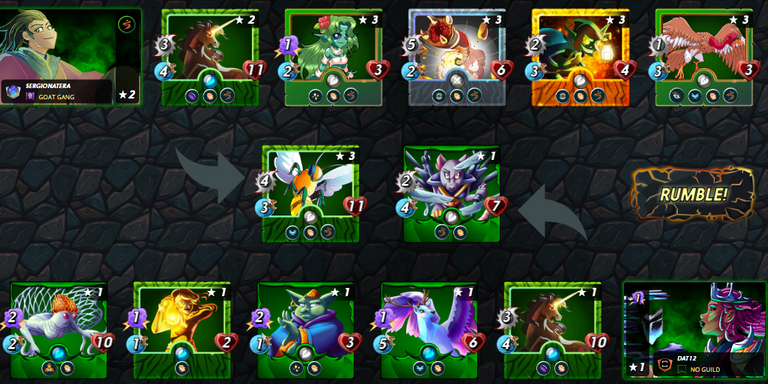 ---
Así que antes de empezar el siguiente round vamos a un poco de publicidad porque ustedes lo pidieron, recuerden que si quieres participar en este excelente juego de nft como lo es splinterlands solo con hacer clic aqui ya estarás jugando como yo lo hago.
So before we start the next round let's do some advertising because you asked for it, remember that if you want to participate in this excellent nft game like splinterlands just by clicking here you will be playing like I do.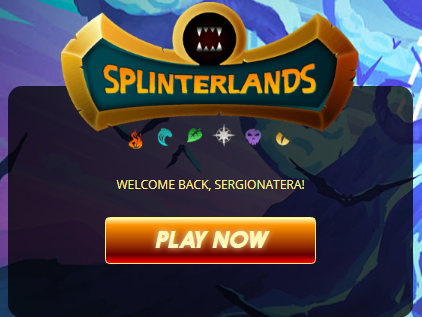 ---
Ahora así vamos al último round y que la batalla está bastante cerrada, podemos observar en el campo de batalla que es un cuatro contra dos quedando de parte del enemigo regal y goblin y del otro lado nos queda wood,sand,goblin y el buitre
asi que este round wood lanzando un ataque no tan letal poniendo a regal furioso, pero sin poder atacar, así que el goblin ataca a su monstruo de curación y lo deja a tan solo uno de vida y así entrar en el radar del buitre y poder darle el golpe que lo elimina dejando solo en el campo de batalla a regal bastante molesto ataca y solo hace dos de daño al oponente cosa que la pone más furiosa porque tiene que recibir otra tanda de ataques de mi parte, pero gracias a su furia esta ronda no fue para nada efectiva todos los ataques fueron fallido en varias ocasiones y ya un poco nervioso por su rapidez de esquivar los ataques, ya regal un poco cansado y darse ya casi pon vencido es alcanzado por dos ataques que solo lo deja a uno de salud para darle el pase y el último golpe para la victoria se lo da la querida WOOD NYMPH y así poder salir feliz y contento de este triunfo que estuvo bastante cerrado.
Now we go to the last round and the battle is quite close, we can see on the battlefield that it is a four against two, being on the enemy's side regal and goblin and on the other side we have wood, sand, goblin and the vulture.
so this round wood launches a not so lethal attack making regal furious, but unable to attack, so the goblin attacks his healing monster and leaves him with only one life and thus enter the vulture's radar and be able to give him the blow that eliminates him leaving only on the battlefield regal quite annoying attacks and only does two damage to the opponent which makes her more furious because she has to receive another round of attacks from me, but thanks to his fury this round was not at all effective all attacks were unsuccessful on several occasions and already a little nervous because of his speed to dodge the attacks, and Regal a little tired and giving himself almost defeated is hit by two attacks that only leaves him one of health to give him the pass and the last blow for the victory is given by the beloved WOOD NYMPH and thus to leave happy and happy of this triumph that was quite close.
---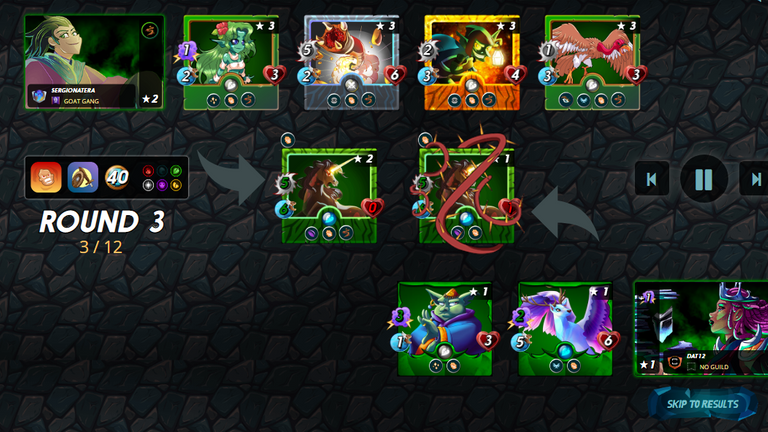 ID DE LA BATALLA
Amigos, espero que le allá gustado mucho la batalla de esta semana, y nos vemos en la próxima con otra de estas batallas épicas nos vemos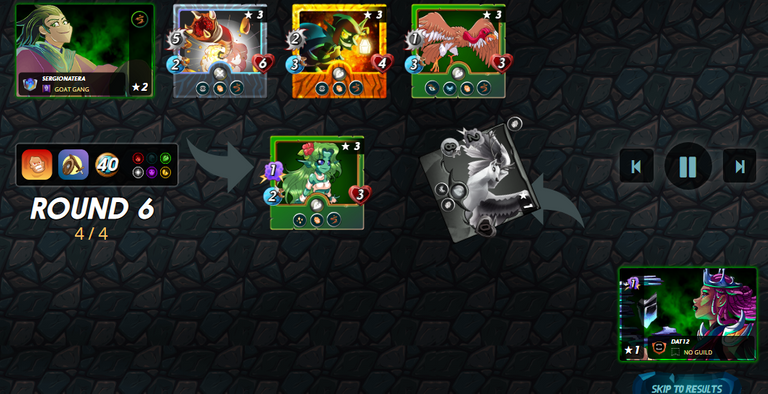 Friends, I hope you enjoyed this week's battle, and I'll see you next week with another one of these epic battles.
---
---