QUORA TOWERSHEAD CONTRA TODOS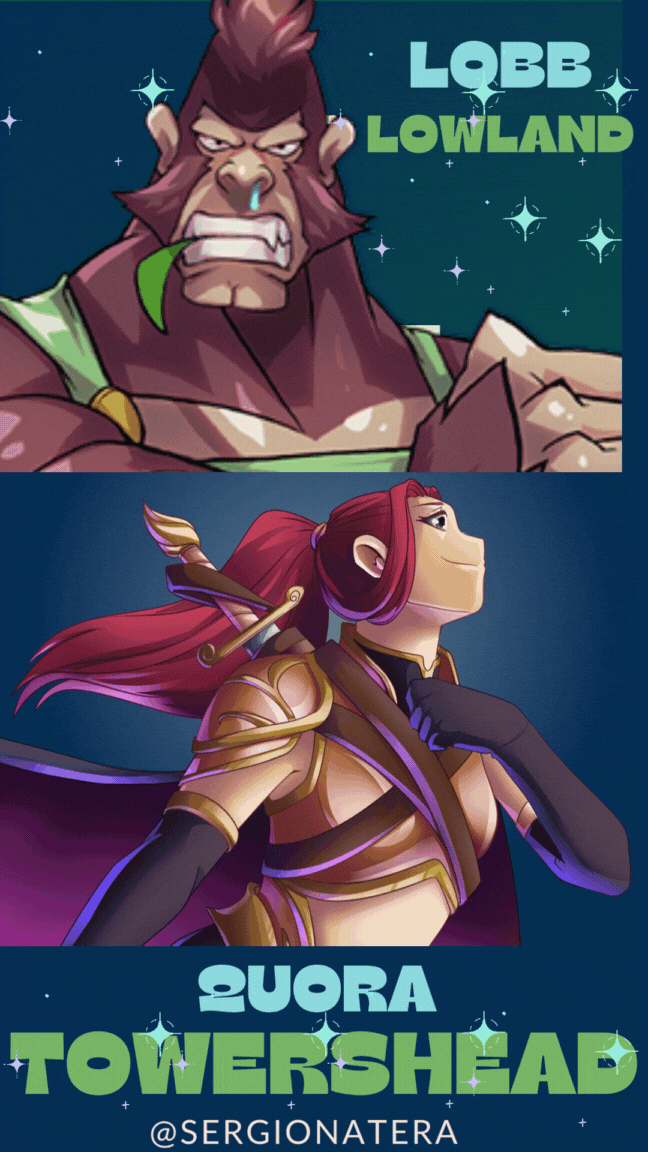 ID DE LA BATALLA
Hola amigos de nuevo por acá en un nuevo desafío hoy de esta excelente comunidad como lo es splinterlands dándonos desafío cada semana para poderlos compartir con todos ustedes, en esta oportunidad le tocó hoy la habilidad de ecualizer muy interesante, ya que esta obtiene la salud de los monstruos más altos en batalla
---
CONDICIONES DE BATALLA
En esta oportunidad tenemos la mayoría de los elementos bloqueados a excepción de agua y Tierra seguida de las condiciones que viene siendo estándar sin modificación en las batallas, seguido de un mana relativamente bajo de 22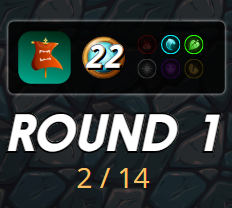 BATTLE CONDITIONS
This time we have most of the elements blocked with the exception of water and Earth followed by the standard conditions without modification in the battles, followed by a relatively low mana of 22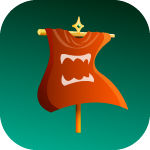 ---
ALINEACIÓN ENEMIGA
invocador: KELYA FRENDUL
WAVE BROOD
MERDAALI GUARDIAN
CRUSTACEAN KING
FEASTING SEAWEED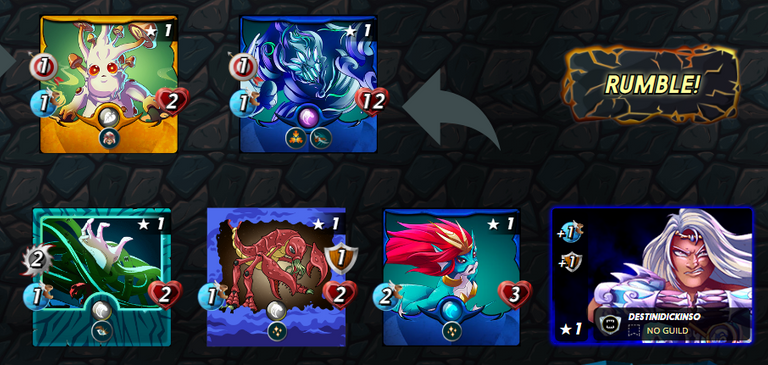 MI ALINEACIÓN
invocador: LOBB LOWLAND
FUNGUS FLINGER
QUORA TOWERSHEAD
HALFLING ALCHEMIST
CREEPING OOZE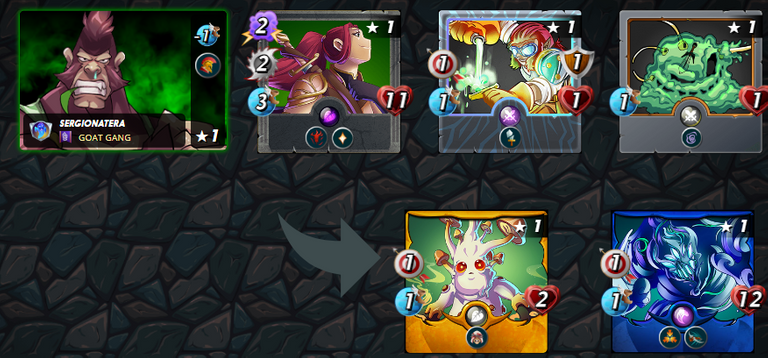 ---
DESARROLLO DE LA BATALLA
Bueno, señores arranca esta primera ronda y empiezo atacando yo desde la segunda posición dando en el objetivo, rápidamente el enemigo responde el ataque dando en el blanco, continua su turno el cual se da un poco más de cura y ataca hacia la última posición para dar de baja al primer monstruo y culminar esta ronda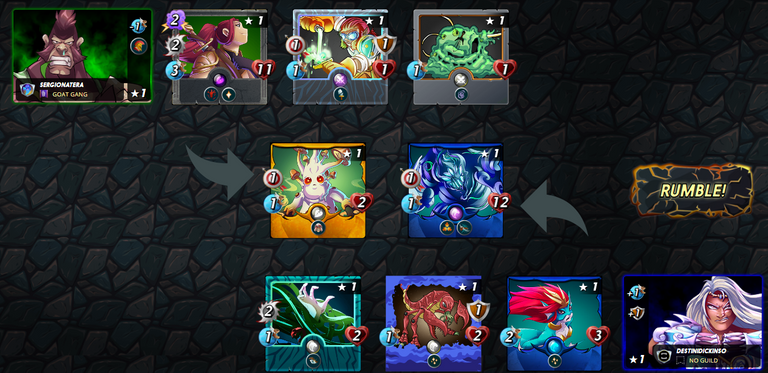 Arranca la segunda ronda, rápidamente empiezo atacando yo con un poco más de fuerza, ya que se activó la habilidad bloodlust haciendo daño de tres puntos con magia y tres con ataque cuerpo a cuerpo y así terminar mi turno, el enemigo rápidamente lanza su ataque que no es muy fuerte se cura dos veces y lanza un ataque a distancia para dar de baja al segundo monstruo de la batalla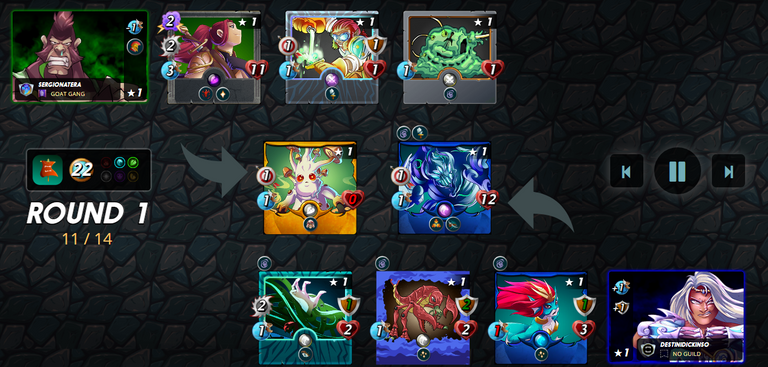 Llega de nuevo la tercera ronda y rápidamente lanzó mi doble ataque con 3 de magia y 3 de ataque cuerpo a cuerpo para dejar al enemigo a tan solo 5 puntos de vida, culmina mi turno y el enemigo rápidamente vuelve a curarse por 2 recuperando la mayor energía posible para lanzar otro ataque y dar de baja a otro monstruo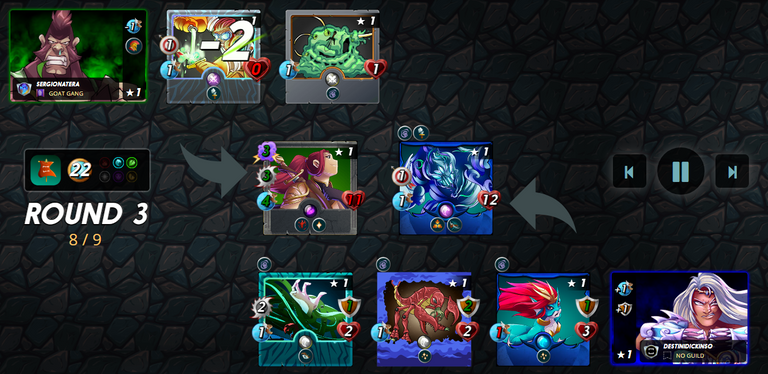 Llega la cuarta ronda y podemos ver que la ventaja la tiene el enemigo, ya que se me hace muy complicado poder eliminar al monstruo con una doble cura, pero sin rendirnos lanzamos nuestro ataque ocasionando nuevamente el mismo daño de 6 puntos, culmina mi turno y el enemigo responde el ataque y nuevamente se vuelve a curar por 2 y lanza otro ataque que da de baja a otro monstruo dejándome con tan solo un monstruo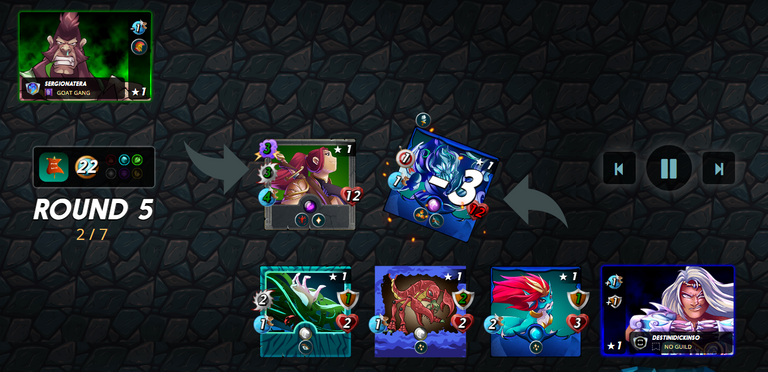 Llega la quinta ronda y podemos ver que el monstruo sigue en pie y con su doble cura intacta haciendo que los golpes que le dé sean en vano, a este punto me toca jugar al cansancio o fatiga de la batalla que con su doble cura no logro hacer suficiente daño así que pasaron varias rondas antes que llegara la fatiga que iba a empezar a quitar puntos por cada ronda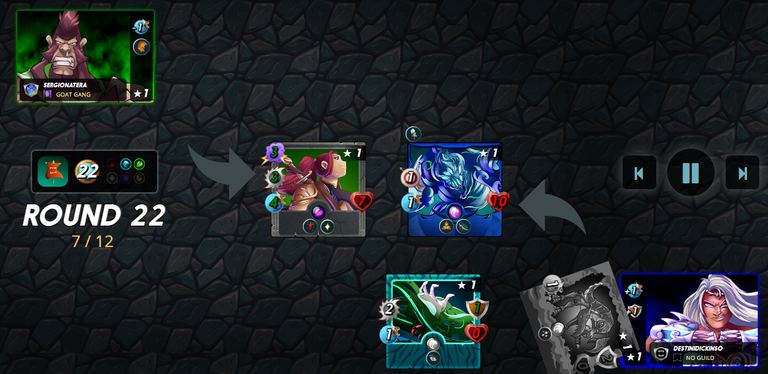 Pasaron dos rondas con fatiga y los monstruos enemigos empezaron a caer dejando vulnerable al enemigo de la primera posición y le afectará así mi doble ataque de magia y cuerpo a cuerpo para luego otorgarme una victoria más
DEVELOPMENT OF THE BATTLE
Well, gentlemen starts this first round and I start attacking from the second position hitting the target, quickly the enemy responds the attack hitting the target, continues his turn which is given a little more healing and attacks towards the last position to kill the first monster and finish this round.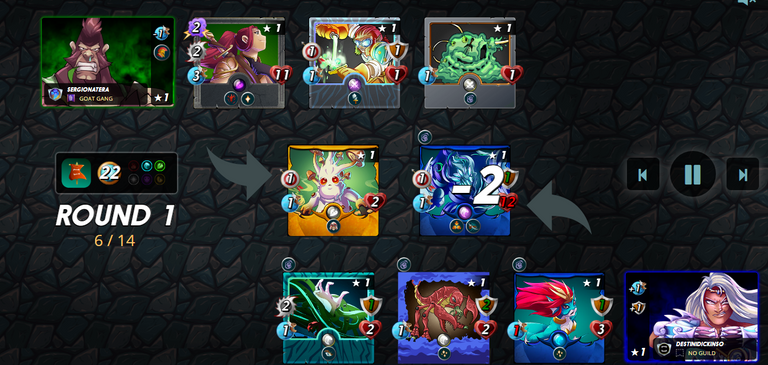 The second round starts, I quickly start attacking with a little more strength, since the bloodlust skill was activated doing three points of damage with magic and three with melee attack and so finish my turn, the enemy quickly launches his attack which is not very strong he heals twice and launches a ranged attack to kill the second monster of the battle.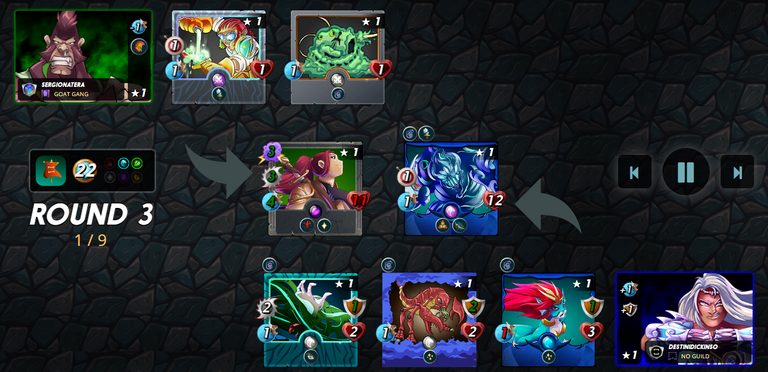 The third round arrives again and quickly launched my double attack with 3 magic and 3 melee attack to leave the enemy at only 5 points of life, my turn ends and the enemy quickly heals again by 2 recovering as much energy as possible to launch another attack and kill another monster.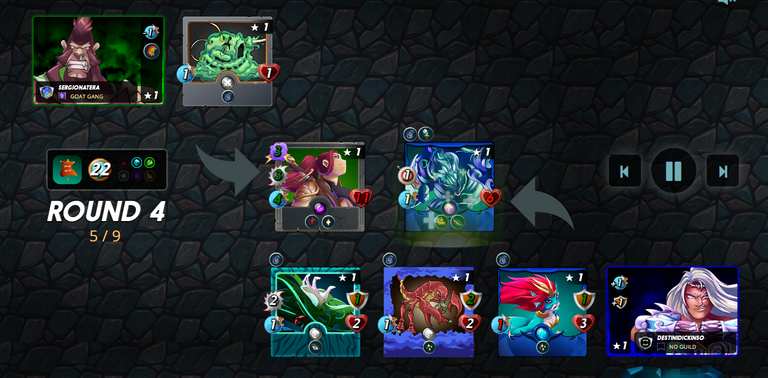 The fourth round arrives and we can see that the enemy has the advantage, as it is very difficult for me to eliminate the monster with a double heal, but without giving up we launch our attack causing again the same damage of 6 points, my turn ends and the enemy responds to the attack and again heals by 2 and launches another attack that kills another monster leaving me with only one monster.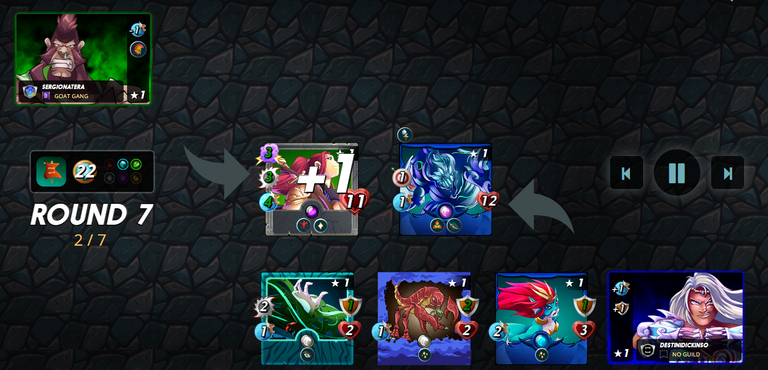 The fifth round arrives and we can see that the monster is still standing and with his double cure intact making the blows I give him to be in vain, at this point I have to play the fatigue of the battle that with his double cure I can not do enough damage so several rounds passed before the fatigue that would begin to remove points for each round arrived.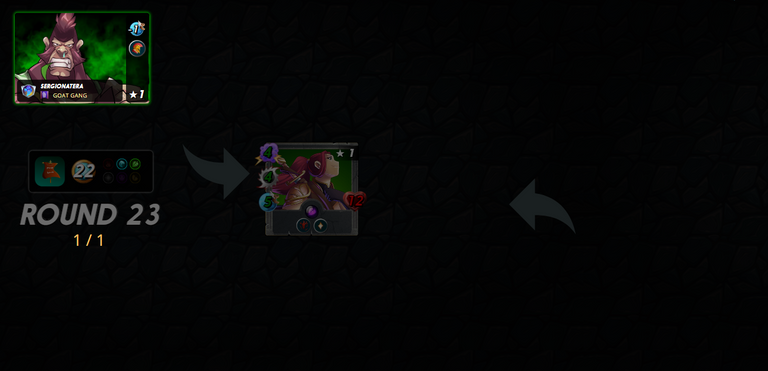 Two rounds passed with fatigue and the enemy monsters began to fall leaving vulnerable the enemy in the first position and thus affect my double attack of magic and melee and then give me one more victory.
---
---