📬 "7050-Talks" - Vol 1. No 4. End of Season + Contest Giveaway📬

🎇

The End Of Season

🎇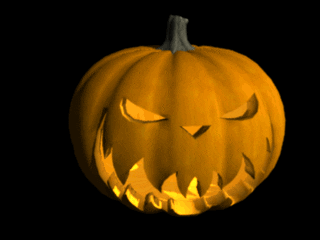 When competing in the Splinterlands Ranked Season it is important to remember:
First of all the ranked seasonal battles are teired into different difficulties: Novice, Bronze, Silver, Gold, Diamond, and Champion league, which also have 2 different cardset rules which determine the type of cards a player may use.
-Wild league which deems all cards playable from the Alpha, Beta, Promo, Reward, Untamed, Dice, Chaos Legion, and Riftwatchers.
-Modern league where only cards are playable from the Untamed generation of cards and on, which include the Untamed, Dice, Chaos Legion, Riftwatchers, and some of the Reward and promo cards.
Secondly, decks that are level appropriate are one of the keys to high ranking success.
And third to be consistant with battling every day or 2 using approx. 25% - 50% of the Capture Rate to efficiently earn daily and End of Season chest rewards.
Players that spend the time and money to become familiar with each their cards and create powerful decks hold the best potential and that creates fierce competition amongst players that are looking to succeed.
Players who focus should be able to rank high and gain decent rewards that are able to be sold, traded, or built upon.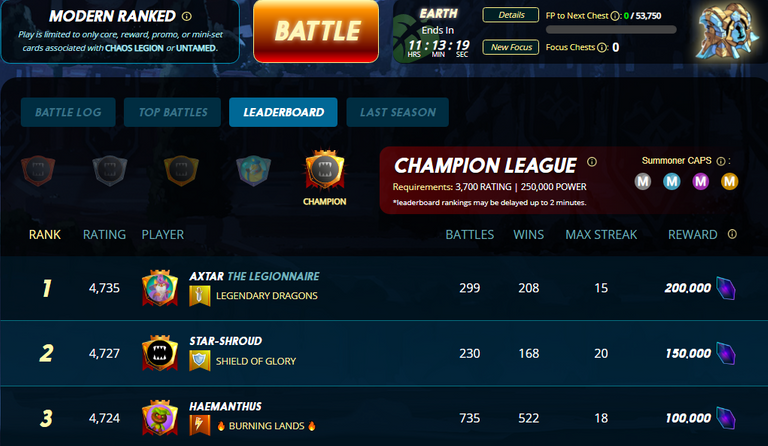 #7050-Talks Contest #1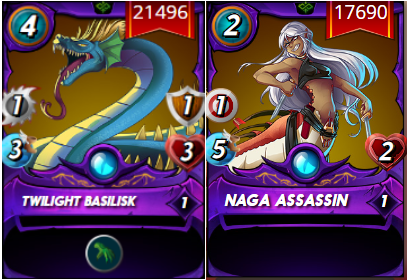 #7050-Talks
is proud to present our first contest! Here we have 2 Cards chosen from the Dragon deck! The
Twilight Basilisk
and the
Naga Assassin:
and it is time to give one of these cards away!
The Contest Rules:
For your chance to win leave a comment with the following.
- Write down one of the 2 cards you wish to win
- Tag a friend to share
---
After 7 Days when the post payout occurs, Contestents will be entered onto a Wheel of Fortune where the winner will be determined by the first name drawn. Any Winners that do not own a Splinterlands account will be awarded a Homeless NFT from the Hive game dCity.io

---

---

Want more SPS rewards and opportunity to farm merrits for the Gladius cases and other goodies?
Well then...
S.I.C. is recruiting for our last few Brawl Fray Positions to be filled
We currently compete in tier 2 Brawl Tournaments.


Wanted Fray Positions:
⚔️Bronze League; Aplha / Beta
⚔️Gold Foil Silver league; Both Wild and U.D.CL
⚔️Gold League; U.D.CL


Guild Requirements:
⚡️ The Ability to Communicate on Discord
⚡️ Must be Reliable in Scheduled Brawl Events
⚡️ Be an Investor Holding in Game Assets
⚡️ Function as a Team performing related duties


S.I.C. Benefits:
⚡️ Lvl 5 Hall / LvL 3 Arena / Lvl 4 Barracks / Lvl 3 Shop
⚡️ Reliable & experienced team to play and build with
⚡️ Regular brawls with good Merit Payouts
⚡️ Community Discord.


Membership Fees:
⚡️ A Seasonal Contribution of 5 SPS

So if You are looking for Brawling opportunities while earning your fair share of the rewards then don't wait and join us now.

⚡️ Go to https://discord.gg/JnxaR7krDW and follow the prescribed instructions.

If you do not yet play, be sure to click the ticket below to start your journey into the

Splinterlands

Are you are looking for more content? Be sure to check out @iamgem005's page! Use the banner provided below. 🔻





Also support @arcange who does work beneficial to the Hive Blockchain 🔻




---
---