Happy Birthday SANTA CLOVE 🎅
---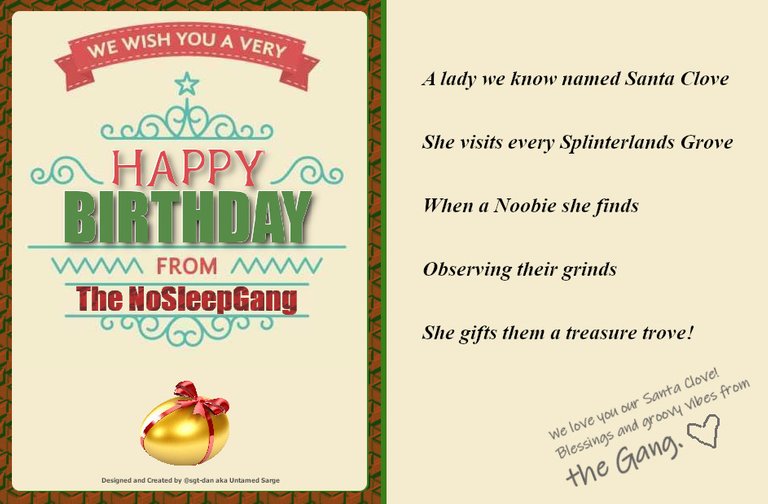 Click the image above to find more NOSLEEPGANG Birthday Wishes and content by **the gang** about the SPLINTERLANDS GAME! Keep grinding!
---
I want to wish you a wonderful birthday full of love, joy and peace for you and your loved ones.
What would I tell someone if they asked me about you? Here is my answer to somone that would ask me: Who is CLOVE71?:
Devoted Mom
Drama free
Community Builder
Encourager
Gracious and very giving of herself and her resources
OG of Splinterlands, Steem, HIVE
Also affectionally known as Santa Clove


We have never met face-to-face, but in all the years I have known you online; I consider you a valued friend. You will always be to me and many others, The Queen of @splinterlands !
She openeth her mouth with wisdom, and in her tongue is the law of kindness.
— Proverbs Chapter 31, 26th verse: King James Bible


Take good care, dear lady. Blessings and groovy vibes to you and your loved ones on this very special day!


Post Script:   You (@clove71) will be receiving 100% of the payout of this post! Happy Birthday!
---
---