My first max level GFL!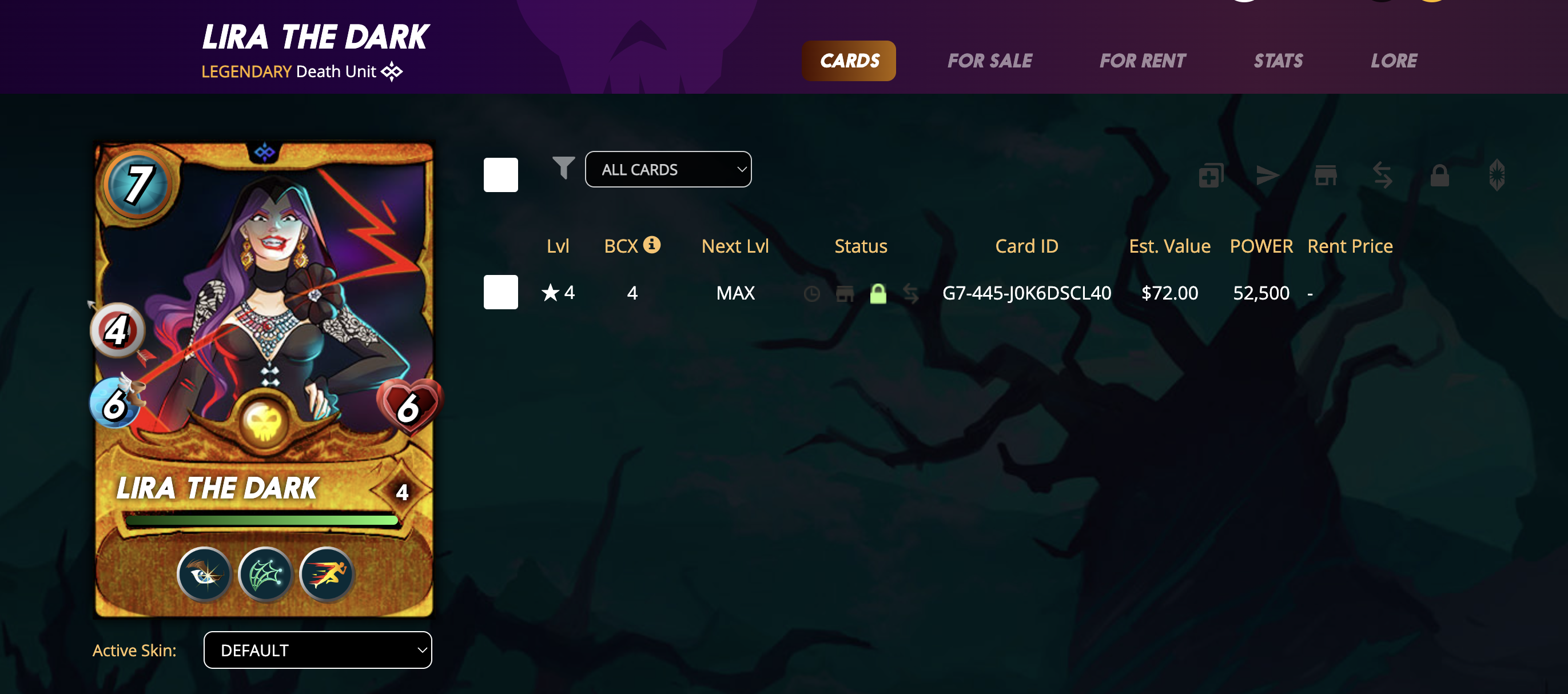 Lira the Dark gold foil now at max level!
I've gotten some gold foil legendary cards in the past, but I think the most copies of a single card I've ever gotten were 2. I've got a 2 BCX Baakjira in gold, which is a great card. Most of my GFL cards are held by my @some-asshole account. After struggling to keep track of which cards I wanted to play with and which cards I wanted to rent, I realized it would be a lot easier if I just transferred all of the ones I wanted to rent 100% of the time to another account. That account is set to rent out 100% of all cards and to automatically set new cards to be rented. Splex handles all of that for me.
PeakMonsters bids for the win!
I got these Lira the Dark cards at a good price by setting up bids on PeakMonsters. As you can see in the image, the estimated value of this card is $72, but I got it for a little less than that because my bids went through.
Might wait to buy too many more cards
With the Christmas sale going on, I think it's likely that the price of cards (or packs even) will go down for a while. I might put in some bids now that are kind of lowball offers and just hope that some of them get filled. I'm actually buying some packs as part of a pool. I'll end up with just shy of 500 packs. I should probably get more so I can get at least one aidrop card out of it, but I only have so much to deal with as far as funds go. I'm also looking to get more Riftwatchers packs.
To open or not to open?
I haven't decided if I'm going to open the packs or not. I already have all of the Chaos Legion cards at max level, at least in regular foil. I kind of want to see how good I can get my gold foil collection to be. At the same time, I think it would be cool to hang onto the packs for as long as a few years. As unlikely as it seems now because there are so many Chaos Legion cards and packs, I think the value of the out-of-print packs will actually rise far enough into the future. If nothing else, it may be fun to open them when there haven't been packs available on the market for a long time. I wish I'd had the foresight to buy extra packs of the older series for this reason.
Posted using Splintertalk
---
---