Doctor Blight Stats Released! Chaos Legion Pre-Sale Promo Card

During today's AMA, the proposed stats for Doctor Blight were released and this card is going to be a major powerhouse.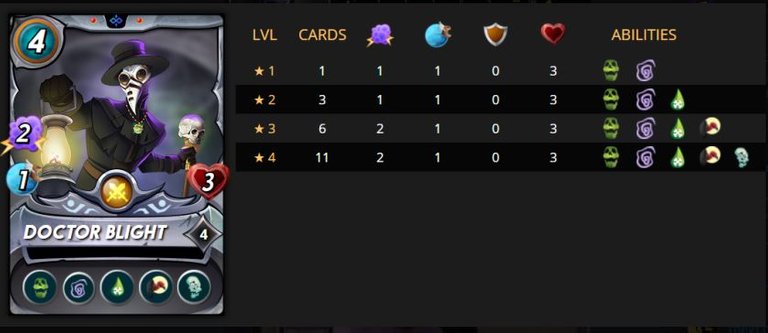 Here are the buffs that Doctor Blight will have at the full level 4:
Affliction - When a Monster with Affliction hits a target, it has a chance of applying Affliction on the target causing it to be unable to be healed.
Slow - Reduces the Speed of all enemy Monsters
Poison - Attacks have a chance to apply poison, which does automatic damage to the target at the beginning of each round after the poison is applied
Scavenger - Gains 1 max health each time any monster dies
Weakness - Reduces the Health of all enemy Monsters
Now that we know the Doctor Blight stats, we can make much more educated decisions on acquiring Chaos Legion vouchers and trying to get this special pre-sale airdrop card.
The only ability I had predicted in a comment chat with @rosiew was the poison one. I had no idea they would throw the whole kitchen sink into Doctor Blight's ability list! I know @kennysgaminglife has been really bullish on this card and it seems these stats fully match his expectations.
So now that we know Doctor Blight will be a very powerful card when it comes to all these abilities, how much do you think it will be worth on the market after release? Does it make sense to acquire vouchers and get the guaranteed airdrop of this card or just wait to buy it on the secondary market?
---
---