Shauner's 26th Splinterlands Brawl Report - PIZZA 2 The Deep Dish Guild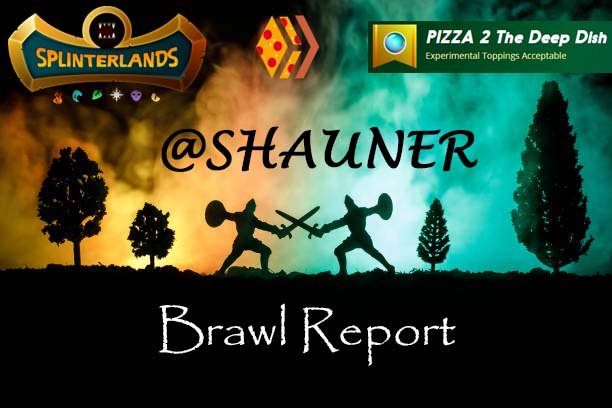 Welcome to my 26th #BrawlReport as part of the @hive.pizza PIZZA 2 The Deep Dish guild! I'm a bit behind on brawl reports this past week. This report is for the brawl that ended around May 10th.
I was battling in a level 1 fray for this brawl, which limits be to base level summoners and monsters.
---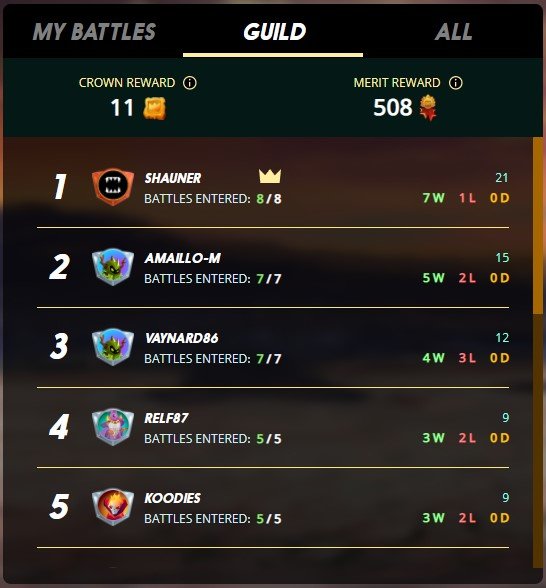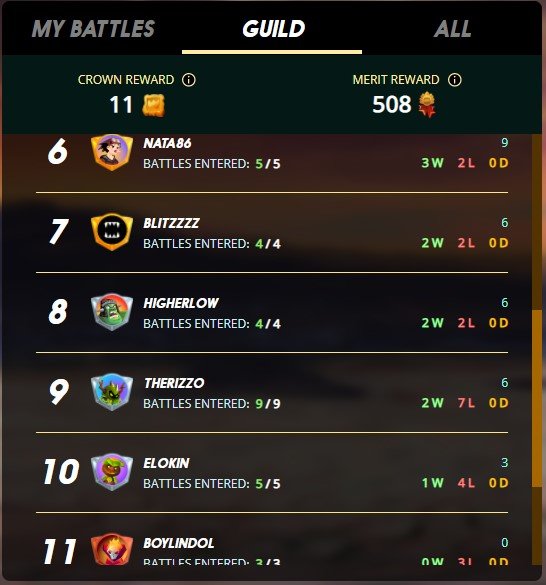 I managed to take the top spot in this brawl with a record of 7 wins and 1 loss. I haven't been atop the leaderboard in quite a while so this was a nice thing to have happen. I also had quite a few battles in this brawl with a total of 8 opponents.
---
PIZZA 2 The Deep Dish Results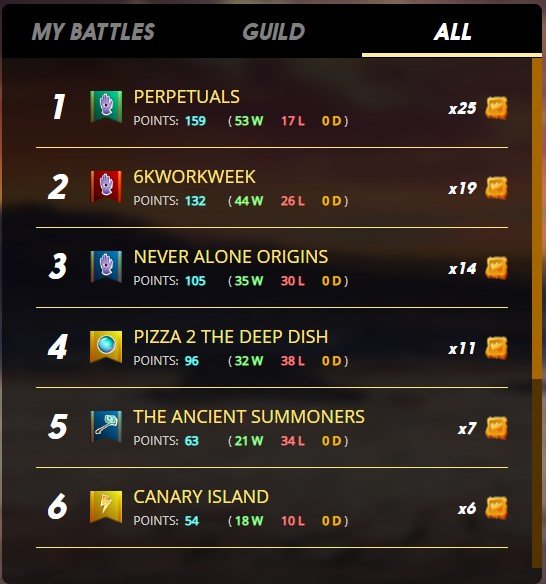 The PIZZA 2 guild took 4th place in this brawl, which earned us 11 crowns and 508 merits.
---
---
My Battles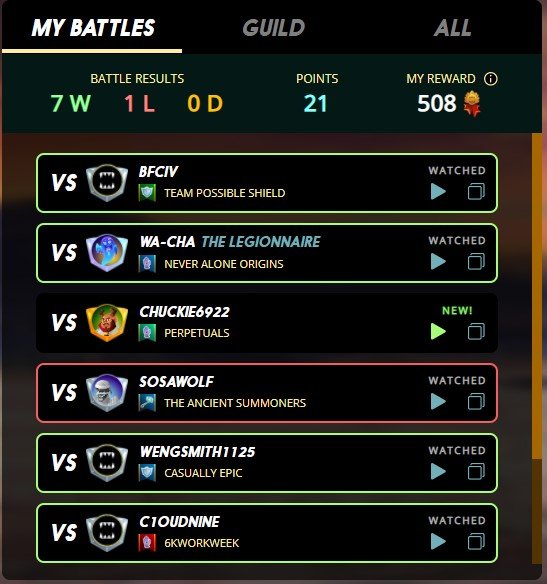 ---
Featured Winning Battles
Any time I can win a battle against a high power player or someone with a title, it's a great feeling. In this instance, I prevailed over a player with The Legionnaire title in a low-mana battle. If you read my reports regularly, you'll know that I hate low-mana battles and really struggle with them so this was an especially good feeling victory.
Our Summoners were useless and no legendary monsters are allowed and then there's that 12 mana cap. My strategy going into this battle was to put up some single mana cards up front to give my Gladiator card time to build up its stats from the Bloodlust ability. It worked brilliantly as it was taking out opponents with one strike and each time getting a big stats boost.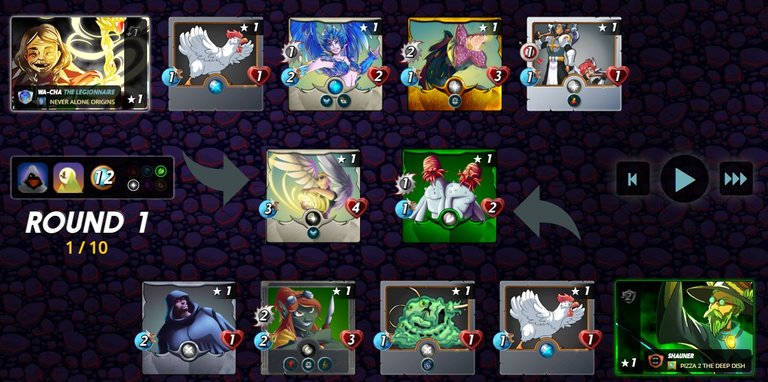 Watch the battle.
---
Featured Losing Battle
We both put up the same summoner, but the Gladiator that my opponent used, combined with the Tank Heal ability left me at a huge disadvantage.
Thankfully I only had one loss in this brawl and it seems fitting that it was in a low-mana game. In fact, a lot of the battles in this brawl seemed to be very low mana. I keep telling myself I'm going to learn some low-mana strategy but it hasn't happened yet.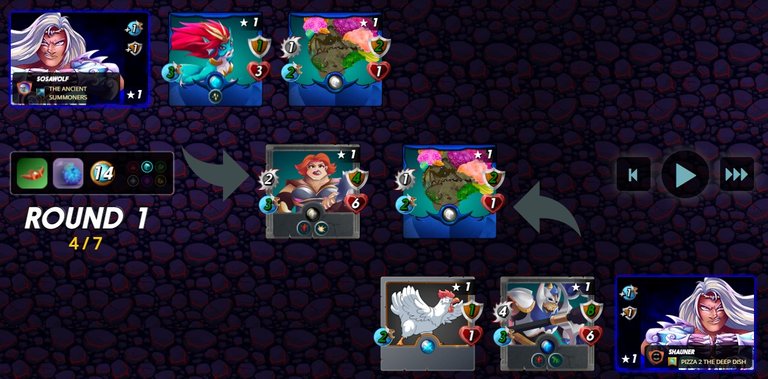 Watch this battle.
---
Final Thoughts
This was a good brawl for me and my wins are completely the result of renting Untamed cards before battling. I've found that learning just one strategy serves me well at the Silver rank and allows me to play more casually versus learning how to play all the different editions.
---
1Up Project
If you haven't seen the news yet, check out the new 1UP project. This looks like a great new gaming project for Play2Earn blockchain games like Splinterlands! I seem to be getting around 100 OneUp tokens on each of these posts, so the earnings will add up over time!
---
---
kennysgaminglife spearheaded the #BrawlReport project as a way to get PIZZA guild members more engaged in the @Splinterlands community. Here's what he had to say:
Starting with the brawl that just ended, I've invited/asked members of the #HivePizza guild to publish a #BrawlReport, breaking down their highs & lows, where they need help, questions they have, strategies they love, and so on. The idea is to help us all reflect a bit, learn a bit, share a bit, earn a bit, and connect a bit :-)
Any other guilds interested in publishing a #BrawlReport, either as individuals, or one for the whole guild, I'm happy to send some curation love your way!
Check out the latest update on the Hive Pizza token project.
Check out the other recent #BrawlReport posts from the #HIVEPIZZA family:
@theacks - PIZZA Guild Brawl Report #1
@vaynard86 - Social Media Challenge: Splinterlands Weekly + Brawl Report
@blitzzzz - Splinterlands & PIZZA Brawl Report : My 23rd Brawl Report
@kqaosphreak - Brawl Report #23 The Jordan Brawl Report, a Giveaway as well!
---
---
---
---