Splinterlands Brawl Report - PIZZA 2 The Deep Dish Guild - Oct. 11, 2021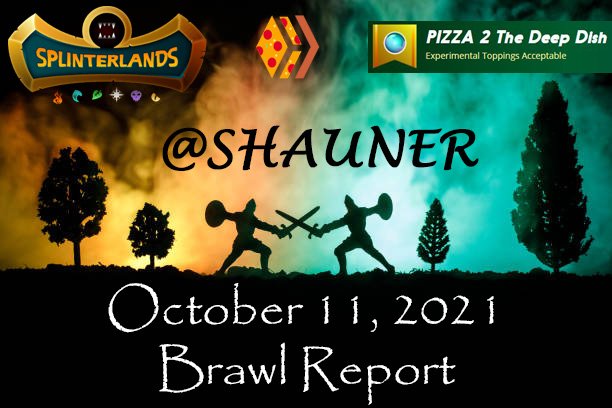 Welcome to my eighth #BrawlReport and my sixth brawl in the @hive.pizza PIZZA 2 The Deep Dish guild.
I entered Fray #7 for this brawl, which is a bronze fray, but only allows Untamed edition cards to be used for battle. This is my second time in a row in this fray and it appears it may become my regular home.
I faced 5 opponents and my record was 4W-1L. This result is a repeat of my last brawl that I posted about on October 6th.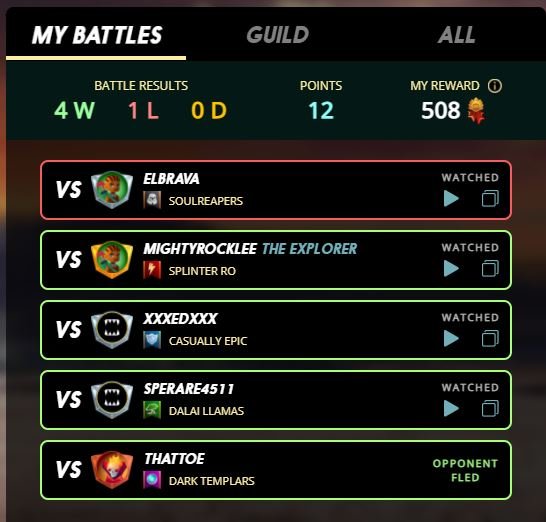 I placed second in our guild with 4 total wins. Congratulations to @dreamm for taking the top spot in this brawl with 5 wins!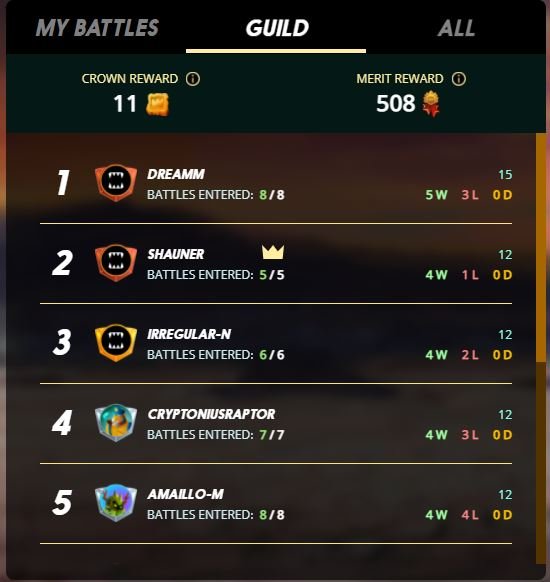 Once again, I didn't take the top spot but still had the best win percent for our guild in this brawl, coming in at 80%. Fray #7 never seems to have more than 5 battles in it so I keep struggling to nab that number one spot!
---
PIZZA 2 The Deep Dish Results
Our guild improved significantly and finished in 3rd place, with a total of 27 wins, four more than last time. While we finished tied for wins with the 4th and 5th place teams, we had one extra point because of a tie during one of our members' battles.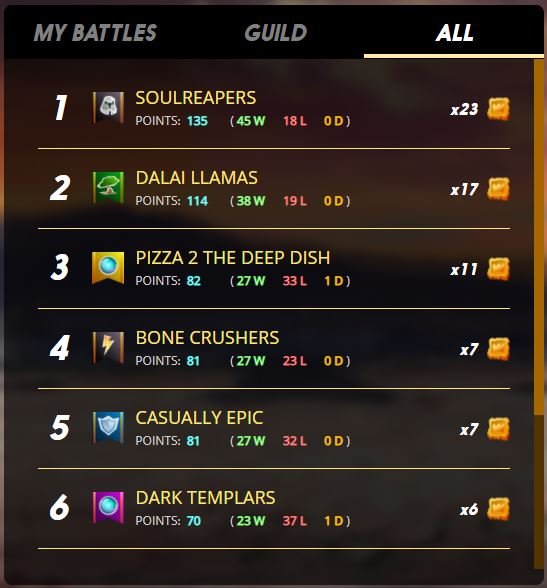 The Brawls
---
Battle 1 - Loss
Healed Out: All healing abilities are removed from monsters and summoners.
Earthquake: Non-flying monsters take 2 melee damage at the end of each round.
I really screwed up this one and realized it as soon as I submitted my team. There's a lot going on here in the game restrictions and the strategy requires using flying monsters to avoid earthquake damage, but only relying on three splinters. I struggled to find enough monsters to fit in my lineup and realized it was because I was trying to use Yodin Zaku and that uses up 7 mana for the summoner alone. This left me at a disadvantage when we lined up and the Yodin benefits were not enough to make up for it.
My opponent had a lineup that would have been rather easy to defeat had I set mine up better. I'm still kicking myself for this loss.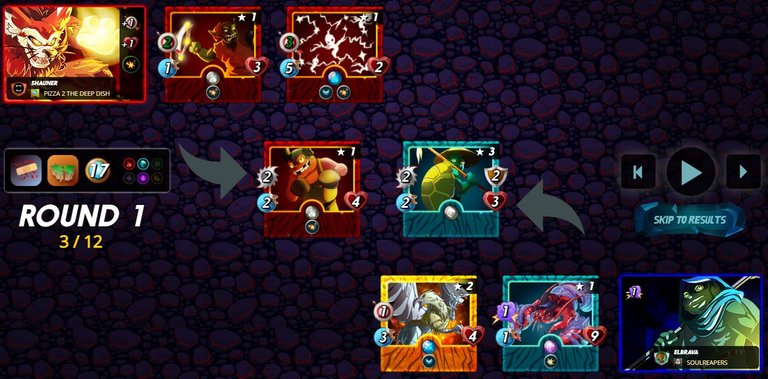 Watch this battle
.
---
Battle 2 - Win
Broken Arrows: Ranged attack monsters may not be used in battles.
I'll be honest, when this battle started I thought I was going to get beat, even though I used my Llama/Kron strategy. This opponent came prepared to defend against a magic attack by using the Mimosa Nightshade summoner that suppresses magic attacks for all monsters.
I was also preparing to defend against magic attacks but they focused their attack with melee monsters. Those melee monsters picked away at my lineup, killing every one of my monsters except Kron before I took out a single one of theirs. In the end, this battle was won solely by Llama/Kron. This pairing is quite ridiculous unless it is specifically countered against and that's why I end up renting these two cards for EVERY Untamed brawl I'm in.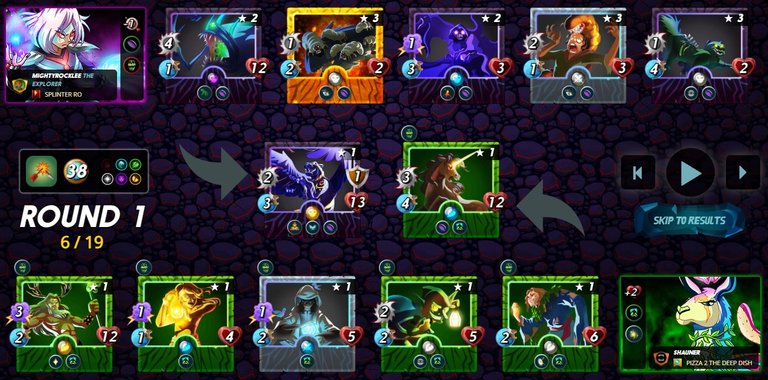 Watch this battle
.
---
Battle 3 - Win
Spreading Fury: All monsters have the Enrage ability.
Little League: Only monsters & summoners that cost 4 mana or less may be used in battles.
These Little League battles are always tricky to setup. I decided on a summoner that would provide an extra shield to protect myself from melee attackers. It turned out to be the right call as my opponent used all melee monsters and that one shield point meant each monster of mine got a free pass on the first hit.
This enabled my monsters to take out half of my opponent's lineup on the second round and then finish them off by round 4.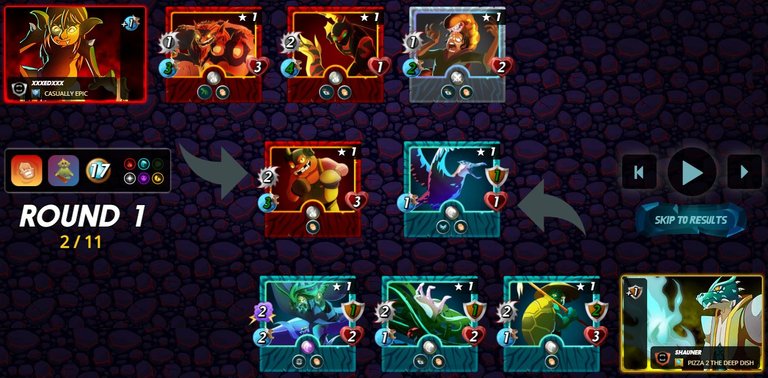 Watch this battle
.
---
Battle 4 - Win
Odd Ones Out: Only monsters with odd mana costs may be used in battles.
Thankfully Yodin is an odd mana summoner so I was able to set him up to provide my lineup with +1 range, +1 health, and the blast ability. This combination of abilities allowed me to make quick work of my opponent that used a basic +1 speed summoner.
One of the cool effects of the blast ability on monsters with Snipe is that their attack hits the monsters surrounding their target too. This means hitting three enemies at once! This helped clear out the middle of the back row of my opponent and then the rest is just cleanup.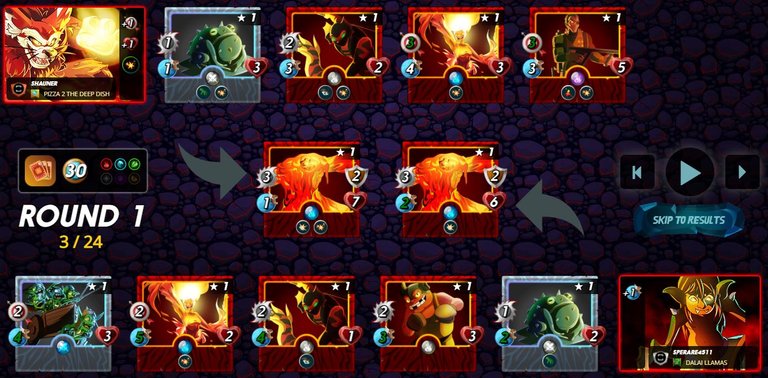 Watch this battle
.
---
Battle 5 - Win
Opponent Fled.
This battle switched to this status at the very end of the brawl so I imagine they just failed to submit a team by the deadline.
---
---
Final Thoughts
My performance was a repeat of the last brawl with an 80% win rate and only one loss. If I can just keep that up, I'll be happy. The downside is that I end up spending a few dollars to rent cards for each brawl because not having Llama/Kron and Yodin available can almost guarantee I'd finish closer to a 50% or lower win rate.
Our guild's 3rd place finish is a great improvement for us and resulted in receiving 508 merits and 11 crown rewards. This is significantly more than we are used to when we finish in the bottom half of guilds! It also means I'm only 261 merits short of acquiring my first Gladius Case!
If you haven't seen the news yet, check out the new 1UP project by @flauwy. This looks like a great new gaming project for Play2Earn blockchain games like Splinterlands! I seem to be getting more than 100 OneUp tokens on each of these posts, so the earnings will add up over time!
---
---
@kennysgaminglife has spearheaded the #BrawlReport project as a way to get PIZZA guild members more engaged in the @Splinterlands community. Here's what he had to say:
Starting with the brawl that just ended, I've invited/asked members of the #HivePizza guild to publish a #BrawlReport, breaking down their highs & lows, where they need help, questions they have, strategies they love, and so on. The idea is to help us all reflect a bit, learn a bit, share a bit, earn a bit, and connect a bit :-)
Any other guilds interested in publishing a #BrawlReport, either as individuals, or one for the whole guild, I'm happy to send some curation love your way!
My last BrawlReport: https://www.splintertalk.io/@shauner/splinterlands-brawl-report-pizza-2-7d9cb8d90fc7
Check out the other recent #BrawlReport posts from the #HIVEPIZZA family:
@kennysgaminglife - Kenny's #HivePizza #BrawlReport - Brawl Ending 10/10/2021
@rayius - Brawl Report #7 - Marisol Contuma
@nata86 - Splinterlands Brawl Report 11.10.21
---
---
---
---