Splinterlands Art Contest Week 224: Alva the Crusher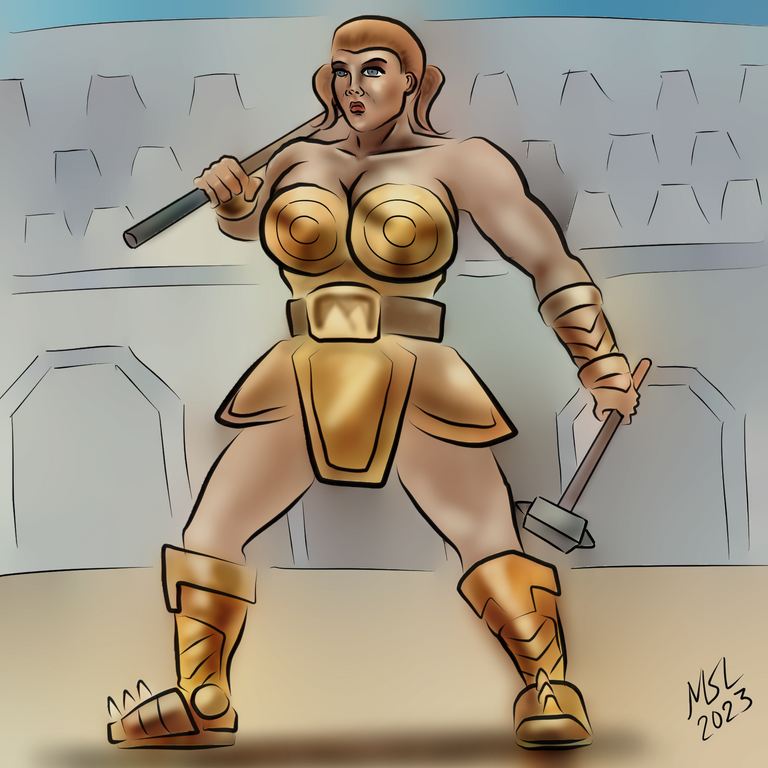 Now that is a woman!
Here is my entry for this week's Splinterlands Art Contest found HERE!
From the Splinterlands wiki:
The Crusher, who was abandoned by her parents as a child, was raised alone on one of the smaller islands of the Archipelago of ΛZMΛRÉ by Crustacean Kings. They fed her vast quantities of enchanted ironkelp each day, which ensured that she grew extremely large not only in height and width, but weight as well. She doesn't talk much, but she currently holds the title of largest Human Gladiator. If it were not for the massive Cyclops called Gorth, she would be the largest of all the Gladiators. Still, she is far heavier than even the Cyclops Gladiator. She looks down on the tallest men and her arms are wider than most tree trunks. They say that the boat that brought her from ΛZMΛRÉ had to be specially outfitted with steel reinforcements to the deck and seams. Even then with a skeleton crew sailing the ship, there were many times that it rode so low it was near sinking. Alva does not flinch, no matter what type of exotic weaponry is being waved or thrusted in her face. Her weapon of choice is an iron mace that she called Gondo.
Drawn in Clip Studio Paint Pro on a Surface Pro 4. Here is the timelapse video:
---
---