El invocador Fernheart es muy bueno en Little League / The summoner Fernheart is very good in Little League [ESP-ENG]
---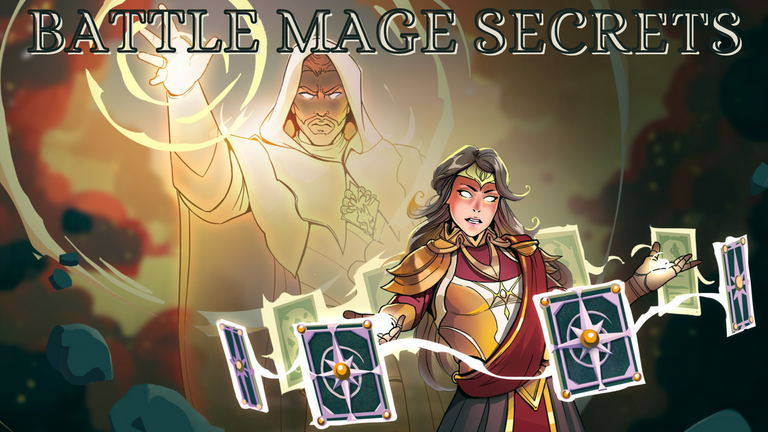 ---
Imágen del banner de @splinterlands / Banner Image by @splinterlands
---
Hola! feliz inicio de semana! mi batalla fue en el modo ranked de liga plata (Modern) algo curioso es que solo estaba la regla de batalla Little League fue perfecta para compartirla jaja y por suerte había suficientes puntos de maná porque de lo contrario se me haría difícil ganar por ejemplo cuando hay menos de 20 puntos creo que pierdo la mayoría de las veces, de manera general suele ser conveniente protegerse ante 2 tipos de ataques y muchas veces mi primera opción es el elemento Tierra ya que es bastante completo.
Hello! happy start of the week! my battle was in the silver league ranked mode (Modern) something funny is that there was only the battle rule Little League was perfect to share it haha and luckily there were enough mana points because otherwise it would be difficult for me to win for example when there are less than 20 points I think I lose most of the time, in general it is usually convenient to protect against 2 types of attacks and often my first choice is the Earth element as it is quite complete.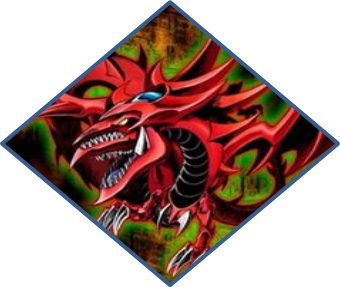 Reglas de Batalla / Battle Rules

Generalmente los tipos de ataque mas utilizados son Melee y Magic cuando no hay reglas que reflejen daño y como los monstruos menores a 4 puntos de maná suelen tener pocos puntos de vida debemos protegernos ante ataques mágicos y agregar puntos de armadura a toda la alineación para incrementar las probabilidades de ganar, seleccionar al invocador Mylor Crowling en muchas ocasiones será la mejor opción pero es costoso en cuanto a Dec entonces prefiero elegir a Fernheart que contrarresta a Thaddius Brood que se utiliza bastante.
Generally the most used attack types are Melee and Magic when there are no rules that reflect damage and as monsters under 4 mana points usually have few health points we must protect ourselves against magic attacks and add armor points to the entire lineup to increase the chances of winning, select the summoner Mylor Crowling in many occasions will be the best option but it is expensive in terms of Dec then I prefer to choose Fernheart that counteracts Thaddius Brood that is used a lot.


Alineación / Alignment
| Cards | Español | English |
| --- | --- | --- |
| | Es un invocador Épico de edición Riftwatchers que en batallas de bajo maná se ha convertido en una de mis primeras opciones y me ha ayudado a ganar muchas veces incluso en contra de Mylor Crowling, incrementa los puntos de vida de todos los monstruos aliados y permite que los tipo Ranged puedan atacar al llegar a la primera posición lo cual es muy útil, siempre se pueden contrarrestar las estrategias y como utilizaré varios arqueros habrá problemas al enfrentarse al invocador Ilthain debido a que nos reflejarán daño. | It is a Riftwatchers edition Epic summoner that in low mana battles has become one of my first choices and has helped me win many times even against Mylor Crowling, it increases the life points of all all allied monsters and allows the Ranged types to attack when they reach the first position which is very useful, you can always counter strategies and as I will use several archers there will be problems when facing the Ilthain summoner because they will reflect damage to us. |
| | En batallas de bajo maná es prácticamente indispensable porque es el único monstruo que refleja daño mágico en el elemento Tierra y tiene muchos puntos de vida, en pocas ocasiones podrá evadir ataques y su punto débil es la habilidad Oppress ya que le ocasiona el doble de daño por no poseer ataque. | In low mana battles it is practically indispensable because it is the only monster that reflects magic damage in the Earth element and has many life points, it can rarely evade attacks and its weak point is the Oppress ability since it causes double damage because it has no attack. |
| | Es un monstruo que tiene 2 propósitos el primero es incrementar el daño mágico reflejado y el segundo otorgar armadura a todos los aliados, lo ubico en la segunda posición porque una parte importante en mi estrategia es fortalecer los puntos de vida de Iza The Fanged y al ser destruido Failed Summoner ya no tendrá mucha importancia en el campo de batalla. | It is a monster that has 2 purposes, the first is to increase the reflected magic damage and the second is to grant armor to all allies, I place it in the second position because an important part of my strategy is to strengthen the life points of Iza The Fanged and when Failed Summoner is destroyed it will no longer have much importance on the battlefield. |
| | Es un monstruo que utilizamos como sacrificio para incrementar las estadísticas de combate de los monstruos aliados adyacentes a él. Además, posee la habilidad Blind que afecta a todos los enemigos disminuyendo las probabilidades de que acierten ataques, en reglas de batallas tales como: Noxious Fumes y Born Again es muy útil. | It is a monster that we use as a sacrifice to increase the combat stats of allied monsters adjacent to it. In addition, it has the Blind ability that affects all enemies decreasing the chances of successful attacks, in battle rules such as: Noxious Fumes and Born Again is very useful. |
| | Casi siempre que utilizo al invocador Fernheart es conveniente contar con Iza the Fanged pero como tiene pocos puntos de vida la ubico en la parte media de la alineación para evitar daño directo, se caracteriza por su gran velocidad y en ocasiones puede ser muy difícil de vencer porque incrementa sus puntos de vida por cada monstruo destruido en la batalla. | Almost every time I use the summoner Fernheart it is convenient to have Iza the Fanged but as she has few health points I place her in the middle of the lineup to avoid direct damage, she is characterized by her great speed and can sometimes be very difficult to defeat because she increases her health points for each monster destroyed in battle. |
| | Entre los monstruos de bajo maná es bastante poderoso y posee la habilidad Sneak con la cual dirige sus ataques hacia el monstruo enemigo ubicado en la última posición y por lo general no suele ser una zona muy protegida aunque para que sea mas eficiente es recomendable tener al menos a otro aliado con la misma habilidad para intentar destruir rápidamente a los enemigos. | Among the low mana monsters it is quite powerful and has the Sneak ability with which it directs its attacks towards the enemy monster located in the last position and usually it is not usually a very protected area, although to be more efficient it is advisable to have at least one other ally with the same ability to try to destroy the enemies quickly. |
| | Regularmente habrá monstruos en la segunda linea que no posean ataque melee y que se encargan de ayudar a sus aliados por lo tanto suelen ser una molestia entonces Child of the Forest es una excelente opción para vencerlos porque posee la habilidad Snipe y gracias a su gran velocidad acierta la mayoría de sus ataques. | Regularly there will be monsters in the second line that do not have melee attack and that are in charge of helping their allies so they tend to be a nuisance then Child of the Forest is an excellent option to defeat them because it has the Snipe skill and thanks to its great speed it hits most of its attacks. |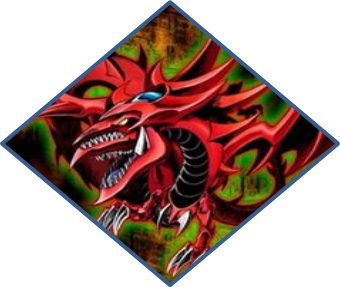 Batalla / Battle
Click en la imágen para ver la batalla / Click on the image to watch the battle: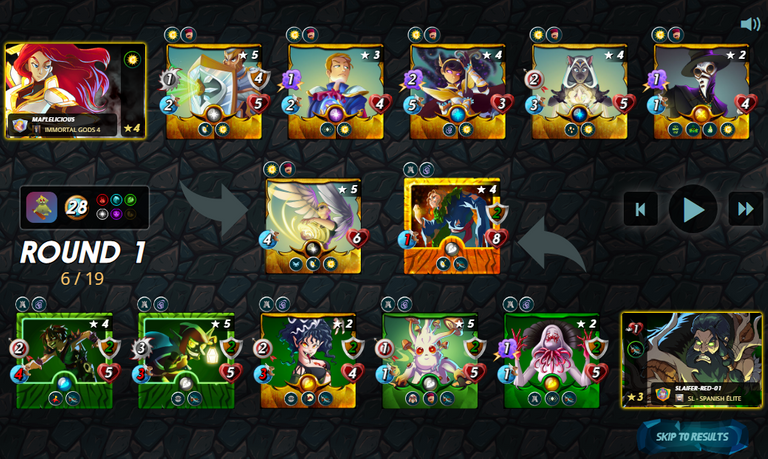 Mi oponente selecciona a Lorna como su invocadora así que el primer ataque que reciban cada uno de sus monstruos será igual a 0 y su estrategia está enfocada principalmente en reflejar daño mágico pero yo solo tengo un monstruo que será afectado, la mejor manera de vencerlo es con monstruos que posean Snipe y Sneak debido a que son los menos protegidos y por supuesto la combinación de Failed Summoner y Queen Mycelia fue de gran ayuda, uno de los motivos por los cuales no selecciono a Obsidian es porque incrementa el ataque mágico lo que implica recibir mayor daño reflejado entonces lo dejo para algunas situaciones específicas.
My opponent selects Lorna as his summoner so the first attack that each of his monsters receive will be equal to 0 and his strategy is mainly focused on reflecting magic damage but I only have one monster that will be affected, the best way to beat him is with monsters that have Snipe and Sneak because they are the least protected and of course the combination of Failed Summoner and Queen Mycelia was of great help, one of the reasons why I don't select Obsidian is because it increases the magic attack which implies receiving more reflected damage so I leave it for some specific situations.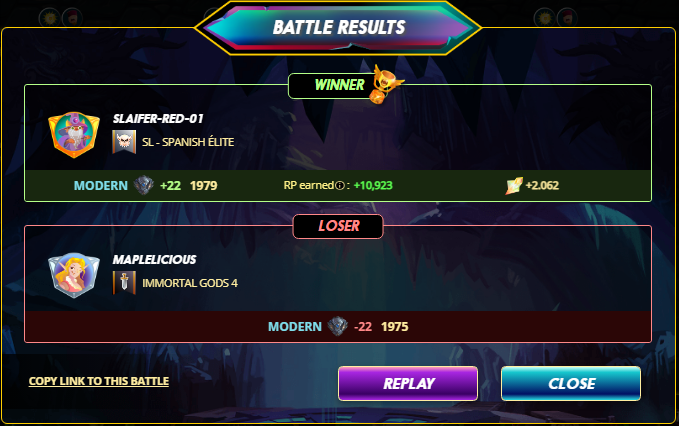 ---
Todas las imágenes utilizadas son tomadas de splinterlands.com / All images used are taken from splinterlands.com
---
Traductor / Translator:
DeepL Translate
---
---