La Habilidad Void es muy fuerte en ligas bajas / The Void skill is very strong in lower leagues [ESP-ENG]
---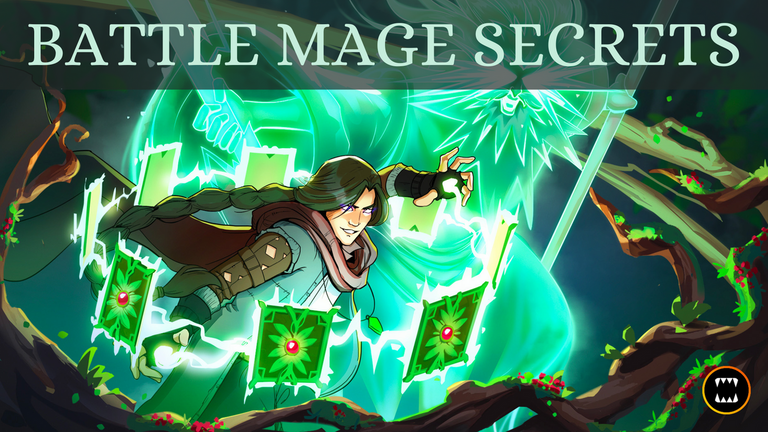 ---
Imágen del banner de @splinterlands / Banner Image by @splinterlands
---
Hola! Feliz inicio de semana! espero hayan tenido buena suerte con sus cofres de final de temporada, yo obtuve mas de 100 SPS y 2 packs Chaos Legion de 61 cofres de Oro jugando en liga plata (Modern) y ahora estoy ganando mas SPS en ranked que incluso algunos torneos entonces lo aprovecho para incrementar mi staked, la batalla que compartiré fue en la final de un torneo creado por Crypto Zard que siempre tiene buenos premios para varios lugares pero hay que tener tiempo libre para poder jugarlo alrededor de 1 hora si llegas a la final.
I hope you had good luck with your end of season chests, I got more than 100 SPS and 2 Chaos Legion packs from 61 Gold chests playing in silver league (Modern) and now I am earning more SPS in ranked than even some tournaments so I take advantage of it to increase my staked, the battle I will share was in the final of a tournament created by Crypto Zard that always has good prizes for several places but you have to have free time to play it for about 1 hour if you get to the final.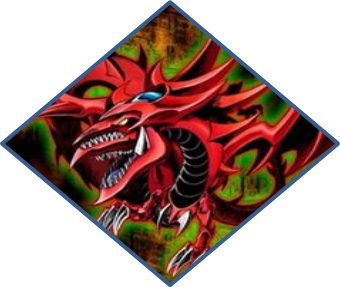 Reglas de Batalla / Battle Rules

No se pueden usar ataques tipo Melee y como todos los monstruos adquieren Return Fire no es conveniente tener varios arqueros al menos de que tengan muchos puntos de vida y/o armadura también funciona que posean Shield para minimizar el daño reflejado que reciban, en estas ocasiones suelo elegir al elemento Tierra con Immortalis ya que es mejor que todos los monstruos tengan Void a que disminuir el ataque mágico con Bortus que sería mi segunda opción, a partir de liga Plata es muy útil contar con habilidades tales como: Silence, Amplify y Reflection Shield para incrementar las probabilidades de ganar las partidas.
You can not use Melee type attacks and as all monsters acquire Return Fire is not convenient to have several archers unless they have many points of life and / or armor also works that have Shield to minimize the reflected damage they receive, on these occasions I usually choose the Earth element with Immortalis as it is better that all monsters have Void to decrease the magical attack with Bortus that would be my second choice, from Silver league is very useful to have skills such as: Silence, Amplify and Reflection Shield to increase the chances of winning games.


Alineación / Alignment
| Cards | Español | English |
| --- | --- | --- |
| | Otorga la habilidad Void a todo el equipo y en liga bronce pocos monstruos tienen 2 o 3 puntos de ataque así que no es fácil vencerlo, disminuye -1 punto de vida a todos los enemigos lo que afecta la cantidad de puntos que se regeneran los monstruos, cuando no se pueden utilizar ataques melee es una de las mejores opciones y los monstruos de este elemento son muy buenos en casi cualquier cantidad de maná disponible. | It grants the Void ability to the whole team and in bronze league few monsters have 2 or 3 attack points so it is not easy to defeat it, it decreases -1 health point to all enemies which affects the amount of points monsters regenerate, when melee attacks cannot be used it is one of the best options and monsters of this element are very good in almost any amount of mana available. |
| | Es una carta Legendaria de edición Reward y la utilizo como tanque porque tiene muchos puntos de vida, su bajo coste de maná y al ser Neutral nos permite utilizarlo con mayor frecuencia. Además, es inmune a los efectos negativos como por ejemplo: Poison, Affliction, etc. lo que significa que en esta batalla puede resistir muchos ataques debido a que no podrán detener la curación que reciba. | It is a Reward edition Legendary card and I use it as a tank because it has a lot of HP, its low mana cost and being Neutral allows us to use it more often. In addition, it is immune to negative effects such as Poison, Affliction, etc. which means that in this battle it can resist many attacks because they will not be able to stop the healing it receives. |
| | Generalmente se utiliza como mini tanque en batallas de bajo maná entonces lo ubico en la segunda posición mientras espera que los aliados destruyan a algunos monstruos, posee la habilidad Magic Reflect pero al enfrentarse a Immortalis hará menos daño a los enemigos así que casi siempre es recomendable ayudarlo con Amplify. | He is usually used as a mini tank in low mana battles so I place him in the second position while waiting for the allies to destroy some monsters, he has the Magic Reflect ability but when facing Immortalis he will do less damage to the enemies so it is almost always advisable to help him with Amplify. |
| | Es uno de los pocos monstruos que poseen la habilidad Heal a nivel de Bronce y también tiene bastante poder de ataque, suele ser difícil de vencer mientras pueda regenerar sus puntos de vida por lo tanto lo ubico en la tercera posición para retrasar la posibilidad de que el Doctor Blight le aplique Affliction. | It is one of the few monsters that possesses the Heal ability at Bronze level and also has enough attack power, it is usually difficult to defeat as long as it can regenerate its life points, therefore I place it in the third position to delay the possibility of Doctor Blight applying Affliction to it. |
| | Es una carta Rara de edición Riftwatchers que realmente no utilizo mucho porque posee Recharge lo que significa que solo puede atacar cada 2 rondas aunque su ataque se multiplica x3 pero en esta batalla puede ser útil ya que necesito monstruos que puedan hacer mayor daño, generalmente solo lo utilizo cuando los monstruos pierden sus habilidades. | It is a Riftwatchers edition Rare card that I don't really use much because it has Recharge which means it can only attack every 2 rounds although its attack is multiplied x3 but in this battle it can be useful since I need monsters that can do more damage, I usually only use it when the monsters lose their abilities. |
| | Es una carta Común muy útil en el elemento Tierra porque posee la habilidad Tank Heal con la cual regenera 1/3 de los puntos de vida del monstruo aliado ubicado en la primera posición, básicamente se encarga de ayudar a todos los aliados por lo tanto es recomendable alejarlo lo mas posible de los ataques enemigos. | It is a very useful common card in the Earth element because it has the ability Tank Heal with which regenerates 1/3 of the life points of the allied monster located in the first position, basically it is responsible for helping all the allies so it is advisable to move it as far away as possible from enemy attacks. |
| | Es una carta Legendaria de edición Promo que en muchas partidas puede marcar la diferencia; especialmente en ligas altas y con bajo maná, a nivel de Bronce es uno de los pocos monstruos que poseen Affliction entonces suele ser necesario tenerlo y la probabilidad de aplicar su efecto es de un 50% que es bastante alta en mi opinión. | It is a Promo edition Legendary card that in many games can make the difference; especially in high leagues and with low mana, at Bronze level it is one of the few monsters that have Affliction so it is usually necessary to have it and the probability of applying its effect is 50% which is quite high in my opinion. |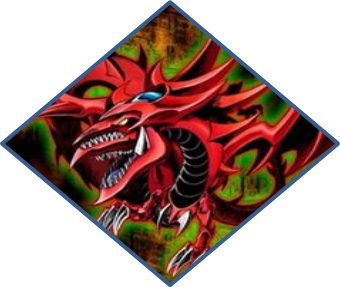 Batalla / Battle
Click en la imágen para ver la batalla / Click on the image to watch the battle: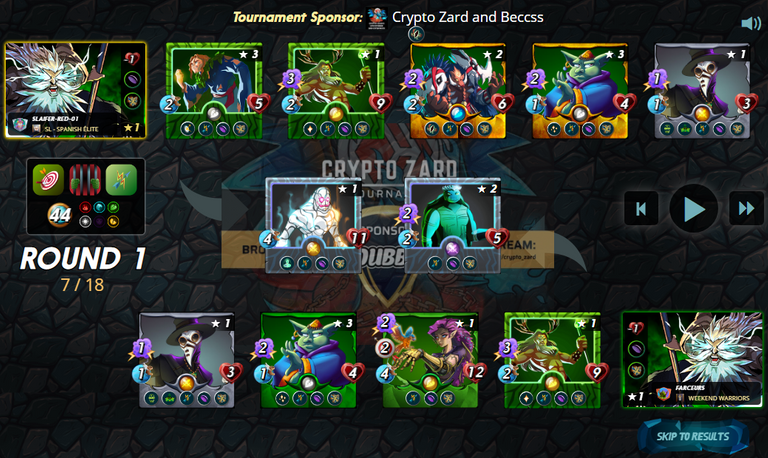 Es una batalla interesante porque mi oponente hace mas daño por ronda que mi equipo pero a cambio cuento con 2 monstruos que no son fáciles de vencer y al proteger a Kron the Undying tengo la ventaja aunado a que en cada 2 rondas el ataque de Suidae Shaman hará 3 puntos de daño, mi oponente selecciona a Runemancer Florre que hace 3 puntos de daño en cada ronda pero al llegar a la primera posición será muy débil sin su ataque Ranged entonces creo que no era conveniente para esta batalla, todos mis monstruos fueron importantes en la victoria pero esta vez el mas valioso fue Almo Cambio resistiendo todos esos ataques.
It is an interesting battle because my opponent does more damage per round than my team but in return I have 2 monsters that are not easy to beat and by protecting Kron the Undying I have the advantage plus in every 2 rounds Suidae Shaman's attack will do 3 points of damage, my opponent selects Runemancer Florre that does 3 points of damage in every round but when he gets to the first position he will be very weak without his Ranged attack so I think he was not suitable for this battle, all my monsters were important in the victory but this time the most valuable was Almo Cambio resisting all those attacks.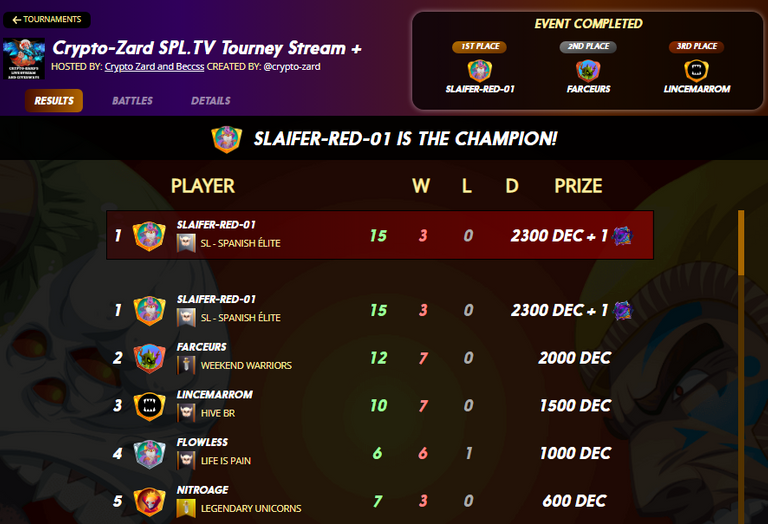 ---
Todas las imágenes utilizadas son tomadas de splinterlands.com / All images used are taken from splinterlands.com
---
Traductor / Translator:
DeepL Translate
---
---