SlothBuzz curation report 18th May

We were humped on Humpday, so finally finished this off on this beautiful thursday morning! We're halfway through May already, how did this happen! Let's check the best content on Sloth.Buzz this week!
Our goal is to give you exposure and unlock some awesome creators for you to discover! So use that #slothbuzz tag or post directly from Sloth.Buzz and let us support you!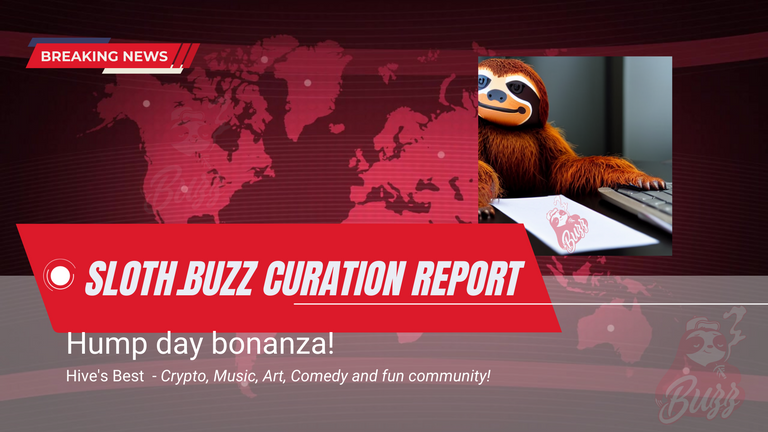 Post directly via sloth.buzz, post into the Slothbuzz community on Peakd or Ecency with hashtag: #slothbuzz! You'll earn Slothbuzz tokens which can then be staked to help curate the best content on Sloth.Buzz!

---
Sloth.Buzz News
---
---

Music
CryptoRadio.FM is open for YOUR music submissions! Get your music / Podcasts to ears worldwide! - Listen NOW - Music Upload - More info

---
---
P2E content
---
Art and photography! Photo Blogs

---
More quality posts and authors worth noting:


---
That rounds off this week's recap! We're excited by the quality of the content currently appearing on SlothBuzz and can't wait for you to get involved!
Please drop some love on any of the above posts that catch your eye! Our main goal is to support small creators and help them grow! This is only possible with your help!
Remember we are NOT a general tag, so please don't 'spam' the slothbuzz tag. Get involved with the community on discord and ask if you're unsure if your content fits the 'not niche' that is slothbuzz! We've recently added a new auto-posting to Discord for all slothbuzz posts! We'll be able to see what's buzzing even quicker!
For your chance to appear in the next edition of the Sloth.Buzz curation, use Sloth.Buzz or post to the slothbuzz community and use the #slothbuzz tag! Content focus: music, art, and gaming (some: comedy/memes)!
---

---

SlothBuzz is a community Outpost on the Hive Blockchain, Helping small creators grow.
$Slothbuzz token is used for the Curation of Sloth.Buzz content.
Always DYOR before investing in any cryptocurrency and remember Sloth.Buzz does not provide any financial advice.
All content is the opinion of the authors and not representative of Sloth.Buzz.



Join the discord for events, games and post-promotion!
Posted using sloth.buzz
Posted using sloth.buzz
---
---