Splinterlands Focus Chests Advances [Eng+Spa]
---
English
---

I hope you guys are as good as possible and enjoy the battles this season a lot, the soul cards really have mostly cool abilities, the lineups have become quite interesting.
And since the new monsters cannot be traded, I decided to participate in part of the season. Despite the fact that I am still not very satisfied with my deck and I do not quite understand some strategies.

Image's Source - Image Source
The penalty for using starting and low-level cards reduces rewards and slows progress.
An alternative to improve the deck, was to rent the cards you want. But it's personal: I want to buy and use my own cards, it's a bit slower, I don't recommend it, but they're mine, and I have them to use or rent whenever I want.
I confess, after more than twenty chests without receiving a single monster, consult the support staff, when I had about thirty chests and only received merits and SPS, I got a little discouraged, it's my first time trying to complete a season, so I don't know about the reward drop.

The support staff was very friendly and took care of my case with all the doubts that I raised.
I am quite grateful. They are really worth it. Even so, I think the drop from monsters is very low, since they cannot be traded or traded in any way.
Finally, at chest thirty, I was about to stop playing, I thought there was some kind of bug. But finally I got to my disappointment a single card, but it was not a monster, it was a summoner.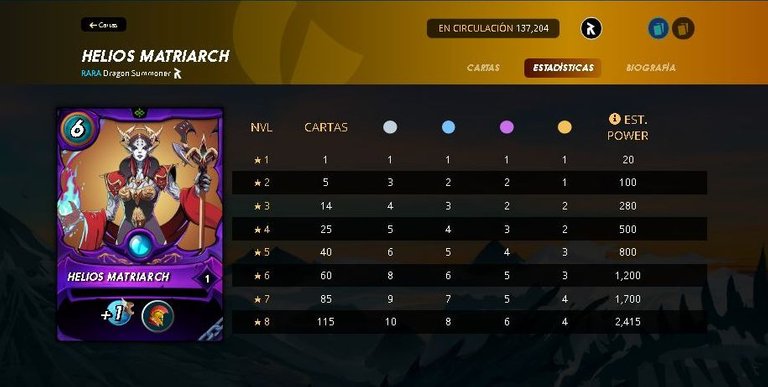 The only thing I really didn't want. And in fact, I had joked from the beginning, that I had commented that I was the summoner I least wanted to ever touch.
Don't get me wrong, but I'm bronze, I don't have any sympathy for those summoners at my level. Lots of MANA, and for that much MANA consumption there are better summoners on the market that can be rented or bought and better stats to play bronze.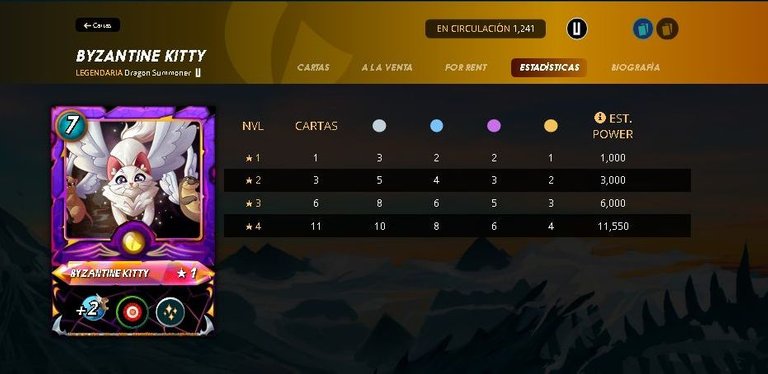 I looked for what advantages I could have with that summoner, but the conscript cards cannot be bought either, you have to enter a clan with a level two store, with a certain amount of merits and at the moment I have no intention of joining a clan.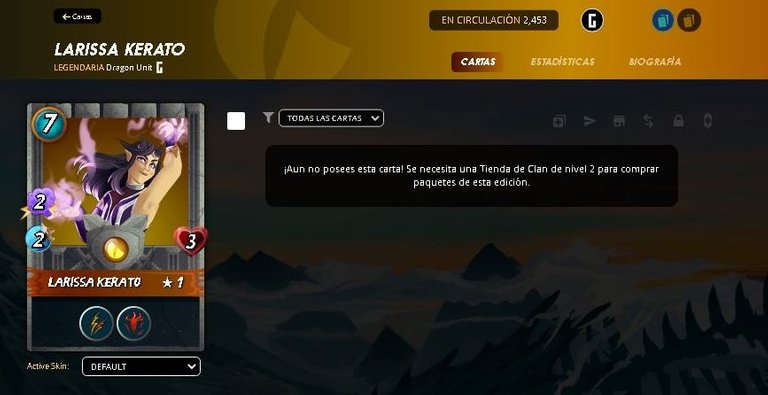 I'm sure that at higher levels they must be quite useful, or for people who are members of some clan they are very useful. I play alone, always, so I can stop whenever I want, or play whenever I want, without having to search or wait for other people.
The good part is that after that thirty chest, monsters finally began to appear in the daily reward chests, I am quite satisfied with the new monsters.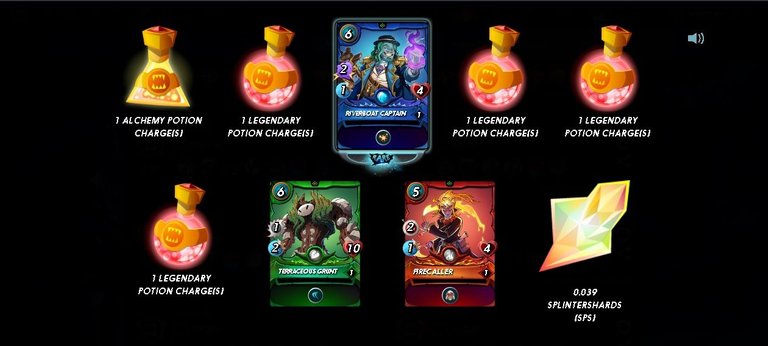 I didn't get many chests, but I've already seen good lineups and how it plays out on the different rules. I am satisfied with the experience.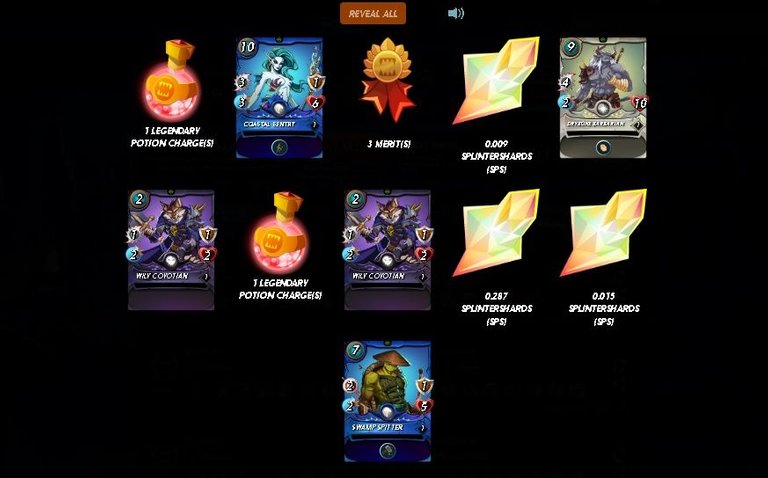 But now I have to improve my deck even more, and review the battles that I could see, to understand and improve, I still have a long way to go.
It has been a fun experience, despite all the losses.
I will participate again in another season when I am better armed.

If you want to try the game, I leave you my link.
Splinterlands




Thank you very much for stopping by and reading.
Have a very nice day.
Peace





I have used Google Translate for the English language.
Images unless stated are screenshots from my game.
I am not an expert in the game, I am far from it, the post is my personal opinion.


---
Español
---

Espero que estén lo mejor que sea posible y disfruten mucho las batallas de esta temporada, las cartas de alma realmente tienen en su mayoría habilidades geniales, las alineaciones se han vuelto bastante interesantes.
Y como los monstruos nuevos no se pueden comerciar, me decidí a participar en parte de la temporada. A pesar de que aún no estoy muy conforme con mi mazo y no termino de comprender algunas estrategias.

Image's Source - Fuente de la Imagen
La penalidad por usar las cartas iniciales y de bajo nivel reduce las recompensas y hace más lento el avance.
Una alternativa para mejorar el mazo, era el alquilar las cartas que deseas. Pero es a modo personal: Yo quiero comprar y usar mis propias cartas, es algo más lento, no lo recomiendo, pero son mías y así las tengo para usar o alquilar cuando lo desee.
Lo confieso, después de más de veinte cofres sin recibir ni un solo monstruo, consulte al personal de soporte, ya cuando llevaba unos treinta cofres y solo recibía méritos y SPS, me desanime un poco, es mi primera vez tratando de completar una temporada, así que no conozco la caída de recompensas.

El personal de soporte fue muy amable y se ocupó de mi caso con todas las dudas que les plantee.
Estoy bastante agradecido. Realmente valen mucho la pena. Aun así, pienso que es muy baja la caída de monstruos, ya que no pueden ser comerciadas ni intercambiadas de ninguna manera.
Finalmente, en el cofre treinta, ya iba a dejar de jugar, pensé que había alguna clase de bug. Pero finalmente conseguí para mi decepción una sola única carta, pero no era un monstruo, era un invocador.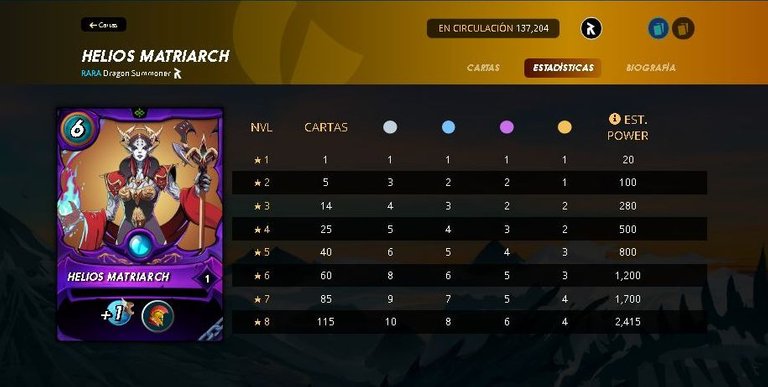 Lo único que en verdad no deseaba. Y de hecho había bromeado desde el inicio, que había comentado que era el invocador que menos deseaba que me tocase alguna vez.
No lo tomen a mal, pero estoy en bronce, no tengo ninguna simpatía por esos invocadores en mi nivel. Mucho maná y para tanto consumo de maná hay mejores invocadores en el mercado que se pueden alquilar o comprar y mejores estadísticas para jugar en bronce.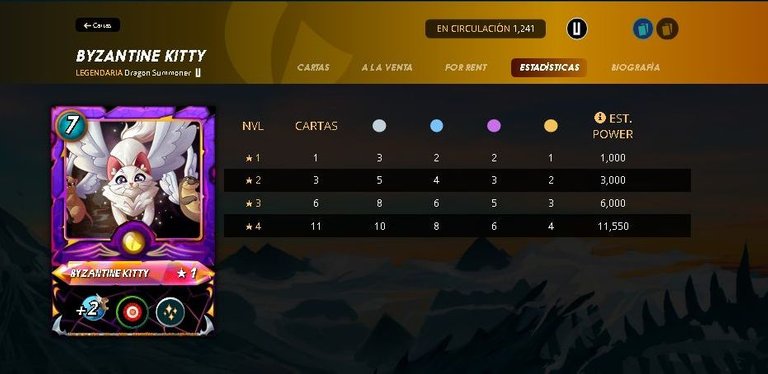 Busque que ventajas podía tener con ese invocador, pero las cartas de conscripto no se pueden comprar tampoco, tienes que entrar en un clan con tienda nivel dos, con cierta cantidad de méritos y de momento no tengo ninguna intención en tiempo de entrar a algún clan.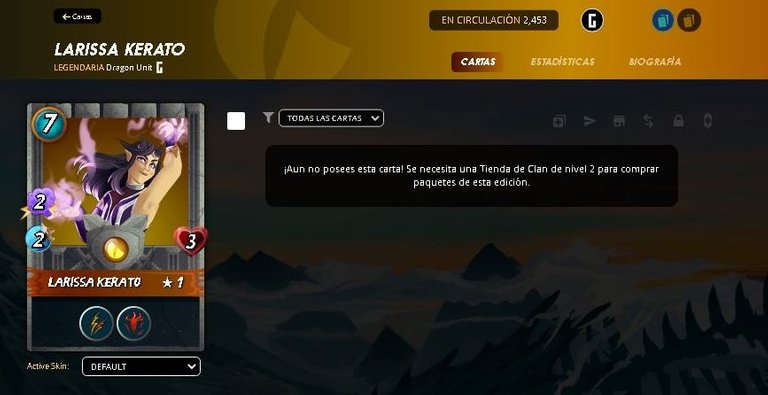 Estoy seguro de que en niveles mayores deben ser bastante útiles, o para personas que sean miembros de algún clan son de mucho provecho. Yo juego solo, siempre, así puedo parar cuando desee el tiempo que quiera o jugar cuando lo decida, sin tener que buscar o esperar de otras personas.
La parte buena es que a partir de ese cofre treinta finalmente empezaron a salir monstruos en los cofres de recompensa diaria, estoy bastante conforme con los monstruos nuevos.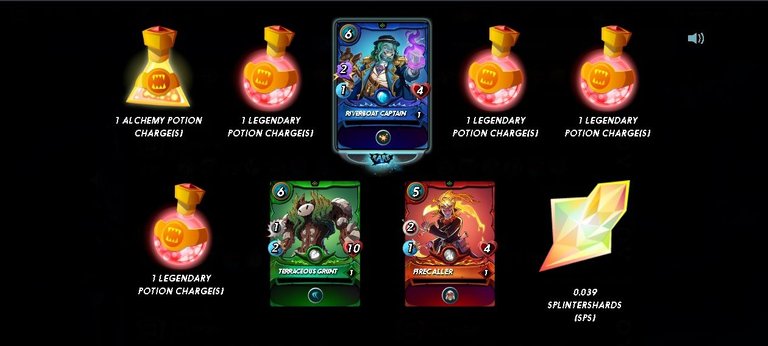 No obtuve muchos cofres, pero ya he visto buenas alineaciones y como se juega en las diferentes reglas. Estoy conforme con la experiencia.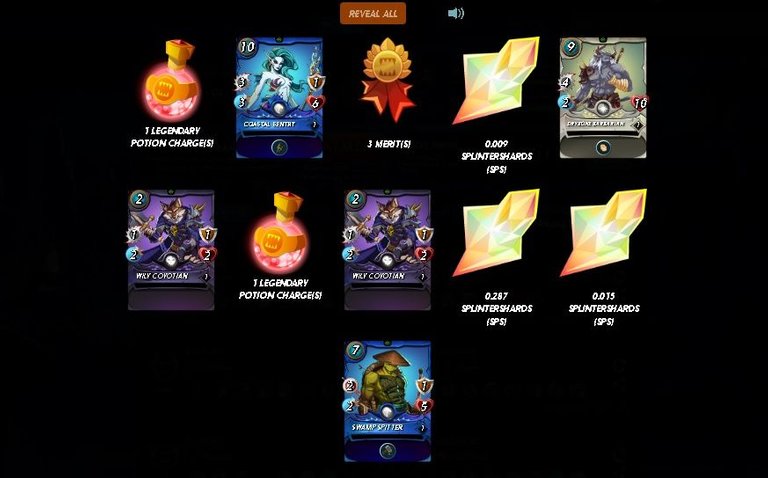 Pero ahora tengo que mejorar mi mazo aún más, y revisar las batallas que pude ver, para entender y mejorar, aún me falta mucho.
Ha sido una experiencia divertida, a pesar de todas las derrotas.
Ya volveré a participar en otra temporada cuando esté mejor armado.

Si quieres probar el juego le dejo mi enlace.
Splinterlands




Muchas gracias por pasar y leerme.
Que tengan un muy buen día.
Paz





He usado el traductor de Google para el idioma inglés.
Las imágenes a menos que lo indique son capturas de mi juego.
No soy un experto en el juego, estoy muy lejos de serlo, la publicación es mi opinión personal.
---
---