Drawing 'Divine Healer' for Splinterlands Art Contest week 206

Splinterlands Art Contest 206
First of all, thank you guys for your overwhelming support on my last Splinterland's art post. I was really happy to see that lots of people liked my redesign of the 'Forest Spirit' painting.
After receiving so much love I was super motivated to make a new one for this week haha. I'm writing it early this time to schedule this post for tomorrow because I will be busy with moving some heavy things around the house so here I'm preparing it now haha. From the looks of it, it does not matter when you post it as long as it is in the payout period as explained in their contest compilation post. That's good to know considering lots of people around the globe with different time zones might be participating in the weekly contest. Okay then, let's get down to business hehe.
Divine Healer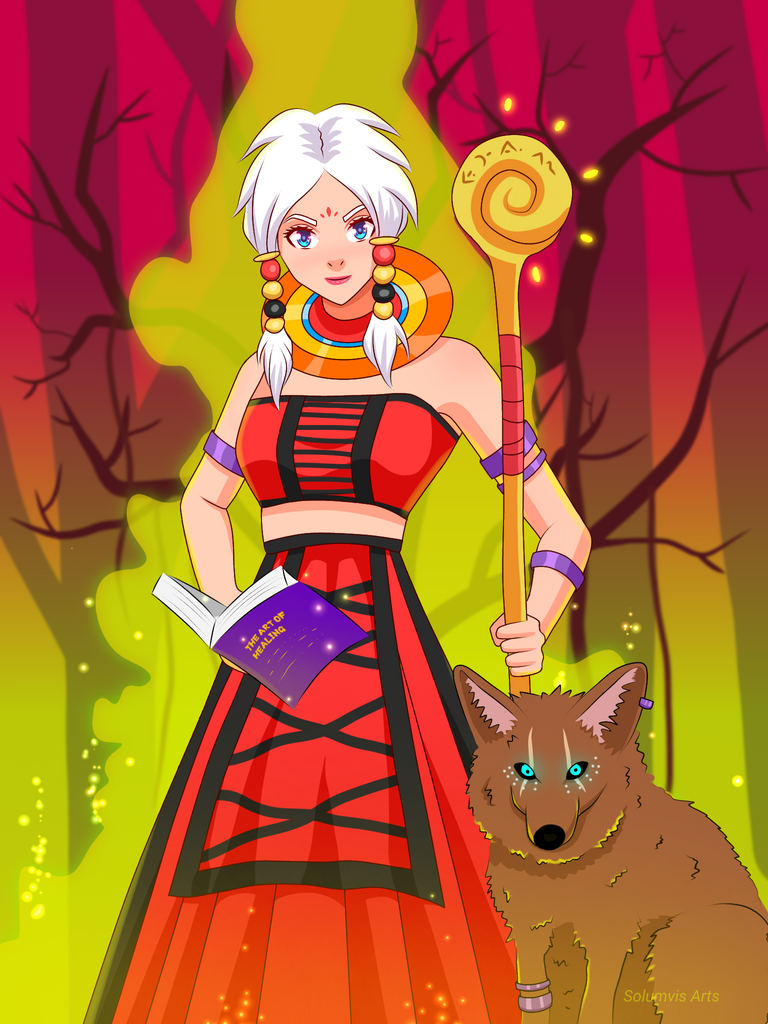 I decided to use divine healer for this week because I wanted to go back in time to see how she looked like in her youth. As you can see in the official art below she is old and the overall design of her cloth is giving me a tribal feeling. These are just speculations though but It was a gut feeling so I decided to go with it.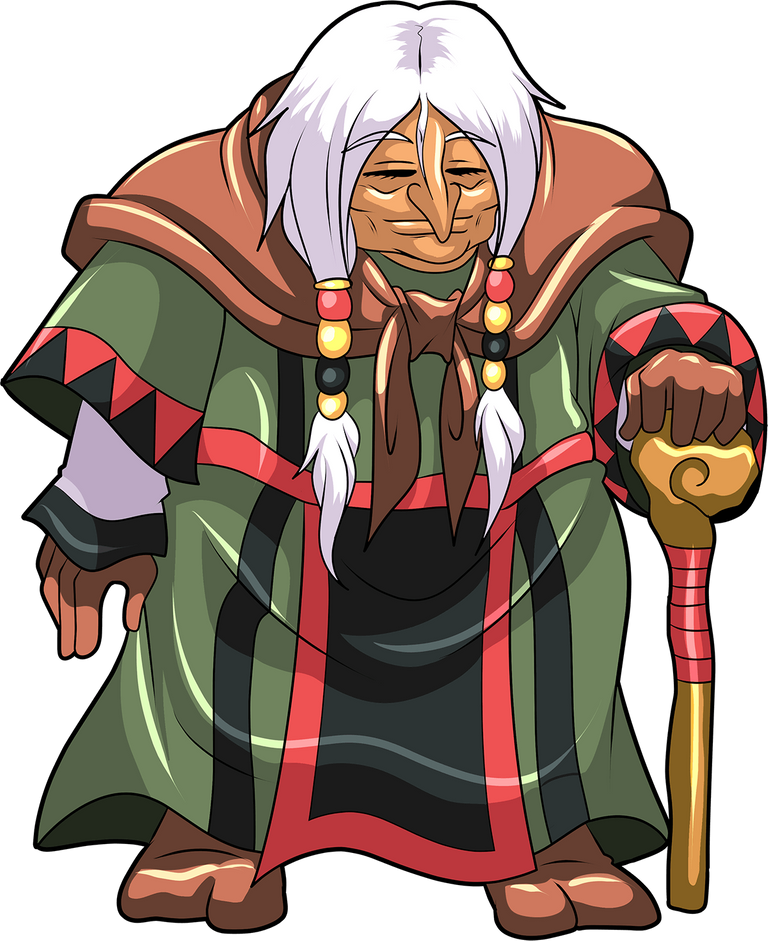 As you can see I made many changes to her design considering her young age and designed her clothes with vibrant colours to match her young and bubbly personality which I was picturing in my mind. She is a healer and carries a stick so I created a simple pose like she is holding the magical wooden stick infront of her. If you have seen some of the movies with tribal them then you know the way they style and use their jewellery is very different from ours. I was always attracted to it so I added the disc-shaped thing around her neck to go with the fashion. I coloured it accordingly to blend it well with her red dress and the rock-like jewellery on her hair.
After making the lineart I felt like it was missing something. During ancient times people used to have pets like wolves so I decided to give her a pet wolf to walk around with hehe. I didn't change her hair colour. I don't know if they designed it white because she is aged or not in her official design. This was a great opportunity for me to take advantage of the situation because white hair complements a red skin tone. I picked that up when I was making an old Mushroom lady artwork hehe.

The process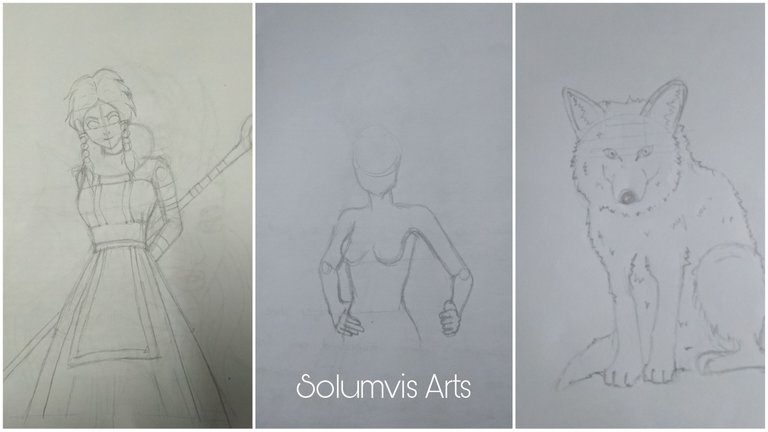 The pet wolf and Spell book were last-minute additions. That's why I drew them on a new page but this is better since I didn't have to erase anything to fit them next to her. You'll also notice that I changed the wooden stick angle and hand gestures. I don't know, it felt like something was off with the first one. I only just drew a different hand pose on a new page to update the lineart. I know, lots of revisions happened with this one xd. It was tiring but I didn't give up haha.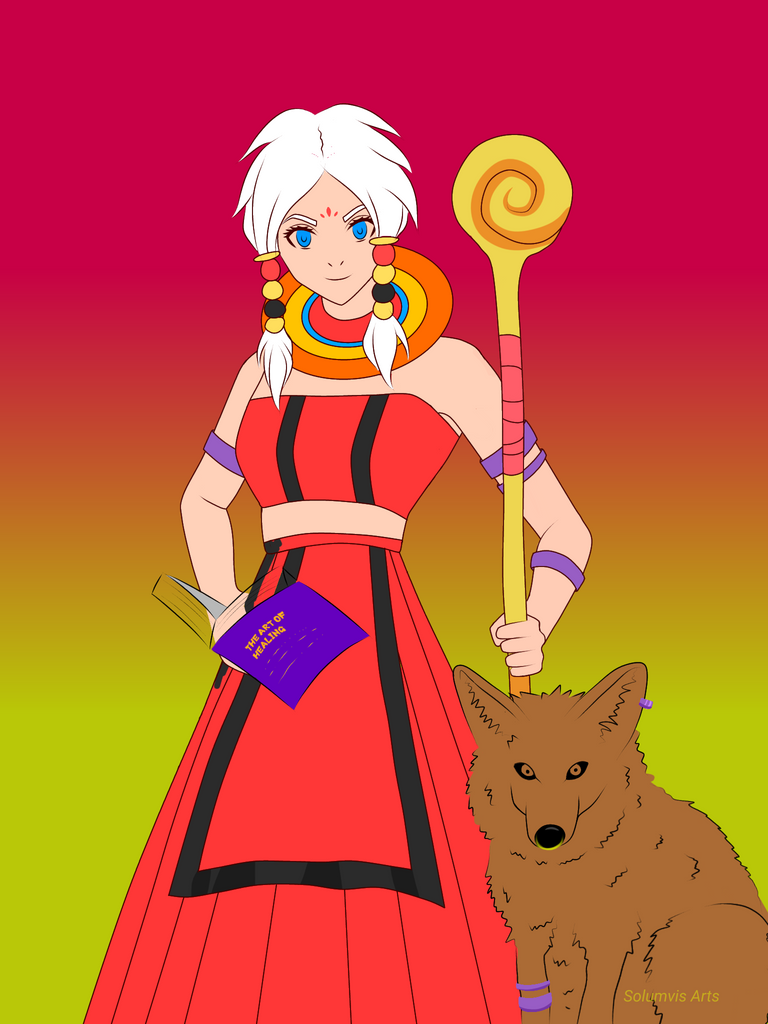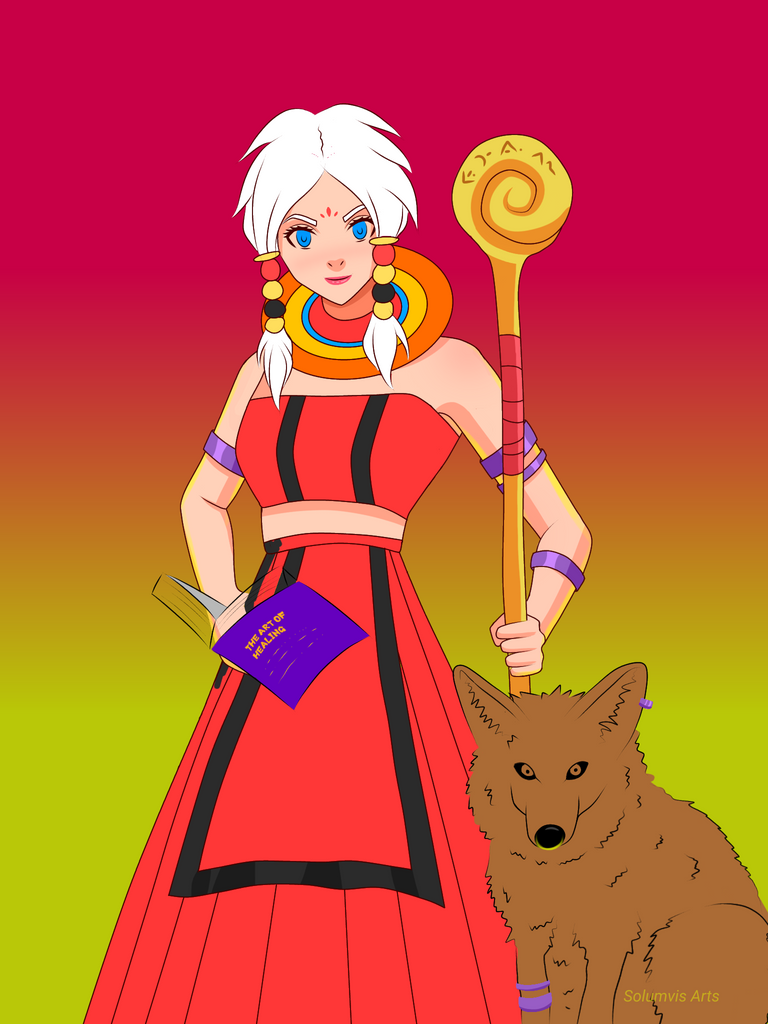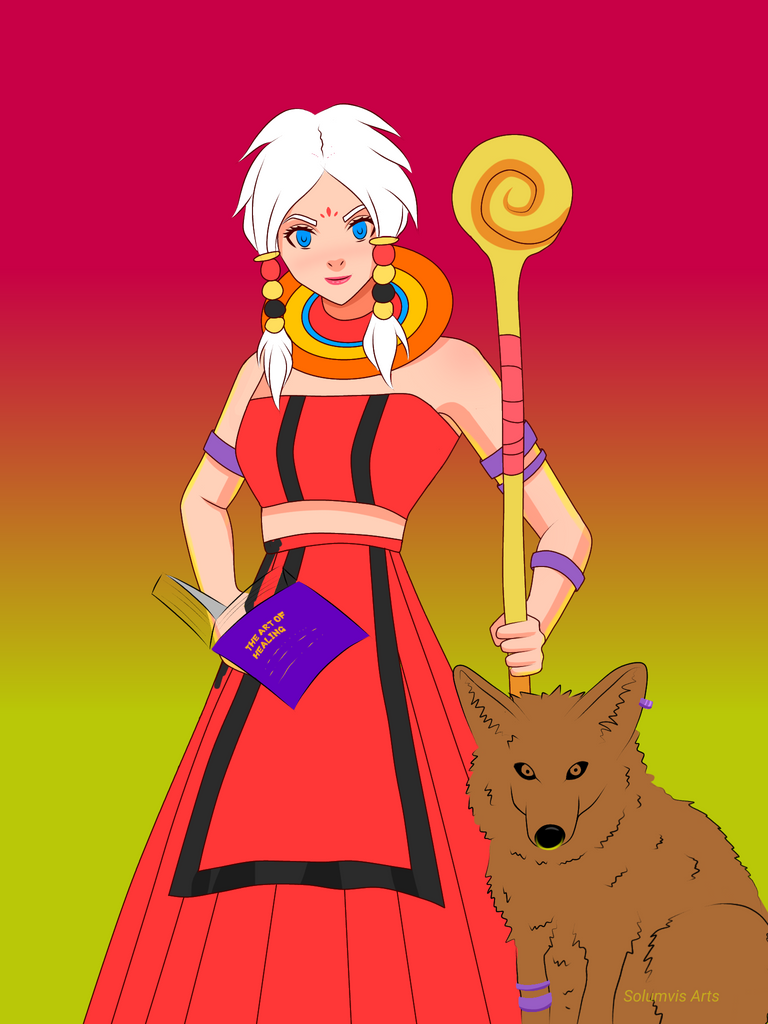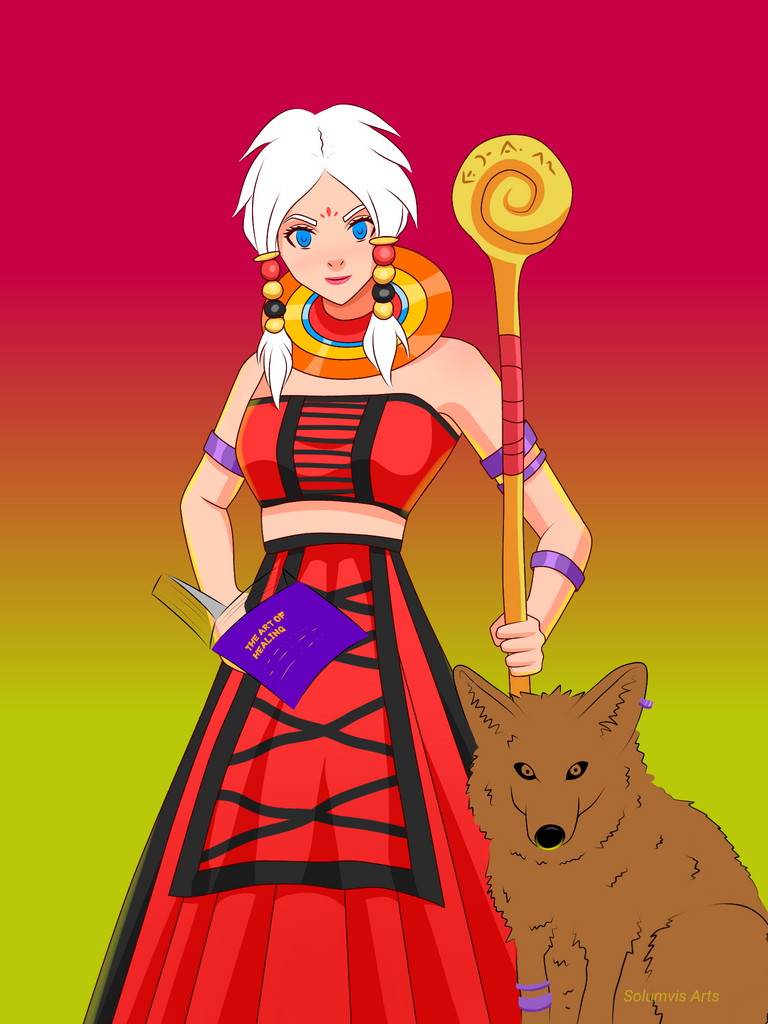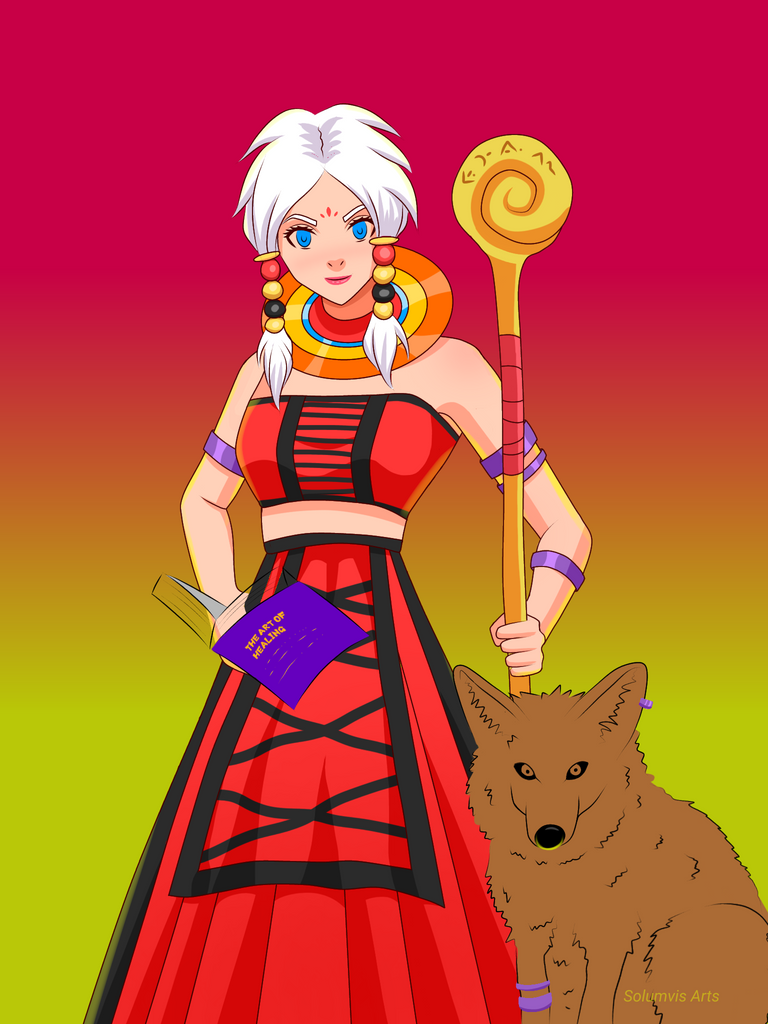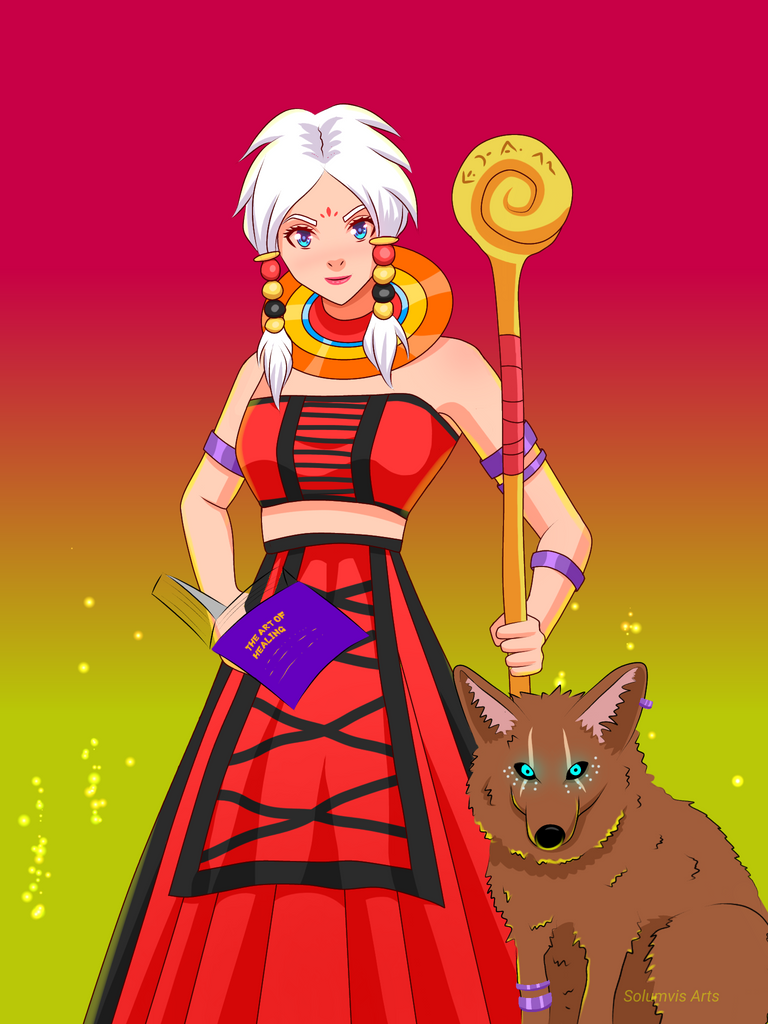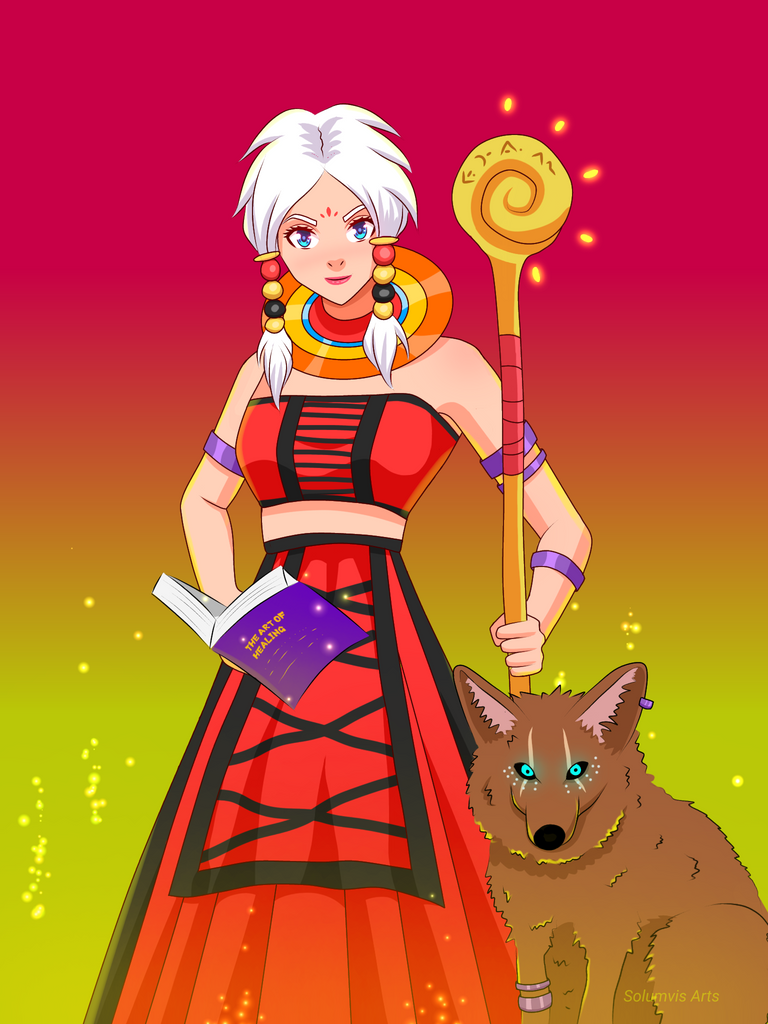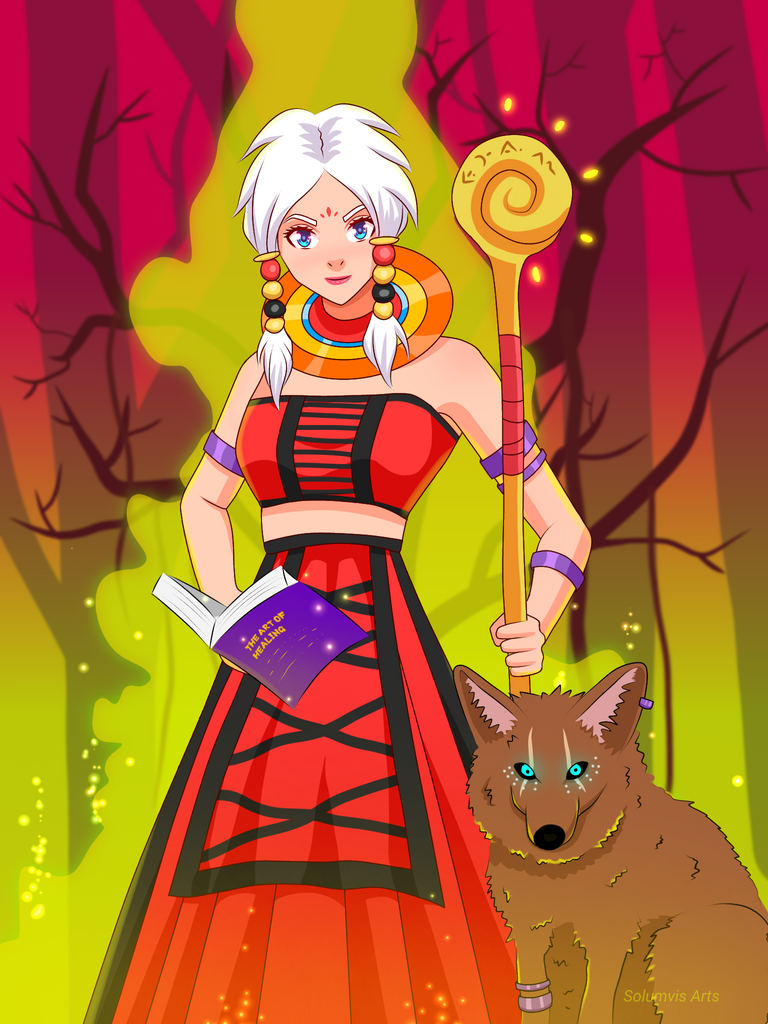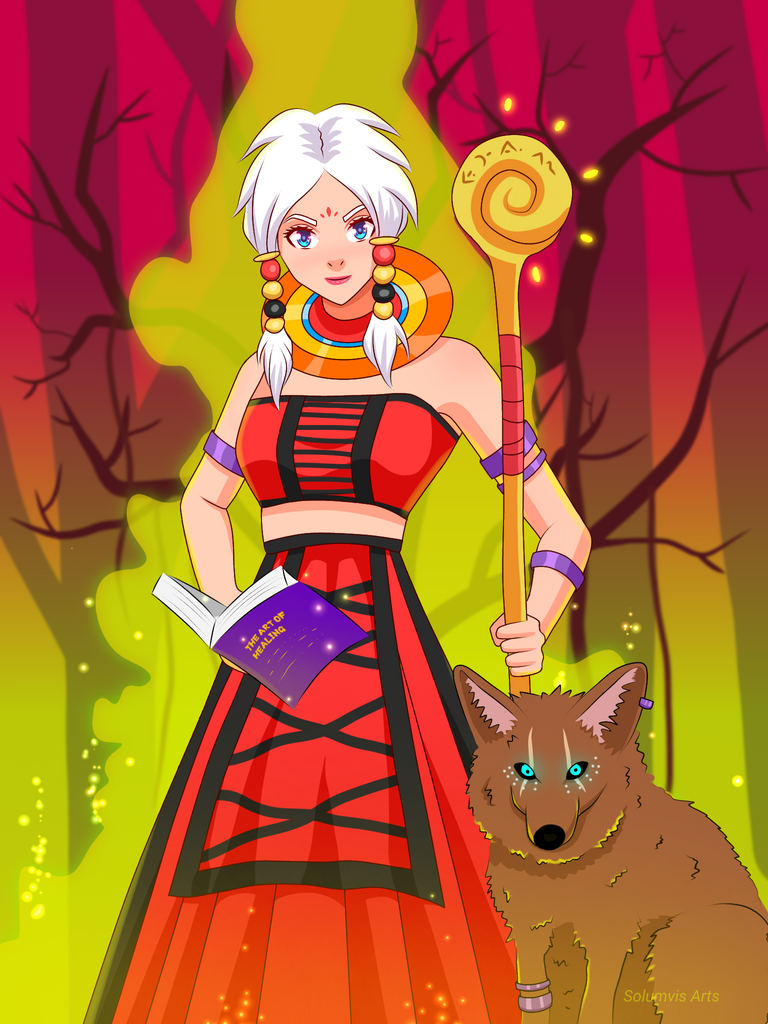 I experimented a lot with the cloth design. The initial design was bland with just plain red. It didn't sit well with me so I added black patterns here and there to test it. The pattern that you see currently is the one I liked the most and it works so well with the red. It's a very common pattern if you ask me. As per the official design, she has a wooden stick probably because she needs its support to walk since she is old but we can also use that information to our advantage and claim that it is her magic staff hehe. I even added some glow formation at the end of the stick to make it look a bit mystical. If there is magic, there must be a spell so I wrote some random inscriptions on her stick as well. I have to say I'm enjoying it too well at this point lolz.
Ah yes, now back to her face. I wanted a confident smile so that it goes well with her character. Now, something else was missing. What can add to the face? Here in my country, some people, mostly females (pre-millennial generation)draw dots at the centre of their forehead as a form of decoration so I tested it out and made a simple design on her forehead with red colour. I loved it and now her character design is complete.
As I mentioned earlier the wolf was the last-minute addition so I didn't want it to be a regular wolf. She is mystical so it's only right to make the wolf mystical as well, right? I added some bangles on him similar to hers to show ownership maybe. I also drew some dot patterns on him to look more tribal-like. Finally, I added a blue glow on his eyes to show his spiritual power. I have to say drawing and painting the wolf was a bit tricky because I don't think I have ever drawn a wolf before. I'm not joking lolz. As for the background I decided to make a minimalist green smokey forest with magical orbs flying around the place. Anyway, this is what I came up with and I hope you guys enjoyed my painting.

Tools used: Ibis paint x Notebook and pencil.
Duration: 12hrs
Pose reference by Magic poser app from playstore

Thank you so much for your time guys :)
---
---