Splinterlands quietly introduced something awesome! – new source of income for the DAO?
Yeah the title is kinda clickbaity, but since you are already here check out what happened!
4 days ago the Splinterlands official account started something that changes the future of the SPS DAO! At the bottom of the picture, there is a post where the rewards get burned. The others have @sps.dao set as 100% beneficiary.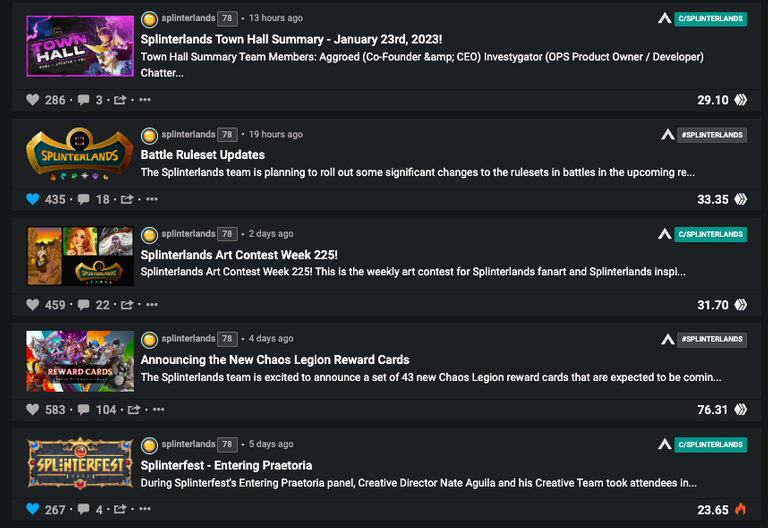 Meaning all author rewards of these posts will go to the DAO giving it increased HP and increased HBD holdings over time. With 20% APR on HBD in savings that is
I don't know why this has not officially been announced. It is an awesome decision and it could make the DAO a significant financial income. One would think that such a change would need an announcement. Encouraging all players to vote for these posts would probably make an even bigger impact.
This is good!
I can only see upsides to this. The DAO is player owned so everything the DAO holds is player owned too. This could be permanent buyer of new SPS or DEC or even BTC and ETH. The possibilities are really endless!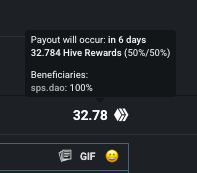 The Hive Power can be used to curate content and earn curation rewards. This is small in the beginning but as it starts compounding can be a real force! The HBD can either be put into savings or can be used to buy SPS and grow the DAO or to buy DEC and help stabilize the selling pressure on DEC.
The possibilities of how the DAO could use these funds are endless.
The big question is, can we get to a consensus on what to do with these rewards? You can see these rewards are not small and the official account posts many monthly updates.
Other ideas
The Splinterlands blogging community is also quite big. If a lot of authors set the SPS.DAO as a beneficiary could grow the DAO into a beast. The steady flow of income could be used for many things to evolve the DAO and or the splinterlands economy.
Just as I set @snvault as a beneficiary to grow the treasury of the #watchtoearn program
Imagine hundreds of small accounts sending a portion of their rewards to the DAO! The HP and HBD holdings would even grow faster!
It is also on us to find a healthy way of deciding proposals for the dao.
DISCLAIMER
As there is no official NEWS about this please handle this news with care. Do your own research! This is only my personal opinion and is not any form of financial advice!
I hope I can see some discussion, I would love to read your comments.
We have an impact on what the DAO can and will do! You just gotta wrap your heads around the idea that by staking SPS you are a part of the dao! You have a voice! No matter how small it is, use it!
---
---