ANGELIC MANDARIN! ENG/ESP
ANGELIC MANDARIN
El share your battle de esta semana es interesante, es una carta util cuando tienes un nivel alto, especificamente en el nivel 3 ya que ofrece curacion a la segunda linea, pero no tan util en mi nivel de juego, hay escasos momentos en las que la puedo usar, por esa razon ni me he preocupado en subirla de nivel, impresionantemente me toco una batalla en la que me fue muy util y calzo perfectamente en la estrategia, la carta es el arquero de agua ANGELIC MANDARIN, en este share your battle vamos a conocerla un poco mas!
This week's share your battle is interesting, it is a useful card when you have a high level, specifically at level 3 as it offers healing to the second line, but not so useful in my level of play, there are few times when I can use it, for that reason I have not bothered to level it up, impressively I had a battle in which it was very useful and fit perfectly in the strategy, the card is the water archer ANGELIC MANDARIN, in this share your battle we will know a little more about it!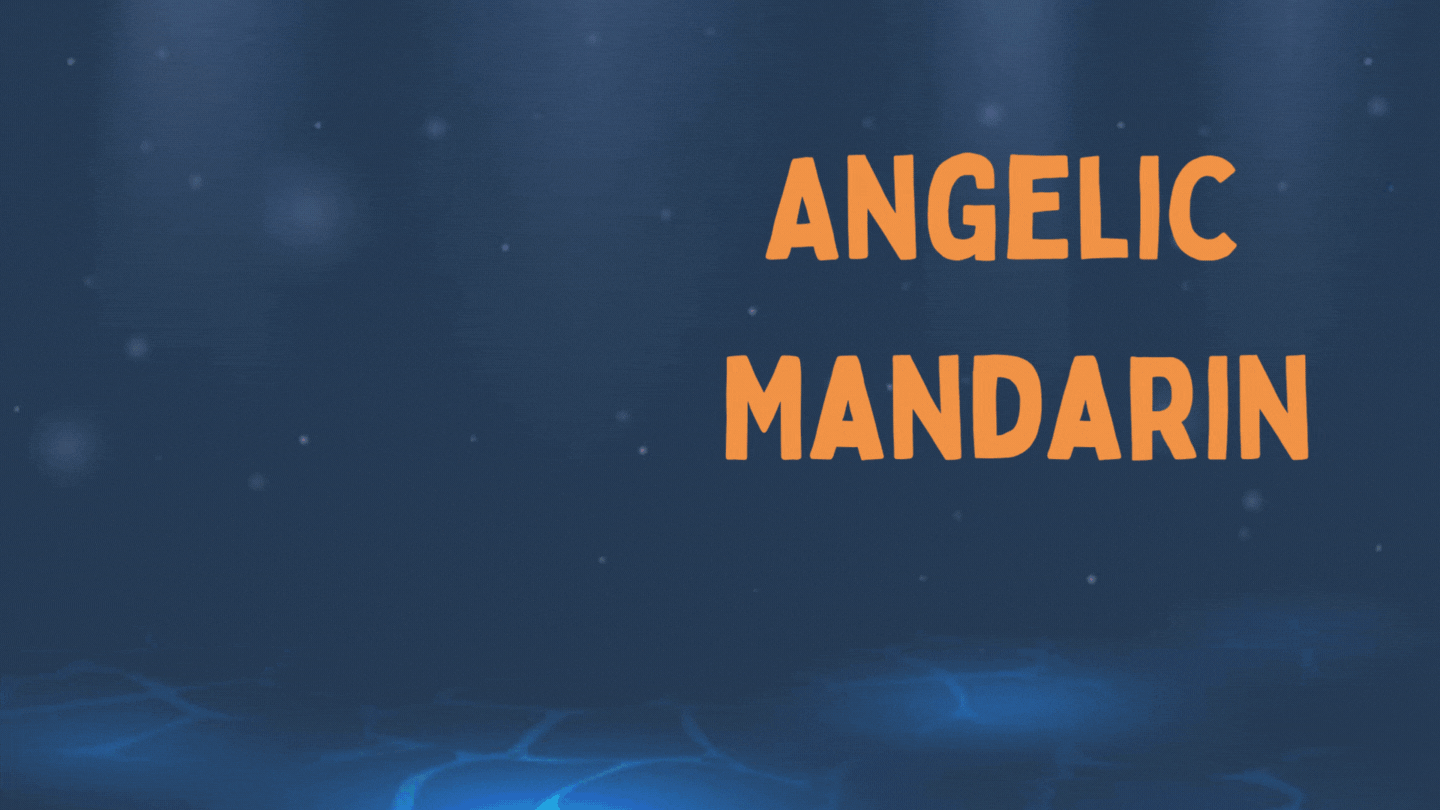 Lo que mas podemos destacar de ANGELIC MANDARIN es que es una carta de muy bajo mana, con solo 3 de mana es una carta perfecta para batallas de bajo mana o batallas en las que se tenga que usar muchas cartas de bajo mana, ademas de que si en la batalla toca la regla de que los arqueros pueden atacar cuerpo a cuerpo se convierte en un tanque perfecto para las cualidades que tiene, la cualidad que mas le resalta es la de la vida que posee, puede servir como tanque y tambien puede servir como le digo yo, tanque de la parte de atras, porque puede soportar muchos golpes y ademas es utili porque puede hacer algo de daño, aunque el daño es muy pobre solo pega 1, si el contrincante tiene un tanque con defensa de ataque cuerpo a cuerpo no se le podria hacer daño...
What we can highlight about ANGELIC MANDARIN is that it is a very low mana card, with only 3 mana is a perfect card for low mana battles or battles where you have to use many low mana cards, plus if in the battle touches the rule that the archers can attack melee becomes a perfect tank for the qualities it has, the quality that stands out the most is the life it has, it can serve as a tank and can also serve as I say, tank of the back, because it can withstand many blows and is also useful because it can do some damage, although the damage is very poor only hits 1, if the opponent has a tank with a melee attack defense could not be done damage...

STATS
Vamos a ver los Stats de ANGELIC MANDARIN como podemos ver en la tabla de abajo no es sino a partir del nivel 4 que se pone interesante y para eso se necesita un invocador raro nivel 4 en adelante, asi que no esta facil la cosa, aun voy por los invocadores nivel 3 y me ha costado mucho esfuerzo! En nivel 4 ya tiene curacion para la segunda linea, muy muy bueno y en nivel 5 ya empieza a pegar con 2 aunque me pregunto que tan util sera en niveles tan altos, porque tambien va a enfrentar a contrincantes muy poderosos!
STATS
Let's see the Stats of ANGELIC MANDARIN as we can see in the table below, it's not until level 4 that it gets interesting and for that you need a rare summoner level 4 onwards, so it's not easy, I'm still going for the level 3 summoners and it has cost me a lot of effort! At level 4 it already has healing for the second line, very very good and at level 5 it starts to hit with 2, although I wonder how useful it will be at such high levels, because it will also face very powerful opponents!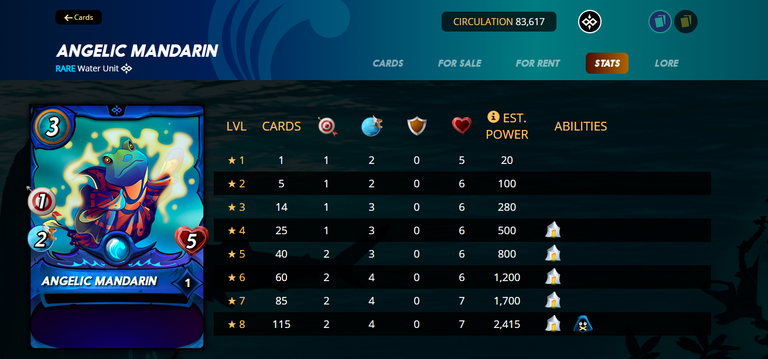 ESTRATEGIA
Empezamos con lo que es la batalla, esta es una batalla que le vino como anillo al dedo a ANGELIC MANDARIN porque es de bajo mana y ademas de eso los ataques a distancia tienen snipe, eso significa que atacaran a uno solo y quizas ANGELIC MANDARIN sea quien reciba los ataques porque lo podre de ultimo y porque tiene mucha vida, mi estrategia es poner a ANGELIC MANDARIN a cuidar la parte de atras y atacar a mi enemigo con sneak, en la parte frontal tratare de poner la mayor cantidad de cartas y de vida para darle tiempo a los de sneak, veremos si me funciones!
STRATEGY
Let's start with what is the battle, this is a battle that came like a glove to ANGELIC MANDARIN because it is low mana and besides that the ranged attacks have snipe, that means that will attack only one and maybe ANGELIC MANDARIN is the one who receives the attacks because I can last and because it has a lot of life, my strategy is to put ANGELIC MANDARIN to guard the back and attack my enemy with sneak, in the front I will try to put as many cards and life to give time to the sneak, we will see if it works!

LINEUP
Como invocador voy a usar a mi carta que tengo en nivel 3 de agua, KELYA FRENDUL! El mejor invocador de Chaos Legion de los raros a mi parecer y tambien es lo que dice el mercado ya que es el invocador raro mas costoso de Chaos Legion, lo uso porque quiero darle un extra de proteccion a mis cartas para que duren mas y porque tambien quiero que mis sneaks sean mas rapidos y golpeen primero al rival siempre.
LINEUP
As a summoner I'm going to use my card that I have at level 3 water, KELYA FRENDUL! The best rare Chaos Legion summoner in my opinion and it is also what the market says because it is the most expensive rare Chaos Legion summoner, I use it because I want to give an extra protection to my cards to last longer and also because I want my sneaks to be faster and always hit the opponent first.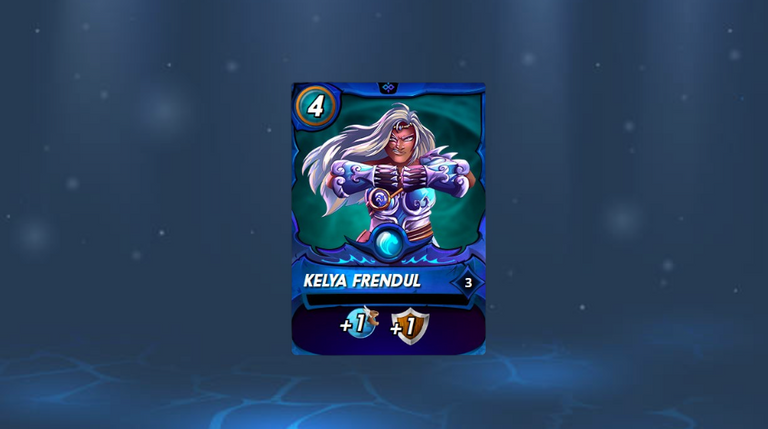 Como tanque pongo a CRUEL SETHROPOD, es excelente porque solo usa 3 de mana, tiene 4 de escudo, 4 de vida, 2 de ataque y 2 de velocidad, ademas de la velocidad y el escudo que le dara mi invocador, es espectacular! Estoy seguro que esa carta me hara ganar mucho tiempo y ademas va a infringir una cantidad de daño decente al tanque de mi contrincante!
En el segundo lugar pongo a una carta epica, TIDE BITER, esta carta ataca desde atras, es muy rapida con 4 de velocidad y ademas tiene 2 de ataque asi que sera una beuna combinacion con mi tanque, solo me pide 3 de mana asi que aun tengo espacio para maniobrar y ganarle tiempo a mis cartas sneak!
En tercer lugar pongo a una carta de 0 de mana para ocupar un espacio y tambien ser carnada de oportunistas! El legendario de agua TORRENT FIEND! Las cartas de 0 de mana de Chaos Legion son cartas que si o si debes tener, esas en particular ofrecen una ventaja abismal!!!
As a tank I put CRUEL SETHROPOD, it's excellent because it only uses 3 mana, it has 4 shield, 4 life, 2 attack and 2 speed, plus the speed and shield that my summoner will give him, it's spectacular! I'm sure this card will buy me a lot of time and it will also deal a decent amount of damage to my opponent's tank!
In the second place I put an epic card, TIDE BITER, this card attacks from behind, it is very fast with 4 speed and also has 2 attack so it will be a good combination with my tank, it only asks for 3 mana so I still have room to maneuver and gain time to my sneak cards!
In third place I put a 0 mana card to occupy a space and also be bait for opportunists! The water legendary TORRENT FIEND! Chaos Legion's 0 mana cards are must-have cards, those in particular offer an abysmal advantage!!!!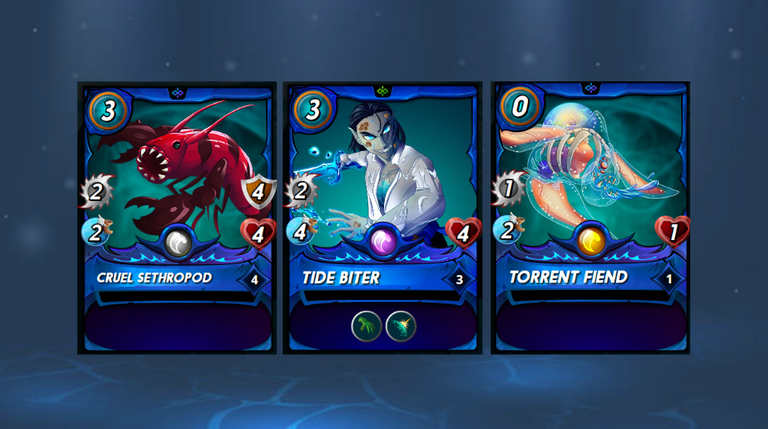 Aqui empiezo a poner a mis sneaks para asi poder atacar a mi enemigo por la parte de atras, el primero que pongo es a PELACOR BANDIT, con 3 de mana, pega 2 de melee, 4 de velocidad y 3 de vida lo hacen un sneak espectacular! Esta carta la poseo dorada, en el futuro cuando ya no este en rewards se que la van a extrañar, es una carta que si o si todos usamos y es muy util!!!
En la penultima posicion pongo al sneak neutral URAEUS, esta serpiente con solo 3 de mana y 2 de ataque es la combinacion perfecta junto con PELACOR BANDIT, entre los 2 haran 4 de daño cada ronda y como son rapidos les sera mas dificil fallar, ademas mi invocador le da un extra de velocidad asi que los hace mas veloces aun! Veremos como me va con la estrategia de los sneaks!
En ultimo lugar pongo al protagonista de esta historia! ANGELIC MANDARIN tiene la importante tarea de proteger a mis sneaks y de tambien inflingir algo de daño si es posible! Ademas que la regla de snipe la hace mas importante aun porque tendra que soportar mas daño dirigido hacia ella, esta carta es la carta desiciva en esta batalla!
Here I start to put my sneaks so I can attack my enemy from behind, the first one I put is PELACOR BANDIT, with 3 mana, 2 melee, 4 speed and 3 life makes it a spectacular sneak! I own this card in gold, in the future when it is no longer in rewards I know it will be missed, it is a card that we all use and it is very useful!!!!
In the penultimate position I put the sneak neutral URAEUS, this snake with only 3 mana and 2 attack is the perfect combination with PELACOR BANDIT, between the 2 will do 4 damage each round and as they are fast it will be more difficult for them to fail, plus my summoner gives an extra speed so it makes them even faster! We'll see how I do with the sneak strategy!
In last place I put the main character of this story! ANGELIC MANDARIN has the important task of protecting my sneaks and also inflicting some damage if possible! Besides the snipe rule makes it even more important because it will have to take more damage directed towards it, this card is the decisive card in this battle!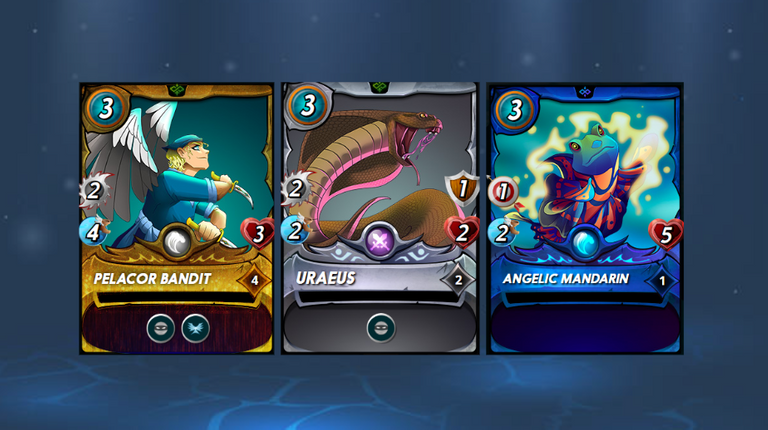 Mi estrategia funciono a la perfeccion, al abrir la batalla estaba en problemas porque estaba luchando contra un DEEPLURKER y contra un DJINN OSHANNUS ademas mi contrincante tambien lleno los espacios con cartas de 0 de mana y una carta de 1 de mana para quitarme velocidad, impresionantemente la batalla la gane, fue una batalla donde todo funciono a la perfeccion! No cambiaria nada de mi estrategia porque salio tal y como lo planeaba y no imagino como pudo haber salido mejor, quizas si hubiese tenido a ANGELIC MANDARIN con mas velocidad y mas vida iba a poder ganar mas comodamente, tengo pendiente subirla de nivel.
👀 Mira la batalla AQUI
My strategy worked perfectly, when I opened the battle I was in trouble because I was fighting against a DEEPLURKER and against a DJINN OSHANNUS plus my opponent also filled the spaces with 0 mana cards and a 1 mana card to take away my speed, impressively I won the battle, it was a battle where everything worked perfectly! I wouldn't change anything about my strategy because it went as I planned and I can't imagine how it could have gone better, maybe if I had ANGELIC MANDARIN with more speed and more life I could have won more comfortably, I have to level it up.
👀 Watch the battle HERE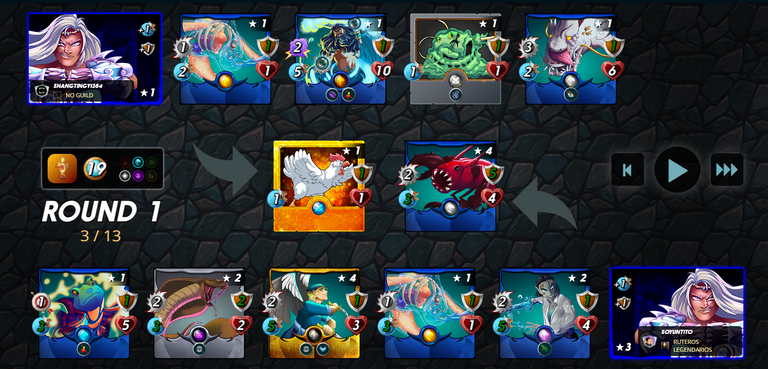 Gracias por tomarte el tiempo de pasar por mi post y leerlo! Cada vez disfruto mas a splinterlands, ultimamente he comprado mas cartas aumentado el nivel de varias y me encanta ver como mi cuenta crece y se fortalece! Espero poder ir al siguiente paso que seria llevar a mis onvocadores de Chaos Legion a nivel 4! Dificil, si, pero no imposible! Si te llama la atencion probar el juego de splinterlands puedas registrarte AQUI Si lo pruebas y lo entiendes te vas a volver adicto al juego y a coleccionar sus cartas!
Todas las imagenes fueron creadas con canva por mi y utilice screenshots de la pagina de Splinterlands.
Hasta pronto!
Thanks for taking the time to go through my post and read it! I am enjoying splinterlands more and more, lately I have bought more cards and increased the level of several of them and I love to see how my account is growing and getting stronger! I hope I can go to the next step which would be to take my Chaos Legion summoners to level 4! Difficult, yes, but not impossible! If you are interested in trying the splinterlands game you can register HERE If you try it and understand it you will become addicted to the game and collect cards!
All images were created with canva by me and I used screenshots from the Splinterlands website.
See you soon!
Posted using Neoxian City
---
---