LIFE REINFORCEMENTS ESP/ENG
LIFE REINFORCEMENTS!
Este post me hace muy feliz hacerlo, ya que era algo absolutamente necesario que debia hacer y por cosas que pasan pude hacerlo! No se si a ustedes les pasa tambien que el splinter de vida es el splinter mas debil que tienen, los demas splinters es muy facil tenerlos decentes, competitivos, pero vida no lo considero algo facil de tener competitivo ademas de que suele tener muchas debilidades frente a cartas muy simples de los demas y considero que tener a vida fuerte puede ser una sorpresa para muchos y hasta ahora ha sido asi, en este post les voy a mostrar porque!
This post makes me very happy to do it, because it was something absolutely necessary that I had to do and because of things that happen I could do it! I don't know if it also happens to you that the life splinter is the weakest splinter you have, the other splinters is very easy to have them decent, competitive, but I don't consider life as something easy to have competitive, besides it usually has many weaknesses against very simple cards of the others and I consider that having a strong life can be a surprise for many and so far it has been so, in this post I'm going to show you why!
Mi mazo de cartas mas debil siempre fue el de vida y no por falta de cartas, sino que considero que con la llegada de Chaos Legion el splinter menos beneficiado fue el de vida y ademas dejo muchos huecos en contra de los demas splinters, nisiquiera con el invocador legendario nuevo hay mucha diferencia, no quiero decir que se hacia imposible jugar pero era mas dificil que con otros en comparacion, entonces con un dinero que me cayo de la nada y que podia usar en splinterlands decidi comprar unas cartas para reforzar mi mazo de vida y creanme que ha hecho la diferencia muchisimo! Cabe destacar que no uso las cartas del spellbook, uso solo cartas que poseo!
My weakest deck was always life and not for lack of cards, but I consider that with the arrival of Chaos Legion the least benefited splinter was life and also left many gaps against the other splinters, not even with the new legendary summoner there is much difference, I don't want to say that it was impossible to play but it was more difficult than with others in comparison, then with some money that fell out of nowhere and that I could use in splinterlands I decided to buy some cards to reinforce my life deck and believe me it has made the difference a lot! It should be noted that I don't use cards from the spellbook, I only use cards that I own!

SILVERSHIELD KNIGHT
Una de las cartas que compre, es SILVERSHIELD KNIGHT, es una carta que usualmente alquilaba, es muy buena porque a todos las cartas de cuerpo a cuerpo les añade uno mas de ataque, sirve mucho cuando hay reglas de que todos los melee atacan de todos lados, ademas es una carta muy rapida! La compre a nivel 3, mi intencion es llevarla a nivel 4, solo que no me alcanzo el dinero creo que fue una de las ultimas cartas que compre, esta costando aproximadamente 2.40$
SILVERSHIELD KNIGHT
One of the cards I bought is SILVERSHIELD KNIGHT, it is a card that I usually rented, it is very good because it adds one more attack to all the melee cards, it is very useful when there are rules that all the melee attack from all sides, it is also a very fast card! I bought it at level 3, my intention is to take it to level 4, I just couldn't afford it, I think it was one of the last cards I bought, it's costing about 2.40$.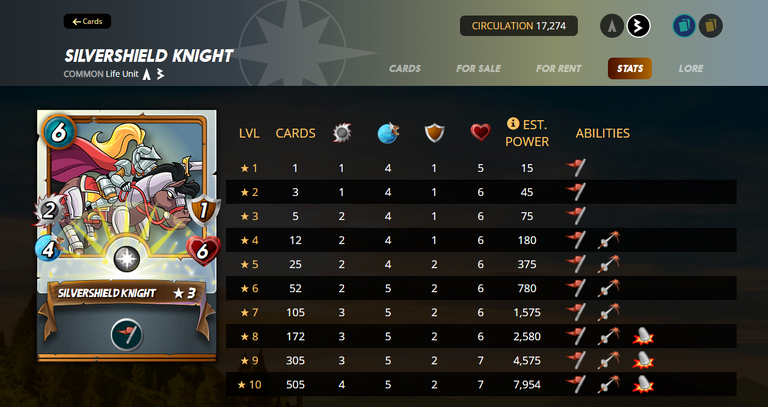 ARMORSMITH
Otra carta que compre fue ARMORSMITH, que carta tan espectacular! Tiene solo 2 de mana, la compre en nivel 4 y la compre porque es un reparador de escudo, ademas de este puedo usar tambien al neutral solo que este ademas de eso ataca en el nivel 4 y tiene 1 de ataque! Me costo 5.08$ para las bondades que ofrece esta carta me parece un precio espectacular, la he usado ultimamamente y estoy feliz con ella, no se como podia jugar anteriormente sin tener esa carta!
ARMORSMITH
Another card I bought was ARMORSMITH, what a spectacular card! It has only 2 mana, I bought it at level 4 and I bought it because it is a shield repairer, besides this I can also use the neutral but this one also attacks at level 4 and has 1 attack! It cost me 5.08$ for the goodness that this card offers, it seems to me a spectacular price, I have used it lately and I'm happy with it, I don't know how I could play before without having this card!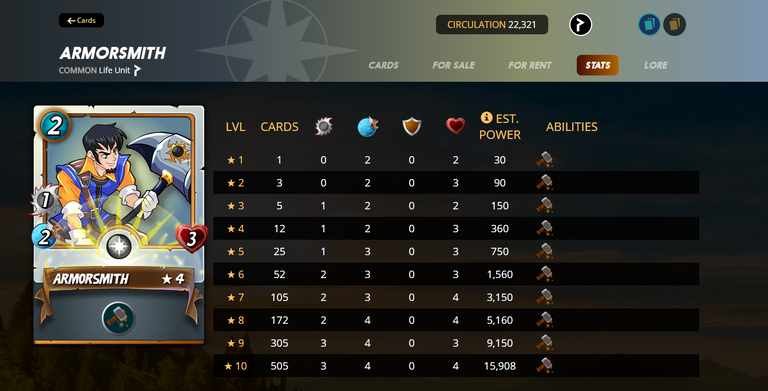 PEACEBRINGER
Esta carta, ESTA CARTA UFF!!! Empezando con que solo tiene 4 de mana, es muy bajo y se puede usar en todas las batallas que el maximo es 4 de mana, y tambien en batallas de poco mana porsupuesto, pero que tiene de brutal, es facil de verlo! A nivel 3 que fue que la compre tiene 3 de ataque y si se combina con el GENERAL SLOAN nada mas que decir PEACEBRINGER es una maquina brutal y no contentos con eso es muy rapido, tiene 3 de rapidez y 5 de vida! La compre porque estaba cansado de ser violado por ella y ahora yo la uso jejejeje! Me costo unos 7.10$ nada mal para lo que hace!
PEACEBRINGER
This card, THIS CARD UFF!!!! Starting with the fact that it only has 4 mana, it is very low and can be used in all battles where the maximum is 4 mana, and also in low mana battles of course, but what's so brutal about it, it's easy to see! At level 3 which was that I bought it has 3 attack and if combined with the GENERAL SLOAN nothing more to say PEACEBRINGER is a brutal machine and not content with that is very fast, has 3 speed and 5 life! I bought it because I was tired of being raped by it and now I use it hehehehehehe! It cost me about 7.10$ not bad for what it does!
TRUTHSPEAKER
Ya que tengo a ARMORSMITH no puede faltar TRUTHSPEAKER, no es muy dificil ver que cartas son buenas y son utiles, generalmente las usan jugadores que son mucho mejores que tu y si tienen esas cartas no les ganaras jamas, TRUTHSPEAKER aun no la tenia, me salio en 2.47$ la compre en nivel 1, es una carta que necesitaba para añadir escudo a mis cartas!
TRUTHSPEAKER
Since I have ARMORSMITH you can't miss TRUTHSPEAKER, it's not very difficult to see which cards are good and useful, generally they are used by players who are much better than you and if they have those cards you will never beat them, TRUTHSPEAKER I didn't have it yet, it came out at 2.47$ I bought it at level 1, it's a card I needed to add shield to my cards!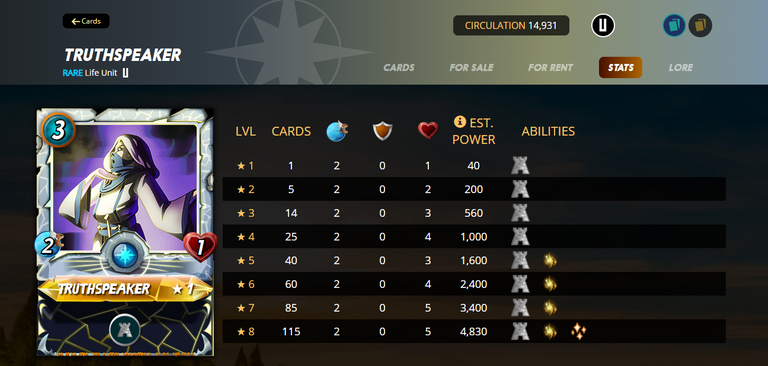 SHIELDBEARER
Si, tarde mucho en adquirir esta carta, todos la usan por el spellbook pero yo no era dueño de ella asi que no la usaba, SHIELDBEARER es una carta que si o si tienes que tener en tu mazo de vida, hace mucho la diferencia la mayoria de las estrategias de Vida la incluyen! Ya que como todos los ataques se dirigen hacia ella, generalmente si quieres reconstruir los escudos y curar a ese tanque muchas veces se vuelve inmortal! Me costo 5.38$!
SHIELDBEARER
Yes, it took me a long time to acquire this card, everyone uses it because of the spellbook but I didn't own it so I didn't use it, SHIELDBEARER is a card that you have to have in your life deck, it makes a lot of difference, most of the life strategies include it! Since as all attacks are directed towards it, usually if you want to rebuild shields and heal that tank many times it becomes immortal! It cost me 5.38$!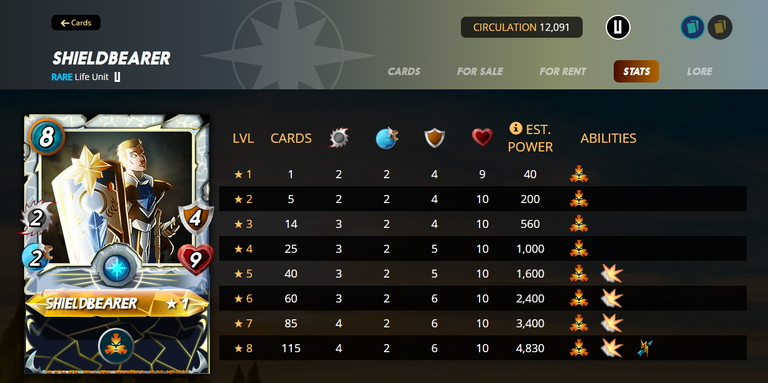 SILVERSHIELD ASSASSIN
Que podemos decir de esta carta, la compre principalmente porque en muchas estrategias es usada en contra de mi, en muchisimas! Tiene 7 de mana y la compre en nivel 3, pega con 2 pero si se junta con SILVERSHIELD KNIGHT empieza a pegar con 3 y ataca 2 veces siendo sneak! Ahora imagina jutar eso con el Sneak de Dragon xD el nuevo raro reward de solo 4 de mana y hace lo mismo, el sneak mas mortifero que existe! Me costo 6.22$ y la verdad me ha sido muy util, antes de comprar todas las cartas que compre o las estudie mucho o me hicieron mucho daño asi que ahora yo soy el que hago daño con ellas!
SILVERSHIELD ASSASSIN
What can we say about this card, I bought it mainly because in many strategies it is used against me, in many! It has 7 mana and I bought it at level 3, it hits with 2 but if it joins with SILVERSHIELD KNIGHT it starts hitting with 3 and attacks 2 times being sneak! Now imagine playing that with Dragon's Sneak xD the new rare reward of only 4 mana and does the same thing, the most mortifying sneak ever! It cost me 6.22$ and the truth is that it has been very useful, before buying all the cards I bought I either studied them a lot or they did a lot of damage so now I'm the one doing damage with them!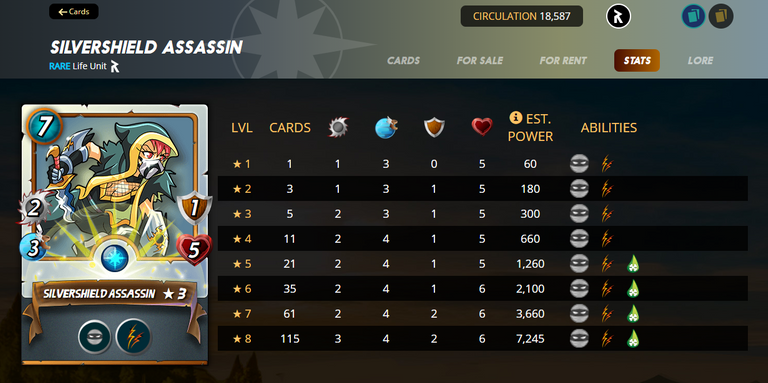 PELACOR ARBALEST
Todas las cartas pasadas las compre y eran de ediciones viejas, pero las proximas 2 cartas ya las tenia y lo que hice fue subirlas de nivel, primero que todo PELACOR ARBALEST lo subi a nivel 3 para que tenga 4 de vida porque estaba cansado que un sneak me lo matara de un solo golpe o que muriese muy rapido y que tenga 4 de vida realmente hace bastante diferencia!
PELACOR ARBALEST
All the past cards I bought and they were from old editions, but the next 2 cards I already had and what I did was to level them up, first of all PELACOR ARBALEST I raised it to level 3 so that it has 4 life because I was tired of a sneak killing it in one hit or dying very fast and having 4 life really makes a difference!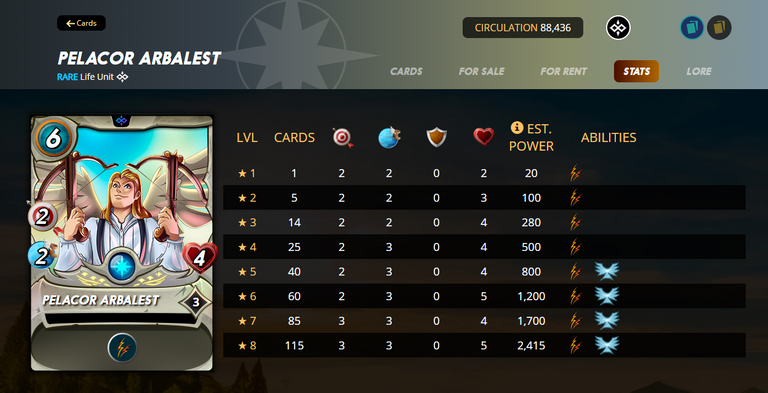 JARED SCAR
Este legendario de vida muchas veces gana las batallas el solo y es casi un seguro para ganar cuando las reglas son de oportunista o de que el melee ataca desde donde sea, es impresionante su habilidad de bloodlust, este es el ultimo refuerzo por ahora, lo que hice fue llevar a ese legendario a nivel 2 asi JARED SCAR no fallaria su golpe! Y estas on todas las cartas que ahora refuerzan mi mazo de vida asi que tenganme miedo jejejeje!
JARED SCAR
This life legendary often wins battles by himself and is almost a sure win when the rules are opportunistic or the melee attacks from anywhere, his bloodlust ability is impressive, this is the last reinforcement for now, what I did was to take this legendary to level 2 so JARED SCAR won't miss his shot! And these are all the cards that now reinforce my life deck so be afraid of me hehehehehehe!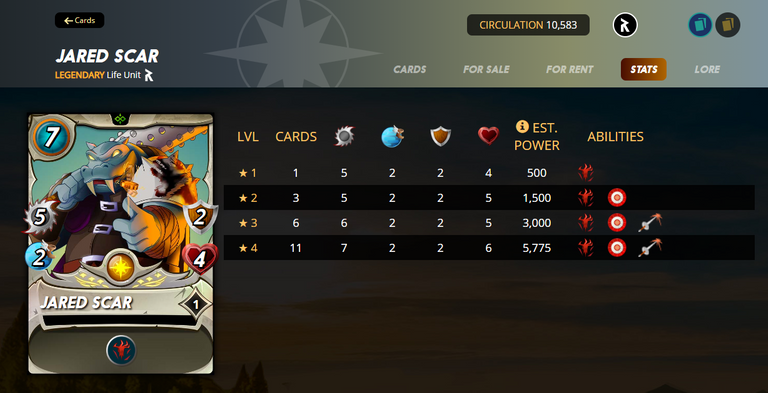 Gracias por tomarte el tiempo de pasar por mi post y leerlo! Gracias tambien al equipo de splinterlands y sus curadores, gracias a esta iniciativa he podido aumentar el nivel de mi cuenta considerablemente! Si te llama la atencion probar el juego de splinterlands puedas registrarte AQUI Si lo pruebas y lo entiendes te vas a volver adicto al juego y a coleccionar sus cartas! Este es el mejor momento para entrar, con muy poca inversion puedes tener una cuenta muy decente y poderosa, ademas de que con el tiempo los activos seguramente se van a revalorizar!
Todas las imagenes fueron creadas con canva por mi y utilice screenshots de la pagina de Splinterlands.
Hasta pronto!
Thanks for taking the time to go through my post and read it! Thanks also to the splinterlands team and its curators, thanks to this initiative I have been able to increase the level of my account considerably! If you are interested in trying the splinterlands game you can register HERE If you try it and understand it you will become addicted to the game and collect cards! This is the best time to get in, with very little investment you can have a very decent and powerful account, plus over time the assets will surely increase in value!
All images were created with canva by me and I used screenshots from the Splinterlands website.
See you soon!

Posted using Neoxian City
---
---