PELACOR ARBALEST! ESP/ENG
PELACOR ARBALEST
Esta edicion de share your battle weekly challenge esta cargada de muchas emociones positivas, primeramente esta batalla que les voy a compartir fue un reto para mi y ademas me demuestra que con el tiempo cada vez soy mejor jugador, que con cartas de menor nivel y con mayor habilidad puedo derrotar a cartas de mucho mayor nivel, lo que me impulsa a educarme mas, tomarme mas en serio el juego y hoy he me he determinado a que quiero ser mejor jugador, no uno mas del monton, aprender mas y disfrutar de batallas epicas como la que les voy a compartir a continuacion!
This edition of share your battle weekly challenge is full of many positive emotions, first of all this battle that I am going to share with you was a challenge for me and also shows me that with time I am becoming a better player, that with lower level cards and with greater skill I can defeat cards of much higher level, which drives me to educate myself more, take the game more seriously and today I have determined that I want to be a better player, not just one more of the bunch, learn more and enjoy epic battles like the one I am going to share with you next!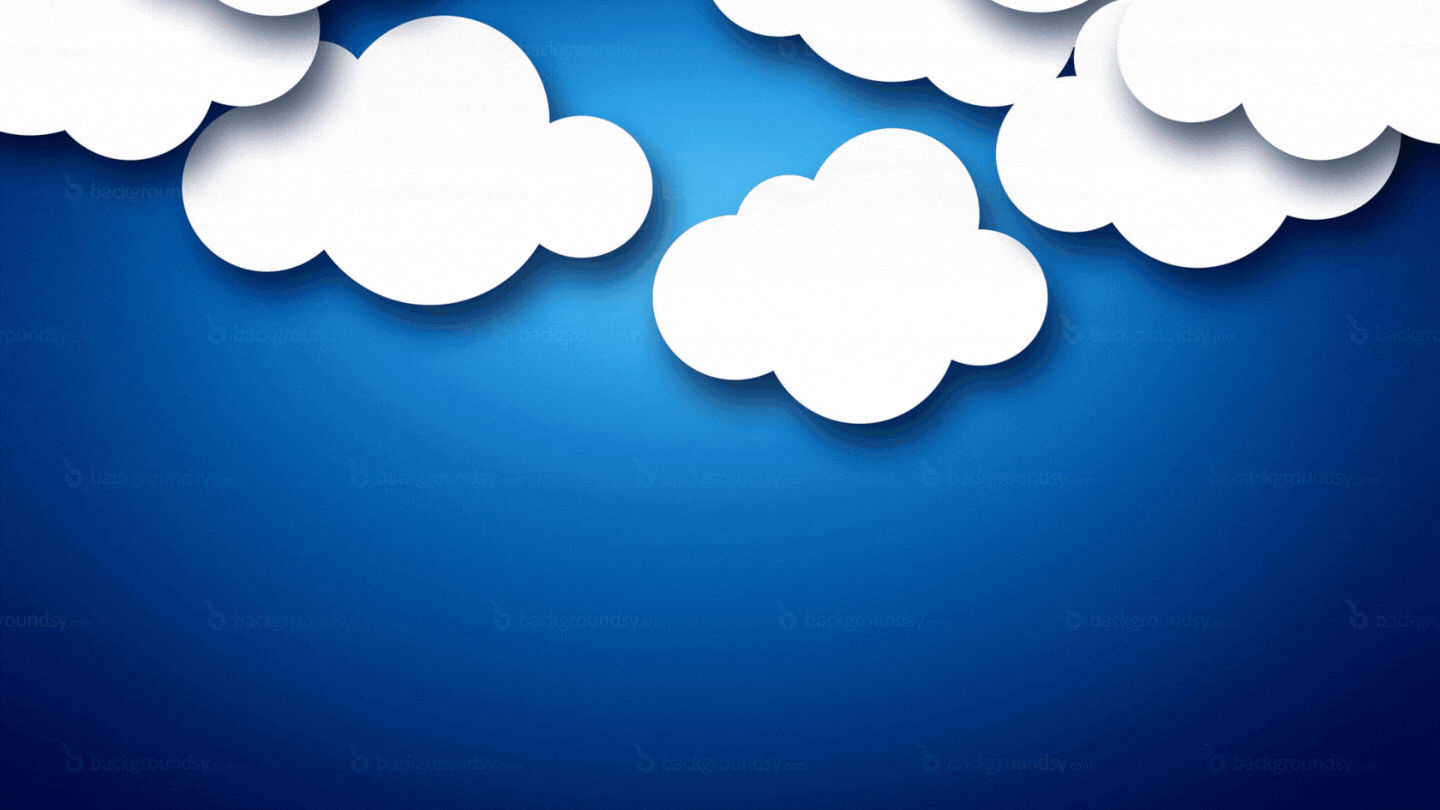 Esta semana le toca a PELACOR ARBALEST llevarse lo honores, esta es una de las mejores cartas que nos trajo Chaos Legion, es una carta que aterroriza nuestar filas y que tambien usamos para aterrorizar a nuestros contrincantes, su poder es excesivo! No se si leyeron mi post anterior de REFUERZOS DE VIDA justamente hable de como esta carta la reforce, le aumente el nivel para que me sumara 2 mas de vida porque esos 2 mas de vida podian hacer mucha diferencia en una batalla y justamente se me dio la oportunidad de ponerlo en practica en esta batalla! Esos 2 puntos de vida extra hicieron mucha diferencia en esta batalla!
This week it's PELACOR ARBALEST's turn to take the honors, this is one of the best cards that Chaos Legion brought us, it's a card that terrorizes our ranks and that we also use to terrorize our opponents, its power is excessive! I don't know if you read my previous post about LIFE REINFORCEMENTS I just talked about how I reinforced this card, I increased its level to add 2 more life points because those 2 more life points could make a lot of difference in a battle and I just had the opportunity to put it into practice in this battle! Those 2 extra health points made a lot of difference in this battle!

PELACOR ARBALEST STATS
Vamos a ver los stats de PELACOR ARBALEST y dar un resumen de el desde mi punto de vista, primero que nada poseo esta carta en nivel 3 la subi de nivel hace poco ya que la tenia en nivel 1 y siempre me la mataban de 1 golpe, su mayor debilidad es la vida que posee, cuesta 6 de mana es algo intermedio es algo lenta de velocidad con solo 2 y su gran atributo es que hace 2 de daño, pero dispara 2 veces, asi que combinado con el GENERAL SLOAN hace 3 de daño cada vez que dispara con 6 en total! Al usar esta carta lo importante es que se mantenga viva el mayor tiempo posible para que asi haga mas daño!
PELACOR ARBALEST STATS
Let's see the stats of PELACOR ARBALEST and give a summary of it from my point of view, first of all I own this card at level 3 I leveled it up recently since I had it at level 1 and it always killed me with 1 hit, its biggest weakness is the life it has, it costs 6 mana is somewhat intermediate is somewhat slow speed with only 2 and its great attribute is that it does 2 damage, but shoots 2 times, so combined with the GENERAL SLOAN does 3 damage each time it shoots with 6 in total! When using this card the important thing is to keep it alive as long as possible so it does more damage!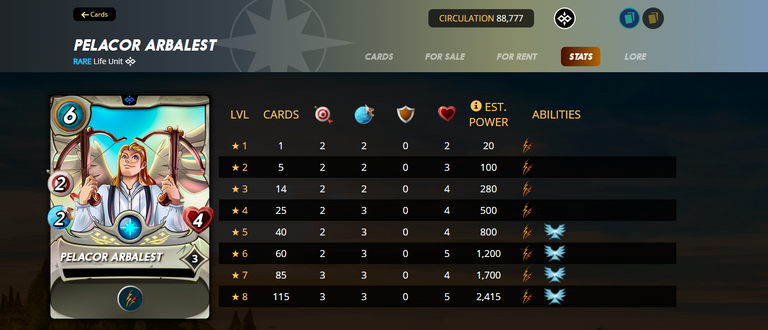 Batalla
Nos ponemos en materia de la batalla, la dificil batalla que se viene! He querido subir el nivel de dificultad asi que he estado jugando algunas partidas en modern en Plata 1 y a estas alturas apenas el primer y segundo dia de la temporada es muy muy dificil! La batalla es de 44 de mana asi que da bastante margen para pensar y formar estrategias, mi estrategia va a ser usar a PELACOR ARBALEST como punta de lanza, que pueda hacer el mayor daño posible mientras mi tanque SHIELDBEARER aguanta la mayor cantidad de tiempo posible a mi contrincante, cabe destacar que mi contrincante es mucho mas fuerte que yo y tiene mejores cartas asi que apenas abro la batalla, doy la batalla por perdida!
Battle
Let's get down to the business of battle, the difficult battle to come! I wanted to raise the difficulty level so I've been playing some games in modern on Silver 1 and at this point just the first and second day of the season is very very difficult! The battle is 44 mana so it gives plenty of room to think and strategize, my strategy will be to use PELACOR ARBALEST as a spearhead, I can do as much damage as possible while my tank SHIELDBEARER holds as much time as possible to my opponent, note that my opponent is much stronger than me and has better cards so as soon as I open the battle, I give the battle for lost!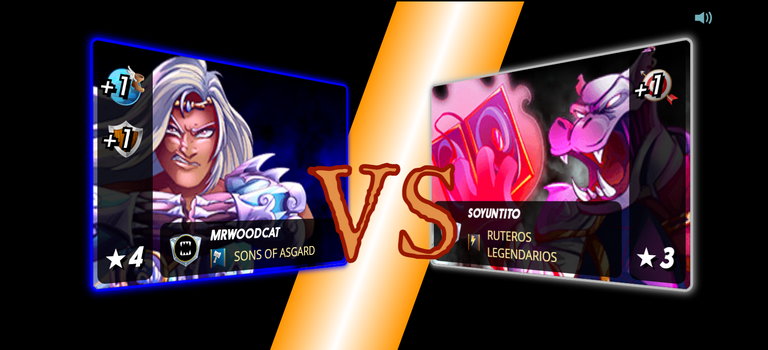 LINEUP
INVOCADOR
Como invocador uso al GENERAL SLOAN, es el aliado perfecto de todos los arquerso! Lo poseo en nivel 3 y lo necesito para darle a PELACOR ARBALEST 1 mas de ataque y a los arqueros en general, algo muy importante en esta batalla! Espero que mis arqueros sean acertivos porque mi contrincante escogio a un invocador que da mucha velocidad, mis arqueros son lentos asi que si fallan mucho no tengo ninguna posibilidad de ganar!
LINEUP
SUMMONER
As a summoner I use GENERAL SLOAN, he is the perfect ally of all archers! I have him at level 3 and I need him to give PELACOR ARBALEST 1 more attack and the archers in general, something very important in this battle! I hope my archers are accurate because my opponent chose a summoner that gives a lot of speed, my archers are slow so if they miss a lot I have no chance to win!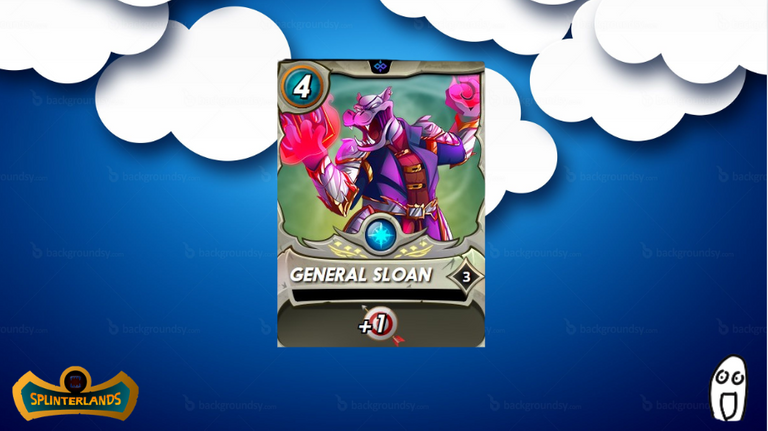 Primer lugar
En primer lugar pongo a SHIELDBEARER uno de mis mas recientes refuerzos para vida, la idea es que esta carta arrastre todos los ataques del enemigo hacia el y que aguante lo mas posible para darle tiempo a mis arqueros de hacer daño, es muy importante que aguante lo mas que pueda, si me lo eliminan en la primera ronda lo mas probable es que pierda la partida, tambien dependera mucho del ataque de mi enemigo. Esta carta la tengo en nivel 1 y la poseo.
Segundo lugar
En segundo lugar pongo a TRUTH SPEAKER, estar carta la pongo para darle 2 mas de escudo a todas mis cartas asi aguantan mas los golpes en caso de que mi contrincante no use magia, el poder recibir un golpe mas hace mucha diferencia! Esta carta la tuve que comprar porque mis contrincantes la usaban mucho y me destruian, asi que copie la estrategia! Poseo esta carta en nivel 1!
Tercer lugar
En tercer ugar pongo a SCAVO HIRELING con la dificil tarea de reparar los escudos dañados, si logra reparar los escudos de SHIELDBEARER significan algo bueno! Aguantare la partida el tiempo suficienta para que mis arqueros hagan mucho daño, esa es la idea! Tengo esta carta en nivel 2!
First place
In first place I put SHIELDBEARER one of my most recent reinforcements for life, the idea is that this card drags all the enemy's attacks towards him and that he holds as much as possible to give time to my archers to do damage, it is very important that he holds as much as possible, if he is eliminated in the first round I will probably lose the game, it will also depend a lot on the attack of my enemy. I have this card at level 1 and I own it.
Second place
In second place I put TRUTH SPEAKER, I put this card to give 2 more shield to all my cards so they can take more hits in case my opponent doesn't use magic, being able to take one more hit makes a lot of difference! I had to buy this card because my opponents used it a lot and destroyed me, so I copied the strategy! I own this card at level 1!
Third place
In third place I put SCAVO HIRELING with the difficult task of repairing the damaged shields, if he manages to repair SHIELDBEARER's shields it means something good! I'll hold the game long enough for my archers to do a lot of damage, that's the idea! I have this card at level 2!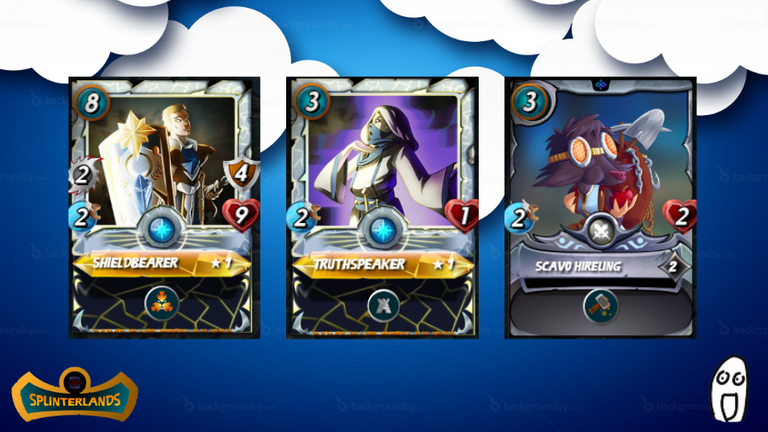 Cuarto lugar
En esta posicion del medio pongo a una carta muy importante, a una curadora, VENARI CRYSTALSMITH tiene la tarea de mantener mi tanque vivo el mayor tiempo posible, si tengo los escudos siendo reparados y la vida siendo recuperada tengo grandes posibilidades de ganar esta partida, espero que funcione! Lo bueno de esta curadora es que es muy veloz con 3 y ademas atacara y pegara 2, tambien tiene 5 de vida asi que si le toca ser tanque puede aguantar el mayor tiempo posible y darle chance a los arqueros que vienen detras de ella para hacer su trabajo! Poseo esta carta en nivel 3, lo maximo que mi invocador me permite usar.
Quinto lugar
En quinto lugar pongo a PRISMOLOGIST, esta carta hace muchisimo daño, tiene 3 de daño y mas el apoyo de mi invocador GENERAL SLOAN va a hacer 4 de daño, es una carta muy debil y lenta pero hace mucho daño y ademas tiene explosion, confio en que acertara la mayor cantidad de veces posibles y hara la mayor cantidad de daño posible, me encanta esa carta! La poseo por el momento en nivel 1 y quiero subirle el nivel!
Ultimo lugar
En el ultimo lugar el protagonista de esta historia y la carta mas importante de la partida, la que tiene la responsabilidad de hacer mucho daño en las finlas enemigas y ganar la partida! PELACOR ARBALEST, la pongo en ultimo lugar esperando que mi contrincante no use algun sneak y me la destruya, aunque la poseo en nivel 3 y la vida la tiene aumentada puede aguantar algo mas de golpes, ya veremos como se desenvuelve en la partida!
Fourth place
In this middle position I put a very important card, a healer, VENARI CRYSTALSMITH has the task of keeping my tank alive as long as possible, if I have the shields being repaired and life being recovered I have great chances to win this game, I hope it works! The good thing about this healer is that she is very fast with 3 and will also attack and hit 2, she also has 5 health so if she gets to be a tank she can hold on as long as possible and give the archers behind her a chance to do their job! I have this card at level 3, the maximum my summoner allows me to use.
Fifth place
In fifth place I put PRISMOLOGIST, this card does a lot of damage, it has 3 damage and plus the support of my summoner GENERAL SLOAN will do 4 damage, it is a very weak and slow card but it does a lot of damage and also has explosion, I trust it will hit as many times as possible and will do as much damage as possible, I love this card! I have it for the moment at level 1 and I want to level it up!
Last place
In the last place the protagonist of this story and the most important card of the game, the one that has the responsibility to do a lot of damage in the enemy's end and win the game! PELACOR ARBALEST, I put it in last place hoping that my opponent does not use a sneak and destroy me, although I have it at level 3 and life has increased it can withstand some more blows, we'll see how it develops in the game!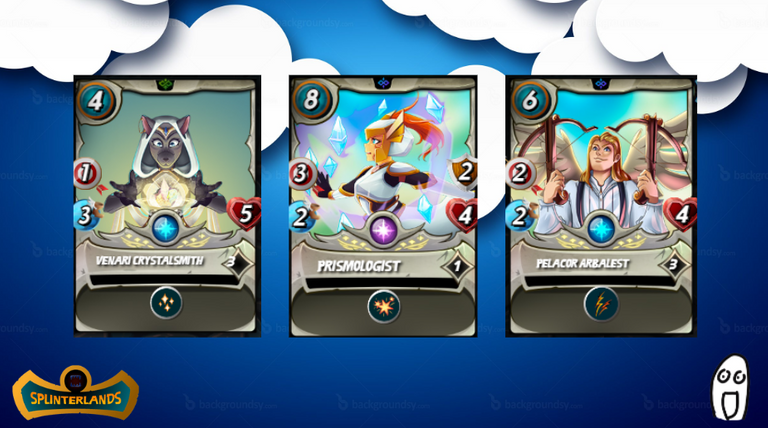 CONCLUSIONES
La estrategia que use fue acertada, fue una batalla epica donde mis arqueros fallaron varias veces y pense que se me escapaba de las manos, asombrosamente mi tanque aguanto 3 rondas asi que pude hacer mucho daño, PELACOR ARBALEST cumplio su papel, elimino cartas y ademas de eso soporto los golpes del sneak de mi contrincante lo que hizo que ganara tiempo muy valioso para ganar, no cambiaria mucho de mi estrategia solo me gustaria tener algunas cartas con mayor nivel para que tengan mas vida y puedan competir contra cartas tan salvajes como las de este contrincante! Su estrategia fue muy buena tambien, no tuvo la suerte de que mis arqueros acertaran en los momentos clave!
👀 Mira la batalla AQUI
CONCLUSIONS
The strategy I used was right, it was an epic battle where my archers failed several times and I thought it was out of my hands, amazingly my tank held 3 rounds so I could do a lot of damage, PELACOR ARBALEST fulfilled its role, I would not change much of my strategy, I would just like to have some cards with higher level so they have more life and can compete against cards as wild as those of this opponent! His strategy was very good too, he just wasn't lucky enough to have my archers hit at key moments!
👀 Watch the battle HERE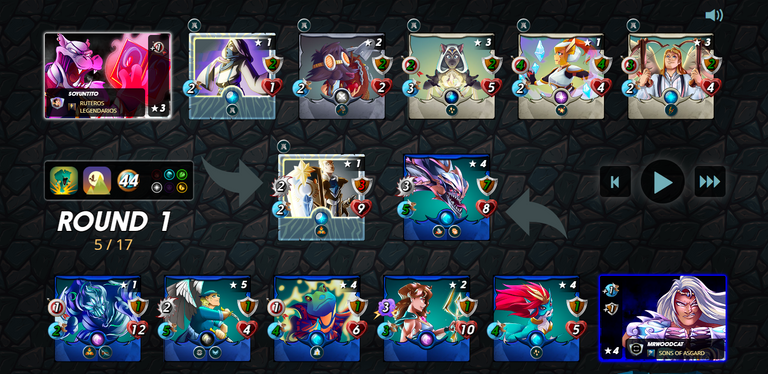 Gracias por tomarte el tiempo de pasar por mi post y leerlo! Gracias tambien al equipo de splinterlands y sus curadores, gracias a esta iniciativa he podido aumentar el nivel de mi cuenta considerablemente! Me parecia imposible tener lo que tengo a estas alturas! Espero poder ir al siguiente paso que seria llevar a mis invocadores de Chaos Legion a nivel 4! Dificil, si, pero no imposible! Tambien poder aumentar el nivel de todas las cartas que me faltan por aumentar el nivel! Si te llama la atencion probar el juego de splinterlands puedas registrarte AQUI Si lo pruebas y lo entiendes te vas a volver adicto al juego y a coleccionar sus cartas!
Todas las imagenes fueron creadas con canva por mi y utilice screenshots de la pagina de Splinterlands.
Hasta pronto!
Thanks for taking the time to go through my post and read it! Thanks also to the splinterlands team and its curators, thanks to this initiative I have been able to increase the level of my account considerably! I thought it was impossible to have what I have at this point! I hope I can go to the next step which would be to take my Chaos Legion summoners to level 4! Difficult, yes, but not impossible! Also to be able to level up all the cards I have left to level up! If you are interested in trying the splinterlands game you can register HERE If you try it and understand it you will become addicted to the game and to collect its cards!
All images were created with canva by me and I used screenshots from the Splinterlands website.
See you soon!

Posted using Neoxian City
---
---