SOUL STRANGLER ESP/ENG
SOUL STRANGLER
Hola hola!!! Regreso de vuelta a la escena de los posts de Splinterlands, esta semana toca un share your battle bastante interesante! Vamos a hablar de SOUL STRANGLER, hay un pequeño detalle que no se si han notado, SOUL STRANGLER es arquero, pero no le queda nada bien, no se porque no le pusieron magia y prestandole mas atencion me acuerdo de otras cartas que no tienen nada que ver con lo que les pusieron, hay cartas con espadas en las manos que son arqueros y cosas asi, hay varias cartas sin sentido y desvariaciones! Seguramente haga un post sobre eso, es interesante el tema! O por lo menos a mi me interesa...
Hello hello!!! I'm back to the Splinterlands posts scene, this week is a very interesting share your battle! Let's talk about SOUL STRANGLER, there is a small detail that I don't know if you have noticed, SOUL STRANGLER is an archer, but it doesn't look good, I don't know why they didn't put magic and paying more attention I remember other cards that have nothing to do with what they put, there are cards with swords in their hands that are archers and things like that, there are several meaningless cards and deviations! I will surely make a post about it, it's an interesting topic! Or at least it interests me....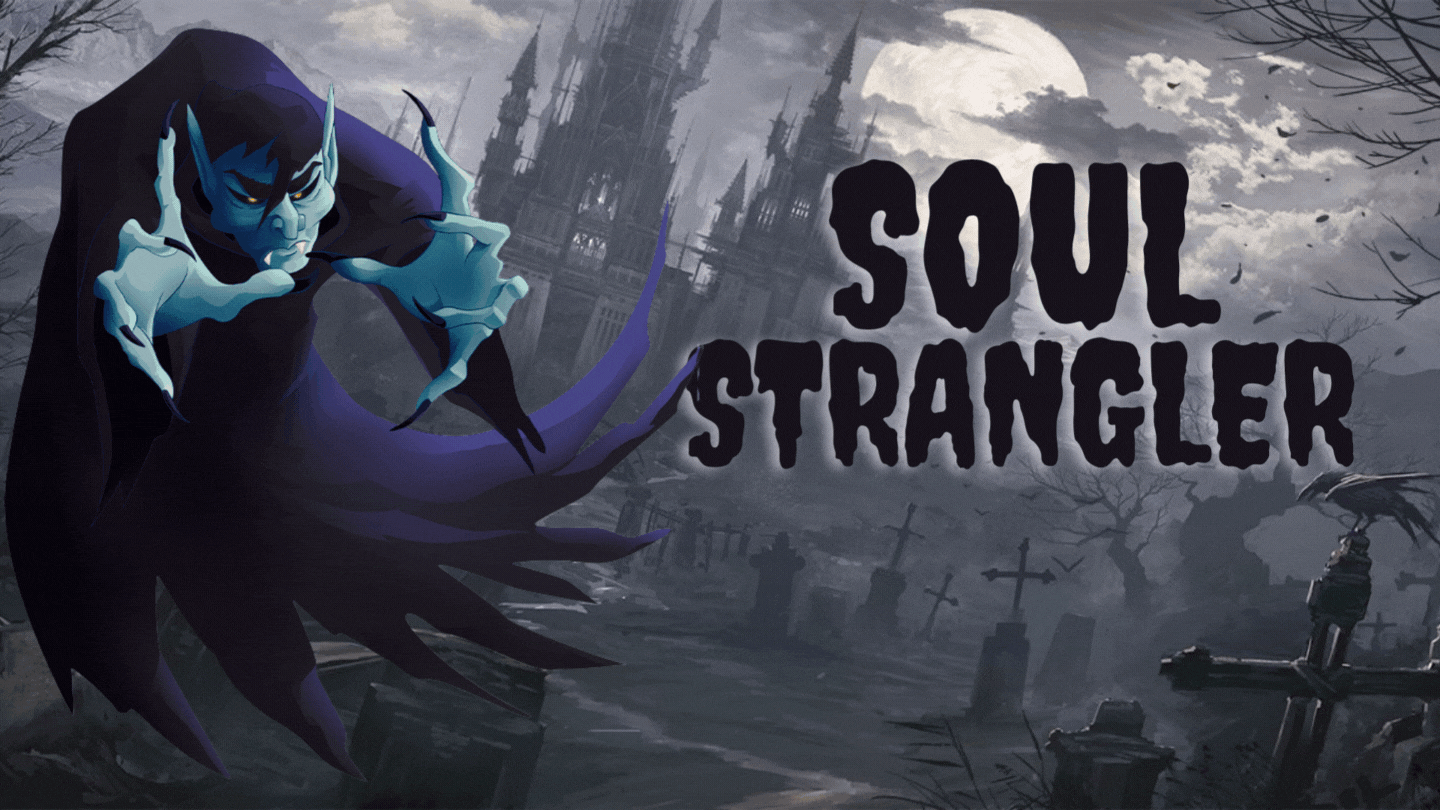 SOUL STRANGLER es una carta que me gusta mucho, es un arquero de solo 3 de mana y que ademas en nivel 1 pega con 2 de flechas! Me parecio increible que antes de hacer el post y jugara batallas usandolo me diera cuenta que aun lo tengo en nivel 1! Tengo que aumentarlo a nivel 3 para que pueda pegar con 3 de flechas, un barbaridad para ser una carta de solo 3 de mana! Les recomiendo subir esta carta de nivel respecto a sus invocadores, creo que para jugar en Splinterlands o porlomenos como yo lo veo un punto optimo es tener los invocadores raros a nivel 3 y las cartas con el nivel acorde!
SOUL STRANGLER is a card that I really like, it's an archer with only 3 mana and also at level 1 it hits with 2 arrows! I found it incredible that before I made the post and played battles using it I realized that I still have it at level 1! I have to increase it to level 3 so it can hit with 3 arrows, a huge amount for a card with only 3 mana! I recommend you to level up this card with respect to your summoners, I think that to play in Splinterlands or at least as I see it an optimal point is to have the rare summoners at level 3 and the cards with the corresponding level!

STATS
Ahora vamos a ver los Stats de SOUL STRANGLER! En nivel 1 ya es impresionante, solo vale 3 de mana tiene 2 de ataque, 2 de velocidad y 2 de vida! Mi meta es llevarla a nivel 3 ahi tendria 3 de ataque 2 de velocidad y 2 de vida, valiendo 3 de mana y teniendo 3 de ataque es un autentico asesino! Ya entiendo porque no lo pusieron de magia, si lo ponian de magia nunca iba a fallar e iba a ser una carta que aunque no tenga habilidades, mejor que una legendaria. Sus debilidades para mi serian que tiene muy poca vida asi que ponerla en la parte de atras la hace blanco facil para sneaks, ademas tambien presa de los oportunistas! Ademas de eso 2 de velocidad la hace muy propensa a fallar. Todavia pienso que esta carta debio haber sido de magia y no tiene el puesto que merece!
STATS
Now let's take a look at SOUL STRANGLER's stats! At level 1 it's already impressive, only worth 3 mana, it has 2 attack, 2 speed and 2 health! My goal is to take it to level 3, then it would have 3 attack, 2 speed and 2 life, being worth 3 mana and having 3 attack it's a real killer! I understand why they didn't put it in magic, if they put it in magic it would never fail and it would be a card that even if it has no skills, better than a legendary. Its weaknesses for me would be that it has very little life so putting it in the back makes it an easy target for sneaks, also prey to opportunists! On top of that 2 speed makes her very prone to miss. I still think that this card should have been magic and it doesn't have the position it deserves!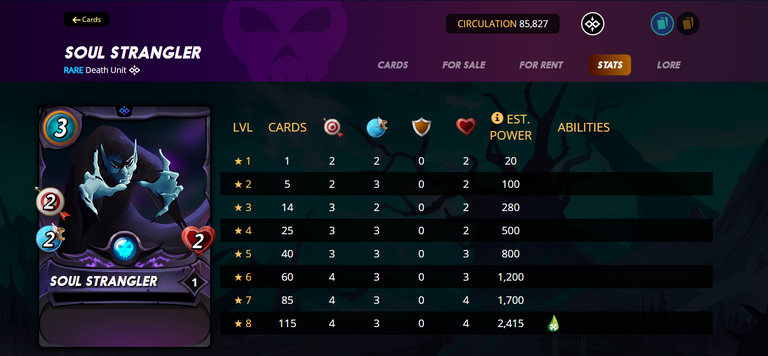 ESTRATEGIA
Ahora si vamos a ponernos en materia de lo que es la batalla! Me toco una batalla perfecta para mostrar el poderio de SOUL STRANGLER, las reglas de la batalla son 16 de mana, solo se puede usar vida, muerte y dragon, la magia golpea los escudos primero y ademas de eso los melee atacan desde cualquier lugar! Mi estrategia va a ser llenar el frente de cartas y poner de ultimo lugar a SOUL STRANGLER para que los mate a todos!
STRATEGY
Now let's get down to the business of the battle! I got a perfect battle to show the power of SOUL STRANGLER, the rules of the battle are 16 mana, you can only use life, death and dragon, the magic hits the shields first and besides that the melee attack from anywhere! My strategy will be to fill the front with cards and put SOUL STRANGLER last to kill them all!

LINEUP
Como invocador para esta batalla voy a usar a THADDIUS BROOD del splinter de muerte, como hay muy poco mana quiero restarle uno de vida y uno de magia a las cartas de mi oponente, puede darme una ventaja en puntos de vida y ser muy decisivo, ademas es el unico invocador de muerte que tengo propio y en nivel 3 lo que me permitira usar otras cartas en un mejor nivel!
LINEUP
As a summoner for this battle I will use THADDIUS BROOD from the death splinter, as there is very little mana I want to subtract one life and one magic from my opponent's cards, he can give me an advantage in life points and be very decisive, besides he is the only death summoner I have of my own and at level 3 which will allow me to use other cards at a better level!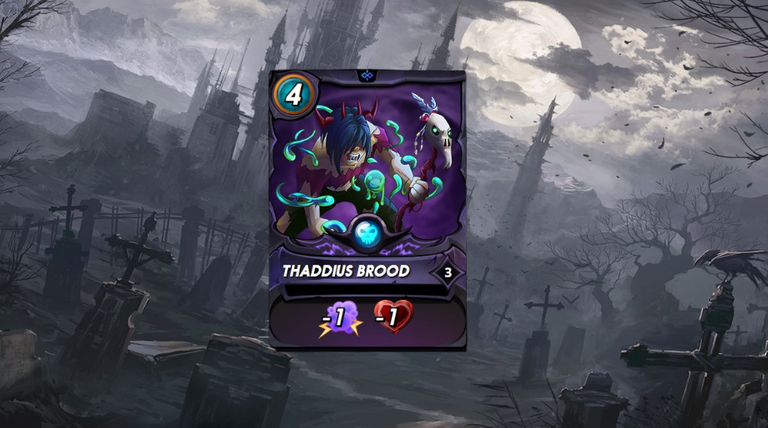 Fiel a parte de mi estilo de juego que involucre usar cartas de 0 de mana en el primer lugar pongo a FURIOUS CHICKEN en nivel 1, esta carta va a recibir el primer golpe en el frente, no tengo idea de cual sera el tanque que usara mi contrincante pero espero que con esta carta el ataque y el tanque de mi contrincante se debilite!
Como es muy poco mana aun puedo usar cartas de 0 de mana, es increible la mucha diferencia que hacen a la hora de jugar, son cartas que si o si debes tener! En la segunda posicion voy a poner al legendario CORPSE FIEND en nivel 1, esta carta deberia si tiene suerte dar el primer golpe al tanque de mi contrincante o por lo menos retrasar el ataque de mi contrincante y debilitarlo.
En tercer lugar pongo a CARRION SHADE en nivel 3, en el nivel 3 tiene la habilidad de volar asi que ademas de acertar golpes puede tener la suerte de esquivarlos y ayudarme a ganar mas tiempo! Ademas atacara y generara algun daño! Esta carta es espectacular y ademas solo vale uno de mana tiene 2 de vida 1 de ataque y 2 de velocidad!
True to part of my style of play that involves using 0 mana cards in the first place I put FURIOUS CHICKEN at level 1, this card will take the first hit in the front, I have no idea what will be the tank that my opponent will use but I hope that with this card my opponent's attack and tank will be weakened!
As it is very little mana I can still use 0 mana cards, it is incredible how much difference they make when playing, they are cards that if or if you must have! In the second position I'm going to put the legendary CORPSE FIEND at level 1, this card should if lucky give the first blow to my opponent's tank or at least delay the attack of my opponent and weaken him.
In third place I put CARRION SHADE at level 3, at level 3 he has the ability to fly so in addition to hit hits he can be lucky enough to dodge them and help me win more time! It will also attack and generate some damage! This card is spectacular and is only worth one mana, it has 2 life, 1 attack and 2 speed!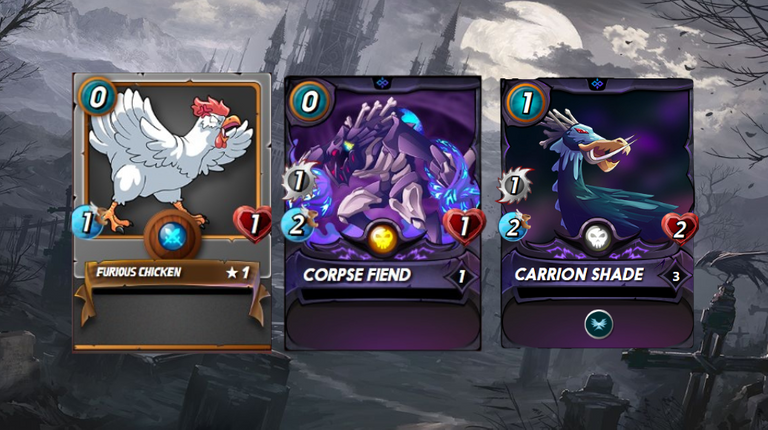 En esta posicion pongo a ANIMATED CORPSE ya que tiene 2 de ataque y 6 de vida, eso es mucha vida, pude haber puesto otras cartas pero esa carta me gusta! Ademas por ser una edicion antigua me gano un bonus extra en caso de ganar la batalla!
Aqui en el penultimo lugar pongo una carta espectacular, en Chaos Legion aparecieron muchas cartas muy buenas que en muchos casos inutilizan las cartas de ediciones anteriores la unica debilidad de Chaos legion son los invocadores pero del resto son cartas super poderosas que no tienen que envidiarle nada a ninguna otra edicion! XENITH MONK me encanta su habilidad para curarse, tiene 6 de vida y 1 de ataque, es una carta neutral asi que la puedo usar en cualquier splinter, el hecho de que se cure sola es parte de mi estrategia por la carta que se viene atras!
En ultimo lugar el protagonista de esta historia! El muchacho de la pelicula! SOUL STRANGLER! Poseo esta carta a nivel uno pero mientras hacia el post note que la tenia en un nivel muy bajo, que era ideal tenerla a nivel 3 asi que la lleve a nivel 3 por un poco menos de 2 dolares, super bien! Esta es la carta mas importante de mi estrategia porque todas las demas acartas del frente estan para ganar tiempo para que ella debilite a mi contrincante, tomo un riesgo muy grande porque si mi contrincante tiene un sneak hasta ahi llego mi batalla!
In this position I put ANIMATED CORPSE because it has 2 attack and 6 life, that's a lot of life, I could have put other cards but I like this card! Also for being an old edition I get an extra bonus if I win the battle!
Here in the penultimate place I put a spectacular card, in Chaos Legion appeared many very good cards that in many cases make useless the cards of previous editions the only weakness of Chaos Legion are the summoners but the rest are super powerful cards that have nothing to envy to any other edition! XENITH MONK I love its ability to heal itself, it has 6 life and 1 attack, it's a neutral card so I can use it in any splinter, the fact that it heals itself is part of my strategy for the card that is coming back!
In last place the protagonist of this story! The boy from the movie! SOUL STRANGLER! I own this card at level one but while I was making the post I noticed that I had it at a very low level, it was ideal to have it at level 3 so I took it to level 3 for a little less than 2 dollars, super good! This is the most important card in my strategy because all the other cards on the front are there to buy time for her to weaken my opponent, I take a big risk because if my opponent has a sneak that's as far as my battle goes!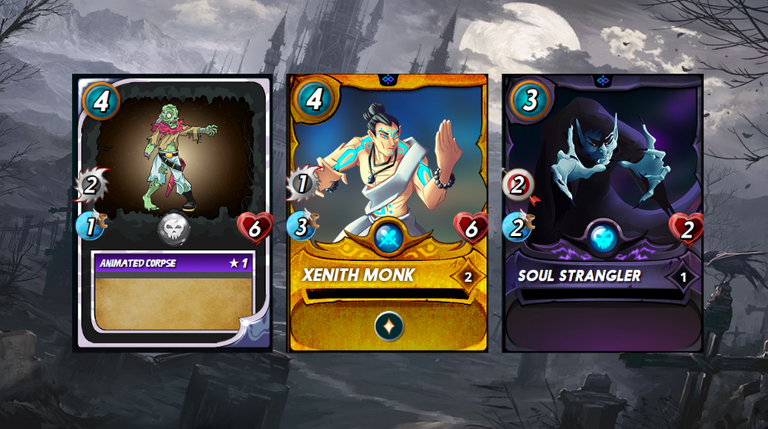 La batalla fue espectacular! Apenas vi el Lineup de mi contrincante me preocupe por su WINDEKU pero vi que tenia muy buenas posibilidades de prosperar ya que no tenia un sneak y yo tenia a SOUL STRANGLER que termino siendo el heroe de la partida! Me encanto la estrategia, funciono a la perfeccion y no la cambiaria, fue una batalla emocionante que vale la pena ver!
👀 Mira la batalla AQUI
The battle was spectacular! As soon as I saw my opponent's lineup I was worried about his WINDEKU but I saw that he had a very good chance to prosper since he didn't have a sneak and I had SOUL STRANGLER who ended up being the hero of the game! I loved the strategy, it worked perfectly and I wouldn't change it, it was an exciting battle worth watching!
👀 Watch the battle HERE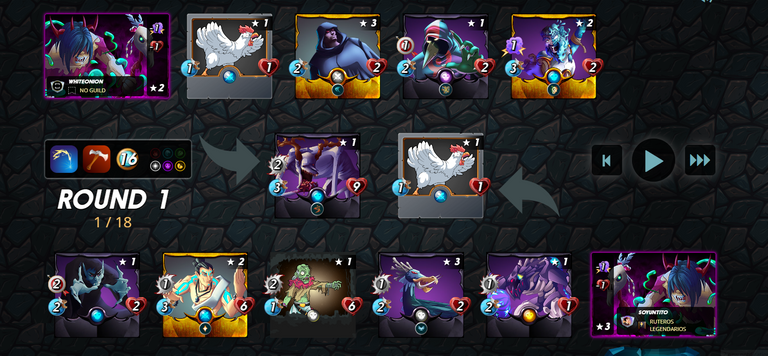 Gracias por tomarte el tiempo de pasar por mi post y leerlo! Cada vez disfruto mas a splinterlands y me encanta ver como mi cuenta crece y se fortalece! Si te llama la atencion el jugar splinterlands puedas registrarte AQUI Si lo pruebas y lo entiendes te vas a volver adicto al juego y a coleccionar sus cartas!
Todas las imagenes fueron creadas con canva por mi y utilice screenshots de la pagina de Splinterlands.
Hasta pronto!
Thanks for taking the time to stop by and read my post! I am enjoying splinterlands more and more and I love to see how my account is growing and getting stronger! If you are interested in playing splinterlands you can register HERE If you try it and understand it you will become addicted to the game and collect cards!
All images were created with canva by me and I used screenshots from the Splinterlands website.
See you soon!

Posted using Neoxian City
---
---