Splinterlands Fan Art - Ilthain the Revenant

Splinterlands Fan Art - Ilthain the Revenant

Good day, everyone! I'm back to doing Splinterlands fan art after a few days of not posting anything here in Hive. For this fan art, I drew Ilthain the Revenant, or just Ilthain, from the Life Element. Ilthain the Revenant is a Summoner card, and this is my attempt to draw this card. If you would also like to participate, check out Splinterlands' post here - here.
---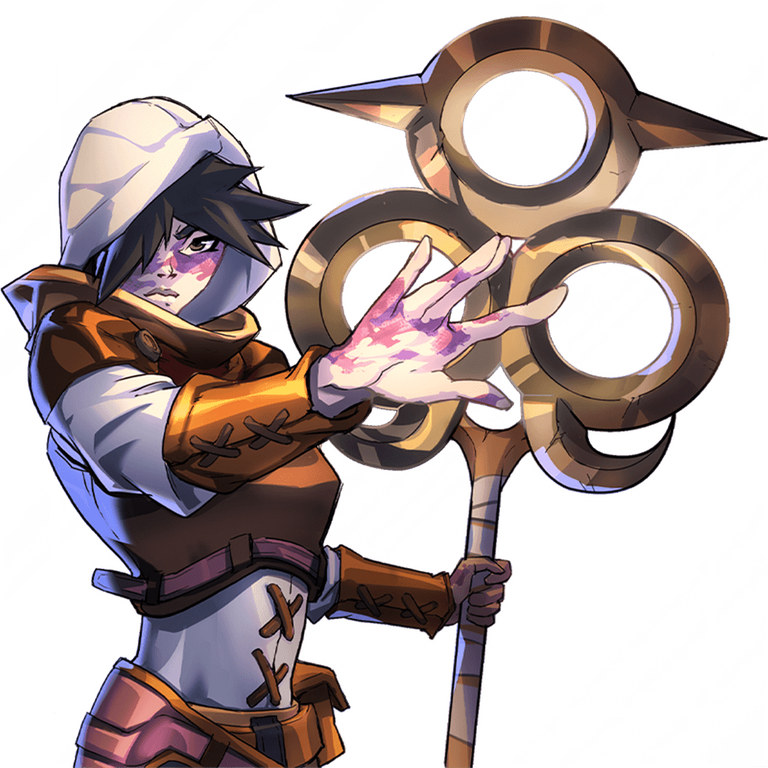 Here is the card reference image of Ilthain the Revenant in Splinterlands.
Pledged into service by the Silver Shield, Ilthain was a warrior trained in the martial arts. She spent her days working in communities and helping those less fortunate. At night, however, she acted on behalf of the Silver Shield to rid the land of the corrupt, using her unique abilities to bring peace to Khymeria by purging it of its lawless rebels. She became so well known among the people that when she passed on, thousands of mourners followed her body as it was carried to the Peace of Light Monastery and entombed within a great mausoleum.
---
Here are the materials that I used to create this fan art.
Android Tablet
Clip Studio Paint
Poseit
---
This is the second time that I used Poseit to create a pose reference for my fan art. I used a female 3D mannequin, a hood, and a battle axe because I think this is the closest item in this application to Ilthain's weapon or staff. After that, I saved the post as an image and uploaded it to Clip Studio Paint. From Clip Studio Paint, I started creating my fan art, starting from the line art up to rendering. Below are step-by-step images of my work.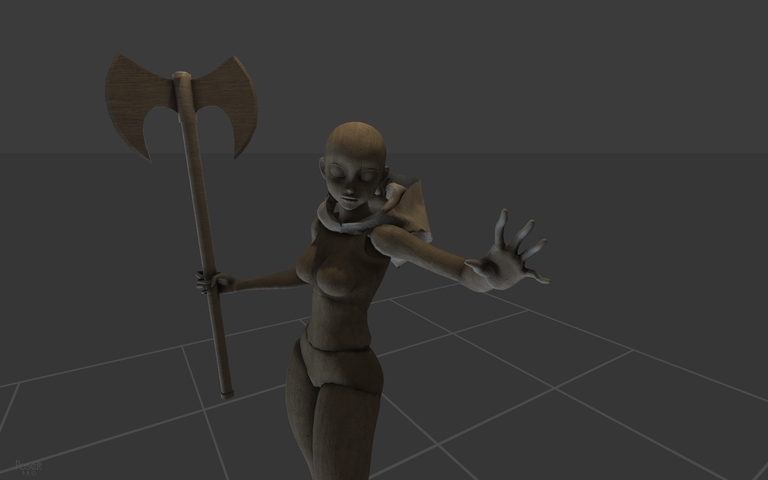 ---
I started my work by creating line art out of the 3D mannequin and adding details from the original card. After that, I added the flat colors to a separate layer.
After completing the flat colors, I used another layer to add the light and dark tones using the lasso and fill tools. I imagine that the light is coming from her left hand. Onto the next layer, I then added the shadows. I used the magic wand on each color of the flat layer and began shading each part with black.
After adding the dark shades, I used another layer to add yellow highlights on her left side and a faint purple light on her right side. And then I used the Add (Glow) layer to further increase the brightness on her left side. I then used tonal correction in the application to get the color that I wanted for each part.
After I felt satisfied, I added another layer to create a little lightning effect on her staff/weapon and some glowing lights on her hand. Ilthain is a healer and this light depicts her healing powers. In an attempt to add volumn, I created two copies of the flat color layer and changed their color to light blue and black and move them a bit on her right.
I guess I felt not yet satisfied, so I added more lightnings 😄. And for the background, I put on several colors and used the liquify tool to create a semi-illusion or something like that. 😄
In here, I tweaked it a little, removed the core of the little glowing balls on her hand, and applied the liquify tool again to the background.
---
And finally, I removed the blue lightning and changed it to yellow because I felt that the weapon or staff was quite cramped. Here is the final output of my fan art.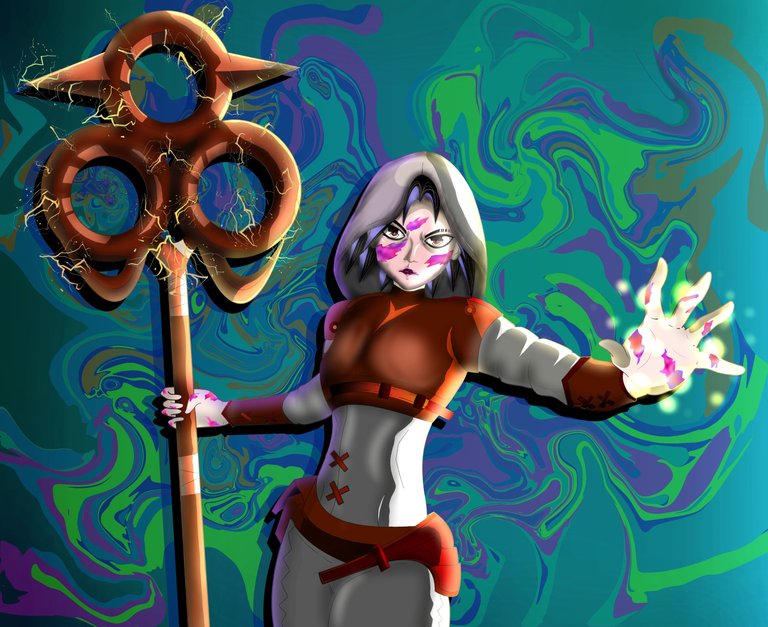 What I enjoyed most about creating this fan art was the part about creating the background. I enjoyed mixing those colors using the liquify tool. I also attempted to not use the line art layer; however, it left a trace. So instead of removing it, I just lowered its opacity. On my next fan art, I will still try to create and output without enabling the line art layer.


That's it, and thanks for reading. If you're interested in playing Splinterlands, here is my game link - splintercell-01.
Visit @Splinterlands to view more amazing posts! And always keep on battling!!!
---
---