Estrategia ARRIESGADA con "Going The Distance" [ENG-ESP]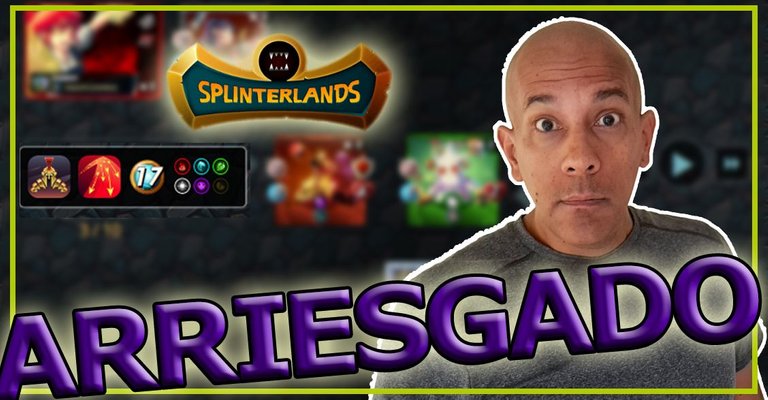 La estrategia para la regla de batalla llamada Going The Distance la tengo memorizada, sin embargo esta vez se sumó la posibilidad de usar Gladius, así que decidí cambiar y arriesgarme, ya que la carta por excelencia como tanque es LAVA LAUNCHER, porque tiene muchos escudos.
The strategy for the battle rule called Going The Distance I have memorized, however this time the possibility of using Gladius was added, so I decided to change and take a risk, since the card par excellence as a tank is LAVA LAUNCHER, because it has many shields.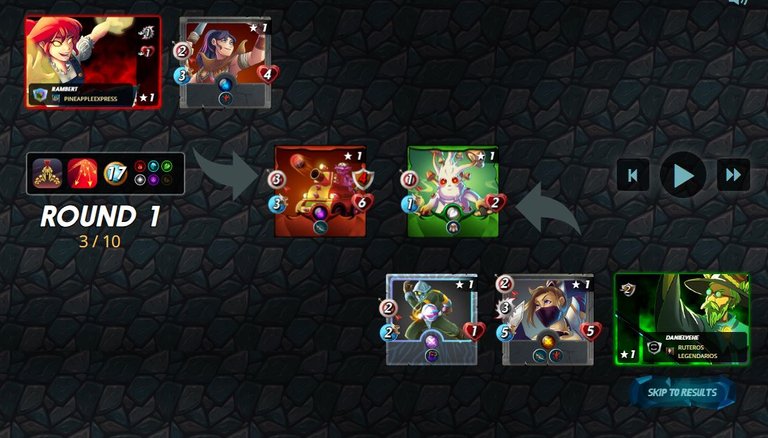 Quería como siempre usar la habilidad de Martir y solo tengo en Tierra y Fuego esas carta. Me pareció una poderosa estrategia usar un martir de tanque para que Tatiana se vuelva más poderosa. El temor estaba en Lava que la matara porque Tatiana no tiene escudo y cuenta con poca vida.
I wanted as always to use the Martyr ability and I only have in Earth and Fire those cards. I thought it was a powerful strategy to use a tank martyr to make Tatiana more powerful. The fear was that Lava would kill her because Tatiana has no shield and low health.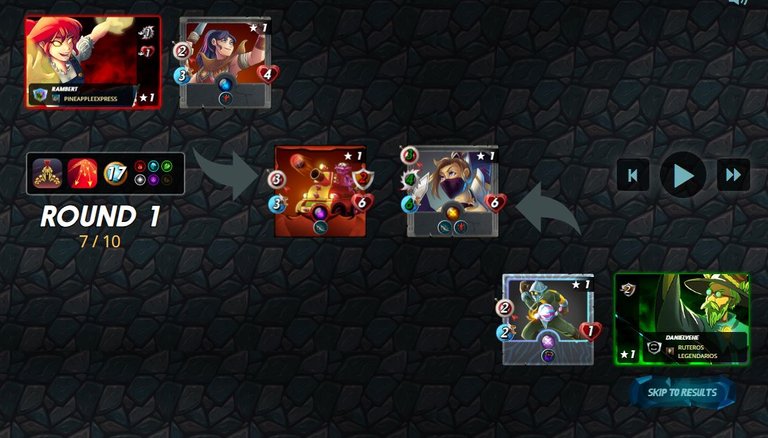 Usé entonces por primera vez el invocador de WIZARD OF EASTWOOD, que ni siquiera me acordaba de él y cuando lo vi, dije que podría ser la solución para restarle escudos a Lava.
En la primera ronda ya mataron a mi martir y Tatiana creció bella XD. Eso hizo que su Gladiua fallara.
I used then for the first time the WIZARD OF EASTWOOD summoner, I didn't even remember it and when I saw it, I said it could be the solution to subtract shields from Lava.

In the first round they already killed my martyr and Tatiana grew beautiful XD. That made her Gladiua fail.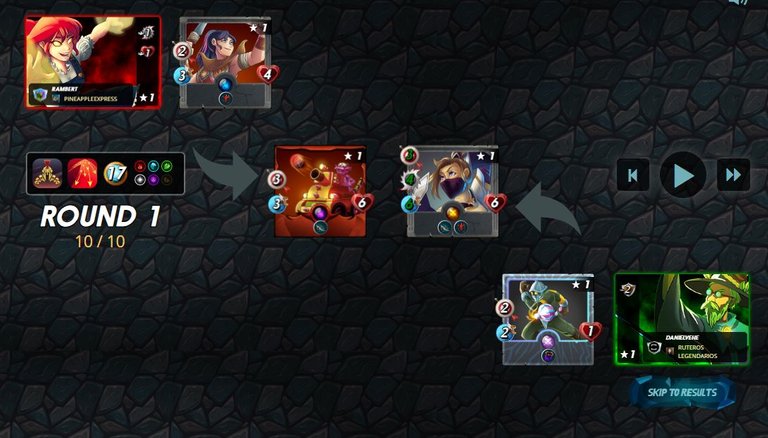 Elegí también otra carta que tuviera por lo menos +2 de ataque. Fue GRENADIER que supo eliminar el escudo que le quedaba a LAVA y así dejarla sin defensa para el turno de Tatiana.
I also chose another card with at least +2 attack. It was GRENADIER who was able to eliminate LAVA's remaining shield and thus leave her without defense for Tatiana's turn.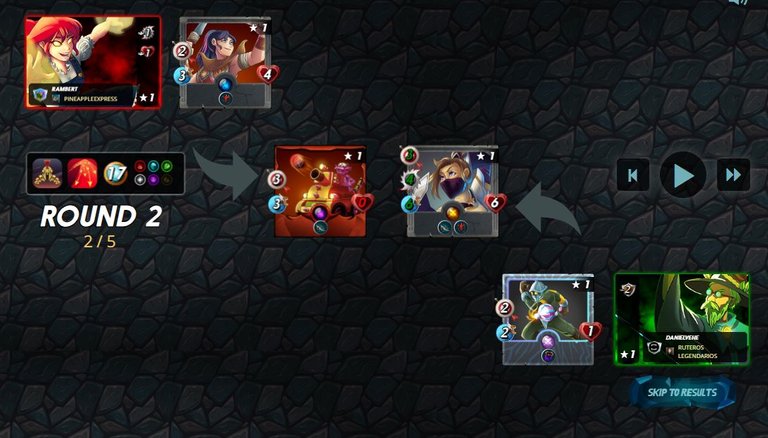 Así fue como Tatiana con +7 de ataque, eliminó a LAVA de un solo intento y decretando definitívamente la victoria.
This is how Tatiana, with a +7 attack, eliminated LAVA in a single attempt and definitively decreed the victory.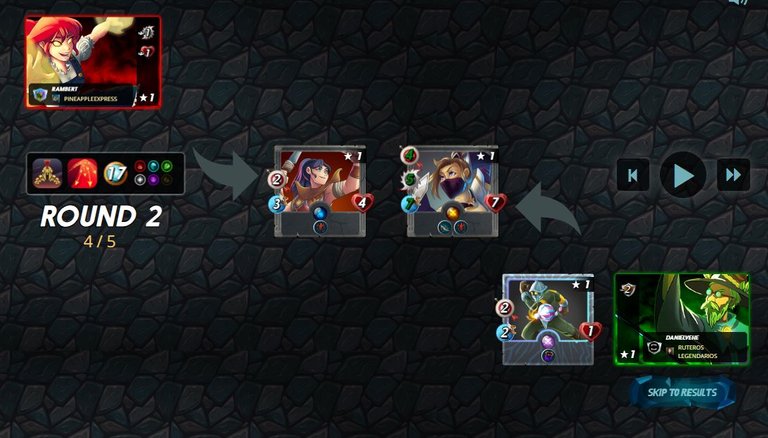 Su gladius bajó a la primera posición pero ya no podía hacer nada desde ahí sino recibir a la muerte.
His gladius went down to the first position but he could no longer do anything from there but receive death.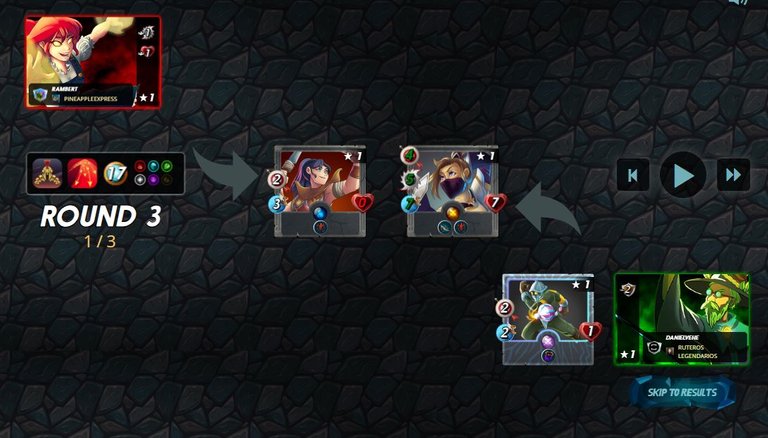 Me encantó esta batalla porque la pensé mucho. Utilicé todo el tiempo que me dieron para buscar la mejor estrategia. Me pasee por todos los splinters a ver cuál me gustaba más. Cuando vi a Tatiana fue amor a primera vista y sabía que la quería con un martir.
La batalla se definió gracias a la velocidad y el martir; también a mi invocador. Poder eliminar tanto escudo de la LAVA fue crucial...
I loved this battle because I gave it a lot of thought. I used all the time I was given to find the best strategy. I went through all the splinters to see which one I liked the most. When I saw Tatiana it was love at first sight and I knew I wanted her with a martyr.

The battle was defined by speed and martyr; also my summoner. Being able to remove so much shield from the LAVA was crucial...
---
Si todavía no te registras en el juego, lo puedes hacer aquí: https://splinterlands.com?ref=danielvehe
If you have not yet registered for the game, you can do so here:
https://splinterlands.com?ref=danielvehe

---
---