Estrategia FÁCIL y SEGURA en MUERTE [ENG-ESP]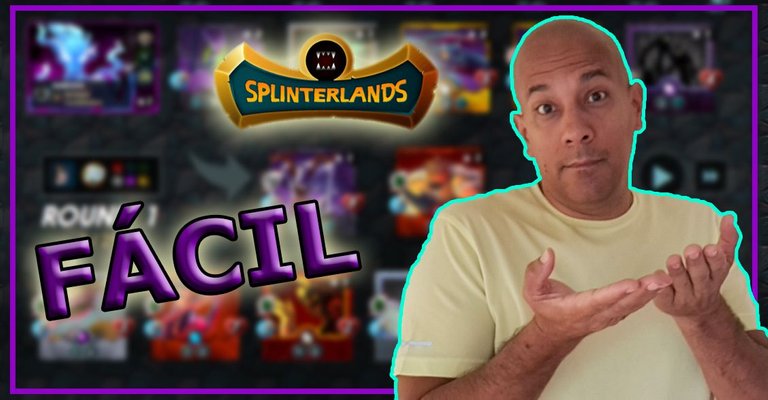 Hoy les traigo una estrategia básica, muy simple y súper efectiva.
Se hace con Muerte y su invocador legendario que gané en el airdrop. Es idel porque resucita a la primera carta que muere. Esto da una ventaja y opción de atacar de nuevo.
Today I bring you a basic strategy, very simple and super effective.

It is done with Death and his legendary summoner that I won in the airdrop. It is ideal because it resurrects the first card that dies. This gives an advantage and option to attack again.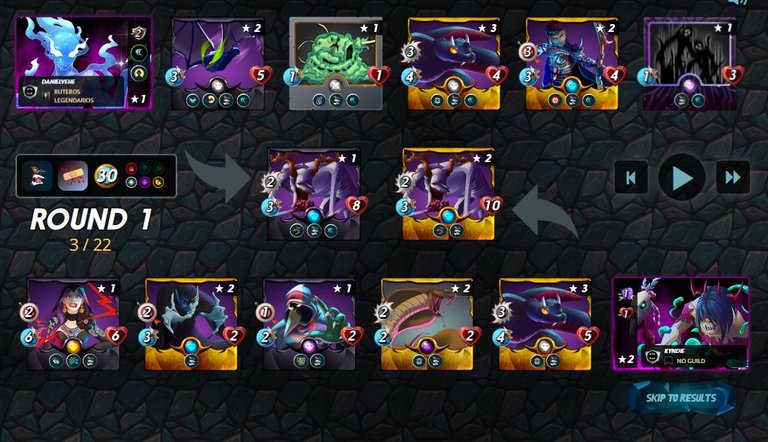 La estrategia es para mana de 30. Consiste en tener a Cursed de tanque que tiene poco mana y bastante vida. En segunda posición siempre a Riftwinng. En la tercera posición siempre cualquier carta que sobre, al igual que la última. Las otras obligatorias son la cobra y DHAMPIR STALKER.
Protejo con una carta al final a DHAMPIR STALKER. El moco sirve para que los oportunistas vayan hacia él y no me dañen las importantes.
The strategy is for 30 mana. It consists of having Cursed as a tank that has little mana and enough life. In second position always Riftwinng. In the third position always any card that is left over, as well as the last one. The other mandatory cards are Cobra and DHAMPIR STALKER.

I protect DHAMPIR STALKER with a card at the end. The mucus serves so that the opportunists go to him and do not damage the important ones.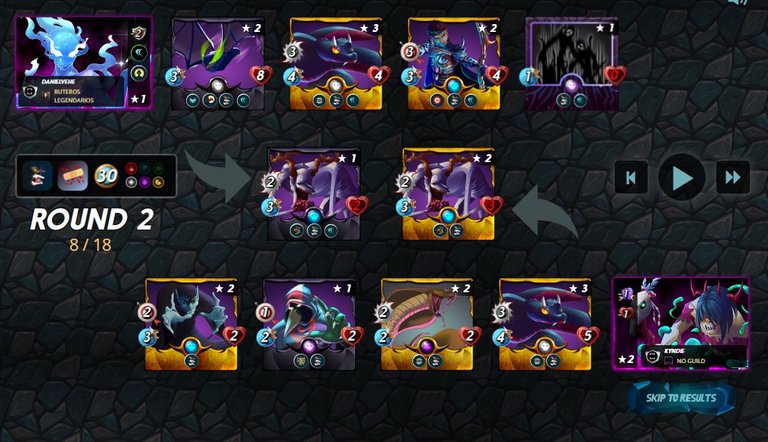 Mataron al moco y revivió. Lo volvieron a matar. Él usó una legendaria para matar solo a un moco jajajajaja.
Gracias a mi invocador falló muchos ataques y eso es un súper beneficio.
They killed the booger and it came back to life. They killed him again. He used a legendary to kill just a booger hahahahahaha.

Thanks to my summoner he missed a lot of attacks and that's a super benefit.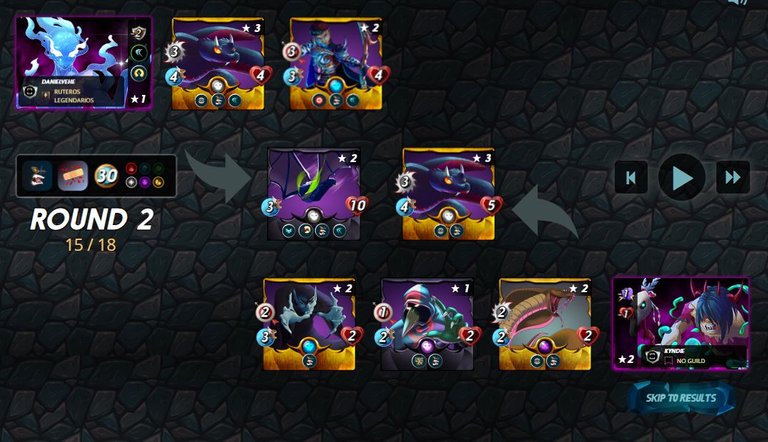 Mi contrincante tenía cartas con muy baja vida así que las maté rápido.
My opponent had cards with very low life so I killed them quickly.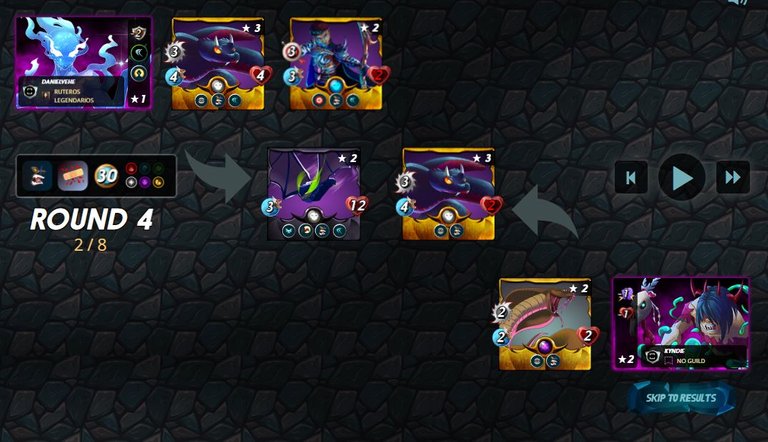 Los dos tanques murieron. Su cobra se morirá gracias a mi serpiente. Es imposible que mate a Riftwinng que ya cuenta con 12 de vida.
The two tanks died. Your cobra will die thanks to my snake. It is impossible for me to kill Riftwinng who already has 12 life.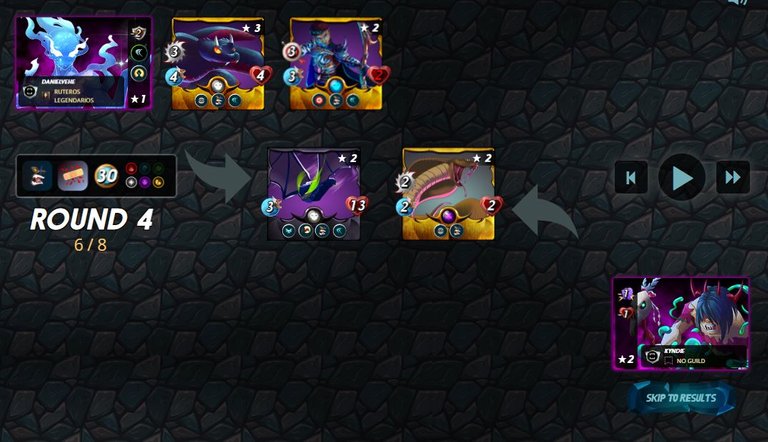 La cobra pasó al primer lugar y ya no tenía nada que hacer.
The cobra moved into first place and had nothing left to do.
https://splinterlands.com?p=battle&id=sl_f2e0ade08f303516f2bae0af90d2aff6&ref=danielvehe
---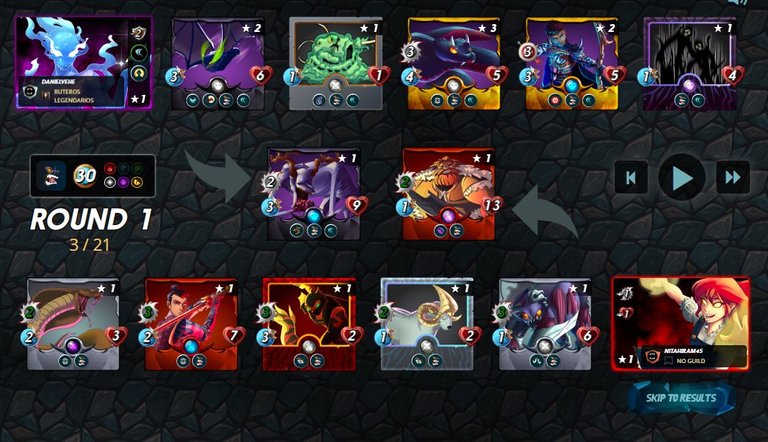 Esta es otra partida que gané. Es vez contra Fuego que es un Splinter que casi siempre le gana a muerte.
This is another game I won. This time against Fuego who is a Splinter that almost always beats him to death.
https://splinterlands.com?p=battle&id=sl_51f6096927ec9c6aa97c7920a61ab756&ref=danielvehe
---
Tambien les comparto mis cofres de temporada donde obtuve 7 invocadores, una verdadera locura. Amo como Splinterlands está repartiendo invocadores. Lo que no me han salido son doradas ni legendarias.
I also share with you my seasonal chests where I got 7 summoners, really crazy. I love how Splinterlands is giving out summoners. What I haven't gotten are golds and legendaries.

---
Si todavía no te registras en el juego, lo puedes hacer aquí: https://splinterlands.com?ref=danielvehe
If you have not yet registered for the game, you can do so here:
https://splinterlands.com?ref=danielvehe

---
---